Ottawa mayoral candidates answered questions about the pandemic shutdown, Jackson Street and riverfront projects and canal rewatering, among other topics Monday.
Business owner Robert Hasty and baseball coach Leonard Newell are challenging Mayor Daniel Aussem for his seat in the April 4 election.
The forum Monday at Central School followed a commissioner candidates forum Friday at Crossbridge Church.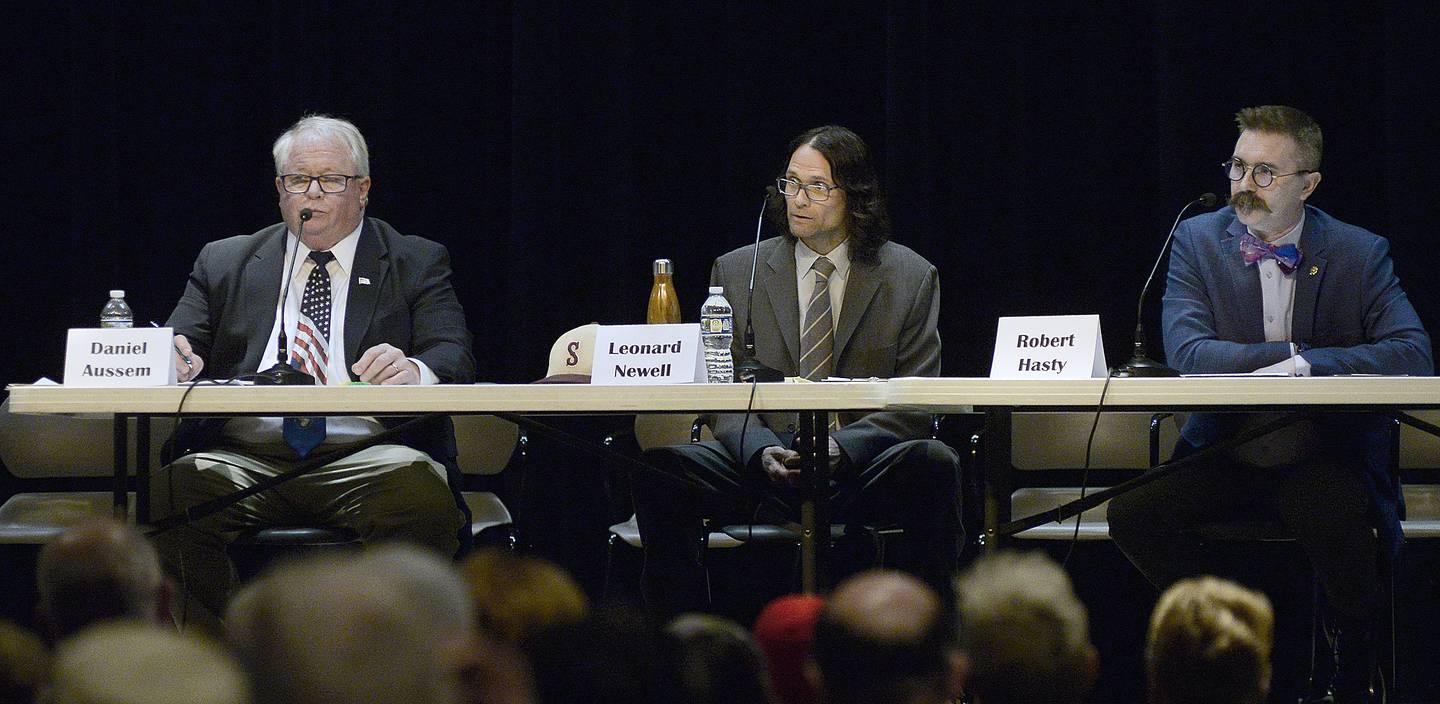 The candidates answered 14 questions from WCMY radio host Jay LeSeure, with each of them getting 90 seconds to share their views.
Here are four highlighted questions from Monday. The Times will run more of their answers in a later article.
Pandemic shutdowns
Candidates were asked their position on whether they would follow a restriction from the state of Illinois if another pandemic or similar situation were to occur. Each candidate agreed they would follow the law, and in turn the restrictions.
Aussem, who has been mayor through the COVID-19 pandemic, said every elected official in the country swears an oath that says they will uphold the laws of the city, the state and the country.
"I don't think we really had the opportunity to decide which ones we were going to enforce," Aussem said. "When mandates came out, we had a number of meetings with our City Council, and I can tell you at the beginning, myself, our city attorney, police chief and public works director were on phone calls every morning, seven days per week in order to keep up with the changing laws and regulations."
Newell said if it comes to protecting children and the elderly, a business has to be essential to justify it remaining open.
Hasty said he understands officials have to follow whatever information is at-hand at the time to make the best decision for their communities, and it's important to make sure there's a consistent plan in place.
Jackson Street and Riverfront Park projects
Questions were asked regarding proposed and ongoing projects that would see areas of Ottawa, such as Jackson Street and the Illinois Riverfront turned into tourism hubs.
The Jackson Street project in question would see the road shrunk, removing parking to the south side in favor of making a shopping and outdoor dining area.
Hasty said he's been in favor of extending Washington Square and adding more shops and restaurants there, as long as the road remains open to the public. He would like it to be a street that can easily close for events, making it less of a risk for those driving.
"There's so much creativity in different communities now with ways you can make a property multifunctional," Hasty said. "I would be in favor of adding as much space as we can for entertainment and also making it convertible if we need it for access for roads."
Aussem said plans for that project have changed a few times as plans with an adjacent property owner have shifted.
"What we'd like to see is something similar to what we did on Court Street," Aussem said.
Newell is against any changes to Jackson Street that would remove parking, but he is in favor of development along the riverfront. With plans now in place for an amphitheater, which Aussem said the design phase should start soon, Newell and Hasty both agreed there should be a push for music at the new venue.
"Tourism is a good thing for our community," Newell said. "It creates jobs and strengthens our local economy."
Newell said he wants to see the amphitheater used for larger acts, while Hasty said he'd like to see it be an open space that can be closed off for larger, ticketed events.
Canal rewatering
Aussem and Hasty believe the Illinois and Michigan Canal is not in the state it needs to be, but it can work with the right plan in place. Newell, however, thinks the city shouldn't be wasting water by refilling the canal.
Neither Aussem nor Hasty believe the canal is a lost cause, although Aussem did call it a failed experiment.
"There was poor planning, no overall master plan, and the rewatering plan called for stocking it with fish," Aussem said. "Then the state biologist came up and said the water was too shallow and the fish won't survive the winter or the summer."
Aussem said the Illinois Department of Natural Resources also won't allow the city to put any chemicals in the water.
Hasty called for an immediate pause until there's a plan in place to make fixes, and not just refilling it with water.
"We need to have a complete plan for what it's going to be used for," Hasty said. "Too often in this community, we're making things and building things without a plan."