Over the past five seasons, there has been a constant when talking about the Ottawa softball program.
In that timeframe, the Pirates have without fail posted 20-win seasons, each led by a dominant force in the pitching circle.
However, this past season not only did junior pitcher McKenzie Oslanzi command the spotlight with her ability to shut down hitters with a mixture of high-velocity fastballs and off-speed pitches. She also gave opposing pitchers fits when she stood in the batter's box.
For her overall efforts this past spring, Oslanzi now follows in the footsteps of former Pirates hurlers Sloan Gayan and Abby Bukantis as the The Times Softball Player of the Year.
"I was very grateful when I found out I was chosen for this honor," said Oslanzi, who is currently committed to play at Eastern Illinois University after next school year. "I know that former players here like Sloan and Abby had gotten it before, but hadn't given any thought that I might receive it. I was surprised and very excited when I found out.
"I'm truly honored to be this year's choice."
Starting with her performance toeing the rubber, the tall right-hander pitched in 28 games (24 starts), going 18-5 with a pair of saves. In 147 innings, Oslanzi allowed just 101 hits and 21 walks while striking out 225 batters and posting a 0.95 earned-run average (ERA) and 0.83 walks plus hits per inning pitched (WHIP).
"I was the No. 2 pitcher behind Abby last season and yet it was still nerve-racking, because it was really my first year on varsity," Oslanzi said. "To honest, this year stepping into the No. 1 pitching spot, I was way less nervous and felt less pressure, I think because of the fact that I just knew I had to step up and be a leader. I also tried to help Maura [Condon, Ottawa's No. 2 hurler] not feel the same way I did by just being there and talking about my own experience."
At the plate, Oslanzi — who earned Illinois Coaches Association Class 3A All-State and Interstate 8 All-Conference first-team selections — registered a .510 batting average, including 49 hits, 15 doubles, two triples, three home runs, 36 RBIs, 19 runs scored and three stolen bases.
"I think being a pitcher myself, I try and use that to my advantage at the plate," Oslanzi said. "I know how I try and pitch the better hitters I face in certain situations, so when I'm up to bat I feel that's something I can use to help myself. I've worked very hard on trying to be a good hitter, but I think logic, at least for me, is a key for me as well. Many times, I can tell with the first pitch I see how the sequence in that at-bat is going to go and just try and adjust from there.
"My goal every time up is to hit strikes and hit strikes hard. I think this season I was able to not swing at too many bad pitches and stayed patient. I had a lot of confidence at the plate this season and just tried to stay consistent from game to game."
Oslanzi produced a number of eye-popping performances during the Pirates' 21-9 campaign.
In a win over league opponent Sycamore, she pitched a four-hit shutout with nine punchouts while also going 3 for 4 with a home run and six RBIs. She then scattered five hits while racking up eight Ks in a shutout of rival La Salle-Peru. In the regional opener against Plano, she fired a one-hit shutout while striking out 17.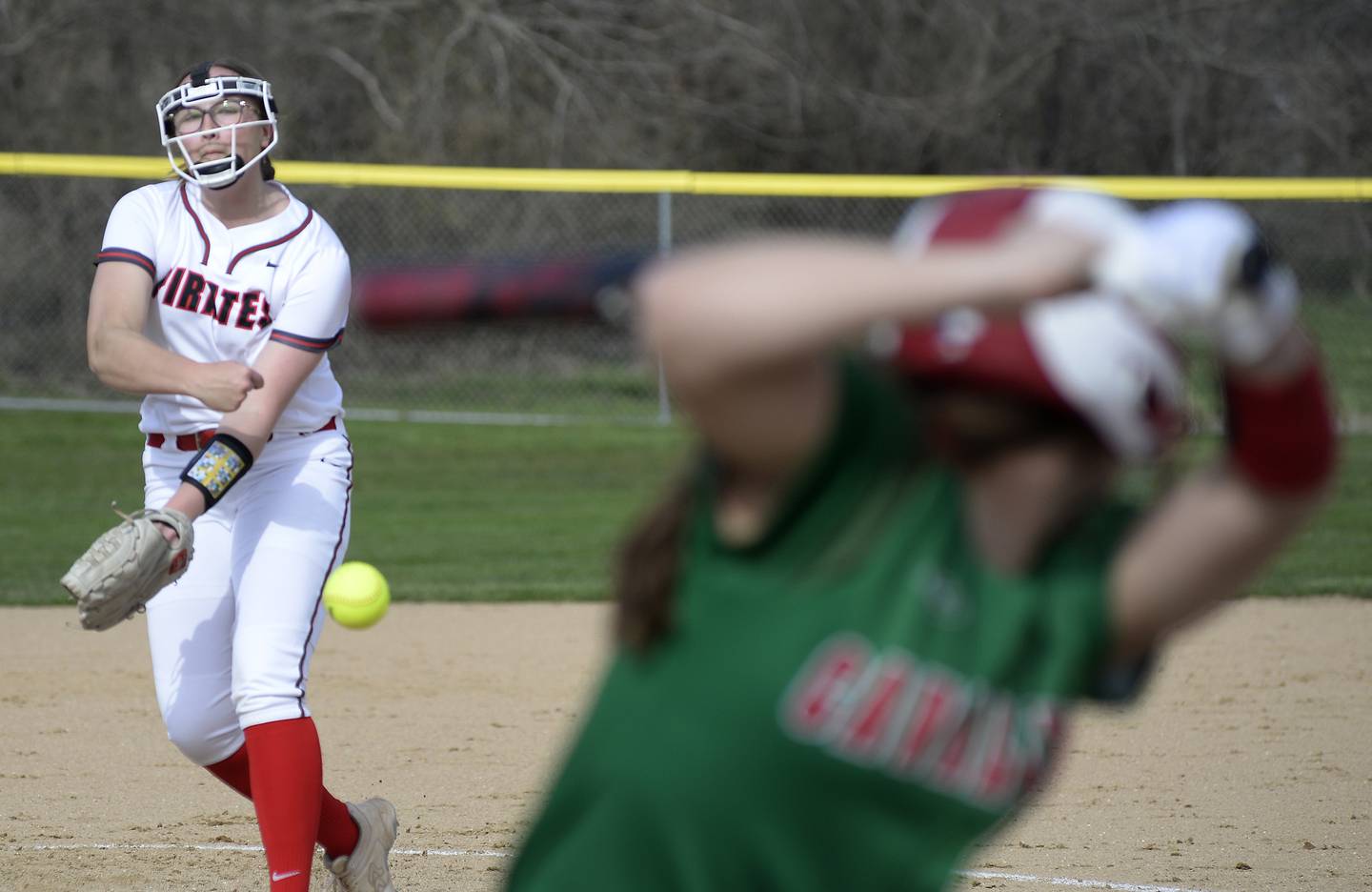 "McKenzie had an absolute fantastic season for us, both in the circle and at the plate," said Ottawa coach Adam Lewis. "Pitching-wise we were hoping she would develop into a dominant pitcher, not just a hard-thrower, and she did that. She was consistent throughout the season with hitting her spots, changing speeds and just overall setting up hitters to get outs.
"At the plate, I really think she may have been the program's best hitter as a freshman, but the season was canceled. Then throughout all of the pandemic stuff she was pretty special in all of our workouts, but I think her sophomore year with the shortened and packed schedule, she was just out of sync. So, I guess I can say I wasn't surprised with how she hit this season ... she's a very solid hitter. There weren't many outs she did make this year that the ball wasn't hit hard.
"She's a very focused, goal-oriented athlete who is always trying to improve. After watching what she did this past spring, I'm super excited to see what she can accomplish her senior season for us."