WASHINGTON – Many athletes will tell you that in crucial moments of a game, time seems to slow down.
That was the case for Morris senior soccer player Lauren Shear with just over six minutes to play in a scoreless contest during Wednesday's Class 2A Washington Regional semifinal against Streator.
Shear's start of the slowdown was making a run down the middle of the pitch after seeing teammate Ella McDonnell capture the ball just inside midfield. The end was her shot from 15 yards out finding its way into the back of the net to help advance No. 3 sub-sectional seed Morris to Saturday's 11 a.m. championship game against the host Panthers with a 1-0 victory over the No. 6 Bulldogs.
"It's kind of a blur," said Shear about the game-winning play. "Ella won the ball and then beat her defender with a dribble. Then she sent a perfect through-ball to me that hit me right in stride. From there, I was able to get it past the keeper who had started to come out of the net. It seemed like the whole play — from once Ella got the ball until I saw the ball roll into the net — was all in slow motion.
"I think I've missed half of our games because of a pulled tendon in my knee, which was pulling my meniscus. I'm still not 100% and came back four games ago. [Scoring the game-winning goal] makes the work I put in to get back on the field all worth it."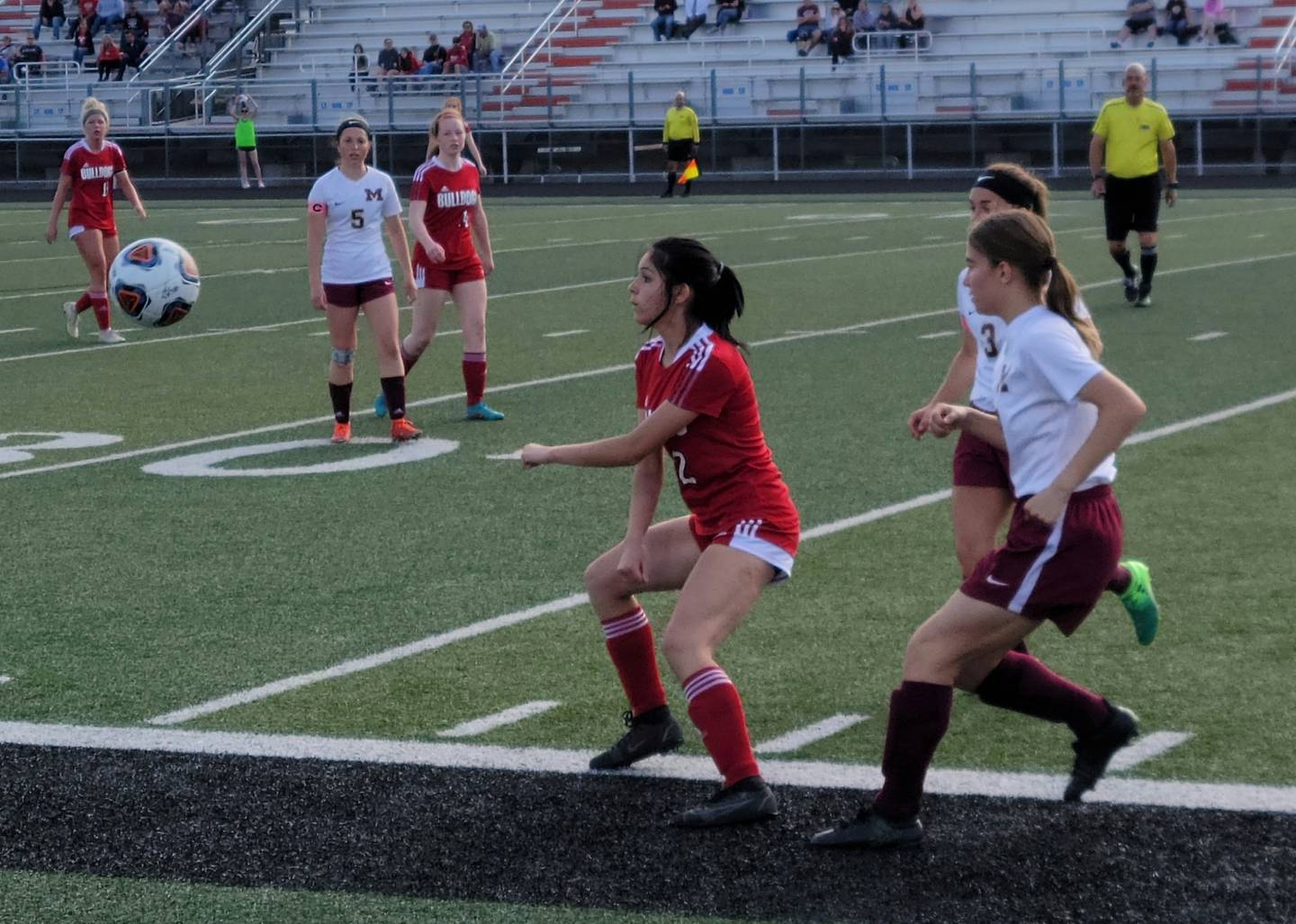 Besides Shear's 30-yard shot that caromed off the crossbar midway through, the opening half was played pretty much even.
The opening 20 minutes of the second half followed the same path, but then Streator started gaining the advantage in both field and ball possession. The Bulldogs put a pair of shots on goal and two just off target in the final 20 minutes, as well numerous chances that fell just one pass short.
"Honestly, I didn't think we played very well today, and our ball possession was not close to where it needed to be," said Morris coach David Valdivia, his team now 12-7-1 on the year. "We were doing a good job with our first few passes transitioning from defense to offense, but then around midfield things broke down from there.
"Streator was beating us to the ball time after time. We finally were able to keep things going on the run that led to the goal, and Lauren did a great job of finishing."
Streator (6-15-1) had good shots on goal each from Anna Jaworski and Claire Vogel in the second half, but both were stopped by Morris keeper Katherine Halcomb (three saves).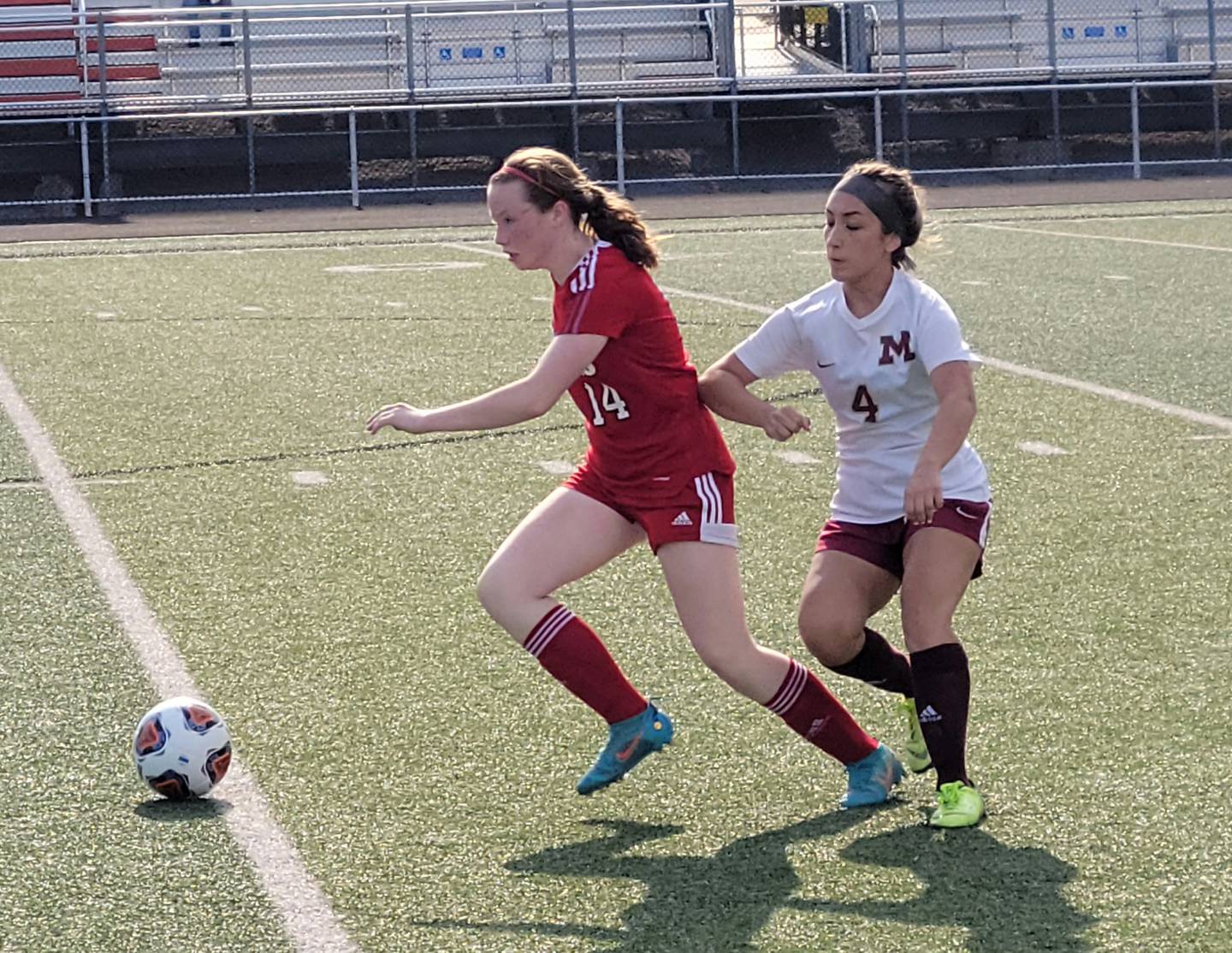 Morris finished outshooting Streator 9-7 (5-3 on-target shots), with Bulldogs keeper Monserat Gonzalez recording four saves.
"We were knocking on the door in the second half," Streator coach J.T. Huey said. "We just couldn't find a seam to get a really good shot, and Morris has a very talented keeper who knows when to come out of the net. Sometimes it comes down to just one touch to win a soccer game ... that was the case today.
"Our diamond defense was really good the entire match. They just put a heckuva pass through to a player with space and 15 yards away. From there, there isn't much you can do against that."
Huey said it was a complete turnaround from the squads' previous meeting, a 3-0 Morris win in late March, and he's looking forward to his returning players benefitting from this season's experience.
"We played them at the beginning of the season, and they pretty much handled us in the second half of the game. But I thought today was a very well-matched battle," Huey said. "We came into this season having lost a lot of talented players that missed their seniors seasons, so this year there was a big learning curve.
"Hopefully we can carry what we learned into next year."