SENECA — Terry Maxwell has been around both girls track and field and coaching in general long enough to know what's what, and he's the first to admit that there's much more than meets the eye that goes into winning a sectional championship.
It takes talent, it takes hard work, it takes good coaching, and it takes a little bit of luck too.
The Irish on Thursday night captured Seneca's 10th consecutive girls sectional championship, this time accumulating 171 team points to beat out runner-up Newark and its 133 points, as both far outdistanced the rest of the 16-school, Class 1A field.
Elmhurst Timothy Christian was a distant third with 47 points, followed by Palos Heights Chicago Christian with 42 and Elmhurst Immaculate Conception 39. Somonauk placed 10th with seven points.
"Winning 10 in a row feels good, but there's so much that's tied into that," Seneca coach Terry Maxwell said. "It's not just having great girls who are great athletes, it's also being a little lucky too, having girls unexpectedly step up at just the right time, start PR'ing late in the season at just the right time. …
"It took a lot of that tonight to secure this against a really tough Newark team. They have so many great athletes, and they gave us all we wanted for sure. In fact, this is probably one of the closest sectionals we've had, but our girls really came through."
Among those who stepped up were the relays, who effectively persevered through the muggy, 90-degree day. The 4x800 quartet of Ashley Alsvig, Evelyn O'Connor, Gracie Steffes and Clara Bruno posted a time of 10:34.44 to come in first, while in the 4x400, Clara Bruno, Anna Bruno, Emma Smith and O'Connor turned in a clocking of 4:14.74 to win by nearly six seconds.
Also, the 4x100 foursome of Faith Deering, Smith, Caitlyn O'Boyle and Taylor Draves was a winner in 50.94 seconds, edging Newark's 53.10 posted by Peyton Eike, Brooklyn Hatteberg, Lindsey Hatteberg and Addison Ness.
The Norsemen got revenge by taking the 4x200 behind Kiara Wesseh, Megan Williams, Ness and Linsey Hatteberg and their 1:47.20, a second ahead of the Irish. Anna Bruno, Draves, Smith and O'Boyle had a 1:48.19.
The relays were not the only Irish fortes. Faith Deering advanced by winning the discus competition with a toss of 39.05 meters, well past the 28.90 turned in by Newark's KJ Friestad.
"I don't know if the heat made throwing any easier, it was kind of tough with the sun directly in your face as you were throwing, but I definitely would rather run in the heat than the cold," Deering said. "It wasn't my best throwing day, but I'm pretty proud of where I stand right now."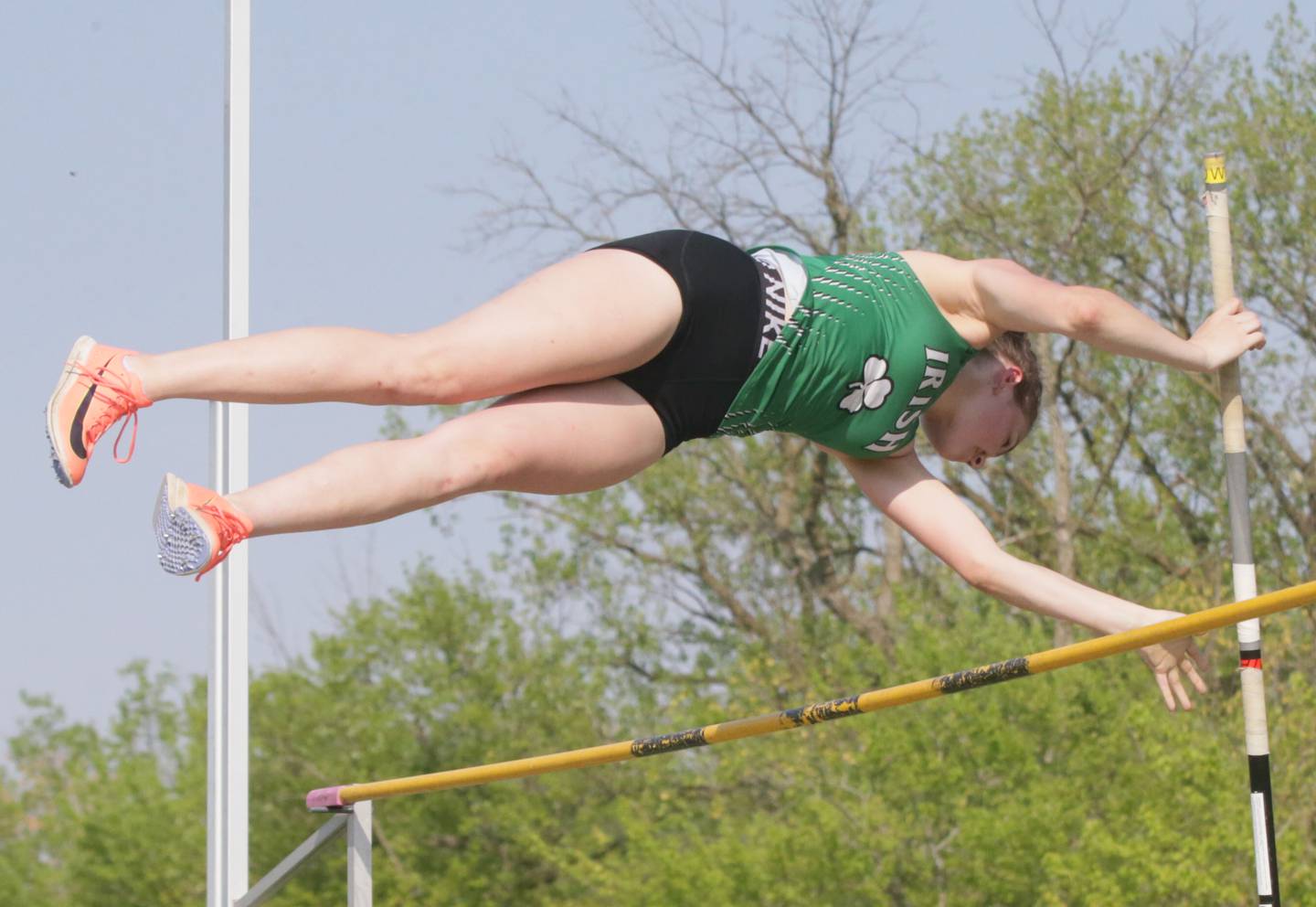 Teagan Johnson also lived up to her top seed in the pole vault with an effort of 3.20 meters to edge out Newark's Tess Carson and her 2.97-meter vault. Also taking titles for the Irish were Keeli Pumphrey, who was first in the 300 hurdles with a clocking of 49.40 seconds, and Clara Bruno with a time of 1:01.38 in the 400 meters.
Draves also advanced in the 200 dash with her 27.20 seconds taking second, as did O'Connor in the 1600 run with a time of 5:36.51.
All told, Seneca's O'Boyle qualified for state in four events — those two relays plus a 10.44 meter that netted second place in the triple jump and a 16.19 for third in the 100 hurdles, but under the state standard.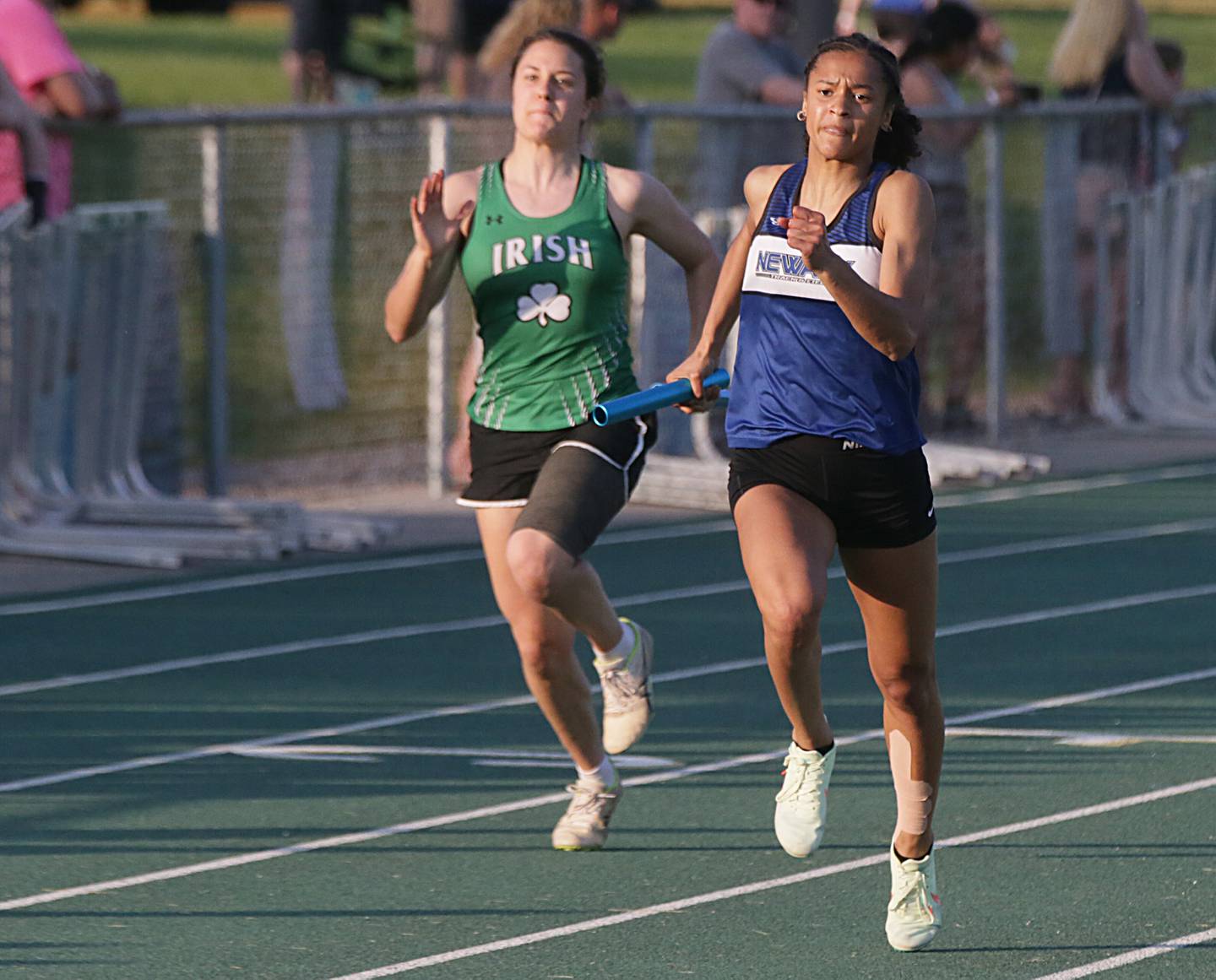 "The triple jump was a humungous surprise," said O'Boyle, who advanced with the last of her three jumps. "I was so nervous going in, but I just dropped everything and just went, gave it all I got. ...
"We all did amazing today. It's gonna be crazy interesting down there. Hopefully we can bring home a medal or two."
For the Norsemen, the trio of Wesseh, Williams and Friestad all had big days.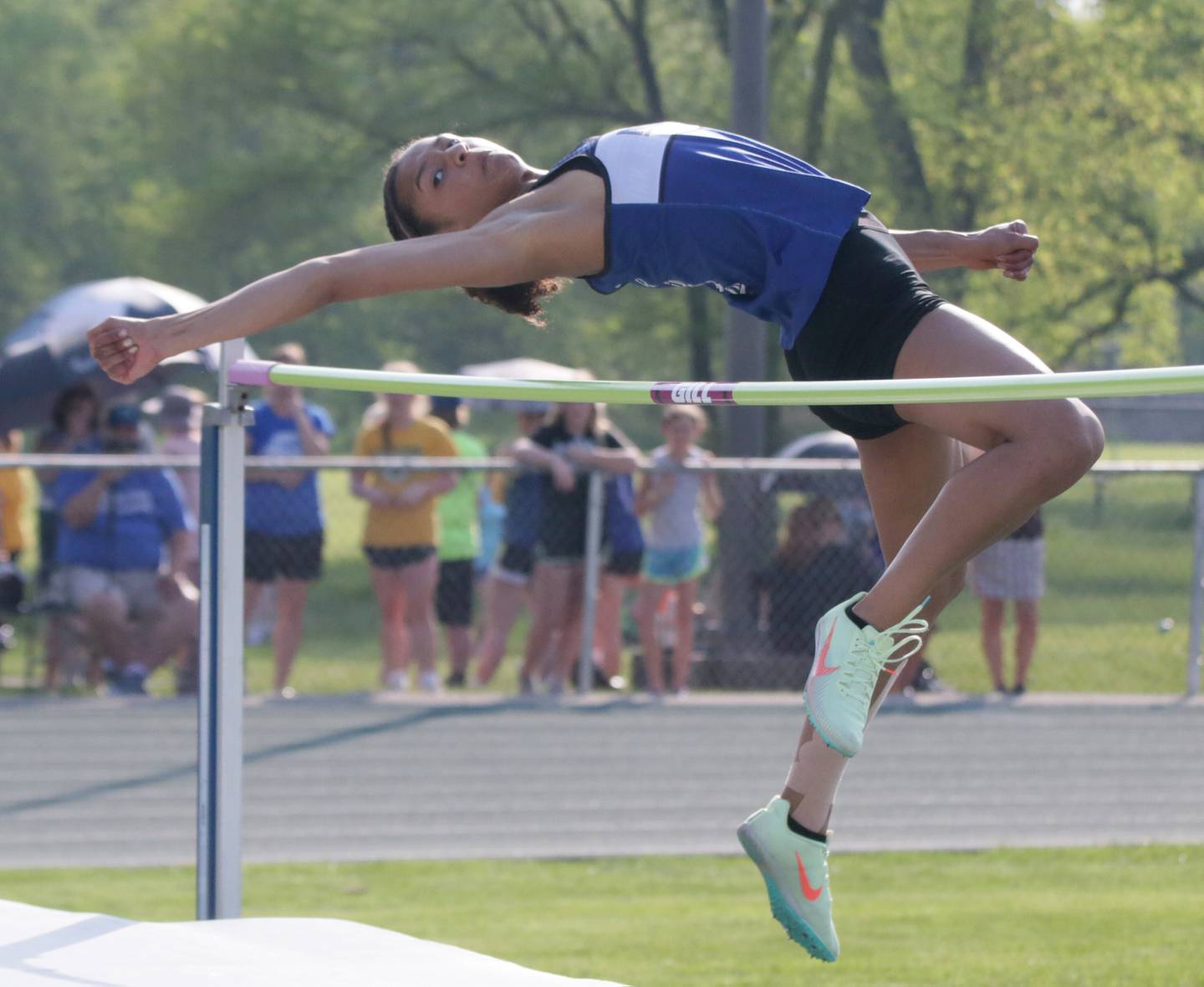 Along with the relay, Wesseh advanced by easily winning the high jump with an effort of 1.70 meters, then capturing the sectional crown in the 100-meter dash with a time of 12.68 seconds.
"The last girl went out at 5-1, and my last jump I was trying for 5-8, but missed, so 5-7," Wesseh said. "I was really working hard on my form at practice the other day, because I was coming down too soon, so to get another inch over my PR feels good. It's good to be peaking now, and I hope to do it again at state. I'm very excited."
For Williams, her leap of 11.25 meters was clearly best in the triple jump, but the other two of her first-place finishes came by small margins.
In the long jump, where the top five participants cleared the automatic state qualifying standard, her 5.45 meters just squeaked by runner-up Anna Bruno's 5.44, plus a fourth-place 5.26 by Seneca's Teegan Johnson and a 5.09 by NHS teammate Lindsey Hatteberg.
In the 100 hurdles, Williams' winning time of 15.59 seconds was fractions ahead of her teammate Wesseh with a 15.86 and Seneca's O'Boyle.
"It was a pretty good day," Williams said. "Kiara really pushes me in the hurdles, and we've been working on that, and it's starting to pay off for us. … I don't really feel I'm running my best right now, but I feel I have it in me, and I'm confident it will come out."
Friestad not only earned a trip to Charleston in the discus, but also in the shot put where her effort of 10.80 meters was best.
The best finish for Somonauk was a third place turned in by the 4x800 relay of Regan Grandgeorge, Rylie Donahue, Elizabeth Zaleski and Naroa Iturrioz with a time of 12:04.93.
Timothy Christian fared well on the strength of its relays, plus a second-place finish by Jenny Lumkes in the 300 hurdles, her time a solid 50.42 seconds.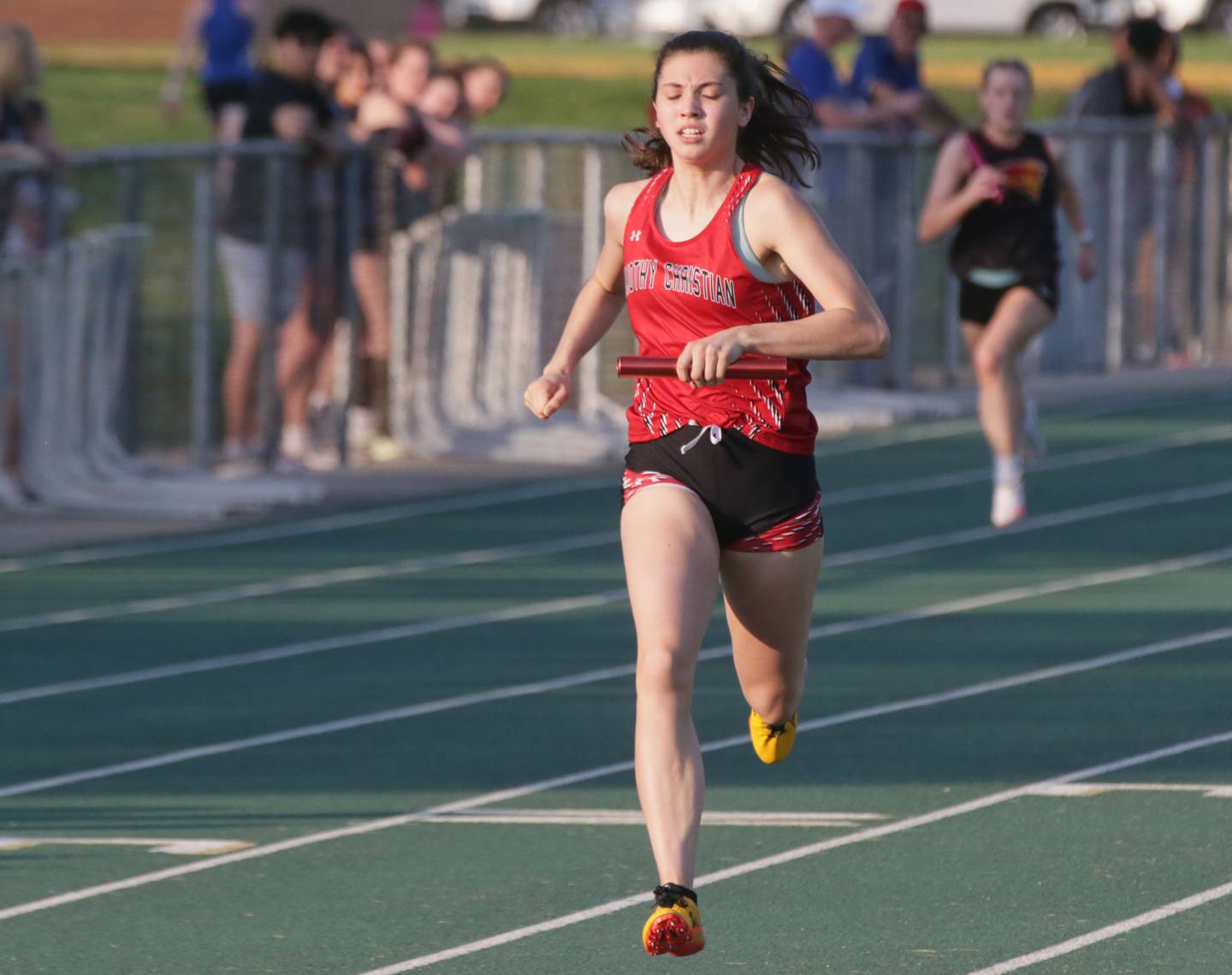 "I've been looking online for weeks to know the competition better, so I knew I had to PR today, and I did," Lumkes said. "The speed of the race really pulled me along. Competition always makes me better. … I'm really excited to be going to state."
The 4x400 relay advanced when Cailey Schuurmann, Ashley Sikkenga, Paige Hoving and Kennedi Clark posted a 4:20.58 to place second behind Seneca. Also moving on was the 4x800 quartet of Lumkes, Hoving, Schuurmann and Katelyn Leonard with a time of 11:00.32.
The Trojans' 4x100 and 4x200 relays both placed third, but did not advance.
For Immaculate Conception, Carly Manchester had to have been its star of the day. The senior distance ace first won the 3200-meter run with a clocking of 12:01.48, then captured first in the 800 meters with a time of 2:25.39. For good measure, she rolled to a win in the 1600, a 5:24.69 beating out Seneca's O'Connor and Ashley Alsvig.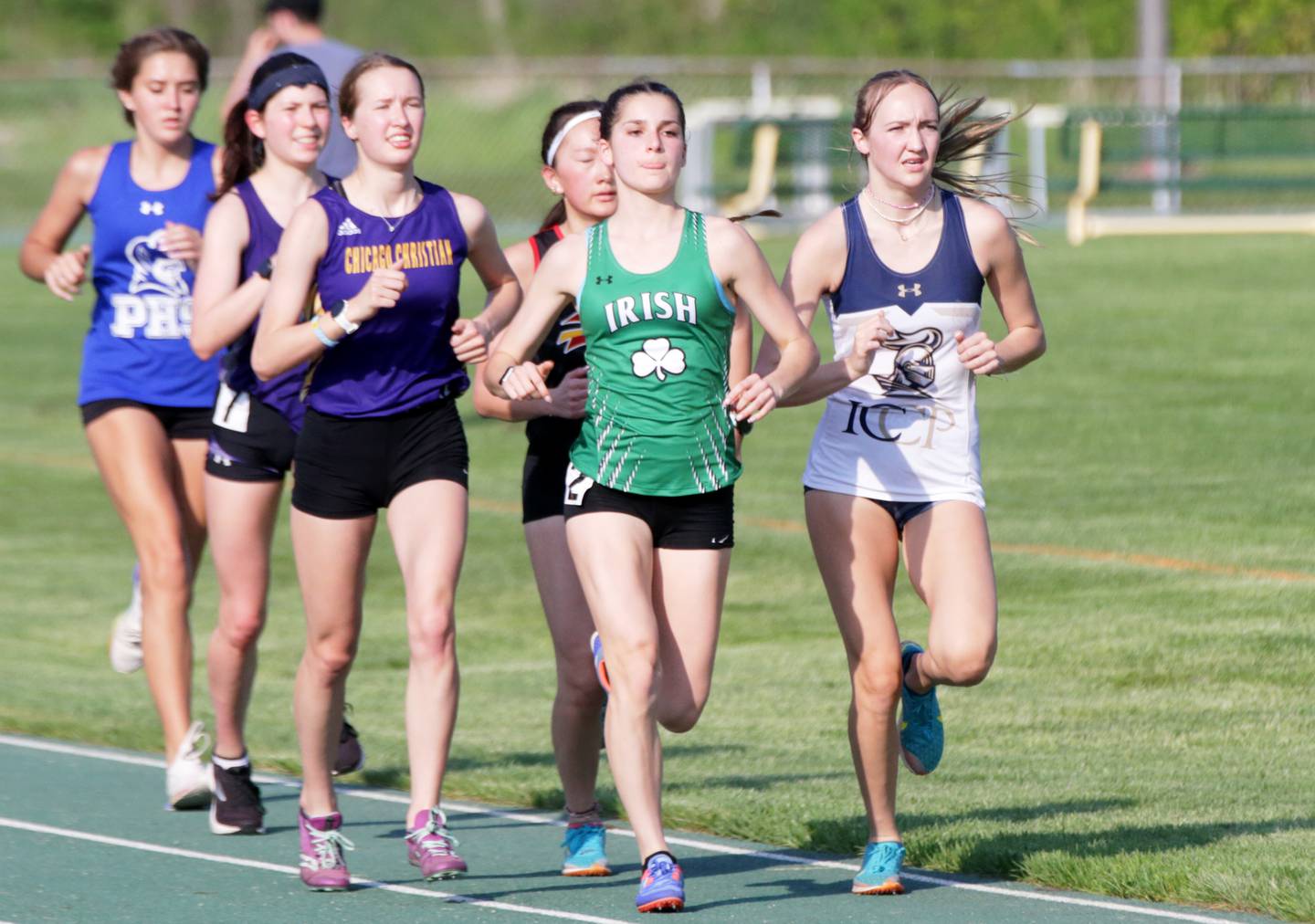 "Going in three events feels great, but it's going to make that day a little complicated, because it's also my graduation day," Manchester said.
"I was happy with my races. My goal was to qualify and not really look at the time, and I took it easy [in the 3200] to save a little for the later races. Because of the heat, I surprised myself with how much I had left for the last lap. I was scared I was going to pass out or something, but I feel I prepared well, and it worked out."