OTTAWA — The old Appalachian saying "Tis neither fit for man nor beast" is part of an old English folk poem referencing the weather.
Standing at King Field on Thursday afternoon all these years later, modern day poets would have agreed with their predecessors.
The ladies of both the Ottawa High School and DePue/Hall varsity soccer teams braved the cold and rainy conditions which have defined prep sports this spring in Illinois, each coming away with satisfaction despite the brutal climes.
The Pirates evened their overall record to 5-5-1, with freshman phenom Kalie Andersen netting three goals while senior standout Gabi Krueger added a pair of tallies and two assists as Ottawa broke open a one-goal lead at the half to earn a hard-fought, 5-2 victory through 80 minutes of what horrendous host Mother Nature allowed.
"It certainly was very sloppy conditions, very cold, and it seems like that's been the story every game for us this season," OHS coach Sean Porter said. "But this game was on me, because we were coming off a tough loss in our last game, and I wanted to get this game in to build off the positives we had in our last contest despite the loss.
"I felt it was important for us to get out and play today even though the weather was far from perfect."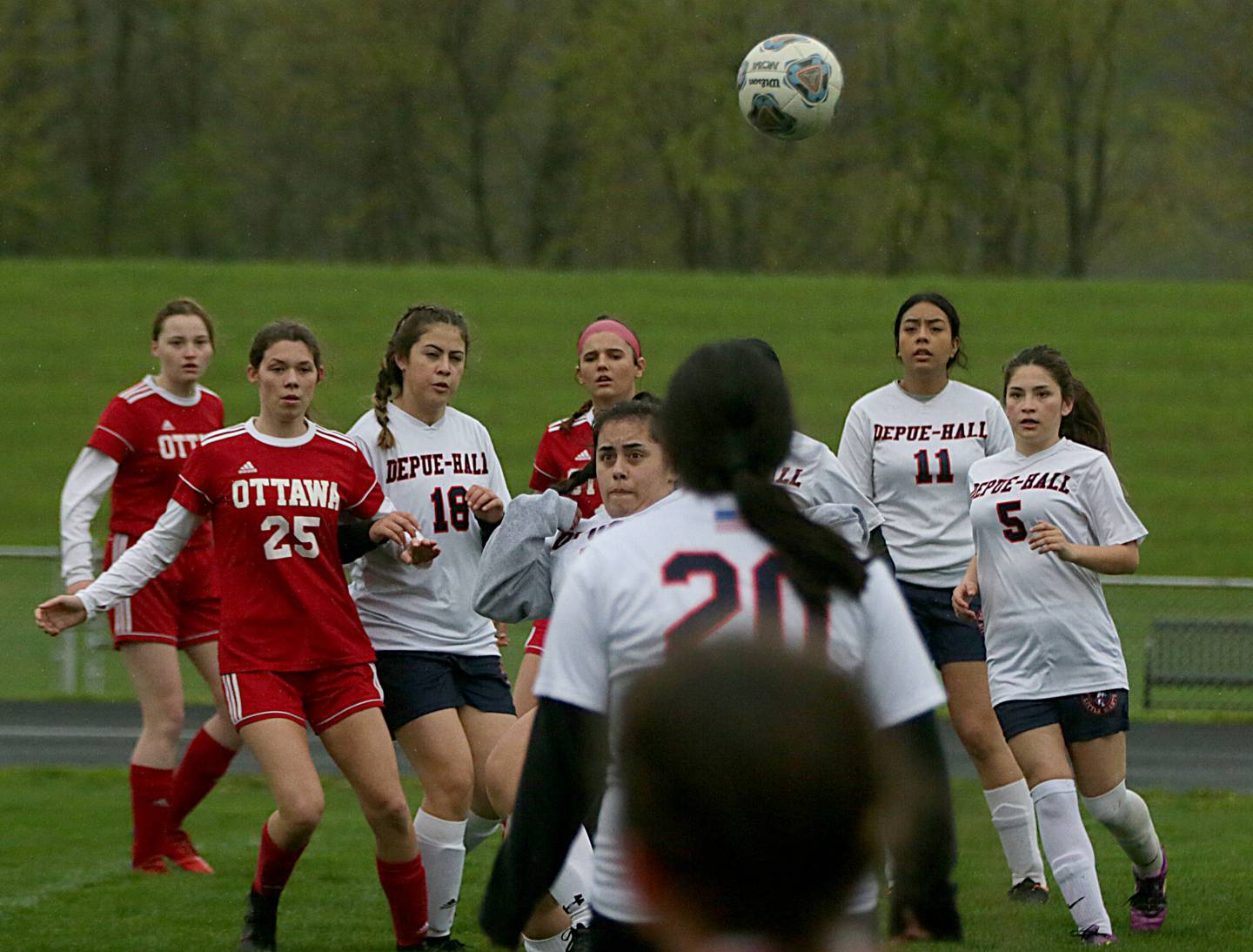 The Little Giants (0-10) weren't deterred by the weather or their record, as they received an incredible performance by freshman goalkeeper Nancy Puga, who turned away 18 of Ottawa's 23 shots on goal with some acrobatic saves that helped keep the game close.
"Nancy did a great job, and I'm so proud of her and the rest of the girls," DePue/Hall coach Jose Mejia said. "More than half of our team have never played soccer before, so to come out and compete like this against a team like Ottawa was very special."
Puga stopped 11 shots in the opening stanza. The only one that got by her was from Krueger at 27:22 of the first half, when the Pirates senior stole the ball at the top of the box to beat Puga.
"It was a ball I was able to steal and then get in front of," Krueger said. "From there, I got it settled and shot it with my right foot, and we had the lead even though I thought we could've scored more in the first half."
Ottawa took a 1-0 advantage into the break before Andersen scored her first goal in close off a rebound of Krueger's shot that Puga initially turned away at 34:25, giving the Pirates a 2-0 lead.
The Little Giants would get on the board soon thereafter, when sophomore Lizbeth Paz made a nice run down the middle of the field and fired a winner between the legs of Ottawa keeper Cameron Johnson at 31:56 to cut the gap to 2-1.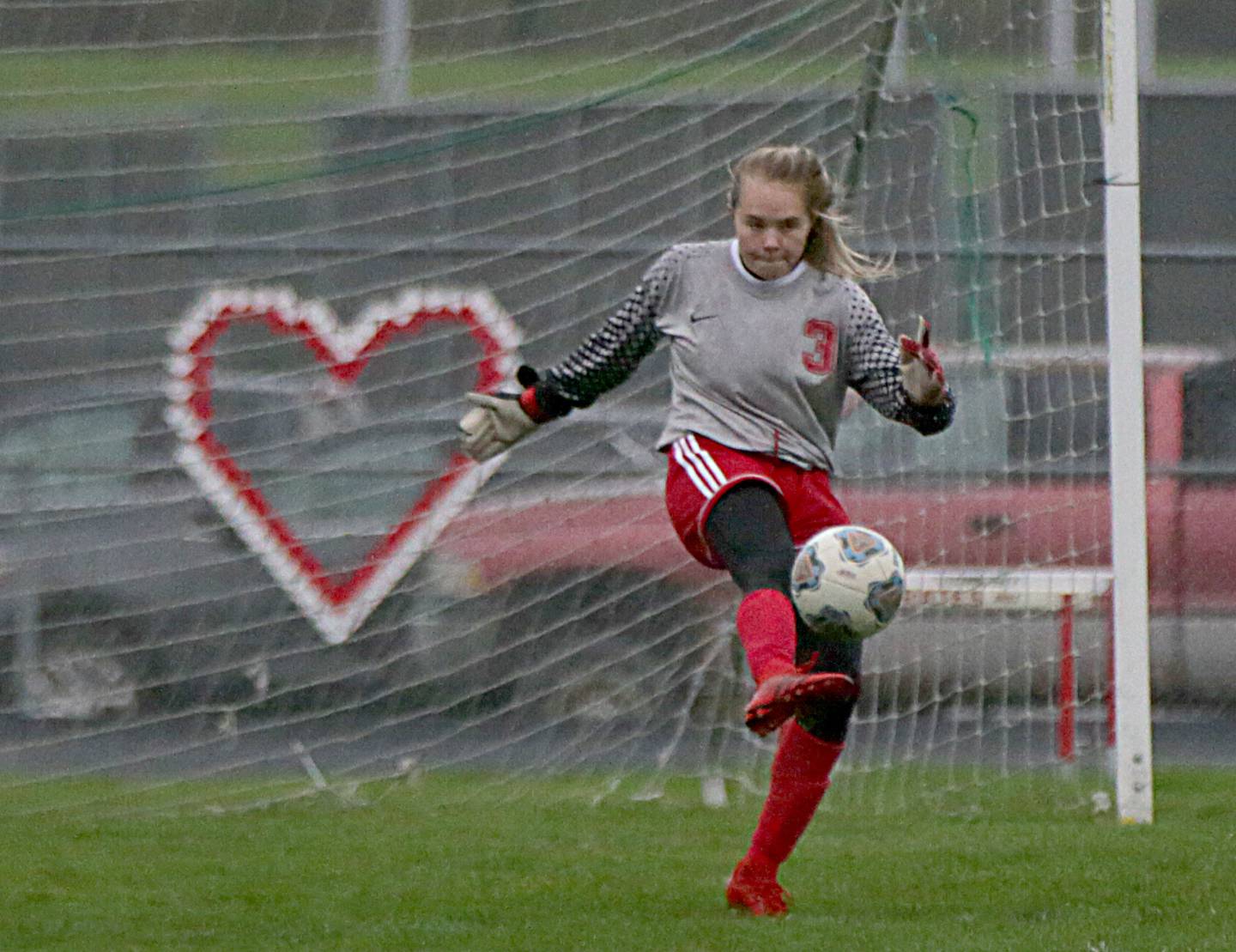 Andersen would add her second tally of the game, as she battled Puga for a ball in the box to give Ottawa a 3-1 edge at 28:38. The freshman produced her first hat trick moments later at 22:34 when she took a slick assist from Krueger to put the Pirates up 4-1.
"I've never had a game like this," Andersen said. "Playing since fourth grade, the most I've ever scored was two in a contest, so today was pretty special for me."
After a handball in the box at 5:42 , DePue/Hall tallied after a penalty kick from senior Amy Munoz that cut the Pirates lead to 4-2. But Krueger would add her second goal of the game from 20 yards out after an assist from senior Lexi Serna with 22 seconds to go that ended the proceedings in style for the home squad.