OTTAWA – On a day that unfortunately has been the norm for spring teams weather-wise – bitterly cold and windy – the Ottawa and Mendota girls soccer teams battled to a 2-all tie at King Field on Monday.
The Trojans (1-5-3) grabbed the lead just under two minutes in with the Pirates (3-2-1)scoring twice to hold a one-goal advantage heading into halftime. Then 13 minutes into the second half, Mendota tied the match, and although each team had a couple of good scoring chances, the match ended in a draw.
Both coaches – Mendota's Nick Myers and Ottawa's Sean Porter – had different perspectives after the match.
"We've been struggling to score goals this season, so it was nice to get a couple today," Myers said. "I'm very happy with the draw in the sense Ottawa is a really good team, and we came into day's match shorthanded, missing a number of players because of spring break. We had 14 of our normal 27 on the roster here today and were missing a couple starters. We were also coming off a match against Genoa-Kingston where they scored the game-winner with 13 seconds left.
"Overall, I thought we played really well. We had a couple girls, including freshman forward Crystal Garcia, who really played today like I expect them to as far as being aggressive and attacking. Naitzy Garcia played outstanding for us and made a number of really solid saves."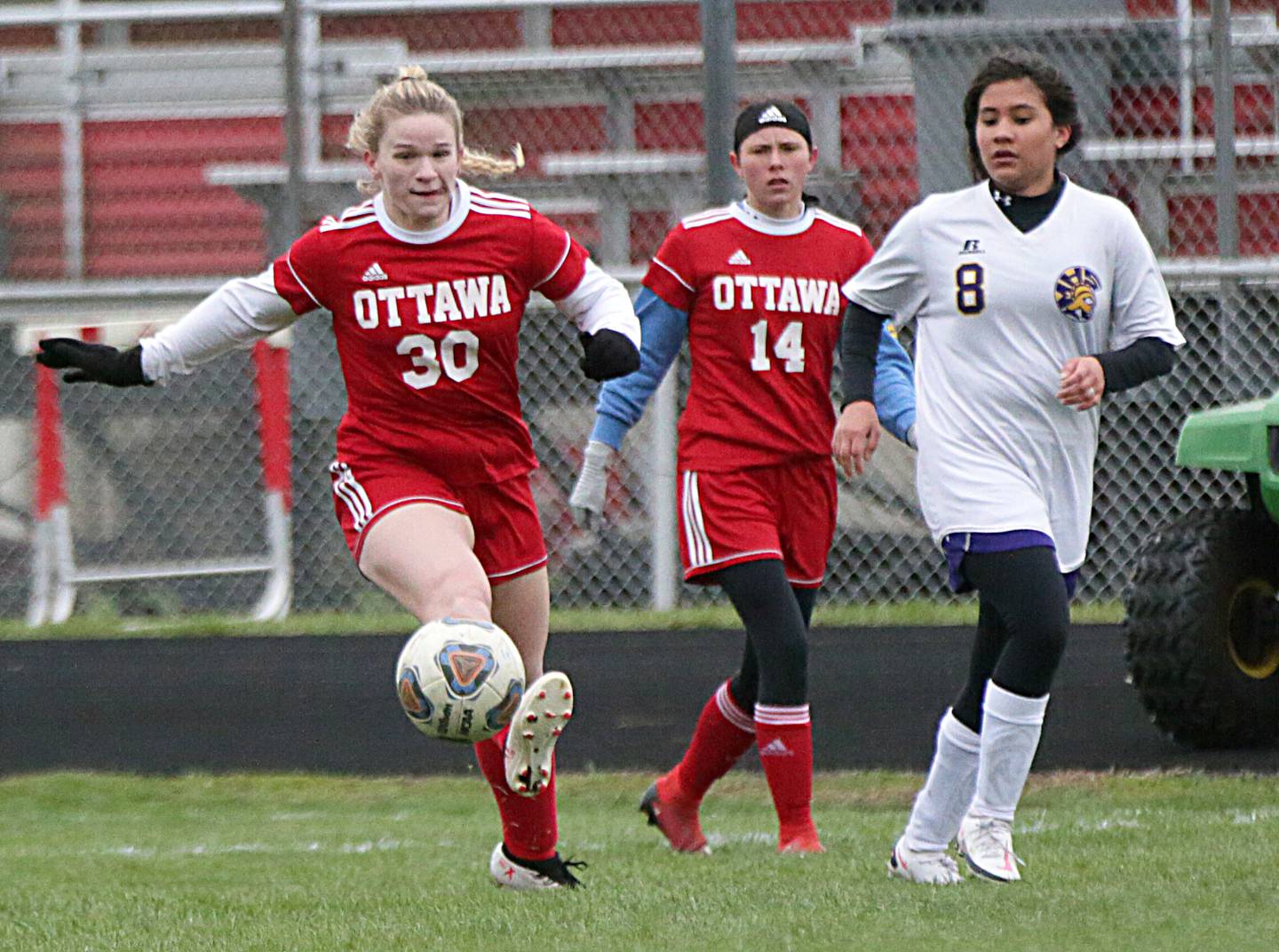 Porter was visibly disappointed after his team held a 24-10 advantage in overall shots, including 20-7 on net.
"We had so many opportunities today and only scored two goals, then we made a couple of mistakes that allowed them two goals, so it's hard to expect this match ending in a draw," Porter said. "I feel like not only me as the coach, but the players aren't happy with the outcome.
"This was a match to get our week started on a positive note, and I don't feel like we really did that. I felt like we possessed the ball for a majority of the game and had more chances, but just didn't close it out."
Mendota took the lead in the 4th minute when a cross from Isabella Tolentino found the foot of Selina Hernandez. She scored from close range past Ottawa keeper Cameron Johnson (five saves).
Ottawa tied the game seven minutes later, as a corner kick from Yesenia Leon was inadvertently deflected in the goal by a Mendota defender. Ottawa then took the lead 17 minutes later when Gabi Krueger stole the ball just inside midfield and dribbled through a handful of Trojans defenders before firing a shot from 15 yards into the back of the net.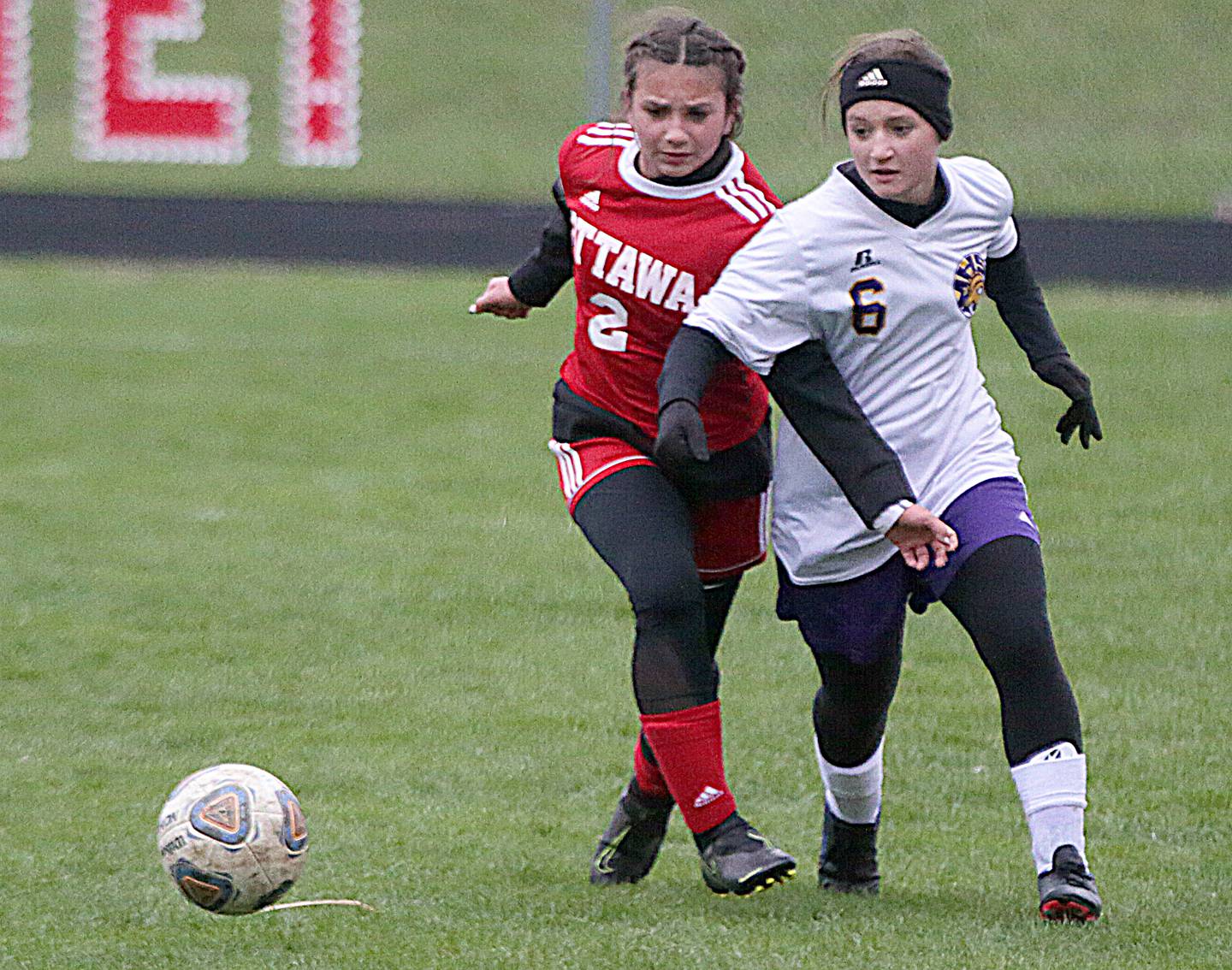 "I normally am looking for Morgan [Clements] on plays like that when the defense collapses, but that play was different," Krueger said. "I had been making my touches a little too hard, but I made a couple good touches in a row to get by defenders and found open space. The keeper had come out a little bit and left an opening for me to shoot low-right, and that's where I put my shot."
Mendota scored the equalizer with just over 27 minutes left when Cassie Gonzalez scored on a rebound off a scramble right in front.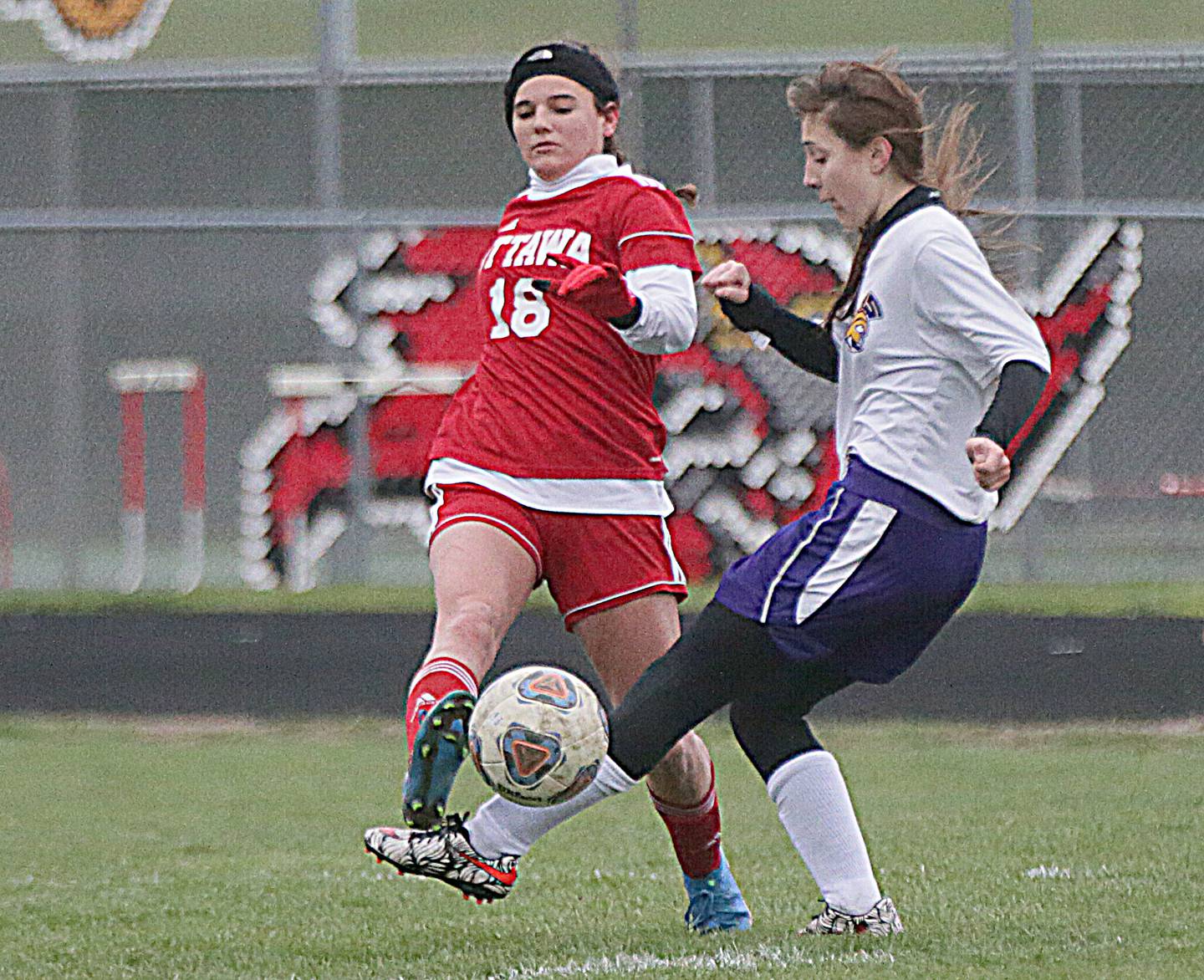 Mendota keeper Naitzy Garcia finished with 18 saves, including a tremendous diving stop that kept the match tied halfway through the first half.
"It was so close to going over the line," Garcia said with a huge grin. "The shot deflected off someone's leg and just started rolling toward the goal to my right. At that point I just dove as far as I could and hoped I'd be able to get my hand on it. I think my feet almost touched the back of my head when I hit the ground. I must have looked like a scorpion.
"I was probably as shocked as anyone that I was able to stop the ball from going in."
Ottawa plays at 4:30 p.m. Wednesday at Plano in an Interstate Eight Conference match.
Mendota is scheduled to play at 10 a.m. Saturday at Oregon.