OTTAWA – At the Dean Riley Shootin' the Rock Tournament in Kingman Gym, the Pirates held off a late rally from the Indians to capture the fifth-place game, 51-48, Saturday to even their record to 2-2 on the season.
The teams were tied 41 with just over four minutes to go in the fourth when Ottawa's Aaron Threadgill sank a 3-pointer from the left corner off a pass out of a double team in the post by Braiden Miller. Luke Cushing, who had crashed to the floor earlier in the quarter and got to his feet slowly, then stole the ball on Pontiac's next possession and went coast-to-coast for a layup, preceding Anthony Miller's three-point play two minutes later to give the hosts a 49-41 advantage.
The Indians closed to within the final score but had their potential game-tying 3 fall short.
"Aaron did a great job of communicating to Braiden during the double team to get that open 3," Ottawa coach Mark Cooper said. "Then Luke, who really toughed it out today, made a great play on the other end and then finished at the hoop.
"This was our fourth game in a week, and much of our message at halftime was, 'Are we tough enough to do this? Do we have enough fight in us? Do we have enough energy to get the job done when we need to?'
"We made enough winning plays in the second half to get out of here with a win."
Anthony Miller posted a game-high 19 points and three assists for Ottawa, followed by Cushing (nine points, four rebounds, two steals), Braiden Miller (eight points, game-best 11 rebounds, three blocked shots) and Trace Roether (five points and three steals).
Pontiac (1-3) was paced by Riley Weber's 14 points and Logan Barnett's 10 points.
The Pirates visit Morris at 7 p.m. on Friday.
Momence 53, Flanagan-Cornell 46: In the championship game of the Route 17 Thanksgiving Classic hosted Saturday night by Woodland, the Falcons got off to a great start, leading 16-12 after one quarter and by as many as eight points in the second, but it was Momence taking control by outscoring FCHS, 17-3, in the pivotal third.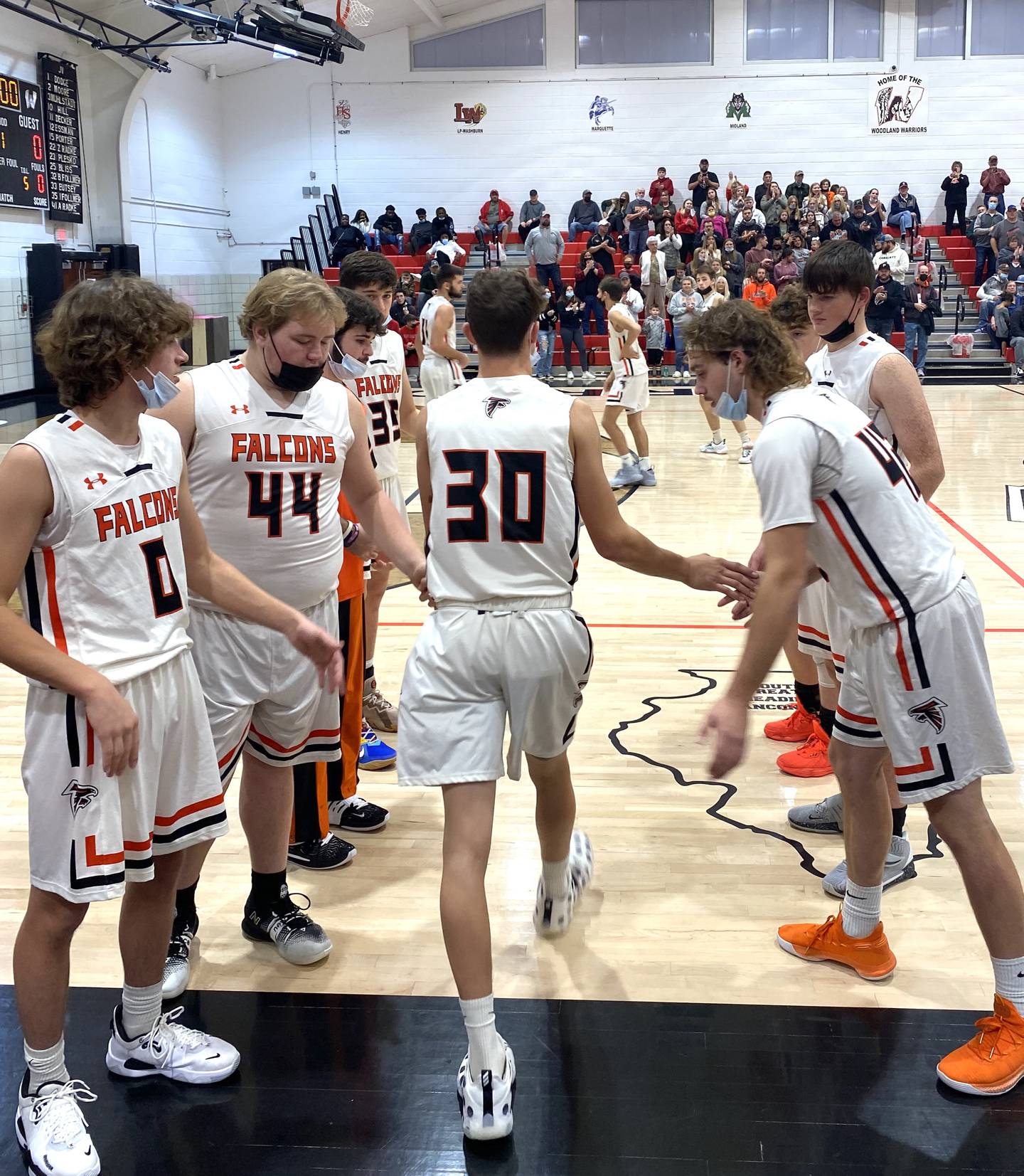 All-tournament selections Tyler Pfaff (16 points, seven rebounds), Sam Jones (six points, seven assists, six steals) and JD Ruddy (six points, four steals before fouling out with :40.9 to play) were among the leaders for the Falcons, as was Kesler Collins (11 points) and William Weber (six points, nine rebounds).
As the game wore on, though, Momence's quickness and adjustments to FCHS's high-post offense and man-to-man defense took effect. Led by all-tournament picks James Stevenson Jr. (16 points, seven rebounds, six assists, four blocked shots) and Jaden Walls (12 points, four assists, four steals), Momence (4-0) closed the first half on a 12-4 run and opened the third with a 10-2 flurry.
"We struggled in that second and third quarter," said FCHS coach Brian Yoder, "and couldn't keep No. 23 [Stevenson] out of the lane. He's tall and lanky. We won't see [many players] like that.
"Hat's off to them, but I'm proud of our guys."
The Falcons (3-1) drew back as close as five points, at 51-46, in the final minutes, but were held scoreless the final 1:07.
— Read J.T. Pedelty's full story from the championship game at mywebtimes.com.
Dwight 72, St. Bede 69: In the third-place game of the Route 17 Classic, all-tournament selection Paul Hart scored 32 points for St. Bede. Dwight was led by all-tourney pick Wyatt Thompson's 29-point performance.
Grant Park 46, Woodland 42: In the fifth-place game of the Route 17 Classic, Connor Dodge with 12 points and Carter Ewing with 10 led the Warriors, who fell to 1-3 with the loss on their home court after trailing by two points (26-24) at halftime and just one (34-33) heading into the fourth.
Carl Sass (six points), Chris Stasko (five) and Jon Moore (five), also led Woodland, with Grant Park all-tournament selection John Kveck scoring 16.
Earlville 67, Ridgeview 59: In the seventh-place game of the Route 17 Classic, the Red Raiders (1-3) earned their first win of the season, surviving a disastrous second quarter by outscoring the Mustangs, 41-27, in the second half.
Griffin Cook (20 points), Ryan Browder (17), Diego Vazquez (14) and all-tournament pick Bryar Keller (11 points) led Earlville.
IC Catholic 59, Serena 41: In the Coal City/Manteno Turkey Tournament's fifth-place game, the Huskers suffered the defeat to fall to 1-3 on the season. Camden Figgins scored 18 points, with Ben Shugrue and Hunter Muffler adding six apiece for Serena.
Herscher 47, Newark 39: In the third-place game of the Seneca Turkey Tournament, the Norsemen were defeated to fall to 1-2. Grandon Mitchell was named to the all-tournament team.
The fifth- and seventh-place games were canceled.
Leland 51, LaMoille 43: At the Ashton-Franklin Center tournament, the Panthers snapped a 59-game losing streak with the victory.
GIRLS BASKETBALL
Somonaulk 34, Genoa-Kingston 25: At Genoa-Kingston, the Bobcats (2-4) were the victors, dominating the second half after trailing by two at the break.
Maggie Roberts with a 16-point, 11-rebound, seven-block double-double led the way, backed by Haley McCoy's eight points and six steals as well as Josie Rader's six points and eight rebounds.