EARLVILLE – When power meets finesse, finesse had better be on top of its game to stay competitive. If it's not, and finesse is a little bit off, things like Earlville's decisive 25-19, 25-8, nonconference victory over Woodland on Wednesday night will happen.
The Red Raiders took a little time to put their game faces on, whether it was an adrenaline hangover after ending Newark's decade-long Little Ten Conference winning streak the night before or something to do with homecoming week at the school. The reason didn't matter, because once they did, they started pressing and didn't let up.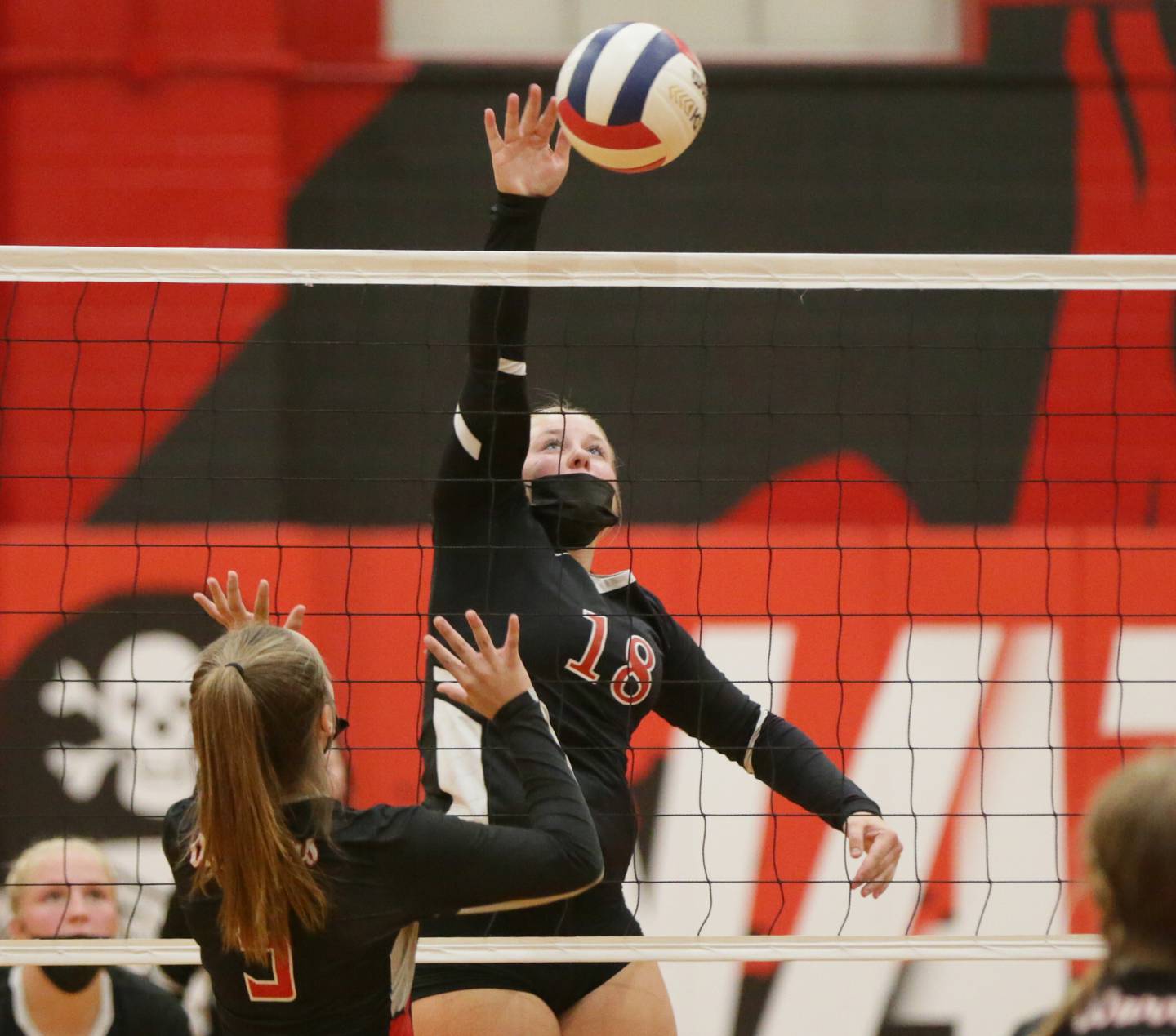 After an eye-opening seven-point service run by Elizabeth Browder erasing a one-point deficit in the first set, Earlville held on to finish that set and then rolled to the surprisingly easy second-set win, lifting it's record to 11-2 on the season. The loss for Woodland drops it to 10-5.
"It took us a little while to wake up that first game, started out a little slow, a little sluggish," Earlville coach Tonya Scherer said. "I don't know if it was the win last night or homecoming week and everything going on … but once we did, we played a good match with a lot of energy and a lot of effort.
"Woodland played some really good defense, so we just needed to pick up our intensity a bit, and we did. When it was 13-13 and we went on a little run and had energy, that propelled us into the second game. We moved a little better and had more life."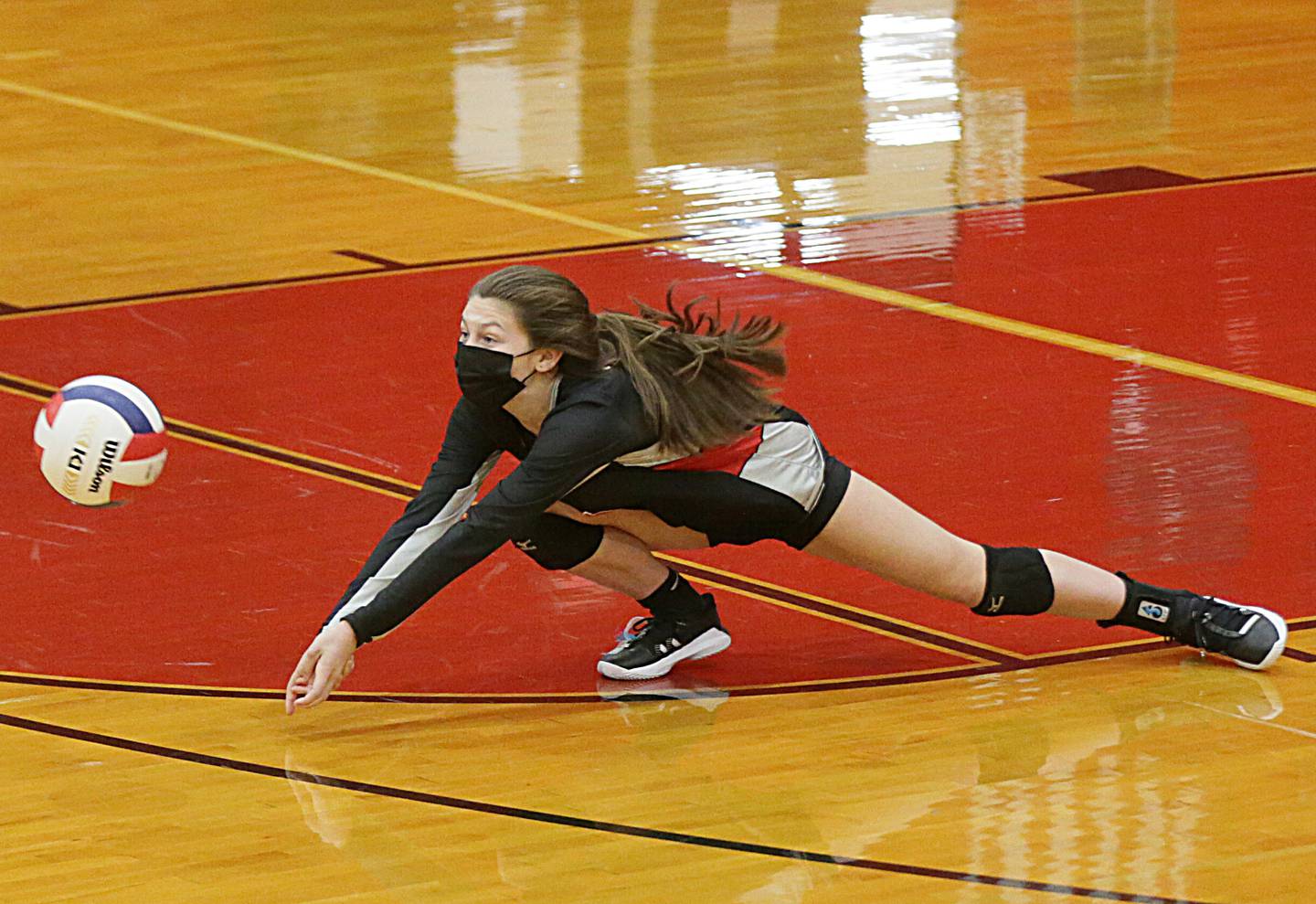 The Warriors started out the aggressor, but each time they threatened to go on a six- or seven-point burst, they'd have an uncharacteristic miscue that limited it to two or three. Still, they held leads of 5-2, 7-4 and 9-5 – the latter on a kill by Kaleigh Benner and a point by Clara Downey – before Earlville started to show life.
A kill by Emma Benson and an ace by Brynn Guelde gave the hosts a 13-12 edge, and after a net violation tied it, a slam by Brooklyn Guelde broke it and brought Browder to the line. An ace and a Nevaeh Sansone kill highlighted the game's decisive scoring burst.
"I have lots of weapons, not just the starting core but a couple more coming off the bench," Scherer said. "Like tonight, Brynn was having a hard time on defense, so I switched my libero to the left side and played Elizabeth in the back row, and Kaylee Cuter did an awesome job on the left side. Maddy Olson struggled a bit up front, so I put Navaeh in, and she gave us some life with her hits and her serves.
"I have lot of different options that I can mix and match. It's kind of exciting."
The second set was all Earlville. A pair of aces by Brynn Guelde made it 4-1. A Sansone kill and six Brooklyn Guelde points widened that to 12-3 and another Sansone slam and her three service points took it to 16-6. A seven-point serving string by Olson took made it 24-7.
Browder led the Raiders with four kills to go with six points, Olson had eight points, and Brooklyn Guelde and Sansone had six points each.
Tops for Woodland was Shae Simons with four points. Benner and Ella Sibert had two kills each.
"Tonight, the girls were just off," Woodland coach Michelle Pitte said. "We walked in tonight at 10-4 feeling pretty confident in what we had. They're always looking toward that next step and doing the right thing, but for some reason tonight one little error started growing and snowballed the rest of the way. That hasn't happened this entire season, but it happened tonight.
"I was super proud of them, though. They played really hard, dug deep and did all that they could do. Hopefully, we'll be back on our game tomorrow when we get on the road to Roanoke-Benson."