OTTAWA – Davey Rashid is no stranger to hard work when it comes to tennis, but the lengths he went to in search of a sectional title at Ottawa on Saturday, well, that was a little bit on the extreme side.
The Streator junior had to battle Metamora's Alexander Schroff for almost three hours in the oppressive sun and heat to get through his semifinal match and a shot at the singles sectional championship. Unfortunately, that win drained him enough that he fell in the championship to Schroff's teammate, Bryton Short, but the effort should greatly improve Rashid's seed when the pairing for IHSA state finals held in the Chicago suburbs come out Tuesday.
Also helping themselves in that regard was La Salle-Peru's Gavin Jonassen and Andrew Bollis, who rallied to edge the Ottawa tandem of Regan Linde and Sam Walker for third place in the sectional's doubles competition.
Metamora won the team title easily, using Short's singles title and the doubles first-place finish by Brian Lelm and Harry Hawbaker over fellow Redbirds Keegan Nevitt and Griffin Hammond to total 35 points to 16 for the runner-up Pirates and 12 for the third-place Bulldogs.
Although they didn't have any state qualifiers competing Saturday, Morris tied Coal City for fourth with 10 points, Princeton was fifth with eight and L-P was sixth with seven. St. Bede did not score.
In the temperatures that rose from the low 80s at 9 a.m. to over 90 degrees close at noon, Rashid's semifinal match – a 6-4, 4-6, 6-4 victory – took two hours and 43 minutes to complete, by far the longest match of his career at Streator and his first full three-set match (no third-set tiebreaker) for him in almost two years.
After that, the No. 2-seeded Rashid had little left for the finale against No. 1 Short, who was well-rested after sitting idle for almost two hours after a quick 6-0, 6-1 win over Coal City's Tyler Johnson in the other semifinal. Add in the fact that Rashid broke a few strings on his racket and had to use a backup halfway through the first set didn't help his chances in the sudden 6-1, 6-0 loss.
That decision set his record at 15-1 for the season.
"It was a long day," Rashid said with a tired smile. "I actually won the first game [of the championship match] and had a couple of aces, but I felt fatigued from the match before. He's a good player, and he was just placing shots better than me.
"I knew I was going to state anyway, but my mindset for the day was to have fun but to be competitive. I'm a little nervous [about state] because it's my first time, but I've been there a few years ago when my brother [Greg] went. Hopefully, I can get a win or two and make it into the second day. That would be great. It hasn't been done in a while.
"I figure the state competition will be like the two matches today and I look forward to the chance."
In the doubles side of the event, the L-P duo dropped a 6-1, 6-1 decision to Metamora's Nevitt and Hammond. Meanwhile, the Ottawa duo fell to the other Redbirds team, Lelm and Hawbaker, 6-4, 6-1, setting up the all-local third-place match.
Linde/Walker jumped out to a 3-2 lead and finished off a 6-2 first-set win, but Bollis and Jonassen turned the tables in the second set, taking a 3-0 lead before knotting the match with a 6-2 win of their own.
The Pirates tandem jumped out to a 3-0 in the third and deciding set before the Cavaliers pair got hot.
"At one point, I turned to [L-P athletic director] Dan Le and said, 'I don't like where this is going,' " L-P coach Aaron Guenther said. "They just had the resiliency to turn it around and finish strong.
"Their drive to win is just huge. Earlier this week, they lost to [the Ottawa double team] in kind of a blowout, so it was good to see them put that aside, say that was yesterday's news and we're going to do our best today."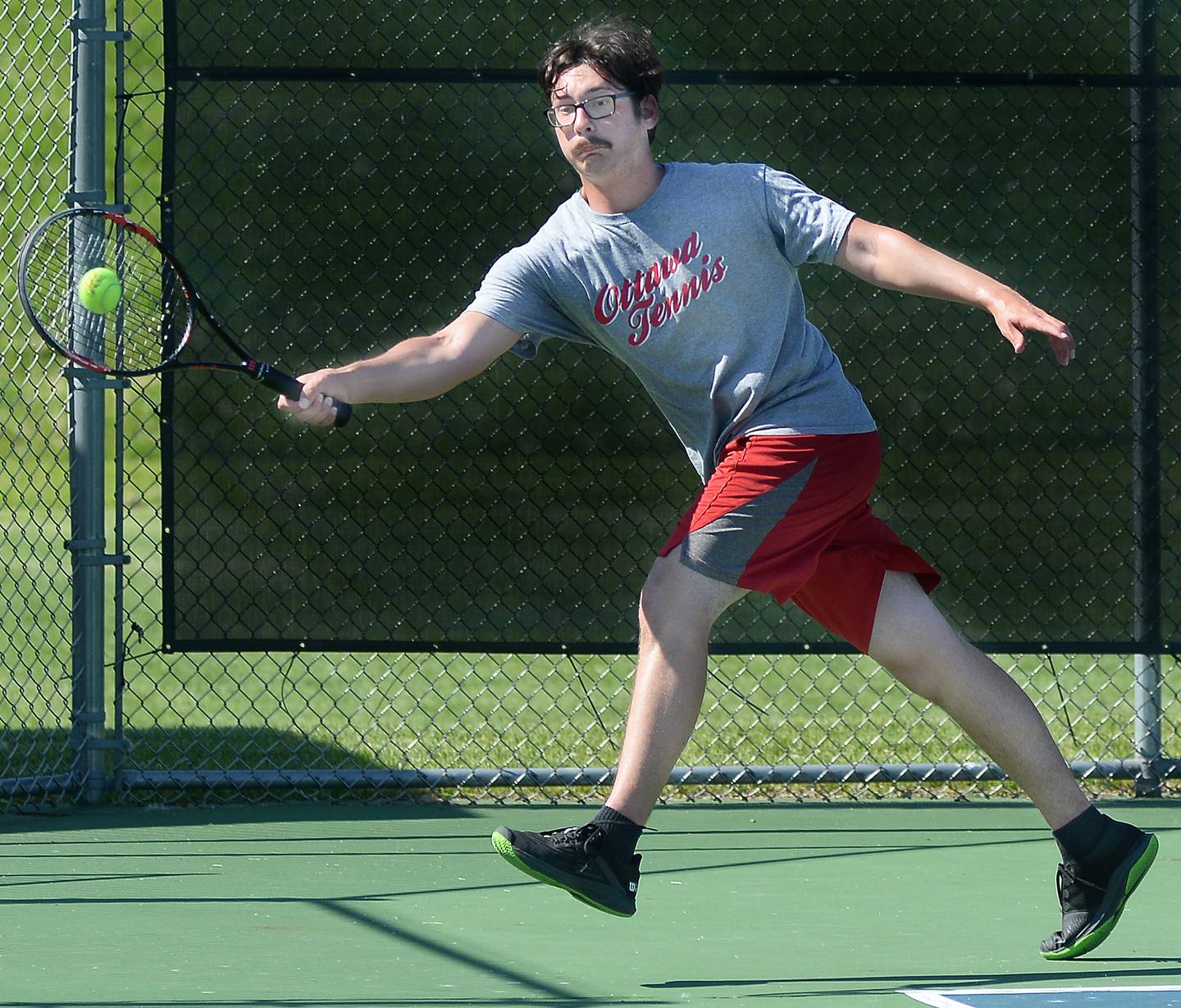 The Cavs registered two service breaks in a row and were down 5-4 at the final change of sides, then got another break to jump in front for the win.
"It's the shoes," said Jonassen, a senior. "My shoes had a hole in them, so my step-mom bought me a new pair just today for me to play in. I had lost to Ottawa four times, and today was the only day we beat them. It's because of the shoes."
"I knew we were going to get destroyed in the first match," said Bollis, a freshman. "Metamora's really good, so the goal was to at least get third. At least we came out with the win."
Hopefully, the Pirates pair will bounce back from the disappointing loss and perform well at state.
"I was expecting Regan and Sam to qualify for state, though they hit a few rough patches at the end, but credit some tough opponents for a lot of that," Ottawa coach Matt Gross said. "For them to battle back from 3-6, 0-5, love-40 in [Friday's] quarterfinal match to get to today, that kind of thing just doesn't happen.
"It's been a hectic year for the boys, and when you throw in the 90-degree weather we usually don't have to deal with in the spring, this was a real challenge, so I'm very pleased with the way we competed today, as well as throughout the year. We met our conference goals, and bottom line, the question was who is going to finish second [to Metamora as a team] at sectionals, and we were able to do that, as well. Everyone on our team scored points for us in the sectional.
"I'm very proud of them and this entire team."