Whether you are a student who excels at math or struggles with it, you are a favorite in Chrissy McManus' classroom.
That's because the Montini Catholic High School teacher, who as a child enjoyed puzzles and problem-solving activities, is today still very much up for a challenge.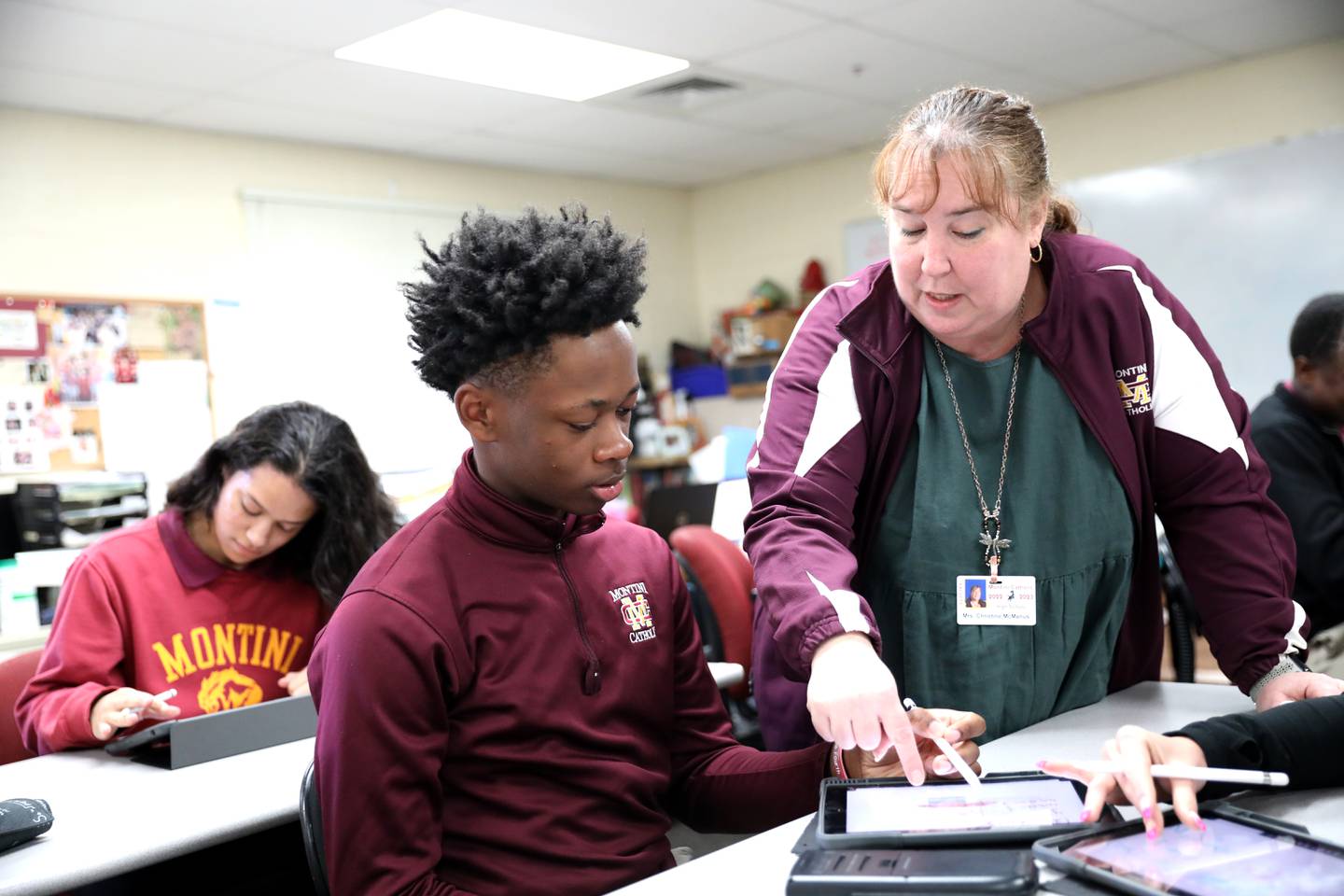 And both groups, McManus said, can be quite challenging.
"That is why I like them so much. The accelerated students are always pushing the boundaries and asking 'What if?' I don't always have answers for them and that leads us down some very interesting paths," McManus said. "On the other side, the strugglers tend to learn differently. I need to be creative and find different methods, different visuals, different everything. With both groups we take tremendous pride in the little steps. ... Those always lead to a bigger step at some point."
For McManus, 2023 marks three decades at Montini. During her tenure, she has taught everything from algebra to calculus. Her favorite part of the job?
"Spending my days with my students," McManus said. "I really love the time with them working on problems or projects together, sharing ideas, laughing and making memories."
The most challenging part of her job? For McManus, who also is the math department chair and coach of Montini's Bronco Math Team, there just aren't enough hours in the day.
"I do not have the time to plan out some of the cool projects floating around in my dreams," she said. "I am usually at school at 6 a.m. and leave around 4 p.m. That is just not enough time."
What time she does have, McManus makes the most of with her students.
"I like to give a ton of visuals and real-world scenarios, which they tend to find interesting," she said.
With one student, for instance, who was struggling to grasp the idea of using negative numbers, McManus pulled out a deck of playing cards and made a game.
"The reds were negative and the blacks were positive. We each flipped a card, with face cards removed, and then added the numbers. We then progressed to all other operations. He would play the game at home and with his friends and it worked for him," McManus said.
When a calculus class was finding volumes of objects with known cross sections, she brought each student a Twinkie and a cupcake.
"They measured all the dimensions of the bottom and used those to find the equation of the ellipse for the Twinkie and the circle for the cupcake. They then cut the Twinkie or cupcake in half to look at a cross section, took measurements and found the equation of that semi-ellipse and trapezoid. Finally, they used calculus to determine the volume of the treat."
McManus said she can get very passionate when it comes to being in the classroom.
"I do love math and that oozes out of me," she said. "I tend to get quite excited and happy about things we have accomplished."
Under her leadership as coach of the math team, Montini is one of only two teams – and the only Catholic school team – in Division 2A to qualify for the state competition for the past 21 consecutive years and finish within the top 11 during those years.
McManus hasn't limited herself to the mathematics field. Minoring in Spanish in college, she taught the language during her first year at Montini.
"I think the language is beautiful as well as useful," she said. "I was hoping to be able to teach math and use my Spanish endorsement within the math classroom. I never actually planned on teaching Spanish. Speaking, yes. Teaching, no. However, my first year teaching I taught three Spanish classes and two math classes."
Math and Spanish, she said, "are really just different languages."
"Both of which I find infinitely easier than English," McManus said.
Honors she has racked up during her tenure include the Brother George Wagner Master Teacher Award, Teacher of the Month sponsored by STAR 96.7 and St. Francis University and first place in the DuPage Credit Union Teacher Appreciation Contest. McManus was awarded Montini's Faculty Dedication Award in 2021, according to a Montini news release.
"While I'm not capable of the math to determine just how many minds and hearts Mrs. McManus has touched in her 30 years, I'm certain it's a large number, squared," Montini Principal Kevin Beirne said in a news release.
He describes McManus as "an incredibly gifted, creative, rigorous and well-respected math teacher."
"Her mathletes are consistently some of the most successful in the state, her students meet and exceed very high expectations, and countless have gone on to leverage skills gained in her courses for success in college and beyond," Beirne said. "What's most amazing, though, is her ability to make learning and applying math fun and exciting for her students. It's awesome to watch."