Glenbard West teachers and coaches Paul and Kelly Hass, who are husband and wife, remember their first talk, which fittingly was during a girls track and field seeding meeting.
Their first official date wasn't much different.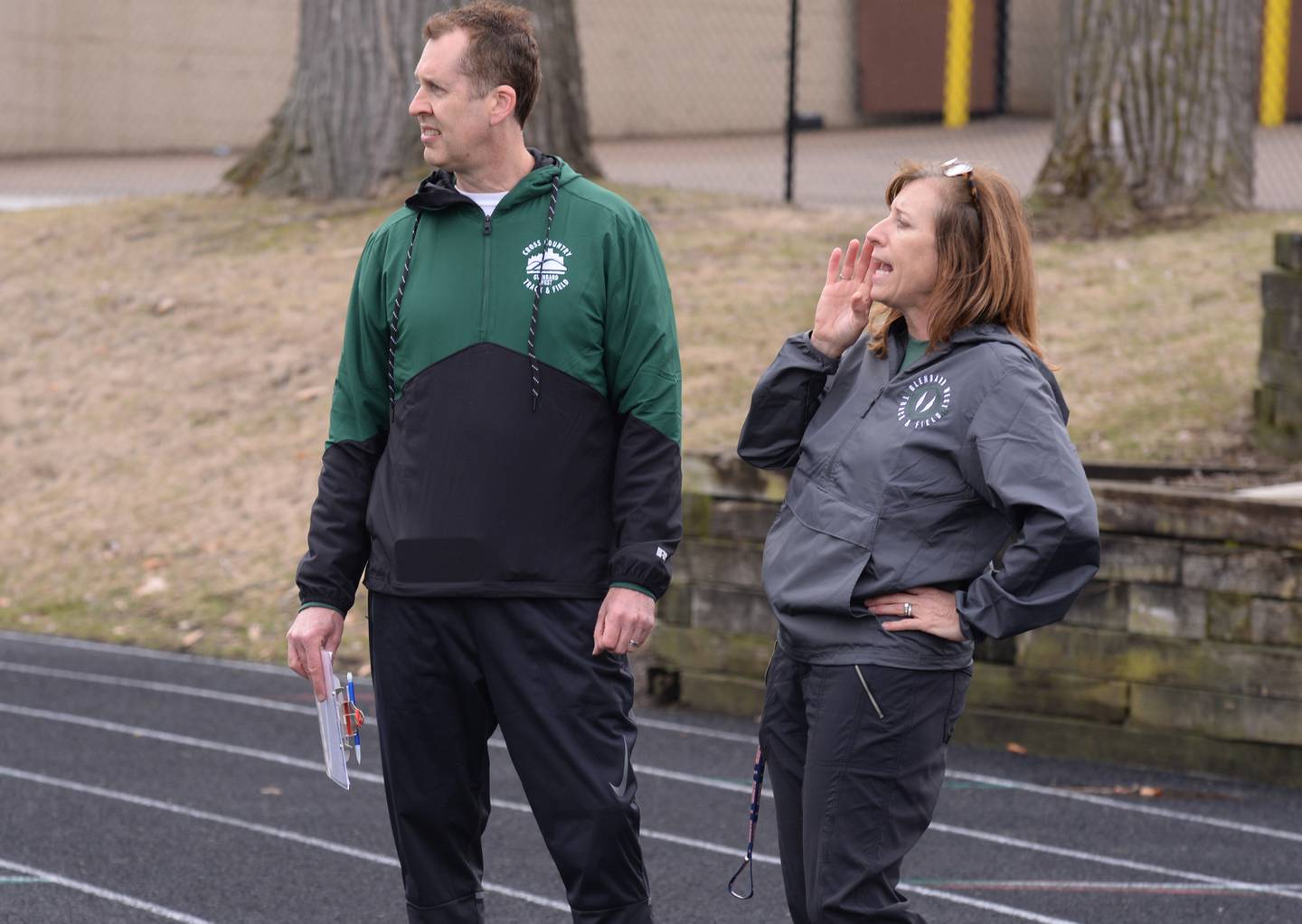 "We talked track and cross country, just talking shop," Paul said. "We can talk about that all of the time. It's kind of a nice thing. Most other couples, whoever is coaching, the other probably is not."
As they approach their 20-year anniversary, the pair have remained mainstays at the school and in the coaching ranks. A history and government teacher, Paul is the girls cross country head coach and a girls track and field assistant coach. Kelly, an English teacher, is the girls track and field head coach and a volunteer assistant for cross country.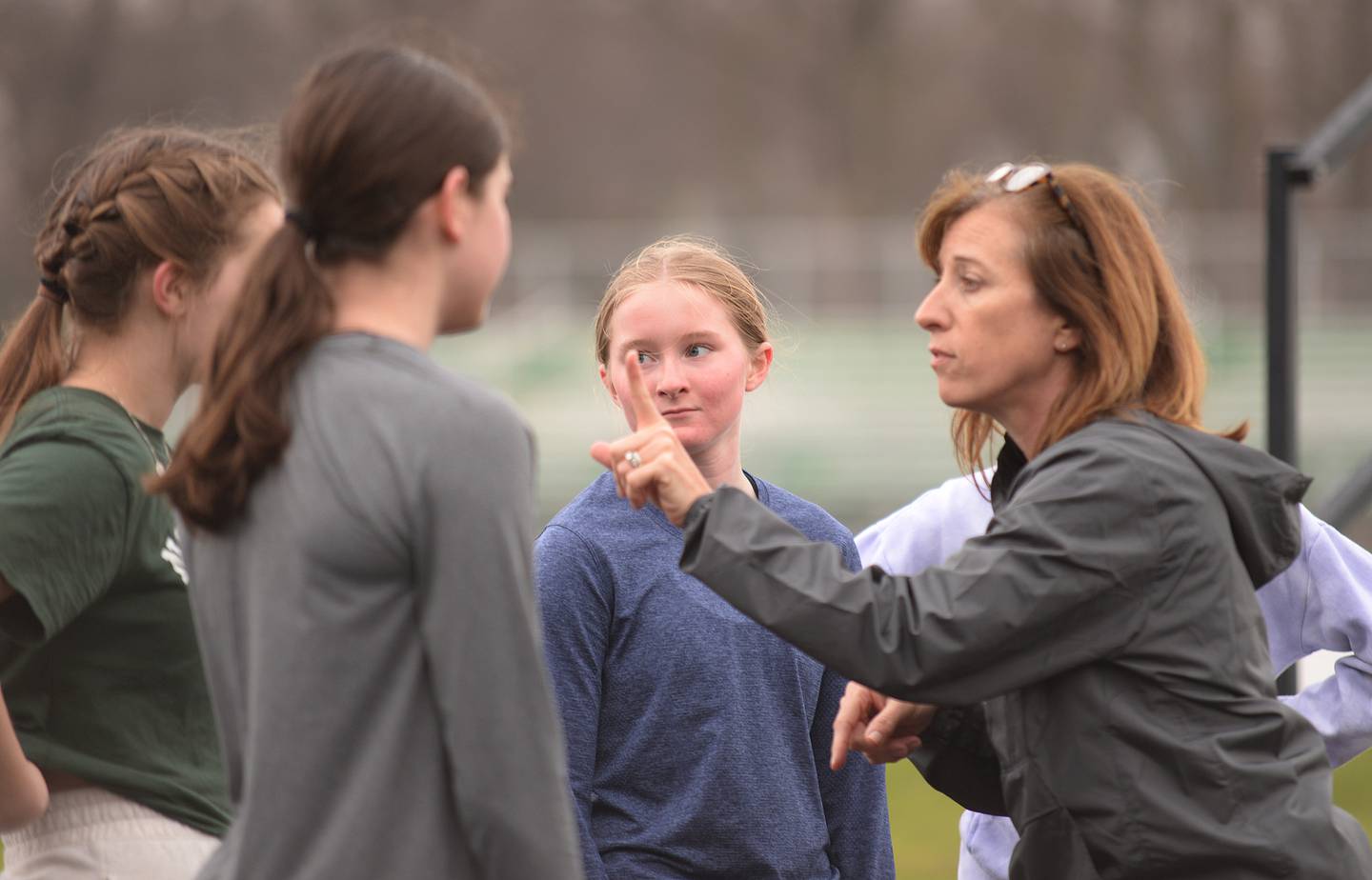 "We're both workaholics. It really helps to have someone who understands you and holds the same standards and values the exact same process," Kelly said. "To do what you love with someone you love, what's better than that?"
Starting as assistant coaches, they became Hilltoppers' head coaches in the 2003-04 school year after the retirement of renowned head coach Sue Pariseau.
"She retired and then we got married in the summer of 2003 and both became head coaches. We did it all at the same time together," Kelly said, laughing.
Kelly (O'Brien) Hass intended to be a teacher and coach since her days at Glenbard South. She graduated in 1987 before competing at Illinois. The two-time Class AA All-Stater in long jump tied for second as a senior and was seventh at state in 1985. She still holds the school record (18 feet, 6 1/2 inches).
In January 2002, she was part of the first class inducted into Glenbard South's Athletic Hall of Fame. Coaches Andy Preuss and Chris Kuntz, who now coaches at Wheaton Warrenville South, had lasting influences.
"They were awesome and they motivated me to do what I do now," Kelly said.
Her hopes to continue competing after college were cut short by injuries. She first taught and coached at West Chicago before coming to Glenbard West in 1999. Kelly has an English degree from Illinois and a master's degree in literacy from Northern Illinois.
"Paul and I have said that good coaches are always good teachers," Kelly said. "[Teaching has] changed a lot over 30-plus years. I think I'm pretty demanding but I would characterize myself as pretty understanding. If we can be honest, my students and I expect a lot from each other and then we can meet those demands together."
Paul graduated from York in 1986 and ran for legendary cross country and track coach Joe Newton. He earned a bachelor's degree in history from Wisconsin-Stevens Point. About to attend law school, Paul reconsidered and earned a master's in U.S. history from Northern Illinois.
"I think my passion was with history and then the teaching of history," Paul said. "I always wanted to make it come alive and tell stories. I wanted [the master's degree] to get a lot of information to make it exciting for kids."
Paul started working part time at Naperville North in 1996 and coached girls cross country with then first-year head coach Dan Iverson. When the Hilltoppers won the Class 3A 2013 state championship, Iverson's Huskies were second. In 1997, Paul began part time at Glenbard West and as a volunteer coach for Pariseau.
"Even back then it was like, 'You're never going to get a job with a master's degree,' but luckily Glenbard West was willing to take me," Paul said. "I laugh every single day, teaching what I love, history, government, and then teaching high school kids. It doesn't get any better than that. The teaching is the best part. The grading isn't much fun."
In January, the Hasses shared inductions into the Illinois Track and Cross Country Coaches Association Hall of Fame. The nomination strongly encouraged that they be inducted as a pair.
"Because we do everything together. It just makes sense," Kelly said.
"It's only appropriate because I think we make each other better with how we discuss things," Paul said. "I don't think she or I would be in without one another. The fact that we both went in together is special."