Years ago when Katie Johnson heard the saying libraries should be more like kitchens than grocery stores, it stuck with her.
"At the grocery store, you go in and get what you need and leave. Just like at a library you might quietly come in, get your book and leave," Johnson said. "Where in kitchens, you stay and create and build."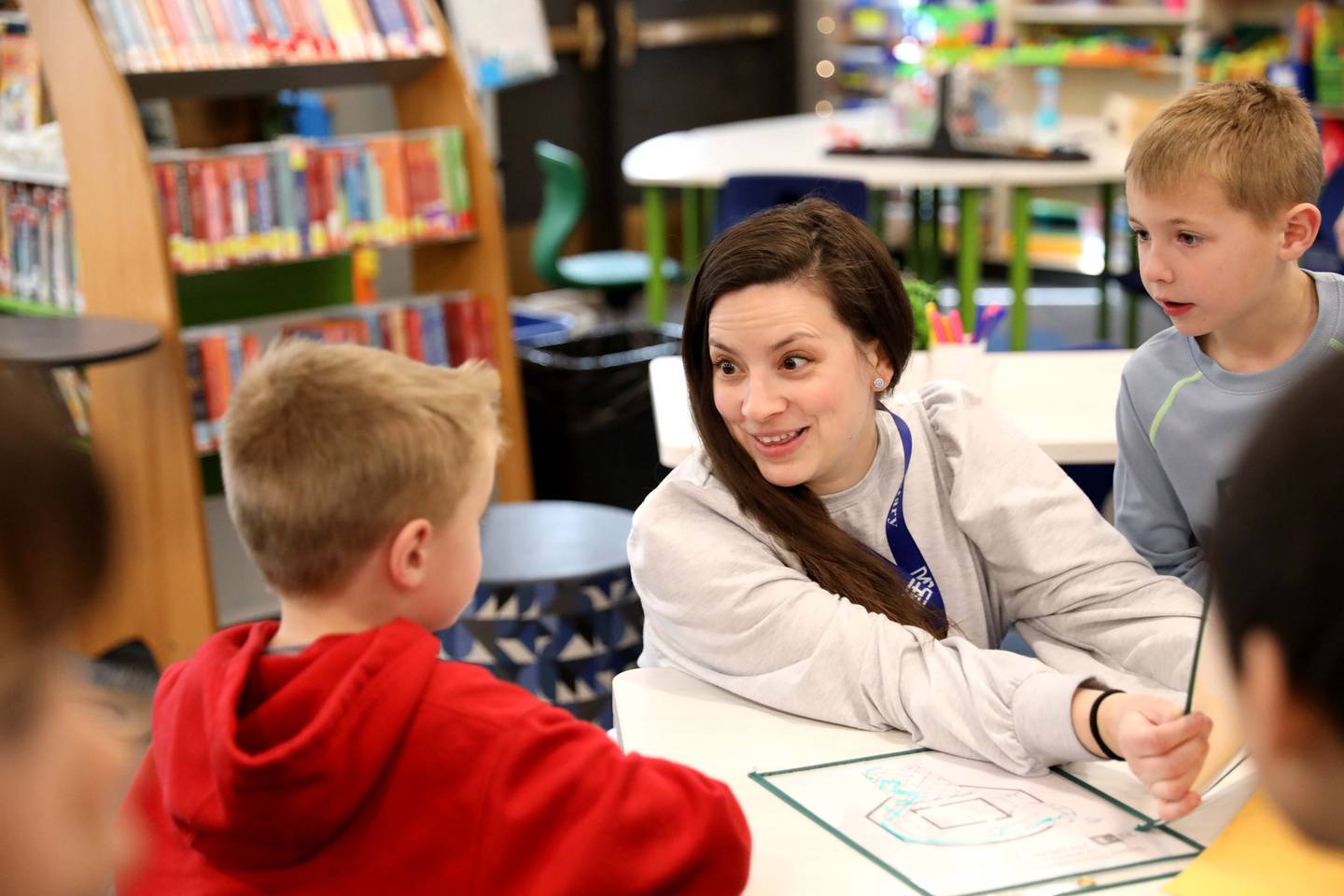 It's the latter environment that Johnson, the digital literacy specialist at Benjamin Franklin Elementary School in Glen Ellyn, has created for the students.
"I think it's always my goal to make school fun and make the library a special place for students," Johnson said. "My dad was a teacher and my mom was a teacher, so I grew up always being around that school environment. And I loved school myself. I was very shy but I remember the things that made it fun and now I'm trying to make it fun for the students so they leave excited for the next time."
Before coming to Benjamin Franklin Elementary School, Johnson taught for seven years at Abraham Lincoln Elementary School in Glen Ellyn School District 41.
"When I started switching careers from teaching to this position, I was looking up different library's makerspaces because I knew I wanted this to be a place where so much can happen," Johnson said.
One of her initiatives is the implementation of monthly themes and activities built around them.
"And it's a variety, so it's ever-changing," she said. "I love themes, and we have beautiful windows in libraries we can decorate."
A recent theme was March Madness. For the project, Johnson created a special book bracket that included a technology component.
"I searched for videos of authors reading their stories online and I organized those videos into a book bracket consisting of 32 titles. Now all students are able to access the read-alouds wherever at school or home and can share the excitement of these books with others," she said. "I set up the voting for each round to be electronic using Google Forms. I love when I can combine our library skills and technology literacy skills into fun activities."
Johnson collaborated with library aide Stephanie Harman to design a special book bracket bulletin board in the library to display the results, along with a large basketball court bulletin board with staff member stick figures playing on the court.
"We knew students would love seeing their teachers' faces on these figures playing ball and it was a fun way to honor our teacher retirees this year and include them in the display. It's these fun displays we like to design that get students exploring, discussing and overall excited to come to the library," Johnson said.
The library's makerspace contains several activity categories, including tinker and explore, design and display, make and take, and code and wire, as well as a 3D printer.
"Students may tinker with magnetic blocks, design with clay, make a card or bracelet to go home, or code a robot and complete a circuit," Johnson said. "And I'm always checking out what other libraries are doing that's cool and will get kids really excited about books."
The students, she said, enter the library excited to see what's in store for them that day.
"I hear the oohs and aahs when they're rushing over to see the new books put out on display," Johnson said.
Her teaching style recently landed her the District 41 Educator of the Year award from the Glen Ellyn Chamber of Commerce. The Chamber annually seeks nominations for categories including service, civic and business. Johnson was nominated by several parents and colleagues.
Benjamin Franklin Principal Jeff Burke said the key quality that makes Johnson "so outstanding and special" is her selflessness.
"She continues to put everyone else's needs before her own," Burke said. "Her needs never come first – it's always students and staff. And her response time is always instant, dropping everything to lend a hand, with technology, with students, with digital needs or for any questions."
Johnson enjoys interacting with the students.
"We're not necessarily a quiet library unless we're all enjoying reading," she said. "But it's always a happening place."