When Sage Mardjetko watches the video of her last pitch to win a state title, it's like reliving a moment she just can't explain.
The feeling is unbridled happiness.
"It still fills my face with the biggest smile," Lemont's junior pitcher said. "It's such an awesome experience doing it with a bunch of girls that you go to school with, that live in your own town. It makes it so special."
Mardjetko has put a lot of smiles on the faces of folks from Lemont.
The South Carolina recruit, named the Gatorade Illinois Player of the Year last week, posted a 21-1 record this spring with a 0.29 earned run average and 329 strikeouts in 142 innings. She hit a walk-off homer to beat Class 4A runner-up Marist. In an incredible stretch run, Mardjetko allowed just one run over her final 71 innings. She also batted .342 with two homers and 11 RBIs.
And the 2022 Suburban Life Softball Player of the Year capped it all off with a 1-0 no-hitter of St. Ignatius – her 11th no-hitter of the season – to lead Lemont to its first state championship.
"Just to see how it ended to me was fitting," Lemont coach Chris Traina said. "With the kind of year Sage had, and the person she is, for her to strike out that girl at the end, put it all together, I've been saying the same thing – it's so much fun to watch her throw."
How Mardjetko ended her sophomore season was not so fun.
She finished a marvelous playoff run in her first high school season with a heroic performance in the 2021 championship game, striking out 11 and taking a shutout into the seventh inning, but lost to Highland 1-0.
That loss only burned in Mardjetko a desire to return to Peoria and finish the deal. She threw a perfect game against Metamora in the East Peoria Supersectional and followed that up with the no-hitter in the state final.
"After last year, we were all devastated. It hurt to lose," Mardjetko said. "Nobody likes losing. You don't play the game to lose. Being able to come out and win it all, it shows how much grit we have and how much hard work we have put in."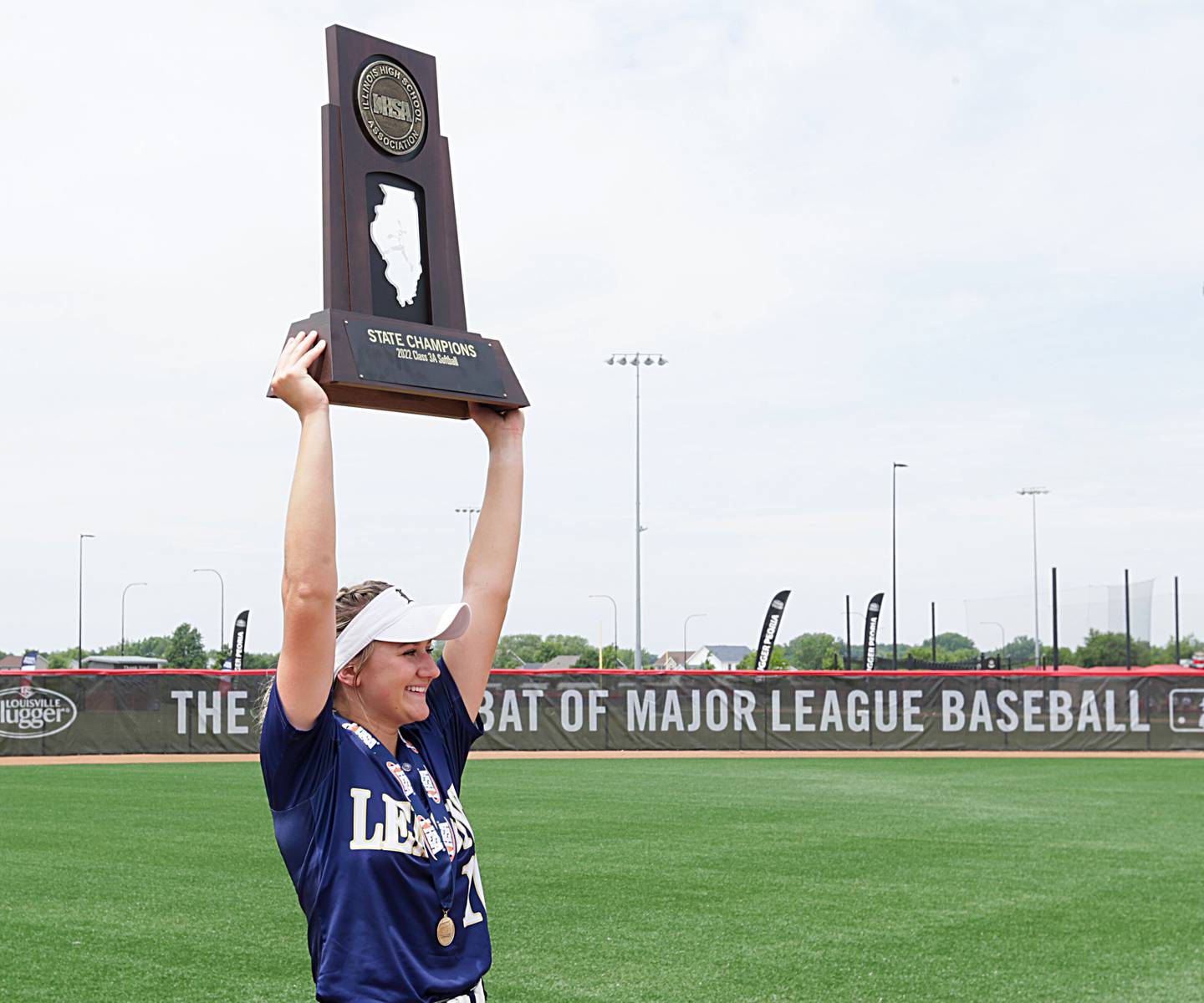 As impressed as Traina was with Mardjetko's performance between the lines, her leadership meant a great deal to this particular Lemont team. Lemont, which only graduates two seniors, started four sophomores and two freshmen.
"What stands out the most to me is the leadership role she took on," Traina said. "When you look at her pitching in general, she just kept getting stronger as the game wore on and you saw it consistently throughout the season. As a person, she stepped up and took on that leadership role. I think of how she approached the team, motivated them, talking to them, I heard that without her knowing or wanting it to be known she helped other girls on the team, talked to them separately, helped them in general."
Pitching in a one-run state championship game required cool under fire, which Mardjetko could clearly handle. Lemont's sectional final with Marian Catholic was scoreless until the sixth inning.
"It's high pressure, but it's nothing I'm not used to and nothing I can't handle," Mardjetko said. "It's hard for certain people to handle that type of pressure where you can't make a mistake and a mistake will cost you the game. Me and [Lemont junior catcher] Frankie [Rita] and my teammates were playing to have fun, not trying to think that it was the state championship and the score."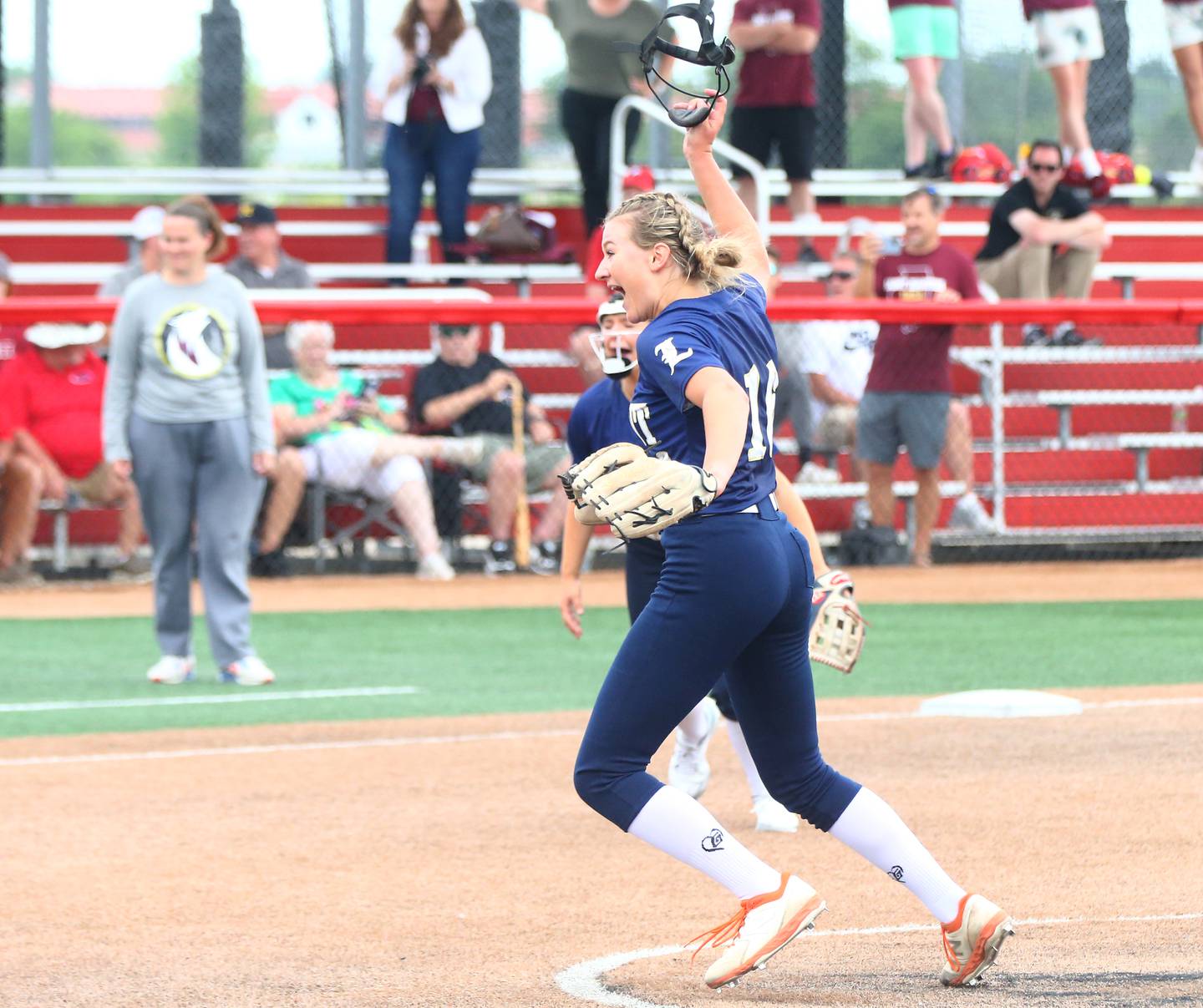 Winning Lemont's first state title holds special meaning to Mardjetko.
The third youngest of seven children, Sage is the fourth sister to come through the Lemont softball program. Sage, the third Mardjetko sister to pitch for Lemont, started playing softball around 5 years old and started pitching around 9 or 10.
All but Mardjetko's youngest sister, who had her own softball game, were there in Peoria to watch Sage win the state title.
"I've always grown up watching my sisters play softball, especially at Lemont. They were all super supportive of me throughout my entire life," Mardjetko said. "Being able to come through and make a statement, win a state title for Lemont, it means a lot. My sisters worked hard to build up a program that I joined and we excelled at it."