Benet senior forward Mariana Pinto knew that trying to replace her program's first All-American was going to be next to impossible.
Turns out she was up to the task.
Benet coach Gerard Oconer was looking for someone to take over for graduated star Jaimee Cibulka, who is now at Loyola. He found that person in Pinto.
"When we saw her in the winter, we kind of knew that she was going to be something special," Oconer said. "She didn't play any club soccer in the fall [of 2020] because she was burned out.
"For her to be able to play a full season of club soccer and just have a renewed passion for the game, we knew that she had a chance to be special."
In her second year on varsity, Pinto, a Lewis University recruit, tallied 25 goals and 13 assists, both team highs, and led the Redwings (22-5) to a second-place finish at the Class 2A state finals.
For her efforts, Pinto is the Suburban Life 2022 Girls Soccer Player of the Year. She succeeds Cibulka, who earned the honor last year by scoring 25 goals and tallying nine assists in 19 games while leading Benet to a Class 3A sectional final.
"I definitely knew it was my job to step in because as a senior and a captain, it was my role," Pinto said. "She was that role for me last year because technically last year was my first time actually playing because of the COVID year.
"I knew that senior year, it was my time to do that for all the other people."
Although she is a different type of player than Cibulka, Pinto produced remarkably similar statistics in a similar way. The Redwings didn't miss a beat, earning their second state trophy in three seasons.
"Mariana really stepped up," junior midfielder Rachel Burns said. "Mr. Oconer said we graduated Jaimee, so we need someone to step up and score goals, and that's exactly what she did.
"Last year, the goal was 'pass to Jaimee.' Now it is pass to Mariana. Mariana dribbles through everybody. Everyone can trust her with the ball."
And Pinto trusted everyone else. After she scored at a high rate early in the season, teams began double-teaming Pinto, who responded by racking up a bunch of assists.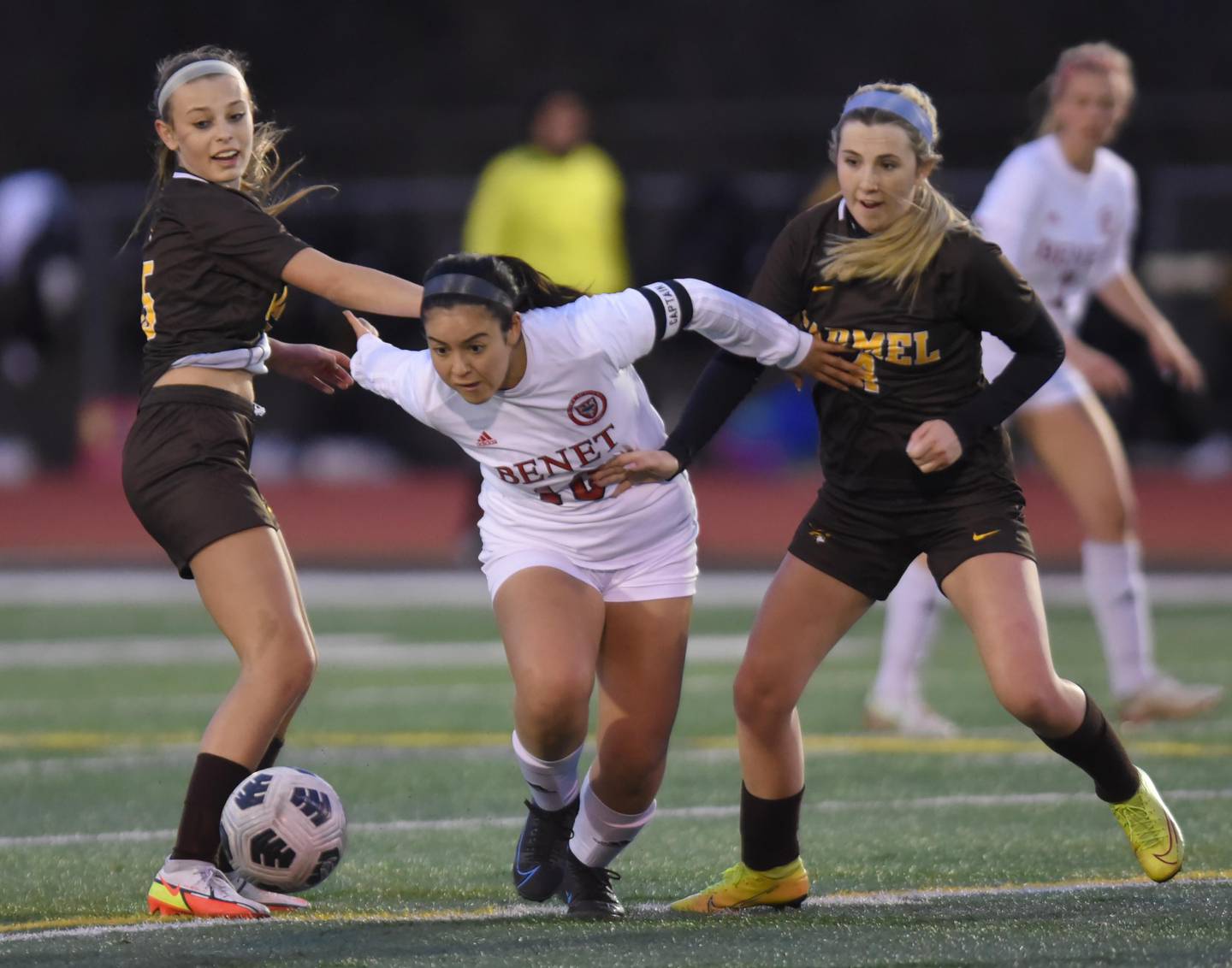 The Redwings, whose only regular-season losses were one-goal decisions to powerful Class 3A teams, went on a 13-game winning streak before losing to defending state champion Troy-Triad 1-0 in the state title game.
"It was incredible because I knew all of these girls had my back, just as much as I had their backs," Pinto said. "And that's how we were able to go so far."
Pinto was the East Suburban Catholic Conference Offensive Player of the Year. She teamed with fellow co-captain Katie Lewellyan, the only remaining holdover from Benet's 2019 state championship team, to form a dynamic leadership partnership.
Lewellyan, the ESCC Player of the Year, was the facilitator out of the midfield while Pinto was the dominant finisher.
"She's a great leader, super humble but hardworking," Lewellyan said. "She goes to every 50-50 ball and wins them, is great out of the air and keeping her back to the goal."
Those skills, and the experience Pinto gained while playing for Benet, should translate well to the college game.
"It gave me so much character and I'm going to continue to bring that to Lewis and I expect the best," said Pinto, who plans to major in exercise science on a pre-med track. "I'm going to try my best and I really think it will be a nice experience."