JOLIET – Sebastian Gutierrez was greeted by a throng of Nazareth teammates as he approached the dugout after the sixth inning Friday, a usual sign that a starting pitcher's day is done.
He wasn't.
Nazareth's senior right-hander, making his first start in nearly two months, looked right at home on the Duly Health & Care Field mound. Gutierrez struck out seven in a complete-game two-hitter, pitching Nazareth into the Class 3A state championship game with a 16-3 win over Crystal Lake South.
His teammates offered up plenty of support, breaking the game open with a six-run third inning in a 14-hit attack. The 16 runs are Nazareth's season-high, and one shy of the state tournament record since the IHSA expanded to four classes.
David Cox, one of five sophomores to start for Nazareth (33-7) on Friday, went 4 for 4 with three runs scored. Freshman Jaden Fauske, a Louisville recruit and one of the Roadrunners' five Division I commits, drove in four runs.
"I was excited, a little bit nervous at first because I hadn't started in a while but I knew I was going to do a good job," said Gutierrez, sporting a large silver necklace with a cross underneath his blue pinstriped uniform, after his 97-pitch effort. "At first when I got out there it did feel different but after that I settled in."
Gutierrez, one of just three seniors to start for Nazareth Friday, was an all-conference pitcher as a junior.
This year, though, he's seen his role change.
Nazareth coach Lee Milano utilized Gutierrez in relief for much of the season. Gutierrez's last start came on April 19 against Marist.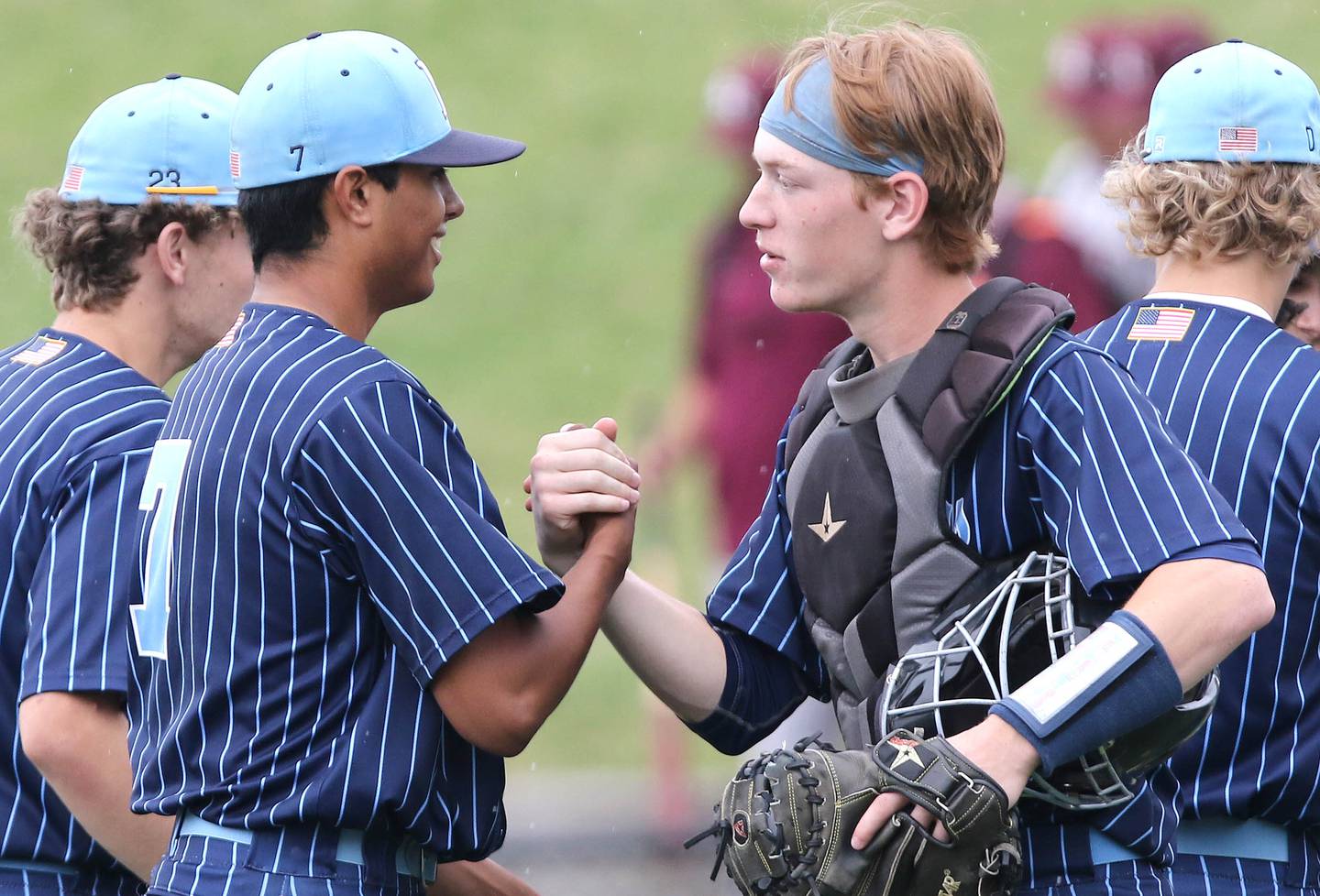 But Milano made the call after Monday's supersectional win that he was handing the ball to his senior to start Friday. Gutierrez, a Parkland commit, entered Friday sporting a 5-1 record with a 2.33 earned run average with 68 strikeouts over 45 innings in 18 games.
And Gutierrez answered the bell, holding Crystal Lake South without a hit until two out in the fourth inning while Nazareth's offense was piling on the runs.
Gutierrez was touched for three runs in the fourth, but didn't allow a hit the rest of the way. He walked five and hit a batter.
"Our seniors have been so unselfish," Milano said. "Sebastian, whatever we asked him to do, he did. He took the ball out of the bullpen in many games. There was no different approach. Today he started the game, and he closed."
While Gutierrez hadn't started a playoff game, he played a key role in Nazareth's most memorable postseason win.
He came on in relief of Louisville recruit Nick Drtina in the second inning of a sectional semifinal with Nazareth trailing Lemont.
The Roadrunners, down to their last strike in three separate at-bats, rallied from five runs down for a 6-5 win on Lucas Smith's walk-off win. Gutierrez for his part allowed three runs on three hits with seven strikeouts in a 90-pitch effort in the win that's been Nazareth's springboard to the state final.
"That Lemont game was intense, the atmosphere, probably our most crazy game of the year," Gutierrez said. "We just kept battling back, and everybody kept the faith. Everybody did their job, did the little things to get us a win."
"We talk about when you make a playoff run, there's going to be a game where you go 'Oh my gosh,'" Milano said. "Well that game was five 'Oh my goshes.' That was a really unbelievable game and I think propelled us."
Nazareth, winners of 16 games in a row, hasn't looked back, and hasn't trailed in its last three games. Now the Roadrunners, who play Chatham Glenwood Saturday morning, are on the cusp of their first state championship.
"Just another game," Milano said. "That's our approach."