So much went right in Sage Mardjetko's debut high school season last spring, but the Lemont junior hasn't forgotten being on the wrong side of the last game.
"It definitely left a bitter taste in our mouths, getting all that way after so many years and not winning. It just makes us strive more and be better this year to try to pull through to take home a state championship," Mardjetko said. "I think that loss humbled us."
Mardjetko's pursuit to finish on top is off to a spectacular start.
She's thrown two one-hit shutouts in Lemont's first two games, following up a 19-strikeout performance against Bolingbrook with a 16-strikeout gem to beat Huntley 1-0.
That second game, in particular, was pretty impressive considering the opponent. Huntley was the 2019 Class 4A state champion and took third in Class 4A in 2021.
"That game was so much fun," Mardjetko said. "What I loved most about it is we were competitive, we never gave up the entire game, we made a lot of adjustments."
Mardjetko in 2021 posted a 16-2 record with a minuscule 0.285 earned run average with 259 strikeouts, allowing just seven runs all season. She helped lead Lemont to its first state tournament appearance since 1989, and matched the 1988 state runner-up for the program's best-ever finish.
Mardjetko had three straight playoff shutouts and was stellar all the way to the end, striking out 11 and allowing just two hits in a 1-0 loss to Highland in the Class 3A championship game.
She's picked up right where she left off.
"She's looking good," Lemont coach Chris Traina said. "Sage is the kind of person that puts in a lot of work into her talent. She's always working on things, she's very competitive and brings a lot of intensity. She wants to be out there and have the ball. She's continuing to move forward and working on her pitches to make herself the best she can be."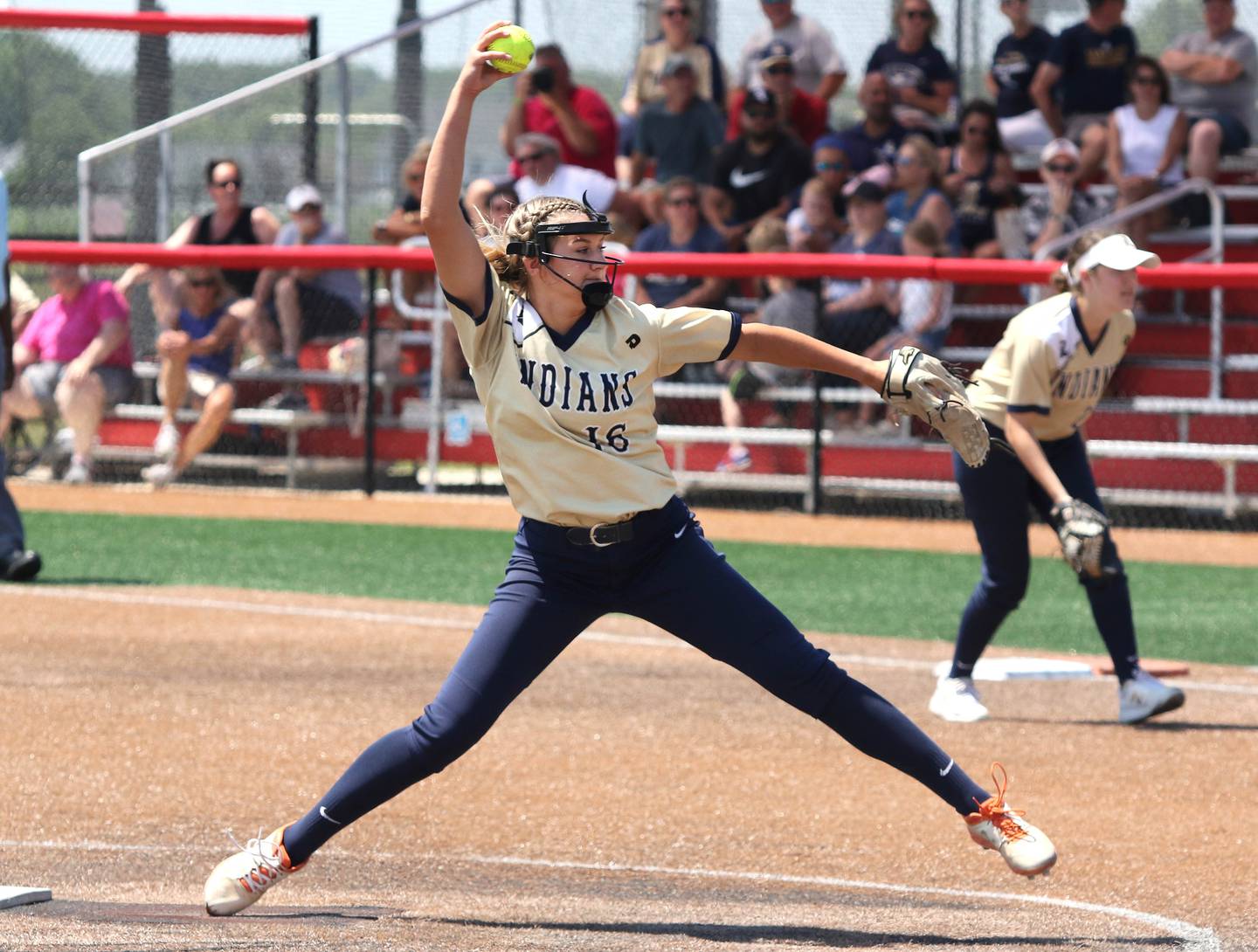 Mardjetko said she's throwing more changeups so far this season and in different counts. She's also learning a new pitch and honing it in preparation for the playoffs.
"It's an offspeed drop," she said. "It will work more with my drop ball, get a lot of use. I'm just throwing all my pitches in every count and not just relying on my best pitches."
Mardjetko had a busy offseason.
She played travel with the Beverly Bandits for the fourth season and committed to South Carolina a couple of months ago.
She's glad to be back playing with her high school friends and one of her best friends, Lemont junior catcher Frankie Rita.
"Me and Frankie have been friends for years. We started playing softball together when we were 8 years old and we've been good friends ever since," Mardjetko said. "What makes us both really good is we both want to learn from each other. We have known each other for such a long time that we understand each other at another level. She can just look at me and I can tell with her eyes what she's trying to say."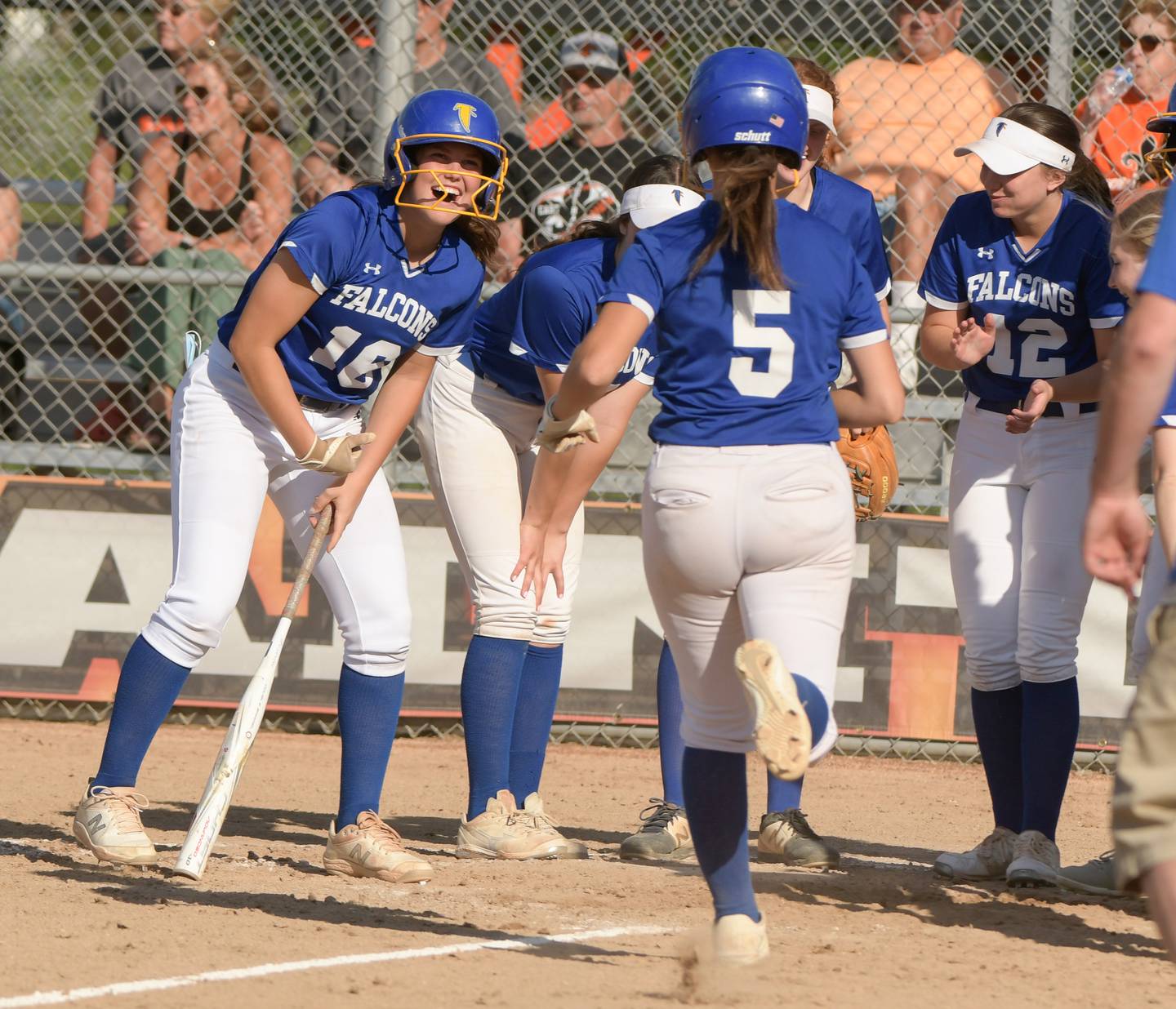 Early return for Wheaton North's Lauren Vaughn
Wheaton North received a welcome surprise for its season opener.
Lauren Vaughn's return.
The Syracuse recruit and All-State third baseman was expected to be sidelined until mid to late April as she recovers from shoulder surgery last fall. Vaughn had a double, a single and two RBIs in the Falcons' 11-0 win over Glenbard South.
First-year Wheaton North coach Allie Ravanesi, who went through four shoulder surgeries herself in her playing days, was in no rush to get Vaughn back in the batter's box.
But she was glad to have her back.
"I've been babying her a bit just because what I went through," Ravanesi said. "She will hit balls for us in practice and a couple times I thought, 'OK, she might be back sooner rather than later' and here we are. She's so excited."
Vaughn had been telling Ravanesi that in mid to late April she could be back to hit. The other day, Ravanesi was throwing front toss to Vaughn and she was feeling good so she said to do a little more.
"Then the other day she said, 'Can you throw me a bucket of balls after practice' and she hit 10 out and she said, 'I think I'm going to be ready,' " Ravanesi said. "I was like to pinch hit or DP and she was like I want to play a full game and I said we'll see how it goes. If you hit one and you're sore, we'll put the flex in and she said, 'No, I feel good.' "
Vaughn sat out hitting practice the day after the Glenbard South game, feeling a little soreness. Ravanesi said they'll take her availability game by game. Vaughn has not started throwing yet and may not be available as a third baseman for the Falcons this season.
"I told her it's one game at a time, one at-bat at a time. You don't know how a shoulder will react," Ravanesi said. "Even in the game she said, 'I was so sore and I only had three at-bats' and I told her it's totally different. You're swinging harder, the pitcher is throwing hard. It's totally different.
"If I can just take her bat right now, what she is now, if she is ready to go, I'll take it."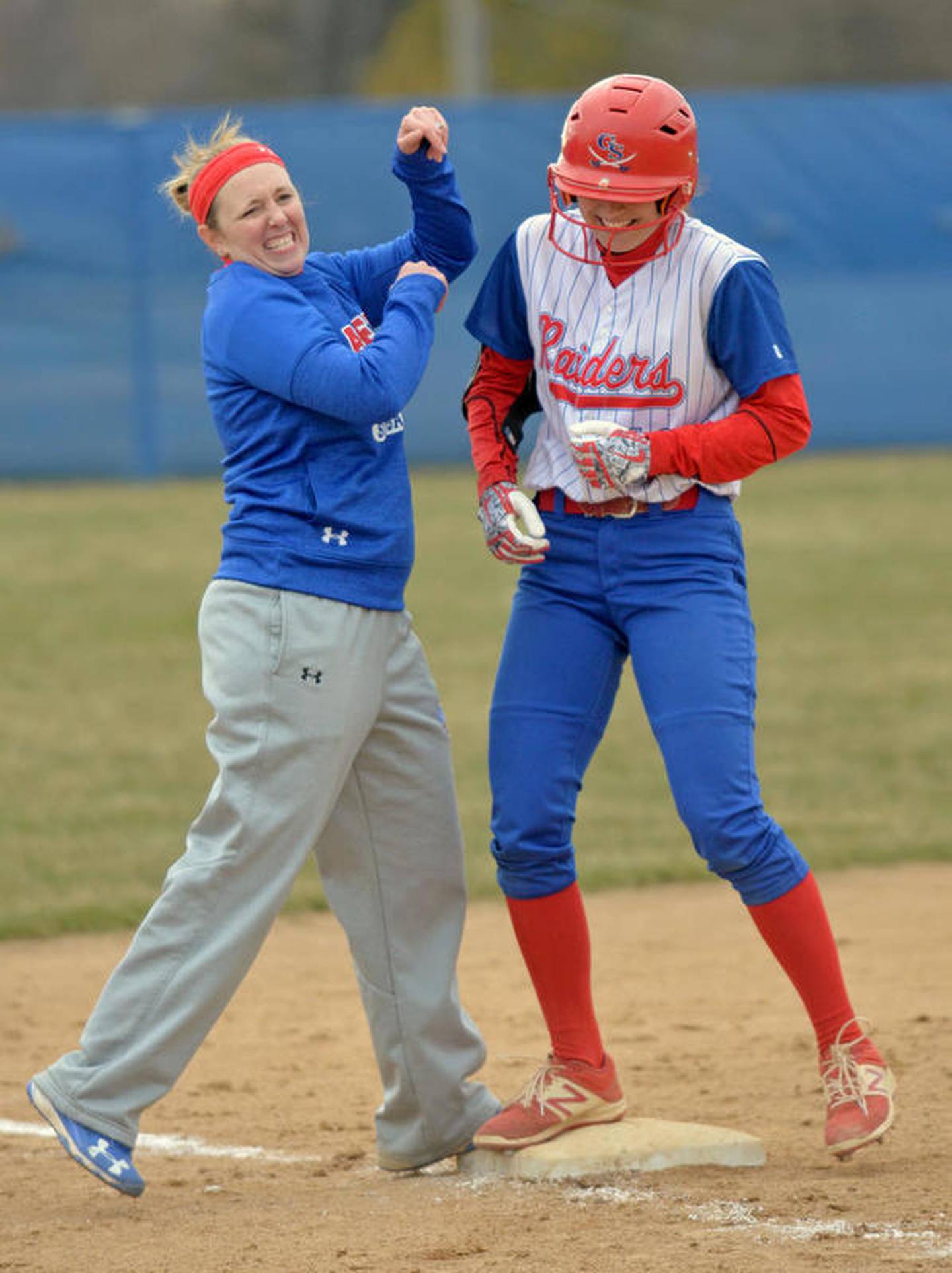 Glenbard South coach Fonda gets Hall call
Glenbard South coach Julie Fonda received a much-earned honor in February when she was inducted into the Illinois Softball Coaches Association Hall of Fame.
Fonda, who is 394-119 in 15 seasons as the Raiders' head coach (not including the 2020 canceled season), was nominated by her district colleague, Glenbard West's Mary McGrane.
"She texted me and said, 'How the heck are you not in the Hall of Fame yet?' " Fonda said. "I said this is the first year I was eligible. Varsity coach for 15 years is one of the qualifications. She texted me back and said she was nominating me."
Marengo's Dwain Nance later shared with Fonda that she had been voted in.
"My reaction is it's a great honor," Fonda said. "I'm in this for the girls and my successes for the team are way more important, not to minimize it. There are a lot of great coaches in the state and I'm honored to be lumped in that list."
Fonda certainly belongs in that group.
Taking the mantle of the Glenbard South program from her former coach Bill Voves in 2005, Fonda has won 15 straight regional titles, six sectional championships between 2007-2013, made five state appearances and won back-to-back Class 3A state titles in 2012 and 2013. She's just the third softball coach at Glenbard South since the program's inception in the 1974-75 school year.
"It's kind of crazy to think about it," Fonda said. "I have had amazing players. When you coach the Jane Trzaskas of the world, it makes you look good. I just put the pieces together. They took it and ran with it. I could go on and on with the kids who have propelled me and the coaching staff. It's a great honor. It takes a whole community."