The high school baseball season is underway. Here are previews of teams in the Suburban Life coverage area.
Benet
Coach: Scott Lawler (9th season)
2021 record: 15-14 (9-7 ESCC)
Top players: Ryan Snell, sr., CB; Peter Messina, sr., OF; Sam Zagorac, jr., P; Luke Bafia, jr., SS; Brendan Harker, jr. IF/OF; Jake Perrino, jr., P; Lucas Lawler, so., OF/P; Joe Coffey, so., IF/OF.
Worth noting: The Redwings have seven pitchers and six position players returning from last season, all aiming to win the fifth regional title in Lawler's tenure. Replacing all-conference outfielder Ryan Radek is a tough task, but Snell and Messina were both all-conference selections and are looking to carry the Redwings. Snell batted .264 with two home runs and 10 RBIs and Messina finished with a .388 average along with 19 RBIs and 18 runs scored. Zagorac is one of the leaders on the mound, earning a 3-2 record with a 2.25 ERA to go with 31 strikeouts in 28 innings last season. He allowed just 18 hits.
Downers Grove North
Coach: Kyle Briscoe (fifth season)
2021 record: 13-15 (8-10 West Suburban Silver)
Top players: Jack Miller, sr., P/1B (Rockhurst); Tony Konopiots jr., 3B (West Virginia); Ean Czech, jr., IF (Texas); George Wolkow, so., (South Carolina) OF/ 3B; Michael Gorman, sr., P; Joe Chiarelli, jr., IF Alex White, sr., P/OF (UW-WhiteWater).
Worth noting: Led by sophomore sensation Wolkow, Downers Grove North is looking to be among the top teams in the area. Wolkow, a South Carolina recruit, hit .353 with 23 RBIs in his freshman season.
"This year's squad should be able to swing the bat a little bit," Briscoe said. "We got our middle of the order returning from last year. Defensively, we have looked good early on and are looking to put pressure on teams on the base paths."
Downers Grove South
Coach: Darren Orel
2021 record: 27-4 (17-1 West Suburban Gold)
Top players: Ethan Patera, sr., P (Louisville); Lucas Costello, sr., P; Christian Scholoneger, sr., P (Illinois Wesleyan); Nathan Waterman, sr., P; Ryan Howell, sr., P; Anthony Titone, jr., 3B; Cole Kardatzke, jr., OF; Will Potter, so., IF.
Worth noting: Led by a talented pitching staff, Downers Grove South is one of the teams to beat in the West Suburban Gold. Howell, a right-hander, posted a 7-0 record last season. Patera was 6-0 on the mound.
Glenbard East
Coach: Clayton George (first season)
2021 record: 13-12 (13-4 Upstate Eight)
Top players: Caden Krystofiak, sr., P (Spaulding University); Joe Wolsztynaik, sr., P/IF (MidAmerican Nazarene University); Colin Murphy, sr., OF/P; Eddie Vercruysse, sr., OF; Trevor Robinson, so., P; Jayden Hamilton, jr., IF.
Worth noting: The Rams bring back plenty of talent to make some noise again in the Upstate Eight, including returning a solid pitching staff.
"Our team this year is a good mix of returning players that have had varsity playing experience and newcomers that will contribute in many ways," George said. "The strengths of our team will be our pitching and our defense. We are led on the mound by Caden Krystofiak, Trevor Rehnstrom, and Colin Murphy. We also will have a solid group of kids that will contribute to our team on the mound. We have solid players defensively that will make the routine plays.
"The key to our season is for us to click offensively. For us to achieve our goals, we're going to have to perform in all aspects of offensive baseball."
Glenbard South
Coach: Marco Eufrasio (sixth season)
2021 record: 12-15, 10-7 (Upstate Eight)
Top players: Ricky Cyrus, sr., IF/P; Will Kalvelage, sr., OF/P; Nathan Zambori, sr., OF.
Worth noting: The Raiders bring back three senior all-conference players in Cyrus, Kalvelage and Zambori. Cyrus batted .304 with 19 RBIs and scored 18 runs. Kalvelage hit .362 with 10 RBIs and 20 runs scored. Zambori finished with a .310 average to go with 18 RBIs and 22 runs scored last season.
"This is a talented group of baseball players," Eufrasio said. "Once they believe this and learn to grind and compete to win games, they will be a very dangerous team. The coaching staff is excited to take the field for a full season with this group in 2022."
Glenbard West
Coach: Andrew Schultz (ninth season)
2021 record: 12-17 (5-13 West Suburban Silver)
Top players: Kyle Rossy, sr., P (UCF); Chase Krueger, sr., IF/P; Andrew Moody, sr., P; Billy Frantzis, sr., 1B; Trevor Metz, sr., IF/OF; Nicky Del Giudice, sr., IF/OF; Nolan King, sr., IF/OF; David Lagomarsino, sr., OF.
Worth noting: The Hilltoppers have loads of experience to possibly become a breakout team in the West Suburban Silver. Rossy is a standout pitcher with a live arm to lead a deep and talented staff.
"The strength of this year's team is the culture they've started to re-create," Schultz said. "We spent 10 weeks this winter engaging in a leadership program with our 19 seniors and they understand the importance of their leadership. On the field, we have several arms that we think will give us a chance to win every day and we have a versatile and athletic lineup that we think can produce some runs.
"We are returning a lot of players this year, but it still feels like a different group. They're more focused, committed and determined to win. It could be an exciting spring for the Hilltoppers."
Hinsdale Central
Coach: Jason Ziemer
2021 record: 23-4 (15-3 West Suburban Silver)
Top players: Blake Edmonds, sr., OF; Luke Adams, sr., IF/P; Lucas Montesantos, sr., OF/P; Ben Oosterbaan, jr., IF/P; Luke Jurack, so., OF/IF.
Worth noting: The Red Devils pieced together a historic effort last season, winning conference and regional titles before losing to Brother Rice in the sectional finals. With significant talent returning, the Red Devils have the pieces to make it a step farther this spring, with three captains – Edmonds, Montesantos and Patrick Whelan – leading the way. Montesantos is looking to build off last season, when he batted .368 with two home runs and 18 RBIs to go with a 6-0 record and a 1.40 ERA. Edmonds drove in 19 runs and Adams blasted three home runs and batted .294. Jurack had a stellar freshman season, batting .448 with an 1.078 OPS and 19 stolen bases.
"Blake has been a leader on and off the field for us the past two seasons," Ziemer said. "He's everything you could ask for in a team captain. Lucas is one of the most athletic kids I've ever coached. He's a true two-way player and the best pitcher in the conference and maybe the best defensive outfielder in the conference. Luke Adams could set records at Hinsdale Central this year if he stays healthy. He has a legitimate shot to be drafted in the upcoming MLB draft this summer. Ben is only a junior but one of the more talented pitchers in the conference.
"Last year was a magical year for the program, winning the conference outright for the first time in 22 years. This year we return a number of important players from that squad, but also need to fill important roles left by key seniors. We have an experienced team with exceptional senior leadership that we hope will mix well with talented juniors joining the varsity club. ... Our pitching staff is talented and deep with the return of Montesantos, Oosterbaan and Adams."
Hinsdale South
Coach: Paul Hoel
2021 record: 10-12 (7-10 West Suburban Gold)
Top players: Kyle Jannenga, sr., C (Heartland CC); Parker Bozzi, sr., 1B (North Central); Drew Duckhorn, sr., P; Eliot Fulscher, sr., SS (Milikin).
Worth noting: Jannenga hit .361 last year with six extra base hits, while Bozzi is another key returnee after blasting three home runs. Overall, the Hornets have seven returning starters, including a solid pitching staff.
"We have a nice mix of arms on the mound," Hoel said. "This group has 10 seniors and depth at each position. Many of our guys gained valuable experience last season. We're really excited about this group and and the way they work at their games."
IC Catholic Prep
Coach: Dan Mustari
2021 record: 14-15 (6-6 Metro Suburban)
Top players: Ricky Collazo, jr., IF; Dom DiCanio, sr., C; Jack Calcagno, so., P; Luke Murray, jr., P; Nico Zambole, sr., 1B.
Worth nothing: With seven starters back, the Knights are aiming to win a regional this season after falling short last year. Sophomore pitcher Calcagno, who posted a 1.86 ERA with 49 strikeouts in 51 innings in his freshman season, is one of the leaders on the staff.
"We have an experienced lineup with a young pitching staff that will lean heavily on underclassmen and two seniors," Mustari said. "We have a great group of kids who have bought into winning games with our pitching and defense."
Lemont
Coach: Brian Storako
2021 record: 23-11 (18-1 South Suburban)
Top players: Brady Small, sr., P; Pat Gardner, jr., 1B/P; Luke Wallace, jr., OF; Brandon Johnson, jr., IF; Carter Storti, jr., SS/P.
Worth noting: Small headlines the pitching staff and has a strong bat. Storako is looking to pencil him in as the ace and cleanup hitter.
"We will be a hard-nosed team with above average speed," Storako said. "We will put pressure on teams. This will be one of the most sound offensive teams we've had, one through nine. While we may be young on paper, we expect our guys to play like an experienced team since we started three sophomores last year."
Lyons
Coach: Kevin Diete
2021 record: 15-11 (12-6 West Suburban Silver)
Top players: Jack McNamara, sr. C/IF (UW-Oshkosh); Luke Stockbridge, sr., P; Charlie Greifenkamp, sr., IF; Cooper Ohlson, sr., IF/OF; Nathan Anderson, so., IF/P; Brady Chambers, so., 1B/P; Frederick Ragsdale III, jr., OF (Kent State); Adam Severson, sr., P (Coe); Charlie Breen, sr., OF (UW-Platteville).
Worth noting: The Lions have high goals this season, mainly because of a strong group of players stretching across several classes. McNamara, who was the team MVP last season, and Stockbridge are players leading the team, while Greifenkamp is a player with upside after missing all of last season.
"We have a lot of young talent that's on the rise with Frederick," Diete said. "We will look to many juniors to fill key positions this year. We have a tough opening nonconference schedule. … The strength of our team is the leadership, work ethic and effort by our players."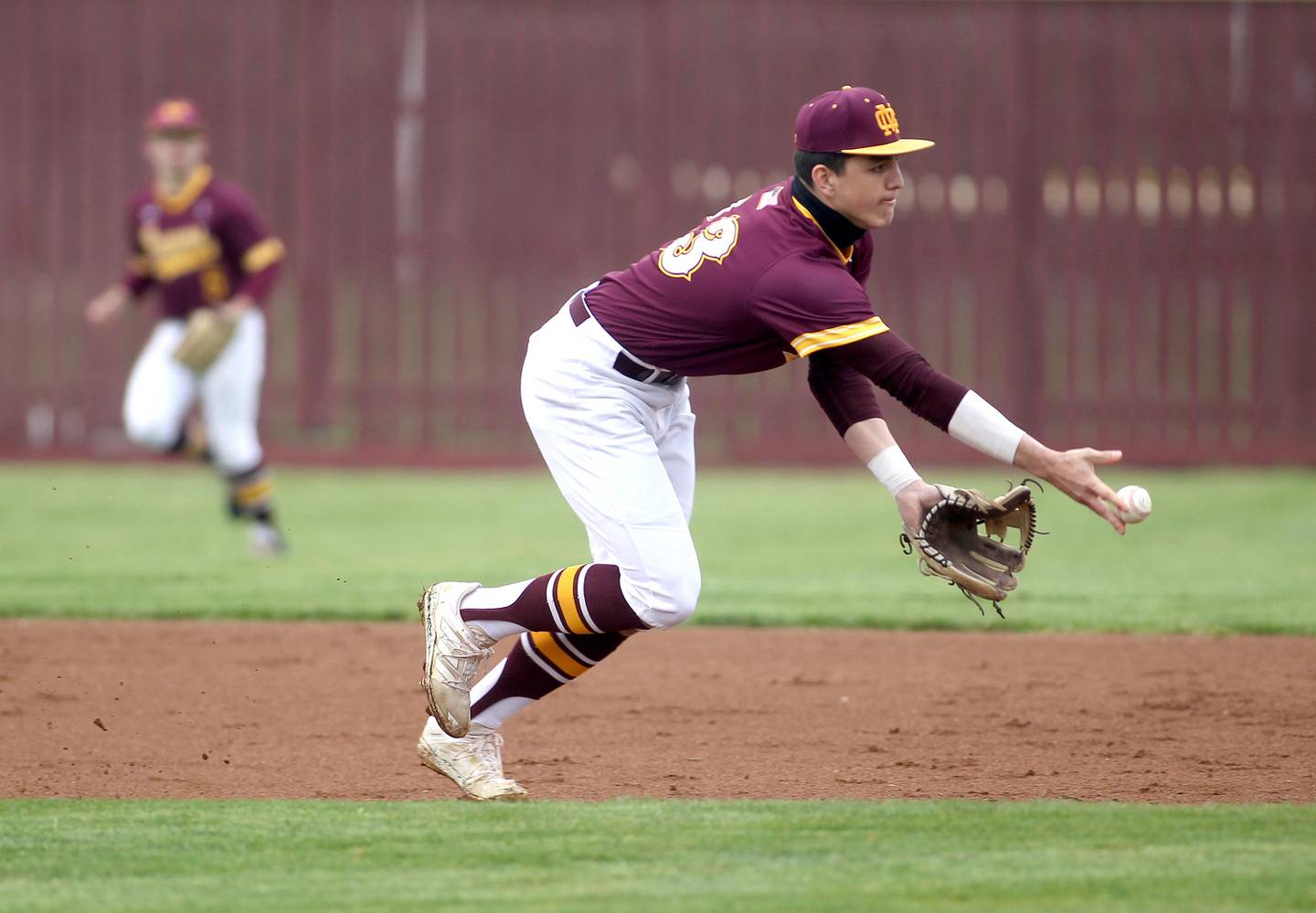 Montini
Coach: Rich Janor (eighth season)
2021 record: 22-9 (8-2 Chicago Catholic)
Top players: Estevan Moreno, sr., SS; Cash Campbell, so., OF/P; Vince McDowell, jr., C; Dominic Catalano, so., IF; Michael Wind, jr., C; Quinn Boyer, so., OF; Xavier Crowder, fr., IF/P; Brendan Dwyer, sr., P; Aris Kosiek, jr, P.
Worth noting: Senior captain Moreno, a Notre Dame recruit, is the lone returning starter from the 2019 state championship team. Moreno, the Player of the Year in the Chicago Catholic League last season, is likely a future MLB draft pick, according to Janor. Sophomore lefty slugger Campbell will hit second behind Moreno and is expected to be an impact player for the Broncos at the plate and on the mound. Fellow sophomores Catalano and Boyer also are expected to start and contribute. Junior transfer McDowell and junior Wind will platoon at the catcher position, with Michael the third Wind catcher for the Broncos since 2019, joining older brothers Nick and Patrick. The Broncos will look to Kosiek, Dwyer and Anthony Spidale to lead the pitching staff. Dwyer is an Illinois Tech recruit. Crowder is one of the top freshmen in the area.
Nazareth
Coach: Lee Milano (23rd season)
2021 record: 27-11 (9-7 ESCC)
Top players: Lucas Smith, jr. P (UIC); Cooper Malamazian, so., IF/P (Indiana); Nick Drtina, so., IF/P (Louisville); John Hughes, so., IF/P (North Carolina); David Cox, so., IF/P; Sebastian Gutierrez, sr., OF (Parkland); Luke Brabham, sr., P;
Worth noting: The Roadrunners have plenty of talent back and are looking to top last season's run to the sectional title game. The sophomore class is loaded with next-level players capable of producing big games. Seniors such as Brabham and Gutierrez will be key for their leadership and consistency.
"We're still very young overall," Milano said. "We have a lot of depth, especially on the mound. We have five Division I commitments and should have more to come."
Riverside-Brookfield
Coach: Dallas Till (12th season)
2021 record: 19-5 (6-2 Metro Suburban)
Top players: Owen Murphy, sr., SS/P (Notre Dame); Brian Twomey, sr, C (Lewis); Sean McDermott, sr., OF; Rex Dockendorf, jr. IF; Jack Niekrasz, sr., P (IIT); Wyat Murphy, so., P; Luke Yachnin, jr., OF.
Worth noting: Murphy, the 2021 Suburban Life Player of the Year, is back and that's bad news for area pitchers and hitters. The two-way standout batted .453 with 34 hits, six doubles, four triples, nine home runs and 32 RBIs last season. On the mound, he posted a 6-1 record with an 0.33 ERA in 42 1/3rd innings.
"We will be led by Owen Murphy and Brian Twomey," Till said. "We also have a number of returning contributors, including Jack Niekrasz, Jax Giampietro, Rex Dockendorf, Cooper Marrs, Wyatt Murphy, Sean Mcdermott and Matt Novak. We're also looking for our newcomers to make an immediate impact. Our strengths lie in being a veteran team with a number of key returners and our pitching depth."
St. Francis
Coach: Tom Ciombor (2nd season)
2021 record: 19-11 (9-2 Metro Suburban)
Top players: Rocco Tenuta, jr., IF; TJ McMillen, jr., IF; Vince Polizzi, sr., IF; Will Gilroy, sr., OF; Bennett Wordekemper, sr., P; Will Ricamato, sr., P; Thomas Smith, jr., IF.
Worth noting: The Spartans are looking to continue their uphill climb after winning conference, regional and sectional championships last season. The Spartans averaged over nine runs a game to punch a ticket to state for the third time in eight years. Tenuta batted .485 with three home runs and Polizza, a Loras commit, batted .406. Wordekemper had an ERA of 3.16 last year to be among the top returnees on the mound.
"We return the core of our offense and 95 percent of our pitching," Ciombor said. "We play a challenging nonconference schedule with the likes of Nazareth, St. Viator, Joliet Catholic and Montini to name a few."
Timothy Christian
Coach: Brian Whartnaby
2021 record: 21-9 (7-5 Metro Suburban)
Top players: Fletcher Roemmich, sr., SS; P (Taylor); Donald Tober, jr., C/P; Casey Folkerts, so., IF/P.
Worth noting: Fletcher is the big bat in the lineup, batting over .400 last year and leading the team in extra-base hits. Tober is the ace of the staff and a talented hitter and Folkerts is looking to build off a promising freshman season as a starter.
"This team is deep on the mound and is returning six varsity starters in the lineup," Whartnaby said. "We did graduate three everyday starters who really performed well down the stretch, so we'll be looking for who's going to step up to fill their shoes. We've got guys that support each other and enjoy playing the game. There's a lot of responsibility and accountability on this team. They're self-starters and will compete consistently."
Westmont
Coach: D.J. Cocks (19th season)
2021 record: 8-28 (1-11)
Top players: James Postawa, sr., IF/P; Jason Czaplewski, jr., C/IF; Lucas Hicks, so., OF/P; Caleb Kleinz, sr., SS/P; Jack Gedraitis, jr., IF/OF.
Worth noting: With eight returning starters, the Sentinels plan on moving up the conference charts based on their talent level. Postawa batted .346 with eight doubles last season, while Czaplewski hit .365 with 25 RBIs to earn Team MVP honors. Hicks is a promising pitcher and hitter, batting .311 last year with two homers and Kleinz batted .283 with 21 stolen bases. Gedraitis hit .288 and played multiple positions.
"Solid defense and good hitting will be the strengths," Cocks said. "Our pitching needs to step up and prove it can hang with other teams on the schedule. The pitching is the key to the season. If we can get it, we will be tough. If we cannot, we will struggle bad.
"I will definitely say that this team worked very hard this offseason to get better. After going through a tough season like we had last year, these guys could have packed it up. However they didn't and have worked very hard in the offseason and I'm excited to get another year with these guys."
Wheaton Academy
Coach: Justin Swider (4th season)
2021 record: 11-15 (5-6 Metro Suburban)
Top players: Hudson Williams, jr., SS/P; Alex Bagley, jr., OF/P; Andy Roman, jr., C; Alex Valdez, sr., 1B/DH; Will Lechner, sr., IF/P.
Worth noting: Wheaton Academy has only six seniors on its roster, but all of them were significant contributors last season. Williams batted leadoff and served as the team's closer, driving in 13 runs to go with 10 stolen bases and posting a 3.28 ERA with 27 strikeouts. Bagley batted .316 with eight stolen bases and Roman drove in 13 runs. Valdez hit .420 with 11 RBIs and Lechner, a Millikin recruit, struck out 16 in 15 innings.
"Last year, we had three sophomores up on the varsity team and all were key starters for us," Swider said. "But we have a lot of experience coming back with some key youngsters that have some potential. When you pair all those things together, the coaching staff is excited about this upcoming year."
Wheaton North
Coach: Dan Schoessling (23rd season)
2021 record: 13-15 overall (9-12 DuKane)
Top players: Will Fletcher, sr., P (Heartland); Aaron Holland, sr., C (Wisconsin Whitewater); Fred Elftmann, sr., P; Quinn Flanagan, sr., SS/P; Tyler O'Connor, jr., IF/P; Jackson Moore, sr., IF/P (Illinois Wesleyan).
Worth noting: A deep lineup with a solid rotation is part of the reason why expectations are high for the Falcons. Fletcher, the ace of the staff, is looking to build off a 2.04 ERA with 44 strikeouts and a 3-1 record in 41 innings last season. Holland led the team with 22 RBIs, while throwing out 18 runners. O'Connor batted .341 with 21 RBIs and 27 runs scored last season.
Wheaton Warrenville South
Coach: John Scherrman
2021 record: 7-19; (5-15 DuKane)
Top players: Tommy Boba, sr., P (Cincinnati); Cole Peaslee, sr., P-IF; Evan Pollina, sr., P/OF; Jason Hartman, sr. IF (Trine University); Bear Awadzi, sr., P (Johns Hopkins); Jordan Scholl, sr., P; Logan Bute, jr., IF; Eric DeCosta, so., OF.
Worth noting: The Tigers are brimming with next-level talent and should be motivated to make a run in the playoffs, including notching a winning season. Boba is part of a talented pitching staff capable of helping the Tigers win several series this season.
"We have the ability to be good on the mound," Scherrman said. "We have a majority of our innings returning from last year's team, led by Tommy Boba. Defensively, we return the left side of our infield with solid underclassmen ready to fill in at second and first base. Offensively, we should have a very scrappy and hard-nosed group of guys. Behind the plate, we will look to sophomore Eric Decosta to give us a lift at the plate."
Willowbrook
Coach: Vic Wisner (10th season)
2021 record: 13-10, 12-6 (West Suburban Gold)
Top players: Max Vaisvilla, sr., P (Loras College); Jacob Skinner, sr., P; Bennett Fleming, sr., C; Isaac Sobieszczyk, jr., 3B.
Worth noting: Sobieszczyk hit over .400 last season to earn team MVP honors while Skinner was the team's best pitcher. Jacob Kutella, a senior first basemen, is a player to watch after hitting .378 last season and being named to the all-conference team.
"I really feel like our pitching is going to be good," Wisner said. "We will be fast on the bases. Jacob Skinner should be really good. Max fought through some injuries and looks unhittable right now."
York
Coach: Dave Kalal (13th season)
2021 record: 13-13 (9-9 West Suburban Silver)
Top players: Max Hansmann, sr., IF/P (Evansville); Ethan Cancel, sr., 1B (McKendree), Jack Rozmus, jr., C; Ryan Sloan, so., P (Wake Forest)
Worth nothing: Four pitchers and seven position players return for a team looking to make a big jump in the conference standings. Hansmann batted .290 with 10 RBIs and 16 runs scored as a junior. Cancel batted .295 with 11 RBIs. Rozmus hit a robust .350 with 11 RBIs. Sloan is an elite pitcher, striking out 45 batters in 33 innings last season.
"We return 70 innings on the mound and 13 of the 22 on the roster are multi-sport athletes," Kalal said. "We're a young and talented team that will compete at a high level. Pitching, defense and timely hitting will be the keys to our success."