NORMAL– Nazareth libero Gillian Grimes said she was "kind of star-struck."
She sounded hoarse.
Both conditions were understandable given the circumstances.
Grimes saved the best game of her high school career for last. The Michigan State-bound senior recorded a career-high 35 digs as the Roadrunners overcame a huge deficit to beat Belvidere North 25-18, 20-25, 25-21 in the Class 3A state championship match Saturday at Redbird Arena.
It is Nazareth's first state title in a girls sport and came two years after the Roadrunners finished third at the 2019 state finals in their first appearance.
"I was just playing for the team," Grimes said. "I was just giving it everything I had.
"It was all heart. I think that was by far our best defensive game."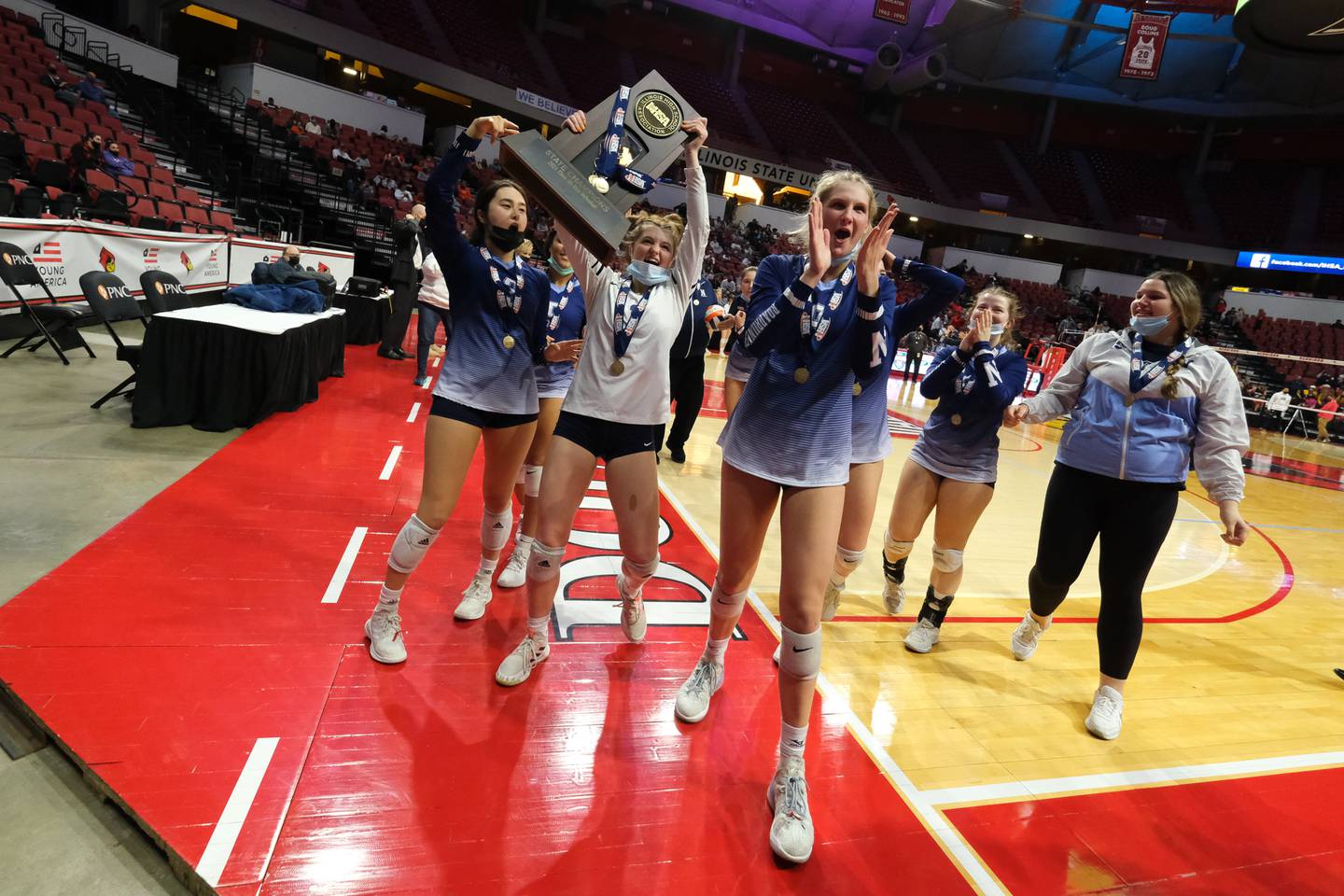 It was a game between two schools that had never won a girls volleyball state title – and the hunger showed on both sides.
Nazareth (30-7) used a 6-1 run to close out the first set on a kill from Indiana recruit Katie Hurta, then went up 5-1 in the second set on Hurta's serve.
But four straight hitting errors by the Roadrunners followed and Belvidere North (39-3) seized control behind the play of Wisconsin-Milwaukee recruit Rachel Scott. The 6-foot-2 senior led all players with 18 kills, including the second-set clincher and three straight to give her team a 9-5 lead in the third set.
Another Scott kill made it 11-6 and one more from Grace Betke gave the Blue Thunder a seemingly safe 13-7 cushion.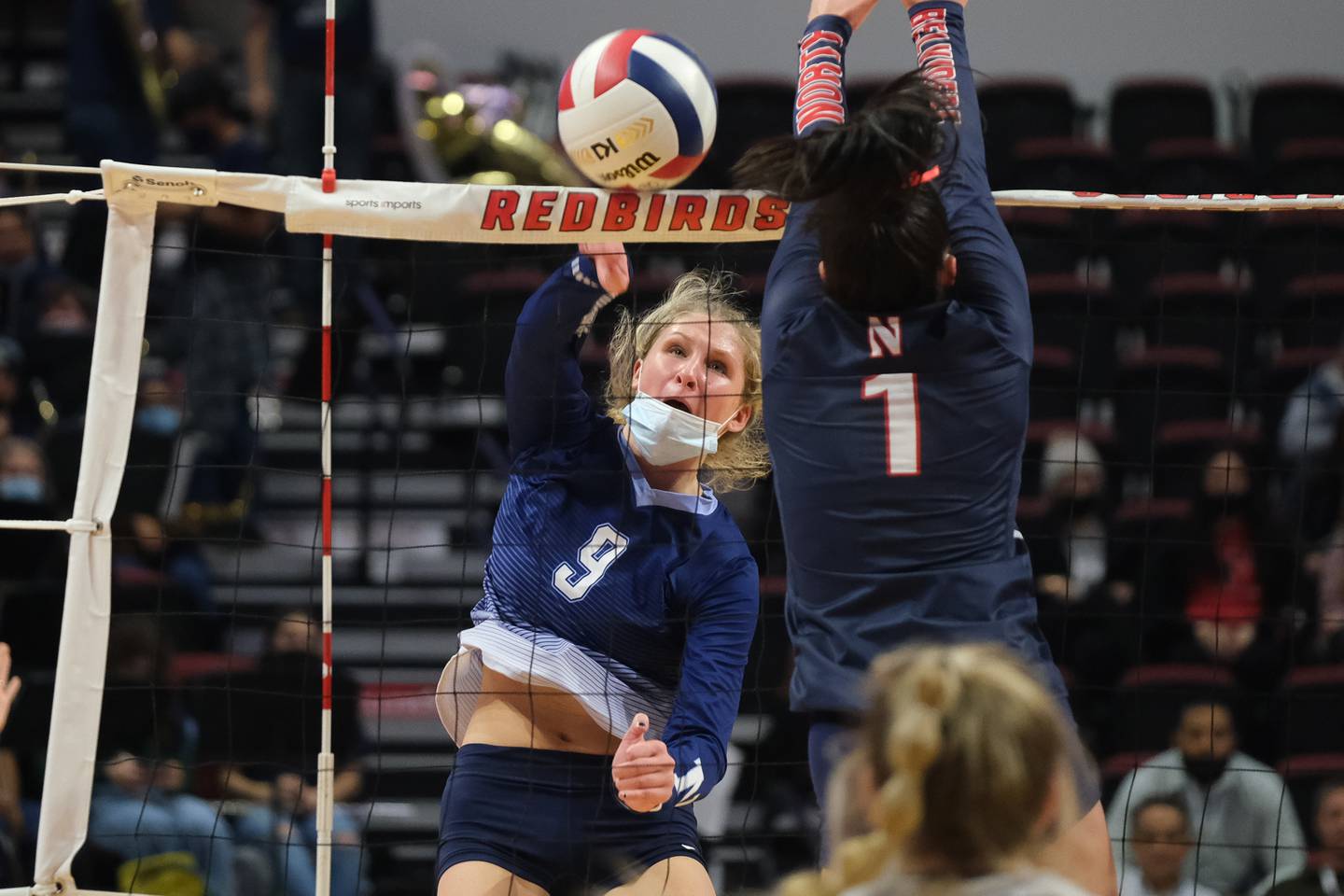 It wasn't. The Roadrunners rallied behind Grimes' gritty defense and the rejuvenated hitting of Hurta, who spiked three consecutive kills to fuel a 9-1 run which Grimes capped with an ace to give Nazareth a 16-14 lead.
"I was really struggling," Hurta said. "At one point in the match, I couldn't get a kill.
"I was stuck in a little bit of a groove, so that spurt really helped me regain my confidence and I think it ultimately boosted the team.
"Our passing and setting were really good. We were just struggling offensively, me especially, and that little run helped us a lot to come back."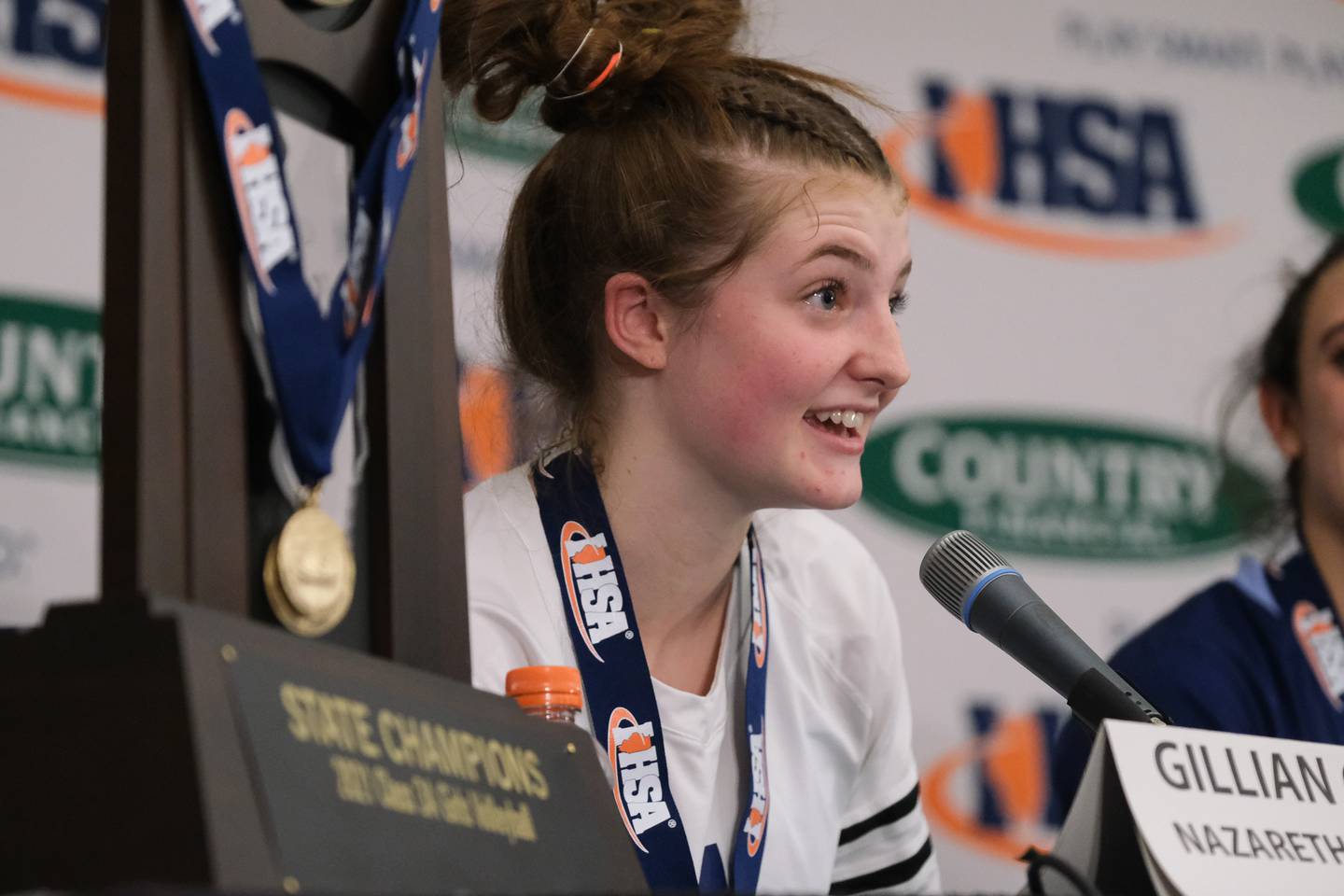 Hurta had six of her team-high 15 kills in the final set. Clemson-bound junior Kitty Sandt added eight kills, two of which came down the stretch, and had back-to-back service points on a Hurta kill and an Emily Risley block to give Nazareth a 24-19 lead.
"She's a really big momentum getter," Grimes said of Hurta, who surpassed 1,000 career kills during the match. "So we kept setting her and she kept bombing in the ball.
"It's a big momentum builder for me, too. I will go crazy for her."
Grimes and her teammates had to constantly shout to be heard above the din of the cheering fans, especially during the long rallies of the third set in which neither team showed any quit. Time and again, she dug up balls that were destined for the floor.
"I think volleyball is very mental," Sandt said. "She went for it, kept getting her 35 digs and they kept getting frustrated.
"Our goal was to have more heart than them, and that showed during the long rallies when we kept digging and they made more errors."
Belvidere North did not go quietly as Betke and Kaitlin Leider landed kills to erase the first two championship points, but a hitting error ended it.
Ferris State recruit Ivy Schoditsch, who along with Sandt, Hurta and Grimes are the four remaining players from the 2019 team that lost in the semifinals, contributed three kills and four blocks and then took part in the celebratory pile.
"That's the moment we've all be waiting for, so for that to happen was just the most amazing feeling," Schoditsch said. "I'm so grateful for this team.
"To be able to share that with them is something I'll never forget and always cherish. All the hard work and sacrifice we put in to achieve this, I think we deserve this moment."
It was a moment which Grimes was still trying to wrap her mind around afterward. Even Nazareth coach Melissa Masterson was impressed.
"I don't know if I've processed it yet, but I'm just so proud of these girls and for Nazareth to get this win in such an unbelievable match," Masterson said. "There's nothing to say about our team other than that was pure heart. Belvidere North gave us everything they had.
"It's a moment I will never forget as a coach. I'm sure the players winning that is something they'll never forget, either."