HINSDALE – There was Gwen Wolkow Thursday evening, just doing what she's been doing for four years for the Downers Grove North girls volleyball team.
Leaping as high in the air as a long jumper to meet a pass from a teammate and then hammer the ball down onto the other side of the net.
It's intimidating. It's also what rescued the Trojans in the second set of a 25-16, 25-20 victory over crosstown rival Downers South in the Class 4A Hinsdale Central Regional final.
The Trojans (21-16) advanced to face Willowbrook in the Bartlett Sectional semifinal at 5:30 p.m. Monday.
"She's not just a front-row attacker, she's a six-rotation player for us," Downers North coach Mark Wasik said of Wolkow, a Campbell commit. "She's tough to stop in the front row."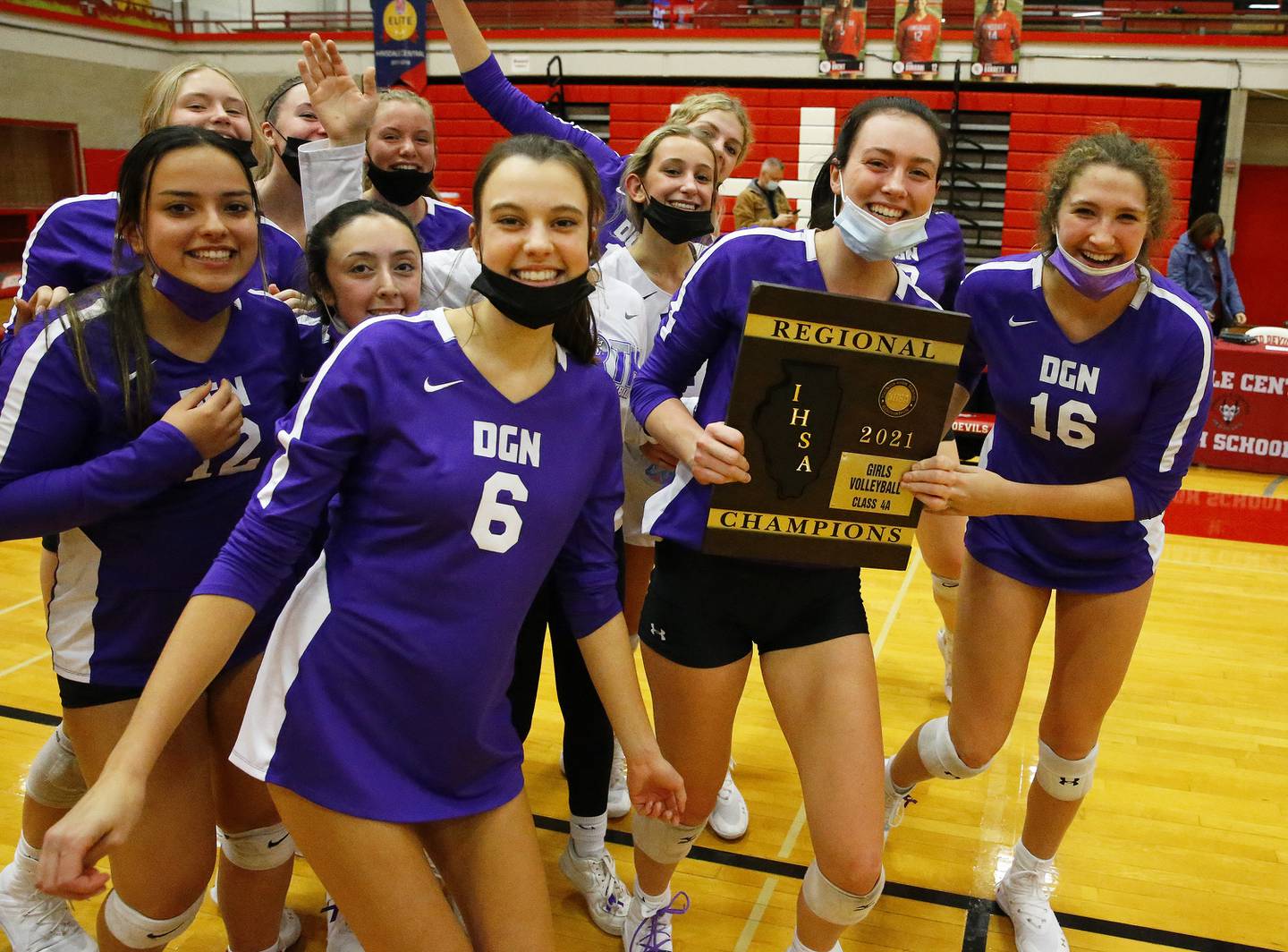 The Trojans and Mustangs had played basically even into the latter stages of the second set, with Downers North up by a slim 20-18 margin following a kill from Trojans' senior outside hitter Kayden Dempsey.
At that point, that game, and perhaps the match, could have gone either way. But Wolkow took control, depositing a kill from the rear half of her team's side of the net just inside the Downers South back line.
For kicks, she added another kill to increase the Trojans' lead to 22-18. Moments later, she put the finishing touches on the victory with a game- and match-winning kill.
How does she get so far off the ground? And how does she hit the ball with such force, resulting in a team-leading 14 kills?
"It's just lots of hours in the gym," Wolkow said with a laugh, holding the regional championship trophy.
But Thursday's win wasn't all about Wolkow.
Senior setter Sandy Brindl added 19 assists, six digs and three kills of her own. Another senior, Grace Beacom added five kills, while junior libero Mackenzie Mastalarz contributed seven digs and two aces.
"It's a team effort," Wolkow said. "I can't do it without the setters and without the passing on the court, so I feel like everyone contributed to that."
Added Brindl: "Gwen is definitely our go-to player for sure, whenever we're in a rut and the other team is fighting back, we like to go to her, because she's going to end their rally."
It was a tough end to a nice playoff run for Downers South, though senior outside hitter Paige Antiporek seemed to match Wolkow point for point for awhile in that crucial second set. In fact, four of her seven kills came in the opening stages of the set, giving the Trojans (12-24) a 5-4 lead.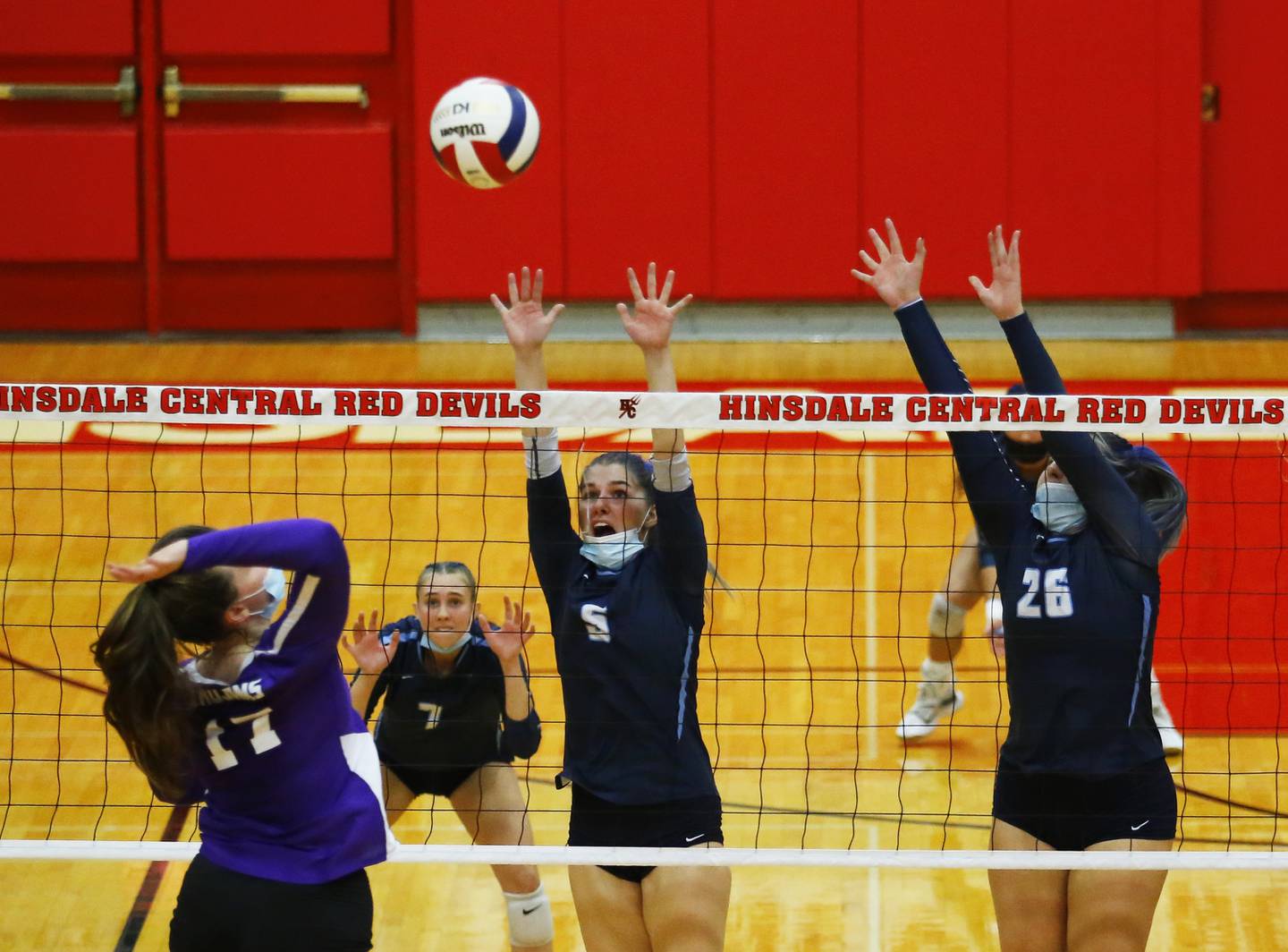 That was significant, because Antiporek was coming off of a tough first set, according to her coach, Madisen Babich.
"She struggled in the first game, it was very obvious," Babich said, "and we called a timeout and my assistant went to her on her own, and I took the rest of the team and said, You've got to find a way to support Paige and get her head back in the game, and they did just that."
Antiporek and Dempsey co-led the Mustangs with seven kills; Dempsey added a pair of blocks and 13 digs. Freshman setter Alex Barcenas contributed seven assists.
Thursday was Antiporek's last game ever. She's not planning on playing in college, though intramurals is a possibility. What is she going to remember of her high school experience?
"Definitely the people, the community," she said. "We said it tonight a few times, this will never end tonight, it will go forever. We will always have this community."