Olivia Austin, if all goes according to plan, will be playing basketball at Redbird Arena next month.
She should know her way around.
Austin is a 6-foot sophomore forward for a 26-2 Nazareth basketball team that has designs on making the program's third state appearance since 2018. She also was a middle blocker and right-side hitter for the Nazareth volleyball team that won the school's first state title last November on the same Redbird floor.
Could she make history in two sports in one school year? Crazy, but very possible. Nazareth, second in Class 3A in 2018 and third in 2019, has never won a state basketball title.
"I haven't really thought about it too much because we are really focused on each individual game, but overall it is pretty crazy," Austin said. "It would be amazing to go downstate twice."
Austin has had quite a busy school year athletically.
She played club and middle school volleyball growing up, but this was her first year playing high school volleyball. Austin also plays club soccer during the winter, when she can.
On the basketball court, Austin is averaging 8 points, 6 rebounds and 2.5 steals for a Nazareth basketball team that just won the East Suburban Catholic Conference tournament last weekend. She's a key piece of a balanced, tall and athletic and defensively-sound Roadrunners' team.
"When I was down [at state] for volleyball, I had a feeling I would be down there again," Austin said. "Coming into the basketball season, I knew our potential and I knew we could build on skills from last year and make a good run at state."
Nazareth is young in age, but hardly inexperienced.
Senior Caroline Workman is the only remaining link to the 2019 state team. The Roadrunners start three sophomores, and their first girl off the bench is also a sophomore. But Nazareth is battle-tested against perhaps the toughest schedule in the state, one reason why MaxPreps has the Roadrunners ranked No. 1 in Class 3A statewide, No. 2 overall behind Benet.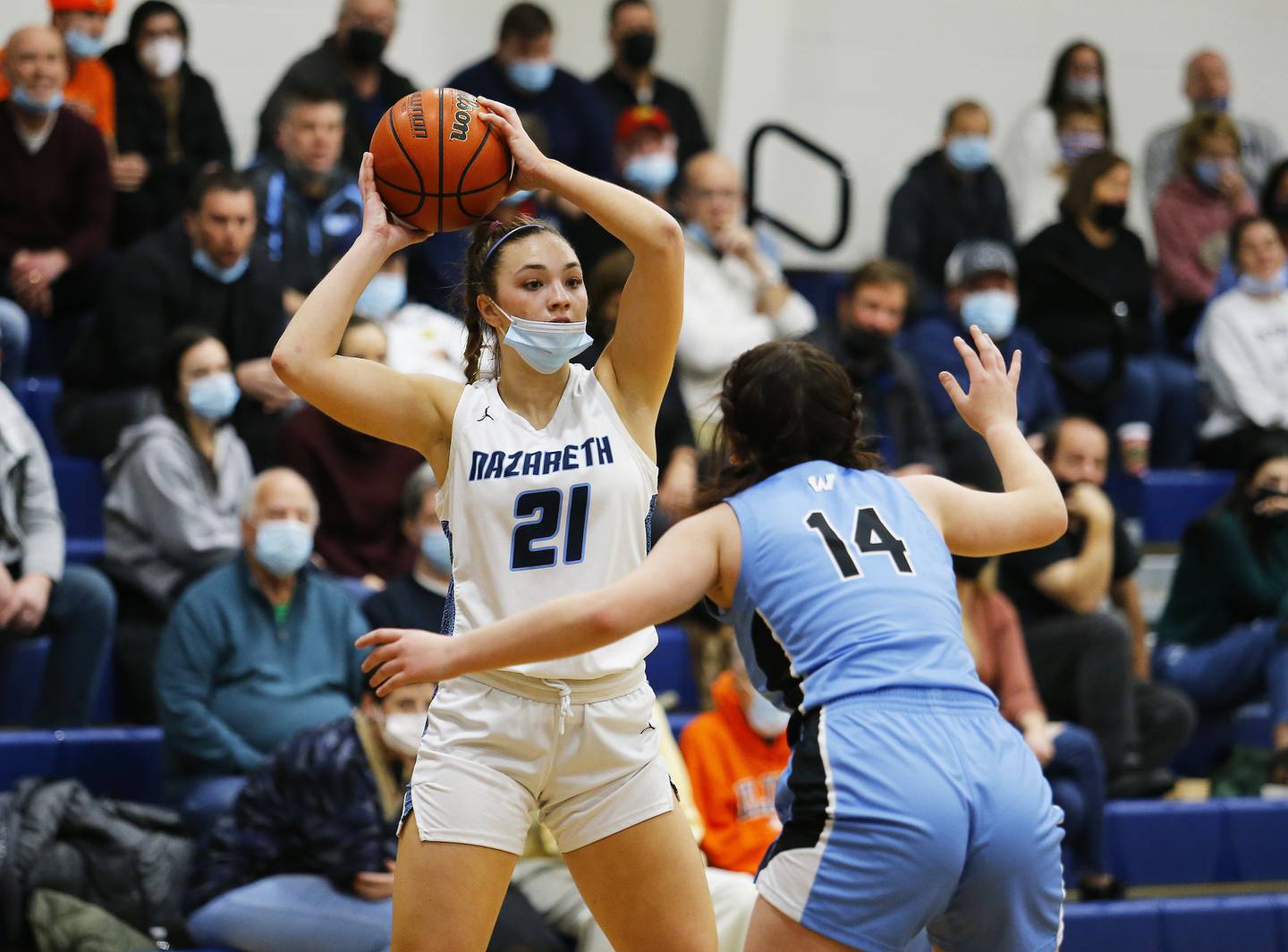 The regular-season schedule concludes Friday with a home game against Stevenson, ranked No. 1 in Class 4A by the Associated Press. Nazareth was supposed to play Young this week, but Young had to cancel due to being overbooked.
"We just want to be prepared for any kind of style," Nazareth coach Eddie Stritzel said. "We knew where we were at this season. When I was making the schedule six months ago I wanted the girls to be seasoned veterans going into this and I think we're there. I would argue the East Suburban Catholic Conference is as tough and deep as it's ever been. For us to win the conference was sensational. We're really good. We have a lot of youth but we're very experienced."
Nazareth was originally scheduled to be shipped west for the playoffs to the Kaneland sectional that includes Sycamore – which handed the Roadrunners their first loss this season back in November. Apparently a couple teams from the De La Salle sectional dropped out, and Nazareth – which was the furthest east school at Kaneland, was moved to De La Salle. A sectional final with St. Ignatius and a supersectional against Fenwick or Trinity are likely scenarios.
"Our schedule has been really challenging with keeping up and preparing and giving our all every game, but I know it will definitely help in the long run, especially as young as we are, with experience playing against high-level teams," Austin said. "Our coaches are really pushing us that we are not young anymore. It's basically the end of my sophomore season, we play some great competition. My coach likes to call us veterans by now."
And, at least in Austin's case, veterans of playing at Redbird.
"The experience of playing in high-level matches like those definitely helps me in games," Austin said. "I've learned how to deal with pressure and stressful situations. Also, from being downstate and watching the seniors on the volleyball team, I've learned many tips of how to make the team stronger, like playing with confidence and playing for your teammates."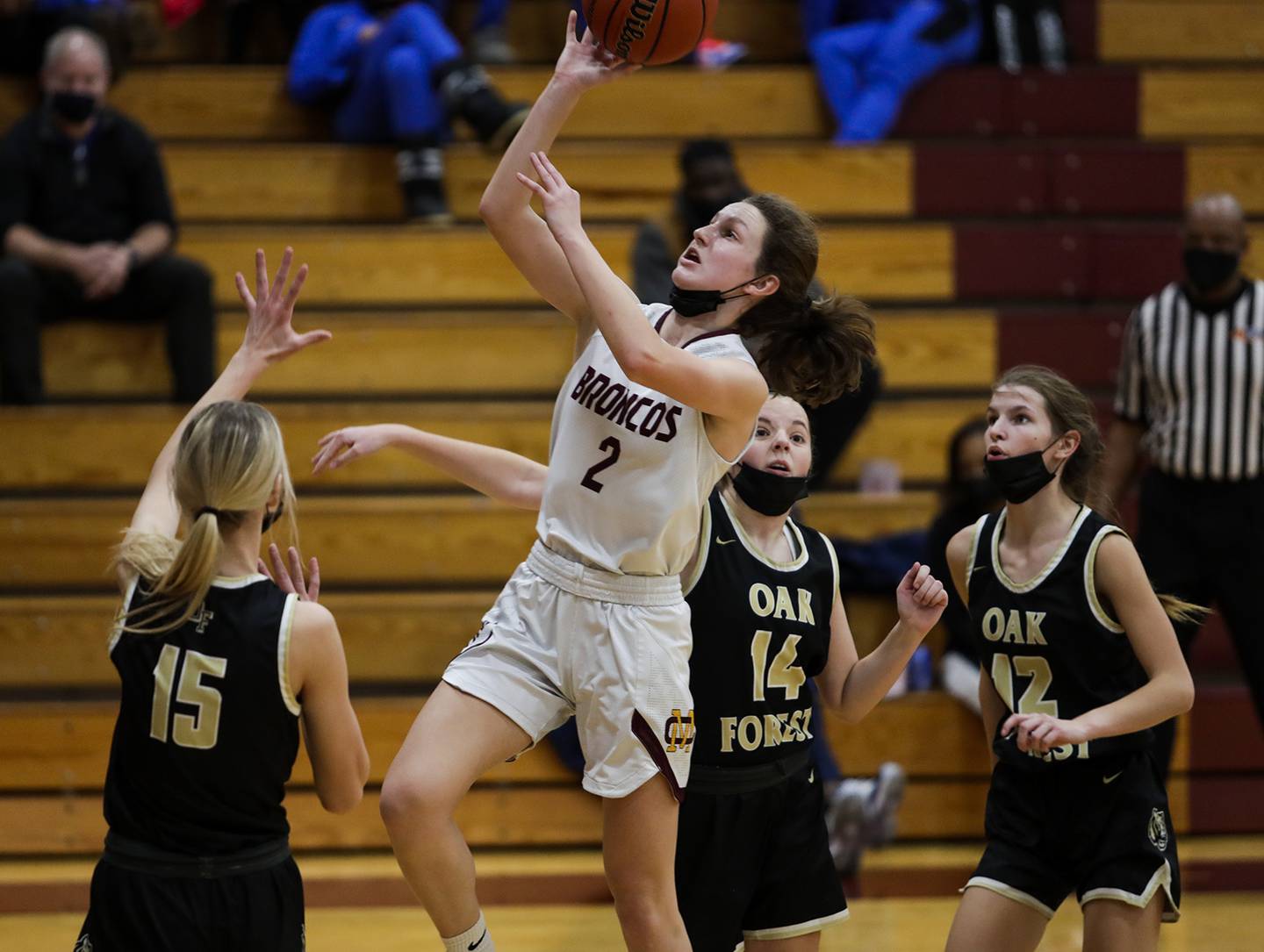 Montini postseason ready
Montini, which earned a No. 1 sub-sectional seed at the Kaneland Sectional, is looking like it is postseason ready. The Lady Broncos (22-7) have won 12 of their last 13 games. On Monday they won at Rockford Auburn 61-51 behind Sawyer White's 19 points. Shannon Blacher added 13 and Victoria Matulevicius 12.
"I think we're coming together," Montini coach Shannon Spanos said. "Different people are stepping into different roles. We've been in some tight games and fought back. We are excited. We have some high hopes."
Montini's only loss since Jan. 4 came on Saturday to Mother McAuley 39-36 in the championship game of the GCAC Tournament. Montini, GCAC regular-season champs, had beaten McAuley 46-41 in January.
"Credit to Mother McAuley. They played a good game," Spanos said. "Unfortunately we were unable to close it out."
Should Montini navigate through regionals, it could face former Montini star Taylor Charles and Burlington Central in a sectional semifinal. Awaiting in a sectional final could be 27-1 Sycamore.
The Lady Broncos get a good postseason tune-up Wednesday at Benet.
"It's not going to be an easy road; our sectional is very competitive," Spanos said. "I think the schedule we have played will help us. If we stay consistent, follow the gameplan, we should be good. But again we know it won't be easy."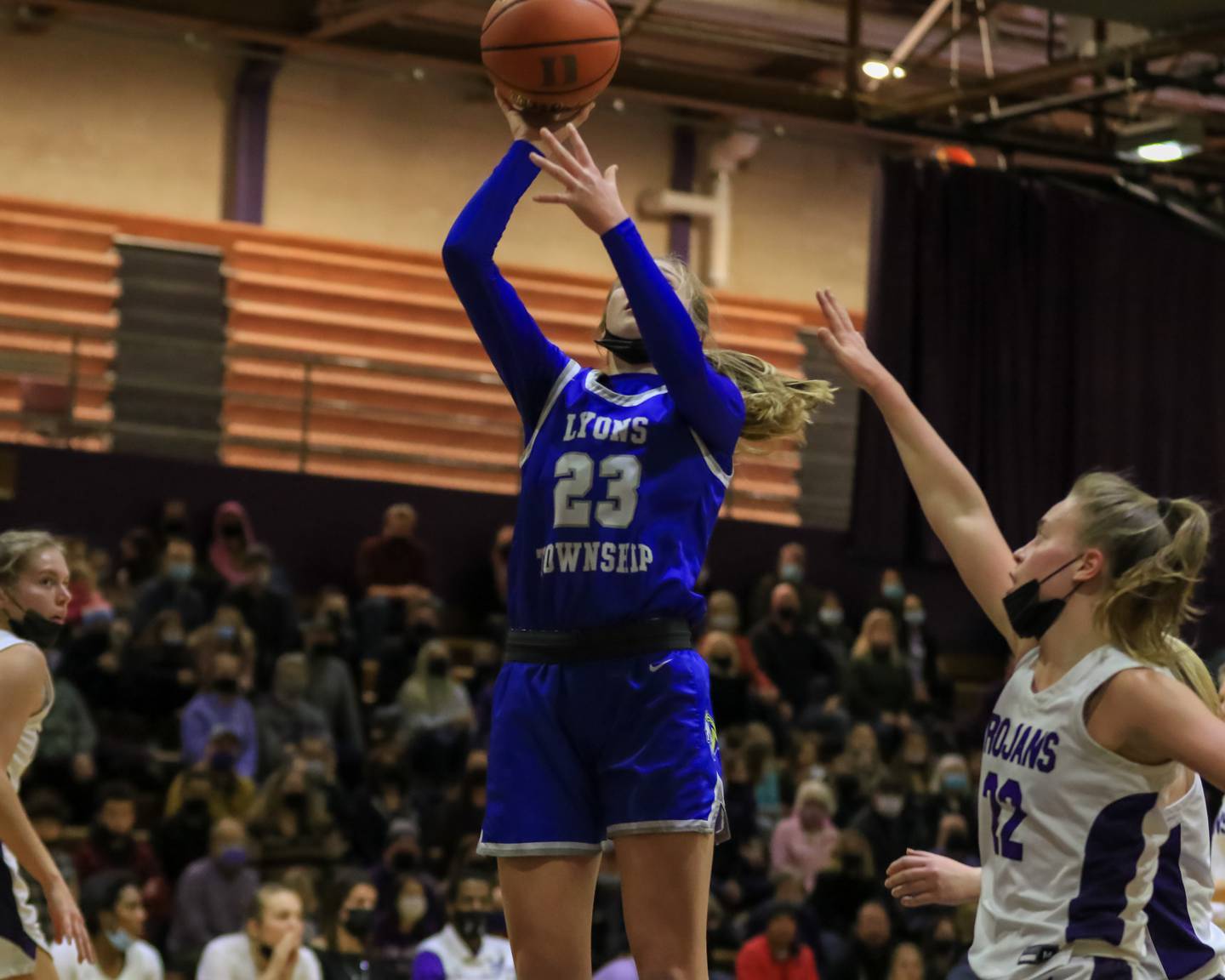 Lyons, Benet top seeds in Class 4A
Benet and Lyons both were awarded No. 1 seeds in their respective Class 4A sectionals. Benet is seeded No. 1 at East Aurora. Naperville North, who Benet has beaten, is No. 2 and Downers Grove North is the No. 3 seed at East Aurora.
Lyons earned the No. 1 seed at the Lyons Sectional which features a daunting top foursome of the Lions, Kenwood, Young and Mother McAuley.
The winners of the East Aurora and Lyons sectionals feed into a supersectional to be played at Mother McAuley.
Elsewhere, Wheaton North received a No. 2 seed and Willowbrook a No. 5 seed at the sectional at Bartlett headlined by No. 1 seed Geneva, which has beaten Wheaton North twice this season.