Bella Kedryna discovered a silver lining from a devastating injury.
Lately, she's as good as gold.
Kedryna, Lemont's 5-foot-10 junior, lost all but the last two weeks of her sophomore season after breaking her wrist snowboarding the previous December. She was understandably bummed out, devastated and upset. But Kedryna made the most of her time on the bench.
"I was sitting on the sidelines watching my team play, and wanted to be out there so bad, but I learned a lot from sitting and watching," Kedryna said. "When I played I had problems finding the open man at the right moment. Watching and seeing who was open, being able to see how a defense reacts from the sidelines helped."
Back on the court, Kedryna is a big reason why Lemont is on quite a run of success.
She scored 16 points last week in a 63-31 win over T.F. North, and followed that up with 25 points in a 41-40 win over T.F. South. On the season, Kedryna is averaging a team-high 17.5 points and 5 rebounds for Lemont (14-5), which has won 10 of 11 games heading into a big matchup with Oak Forest.
"She does a little bit of everything," Lemont coach Tracy Rainey said. "She can score in transition, she can create her own shot, she can hit the three, she can bring the ball up court, she has the ability to rebound, the ability to score. The awesome part is she is also a really good defender. She is often on the other team's best player. She's unselfish, willing to pass – she really does it all for us."
Kedryna has been on varsity since she walked through Lemont's doors, and was an all-conference player as a freshman. She wasn't the best version of herself last spring after returning from injury. Rainey said she felt mentally it took a toll on Kedryna.
Lemont only had one senior last season, who tore her ACL the first game, so it was a rebuilding year. Not so this season with Kedryna and an experienced seven-senior group. Brooke Panush, a 5-foot-10 junior, is next behind Kedryna averaging close to 8 points and 6 rebounds per game.
"Bella worked super hard to come back, she knew this season she would have a leadership role and she embraced it," Rainey said. "Freshman year she averaged double digits as our second or third option. She's really embraced the idea of being our primary option."
Kedryna, who plays for the Platinum Martinez team in the Lady Lightning AAU program, agreed that her strong suit is the transition game, being able to finish under pressure and setting up a play. Having almost an entire group of girls back from last season has helped.
"We are pretty lucky; we basically had the same team as last year," Kedryna said. "That advantage, knowing each other's strengths and weaknesses, gave us a jump start to the season. We were able to build off the foundation we created last year."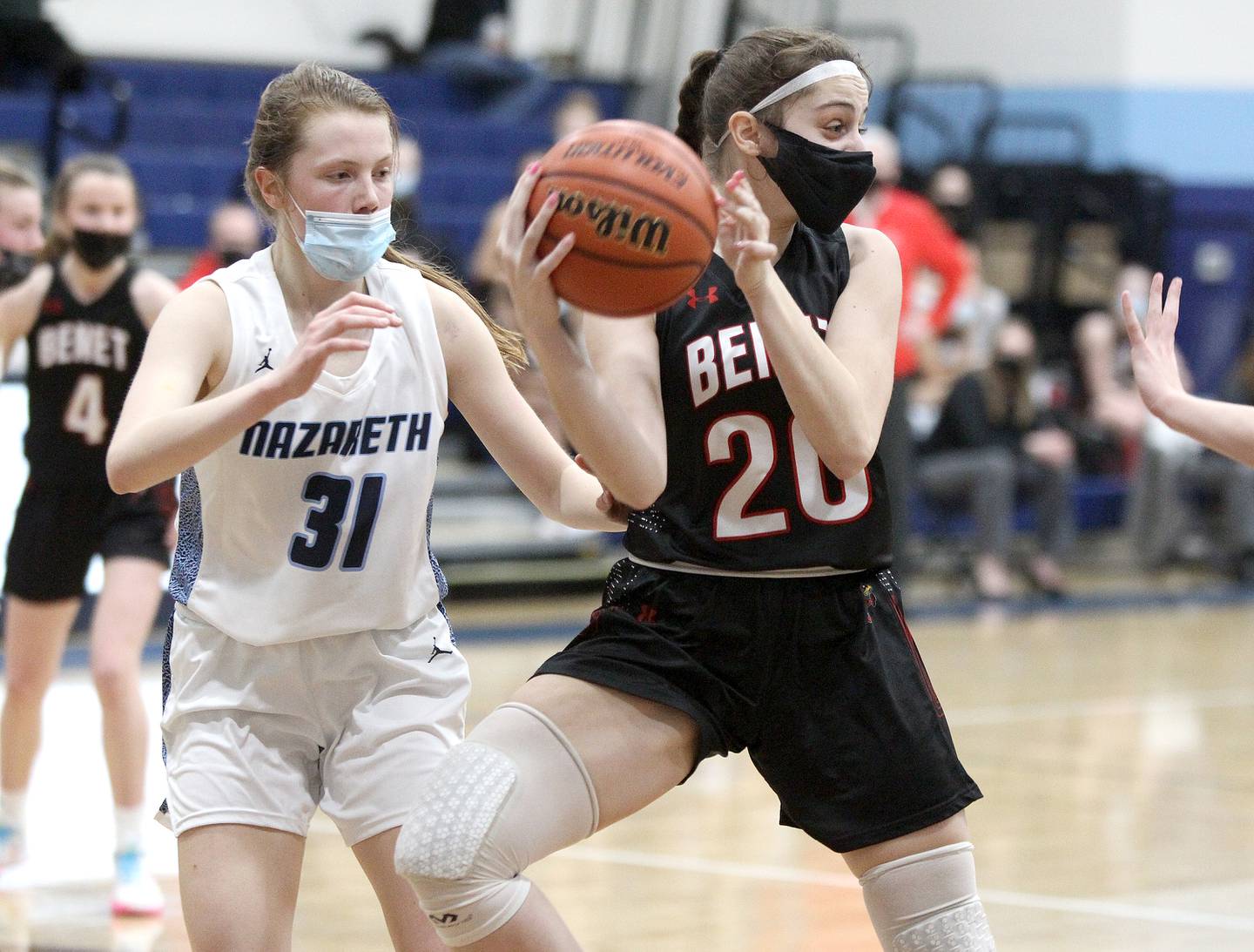 Benet's kid sister with big goals
Olympia Kokkines twice watched her older sister play at state – and would love nothing more than to follow in those footsteps.
Kokkines, a Benet senior and Wisconsin-Whitewater commit, is the younger sister of Frankie Kokkines, who played at Montini and is now at Illinois-Springfield. The older Kokkines helped lead Montini to third place in Class 4A in 2017, and second place in 2018.
"I was in middle school when she went," Olympia Kokkines said. "I got to see the atmosphere. That's what I want for this team, is to make it downstate. For us seniors, it's our last hurrah, our last chance to do that. I think we can do it."
The Redwings indeed look like a team poised for big things.
Benet (21-2), ranked No. 1 in Class 4A, has won seven straight games after its 45-31 win over Nazareth on Monday. Kokkines played a big part in that win. She hit a corner 3-pointer, right in front of a boisterous Nazareth student section, that gave Benet the lead late in the first half it wouldn't relinquish.
"I was just moving the ball, trying to get a good shot off," Kokkines said. "With all the energy in the crowd I just took it."
It was Kokkines' only points, but her contributions in her coach's eyes went way beyond the stat book.
Olympia was really good today," Benet coach Joe Kilbride said. "She was a big contributor. Quite honestly our biggest issue tonight was we were stagnant against their zone. She kind of changed that with the flow of her movement. Her shot was nice but she had good movement throughout the zone which helped create for others."
Kokkines started for a while, but now comes off the bench. Regardless of her role, Kilbride says she plays like a senior and brings that senior attitude to practice.
"Honestly, I'll just do whatever coach wants," Kokkines said. "If I have the shot, I'll take it. Just trying to be a team player."
Growing up on defense at Glenbard
Emmie Roberts was taught since she was little that defense was the most important part of basketball. It's lessons from a good authority.
Roberts, a Glenbard West senior and Loyola soccer recruit, was coached by her dad, Jerry, for eight years before high school through feeder programs and grade school.
"You can't win a game unless you play good defense," Roberts said. "Also, I was taught that great offense starts with great defense. A steal can lead to a transition three or a layup. I think that is what sparks a fire on our team. I'm not the biggest scorer; I'm a point guard, I distribute – shooting isn't my biggest strength. I take defensive intensity seriously."
Indeed, Roberts appears to have taken her dad's advice to heart.
She's a big part of a 16-8 Glenbard West team that has won five straight games and held 13 of its last 15 opponents to fewer than 40 points. On the season, the Hilltoppers are allowing a paltry 39.3 points per game.
"A lot of it is defensive effort and focus. We know that defense is something we can control," Glenbard West coach Kristi Faulkner said. "Our players have taken a great job of taking pride and ownership on the defensive end. Our team chemistry and comunication has grown. On the defensive end that is so important."
Faulkner said it's been a total team effort with contributions from all five starters – Roberts, Sophia Brown, Mackenzie Cater, Julia Benjamin and Kennedy Brandt.
Roberts had four steals of Glenbard West's 15 steals in a win over Downers Grove South last week.
"She is really smart and has a high basketball IQ," Faulkner said of her team captain. "Even more than that is her energy and effort. She understands space, she plays with a ton of heart and that wears off on the rest of the team."
If the concept of space makes Faulkner sound like a soccer coach, Roberts said that her soccer background does carry over to the basketball court. Even more than her concept of space and high athletic IQ is the priority Roberts puts on communication, key to any good defense.
"Communication is so important," Roberts said. "I don't stop talking on the court. I'm sure sometimes my teammates wish I would. And our bench is so loud. It helps having that sixth man on the court."