PALATINE – Gracie Carstensen and her Nazareth teammates wanted to make a statement Saturday.
It didn't take them long.
Carstensen drained the first of her four 3-pointers to open the scoring and the Roadrunners rolled to a 54-32 victory over previously unbeaten Peoria Central at Fremd's Chicagoland Invitational Showcase on Saturday.
Carstensen, a 6-foot junior guard, finished with a game-high 21 points, one shy of her career high she set in the season opener, and five steals. It was an impressive performance, especially considering Peoria Central is ranked No. 1 in the season's initial Associated Press Class 3A poll.
[ Photos: Nazareth vs. Peoria Central ]
"We knew that they were ranked No. 1, so we knew this game meant business," Carstensen said. "We got really fired up.
"We knew what we had to do. We had to come out here and win today."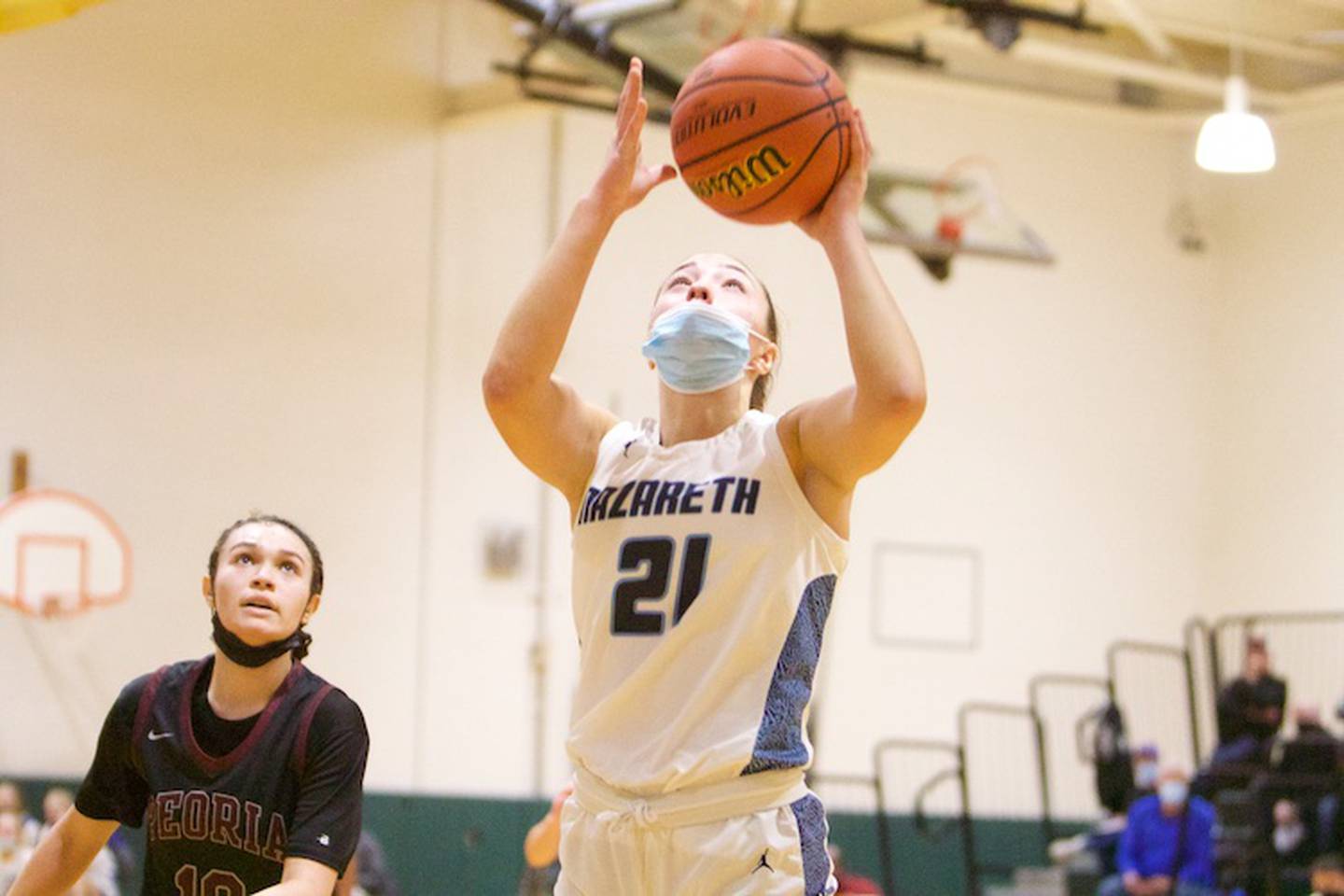 The Roadrunners (5-1) did so in commanding fashion. They scored the first seven points of the game and led 10-3 after one quarter, with Carstensen and sophomore forward Danielle Scully providing all the offense.
Carstensen sank all of her 3-pointers in the first half, the last giving Nazareth a 24-10 cushion at intermission, and she scored on a putback to begin the third quarter. Peoria Central (5-1) never got closer than 12 points after that.
"They were on our radar," Nazareth coach Eddie Stritzel said. "I always tell our kids, if you come to play for me, you're going to play in a big game every game.
"That's our goal with these kids. They're a fun group to coach and they play hard. We're long in spots and pretty athletic."
And they're quick learners. After failing to hold a second-half lead and losing to Sycamore, another highly ranked 3A school, earlier in the week, the Roadrunners regrouped.
"We didn't handle the press well, so we worked on that the last two days," Stritzel said. "I thought today our press-break was really good."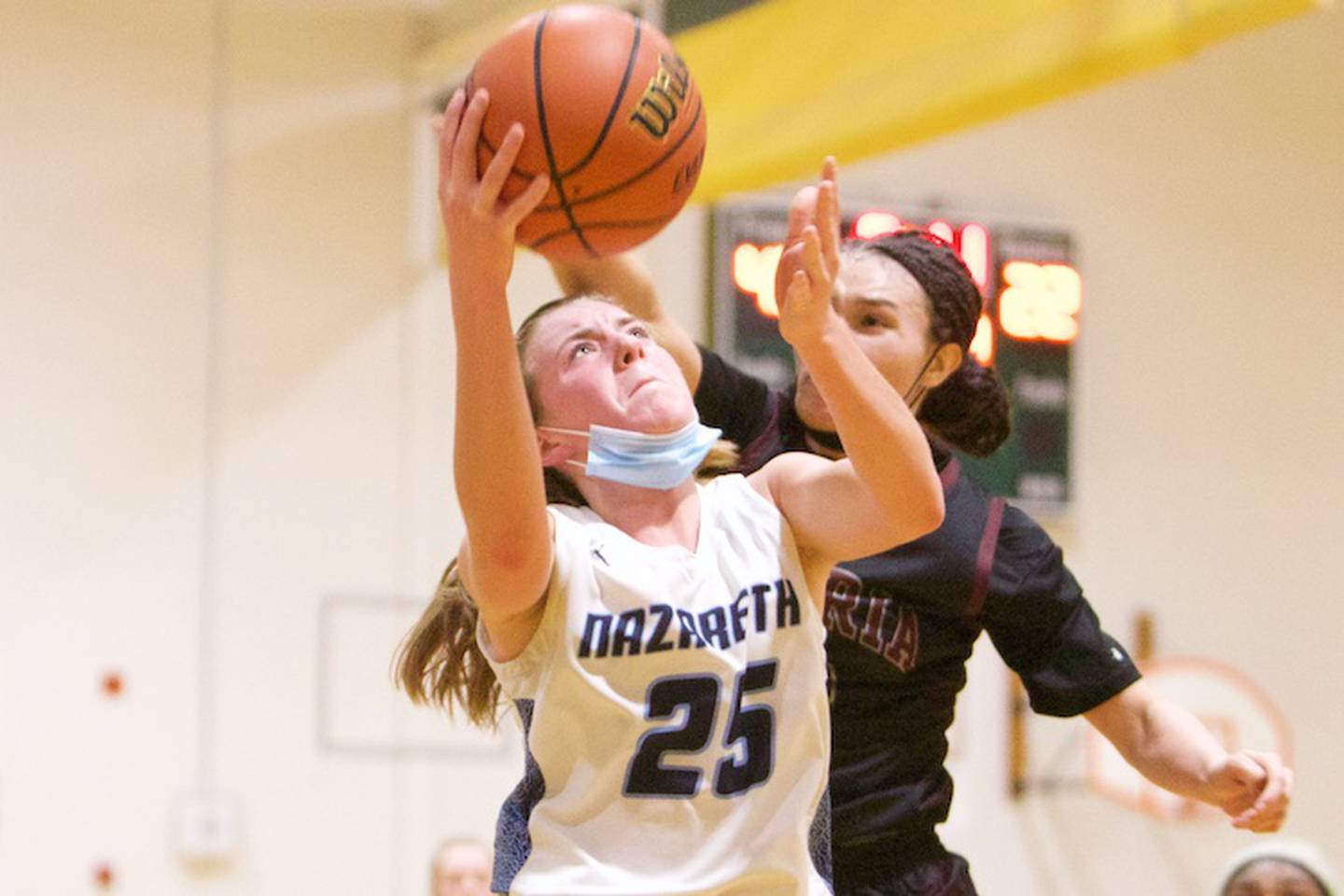 Indeed, it was. The Lions used a full-court press but had little success with it, mainly because all five Nazareth starters can handle the ball and switch positions with ease.
"That's what's great about our team is that we're all super athletic," Carstensen said. "Any of us can play any of the positions."
Nazareth starts four 6-footers, including guard-forward Caroline Workman, the team's only senior. She had six points, six rebounds, three blocks and two assists.
"Caroline is absolutely incredible," Carstensen said. "She's the best leader. She's so athletic and she's carrying us."
Workman didn't have to carry the load against Peoria Central. In addition to Carstensen, the Roadrunners got 15 points and eight boards from sophomore Scully and nine points, six rebounds, two steals and two assists from sophomore Amalia Dray.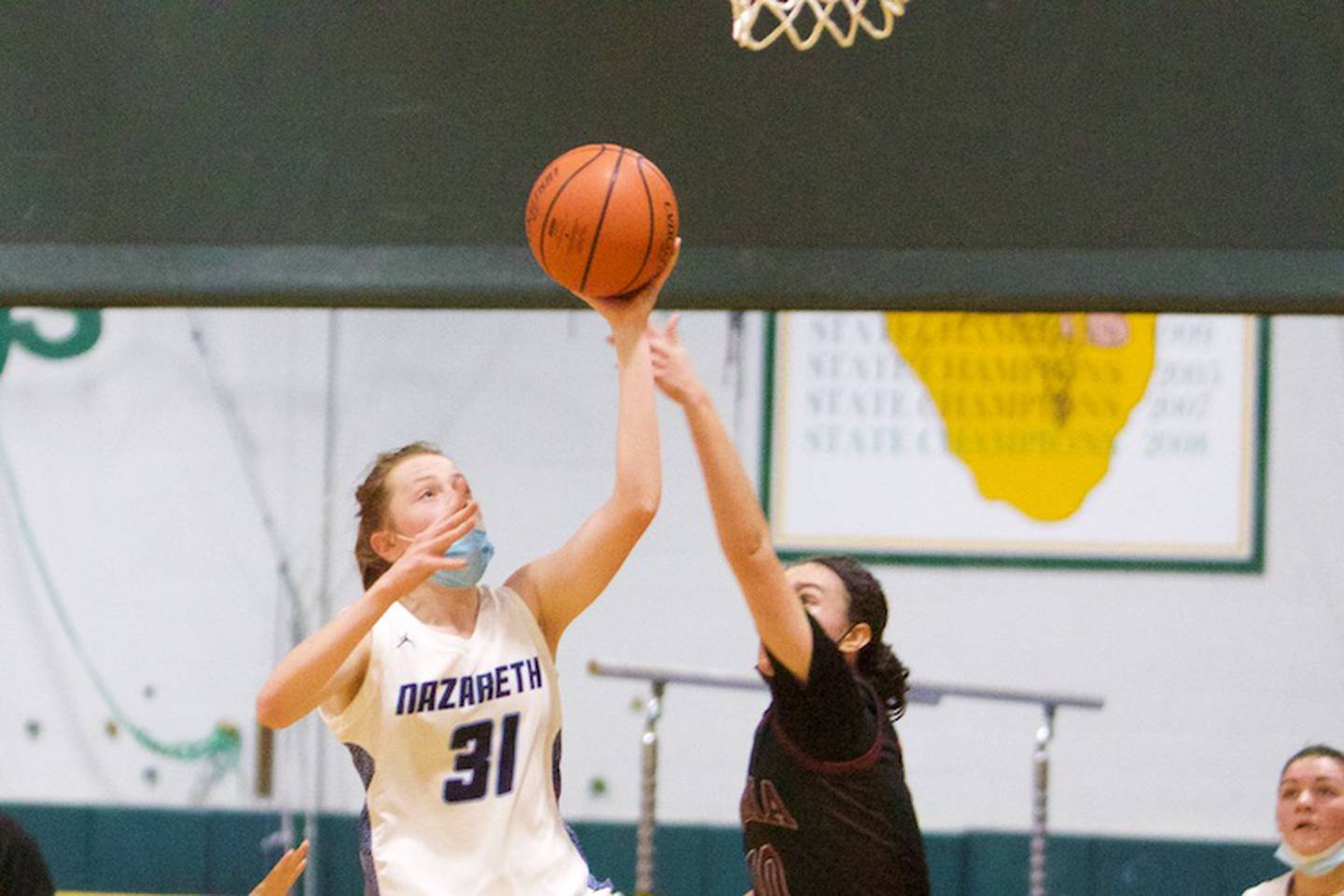 Another sophomore, Olivia Dray, contributed seven rebounds and helped hold the Lions to a season-low point total. Peoria Central had scored at least 55 points in each of its first five games.
Carstensen was a big part of that defensive effort.
"She was more of a shooter her first two years," Stritzel said. "Now she's starting to do more things, affecting the game defensive-wise.
"I always say she's catching up to her age. She was on varsity as a 14-year-old and now she's playing girls her age and she's doing a really nice job for us."
Despite his team's youth, Stritzel said he thinks his team will be a tough out when the 3A state tournament begins in February. Carstensen agreed.
"I don't know who's going to stop us," Carstensen said. "I want to see who can stop us."