In all likelihood, Isaac Bourge needed an element of complacency on his side in the championship match of the Class 1A 120-pound state finals last month in Champaign.
Nick Renteria was not about to oblige the Yorkville Christian senior with such an opportunity.
The previous week, in the finals of the Coal City Sectional, Renteria, an IC Catholic Prep senior, dispatched Bourge with a third-period technical fall.
The rematch in the state championship match one week later was not as one-sided, but Renteria was in command from the start in extending his winning streak to 24 matches with a 9-4 triumph.
The ICCP program is only a decade old, yet the Renteria title was the third individual championship on the evening for the Knights at the University of Illinois' State Farm Center.
For his seasonlong dominance – his lone defeat coming at the hands of Loyola Class 3A state runner-up Massey Odiotti in December – Renteria has been chosen the Suburban Life Wrestler of the Year.
"A state title was definitely on my mind the whole season," Renteria said. "I had fallen short my first two years at IC. I wasn't too overconfident in the finals match. I listened to my coaches."
The opening weight for the three-class state finals came at 145 pounds.
Renteria was far more than an interested spectator when the Knights' Michael Calcalgno and Jadon Mims secured titles at 182 and 220 pounds.
Isaiah Gonzalez, the Knights' senior heavyweight, was denied a state title moments after Mims' last-second come-from-behind victory.
"There were a lot of guys with the same goals – Calcagno, Mims and Gonzalez," Renteria said of the team camaraderie. "You're excited for your last year and also have a job to accomplish."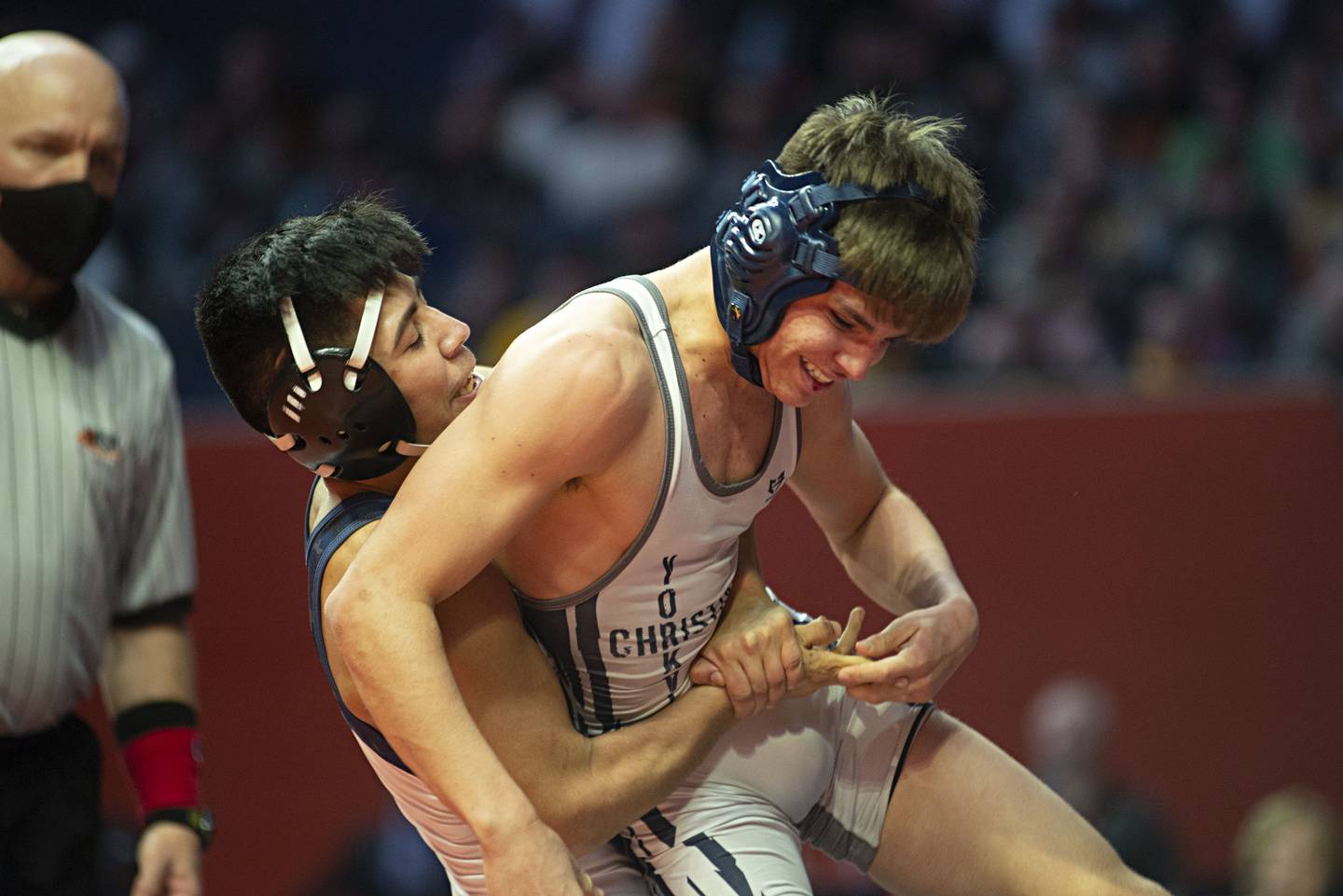 Jason Renteria, a key member of three consecutive Class 3A state championship teams at Oak Park-River Forest, has the privilege to mentor his cousin as the Knights' second-year coach.
"He has been very close multiple times," Jason Renteria said of Nick, who has committed to St. Cloud State, a Minnesota-based Division II national power. "It was about getting over that hump. It was all about being mentally tough in tight situations."
The elder Renteria saw the final maturation of his younger relative in the second postseason against Bourge.
"I could sense (Bourge) was trying to keep it close and get (Nick) at the end," coach Renteria said.
"I was ready to go in there and light it up one last time," NIck Renteria said.
Nick Renteria arrived at the Elmhurst school after spending his freshman year at St. Laurence in Burbank.
Elmhurst native Calcagno, a sophomore, was introduced to Renteria in a firsthand manner as a precocious eighth grader.
"Nick started it off between the two (Mims being the other) when I was smaller," Calcagno said of working out with Renteria two years ago. "It made me get better."
In the aftermath of crowning three individual state champions, the Knights advanced to the team quarterfinals with a one-sided sectional final triumph over St. Laurence.
"It was nice to come back and see those guys," Nick Renteria said of competing against his former teammates.
The Knights' season, however, ended in Bloomington with a gut-wrenching five-point loss to Tremont.
Nick Renteria received forfeit victories in both of the Knights' team postseason matches.
He was reflective afterward.
"It was tough, for sure, a lot of emotions at the end of that (Tremont) dual," Renteria said.
Suburban Life all-area wrestling teams
First team
Michael Calcagno, IC Catholic Prep, so., 182 pounds; Jayden Colon, Montini, so., 145; Philip Dozier, Glenbard West, sr., 195; Isaiah Gonzalez, IC Catholic Prep, sr., 285; Marko Invanisevic, Hinsdale Central, so., 220; Moe Khalil, Lemont, sr., 182; Harrison Konder, Downers Grove North, so., 138; Jordan Lewis, Downers Grove North, sr., 285; David Mayora, Montini, so., 152; Jadon Mims, IC Catholic Prep, sr., 220; Jimmy Nugent, Downers Grove South, sr., 138; Nick Renteria, IC Catholic Prep, sr., 120; Diana Rodriguez, Morton, sr., 190; Alex Tagler, Lemont, sr.,170; Cody Tavoso, Hinsdale Central, jr., 132; Jennifer Villagomez, Morton, sr., 110.
Second team
Kat Bell, Montini, fr., 100; Sean Berger, York, jr.,120 pounds; Ben Bielawski, Glenbard West, sr., 182; Leilany De Leon, Morton, jr., 120; Gunnar Garelli, Lyons Township, so., 126; Max Konopka, Glenbard West, sr., 160; Anthony Lopez, Morton, jr., 113; Nick Mabutas, Willowbrook, sr., 170; Devin Medina, Wheaton North, jr., 152; Zach Parisi, York, so., 113; Mikey Rosch, Wheaton North, jr., 170; Cooper Schodrof, Lyons Township, sr., 170; Will Schuessler, Downers Grove South, jr., 170; Brennan Skoda, Glenbard West, sr., 152; Luke Swan, Downers Grove South, jr., 132; Tyler Wilms, Lemont, sr., 220.