Three games into the season, Nazareth is motivated to build toward a memorable finish.
With several of the athletic programs experiencing success on the state level throughout the school, the soccer program is looking to win the program's first regional title since 2019. Senior captain Colin Schaeffer said the entire team is focused on that goal.
"Our goal as a team has always been to win our first regional championship since 2019," Schaeffer said. "I believe we can achieve that goal and beyond that. Our coach has a plan and a system for us, and if we follow that system, we can advance past any of our goals."
Leadership is a key ingredient in the Roadrunners' quest to win a regional title. The Roadrunners (2-1) play a challenging schedule that will test them this fall.
"We have a very young team with only four seniors, so I always try to make sure I'm setting an example for the young guys," Schaeffer said. "I try and be vocal with everyone on the team and help the younger guys learn the style we play."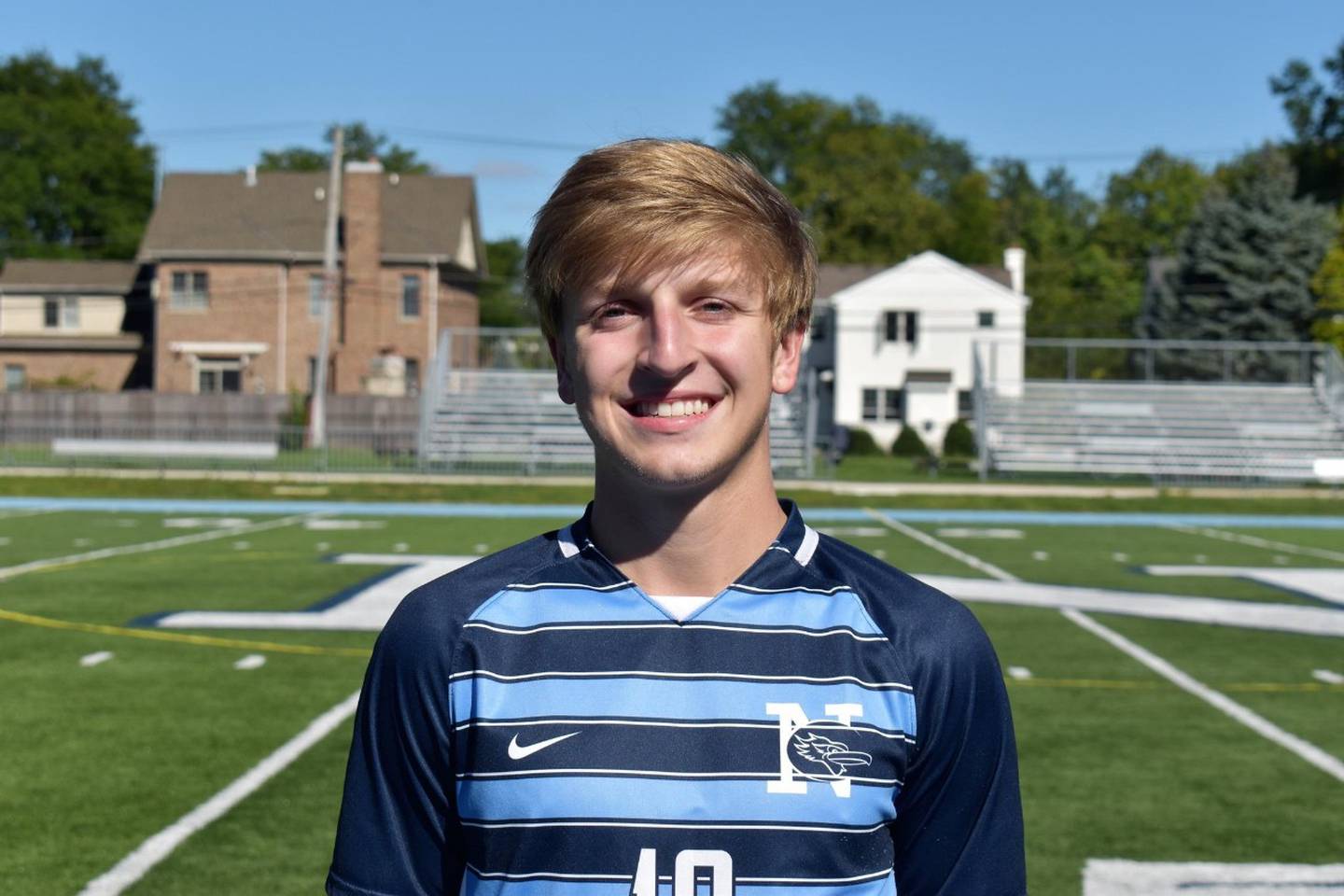 Senior captain Charlie Austin said the Roadrunners have a good blend of players across several classes, but noted the importance of leadership to aid the younger players.
"As a leader on the team, it's important to make sure I can assist my teammates both on and off the field," Austin said. "I'm focusing on bringing new teammates into the existing bond we have as a team. I want to make sure that I inspire and instill confidence in my teammates and create a comfortable zone for everyone."
The Roadrunners opened the season with an 8-1 loss to a talented Romeoville team, but recorded quality shutout wins over Glenbard South and Montini in the three-game Glenbard South Invite.
"I'm optimistic and things are looking good," Nazareth coach Roberto Cianci said. "I really like the senior leadership we have in captains Colin Schaeffer and Charlie Austin. Romeoville put a nice lump on us and beat up on us. They jumped all over every one of our mistakes, but to come out of that tournament 2-1 is refreshing."
Schaeffer and Austin both worked tirelessly during the offseason to become better soccer players, in order to make amends following a 9-12-2 record last season. Junior defender Ari Hernandez is another player to watch this season, according to Cianci.
"Over the summer, we made it our goal to get stronger as a team," Schaeffer said. "We all worked on getting bigger, stronger and faster. We hit the weight room, along with having a lot more soccer workouts than in the past. I tried to make myself more of an attacking player in order to fill all the goal contributions we lost from the team last year."
Austin said he added several new elements to his game.
"In the offseason, I focused on strengthening myself, so I'm physically and mentally ready for all my competitors," Austin. "I also worked on sharpening my whole game, especially my close ball control and finishing. Our team has plenty of potential to go out and win every game we play…With new faces on the team, we are hungry to go out there and give our best effort."
Lemont hungry for another quality win
Under coach Rick Prangen, Lemont is annually one of the top teams in the state. The 2023 version, though, might need a little more construction work due to the wide range of newcomers. Lemont (1-2) returns 17 players from last season's 14-4-7 squad that won the St. Francis Regional, but welcomes several freshmen into the fold.
"Our freshmen are ahead of schedule," Prangen said. "We have a small senior class, sizeable junior class, smaller sophomore class and six freshmen on the roster. Three are really contributing. We are way ahead where we were two or three years ago when we last had a lot of freshmen. All of them are doing a good job. I feel pretty good about the team. We've played three quality teams. It's so early, but for me, what I'm looking for is consistency in play. If we get that, we have a good chance at having a successful season."
Midfielders Tyler Chrisman, a three-year varsity player, joins midfielder Ali Nabulsi and sophomore forward Brent Tucker as three of the key returnees.
Tidbits
Morton opened up the season with an impressive 1-0 victory over defending Class 3A state champion Naperville Central on the opening day of the season. The Mustangs were looking for a second win over a Naperville area team but their game against Naperville North was postponed to Sept. 21 due to the lack of officials.