BERWYN – In a season filled with near-misses and heartbreak, the Downers Grove North boys soccer team finally had reason to celebrate on Tuesday night.
Jackson Irby's left-footed blast into the back of the net gave the Trojans a 2-1 victory over Downers Grove South in a Class 3A Morton Regional semifinal.
Avenging a 2-0 regular season loss to the Mustangs back on Sept. 30, DGN advances to take on top-seeded Morton at 3 p.m. Saturday for the regional title.
Irby's goal came with 4:47 remaining and shortly after a DGS goal kick.
"I cut back inside and probably had the best left-footed shot I've had in my life," said Irby, who is a righty. "It was very exciting, I screamed my lungs out for a bit.
"After losing the crosstown classic to them 2-0, it was good to come back when it mattered in the playoffs. It's really nice, it doesn't get much better then that."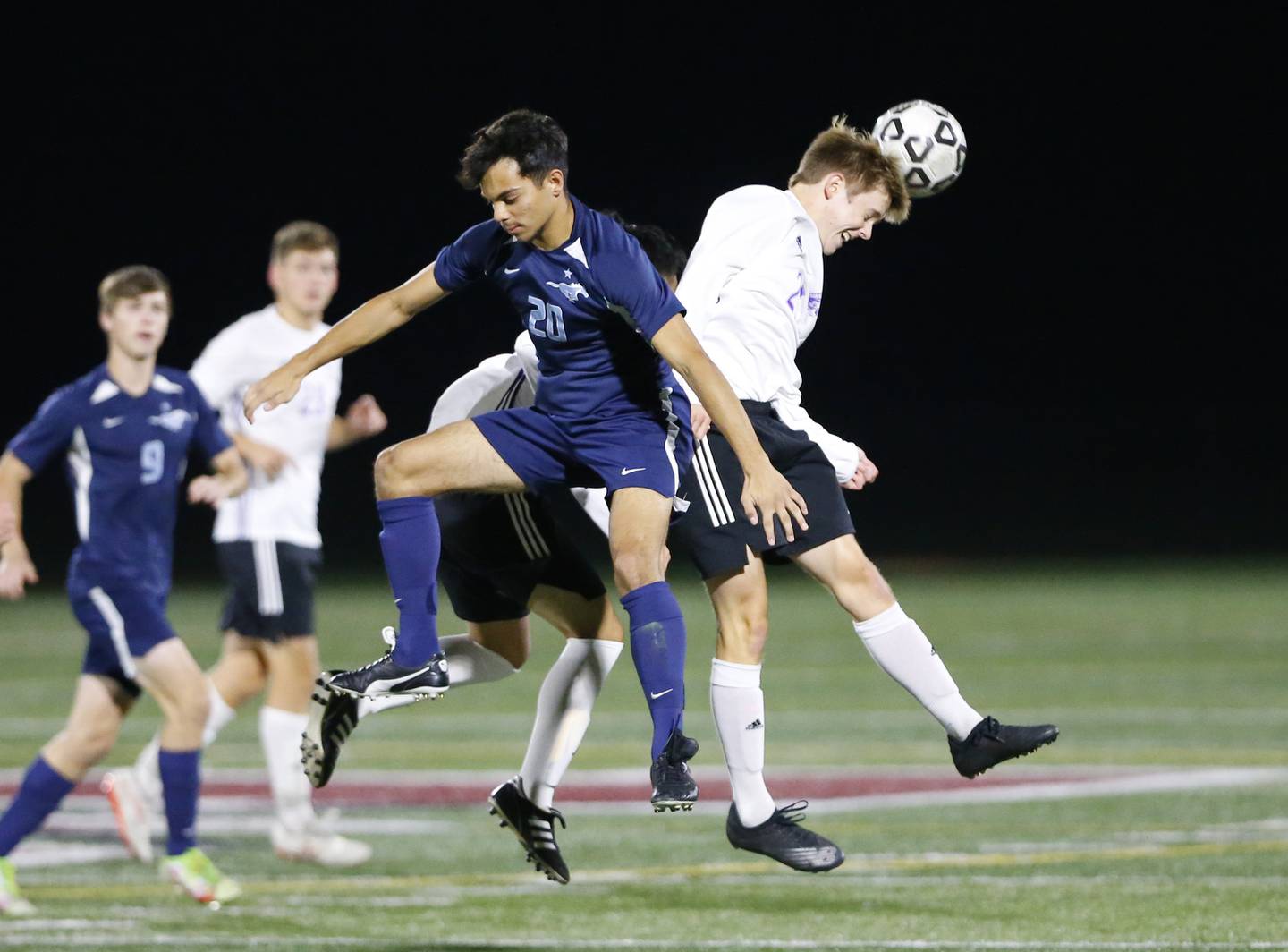 The 10th-seeded Trojans improved to 5-14 on the fall – though that record is slightly misleading. The squad lost a pair of matches in a shootout, dropped another seven by one goal and saw three more defeats come by two goals.
This one also appeared headed to another close loss as DGN, which didn't register a shot on goal in the first 40 minutes, and narrowly missed a couple of scoring chances early in the second half. But Max Prince was able to get the equalizer on a breakaway goal with 14:07 left.
"We've done that throughout the season," said Bradley Szydlowski, one of the team's captains, "it just hasn't gone our way too many times. We've always battled back. It feels good to finally have it go our way.
"We kept working as a team, everyone was playing together and we figured eventually one will go in."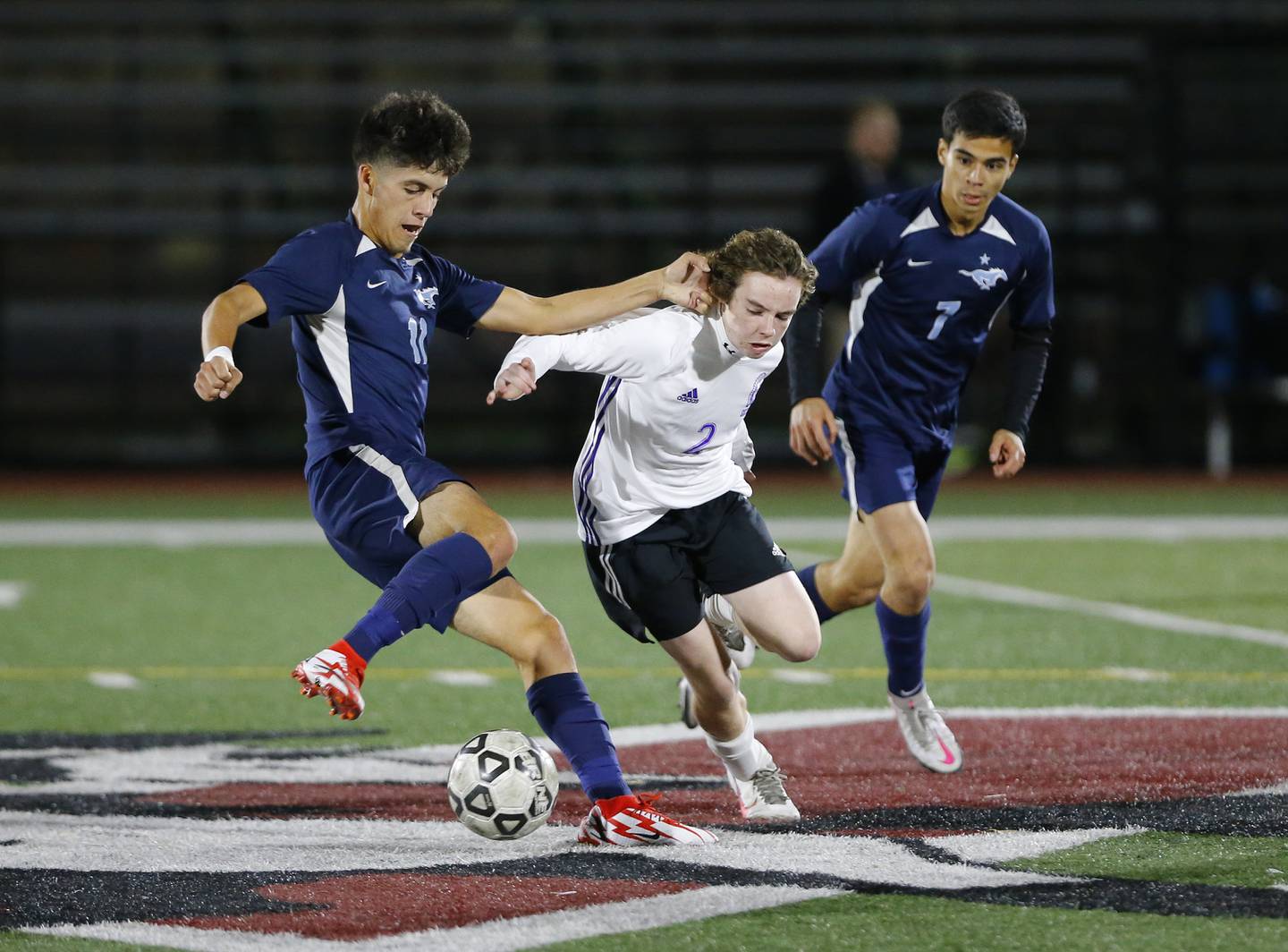 Drew Matune and Joseph Kapsch each played a half in goal for the Trojans, with Kapsch making a couple of key saves in the latter stages.
"We've been battling all year, "DGN coach Michael Schmitt said. "This is a young team, we had a lot of seniors last year. It's been a work in progress, kind of baptism by fire. Obviously we had a lot of one-goal losses but we've been building all year. We pulled it all together tonight and we had been working toward that all season."
DGS had jumped out to a quick 1-0 advantage less then 10 minutes into the match on a goal by Joshua Venouziou. The Mustangs also had a couple near-misses later in the first half that would have extended the margin.
"We got that first goal," DGS coach Jon Stapleton said, "and had a couple of really good chances to extend that lead. In the second half, with their season on the line, they (DGN) played well. They got the equalizer and the momentum clearly shifted to them."
Eighth-seeded Downers Grove South (8-8-1) played their best soccer in the second half of the season, having won six of eight matches coming in. The Mustangs' only two losses during that stretch were to top seeds Morton and Naperville North.
"We had been playing well," Stapleton said. "For us, the kids continued to work and improved in the areas we needed to improve on. One of those areas was defending as a unit and that improved greatly. And then we started finishing our scoring chances."