BERWYN – Benet junior forward Andy Nash is starting to get the hang of playing heavy minutes for a state contending team this season.
After playing sparingly in the shortened spring season, Nash is an instrumental player for the Redwings this fall.
That was clearly evident in Saturday's clash against Lyons at Morton West High School.
Nash, a tall and athletic player, scored the lone goal in the ninth minute to spark the Redwings to a 1-0 victory in the second day of the Morton Premier Invite.
Nash said he's happy to be a key contributor for the Redwings, especially since he helped wipe away any residue from a 2-1 defeat to highly ranked Morton on Friday.
"I've experienced a lot of growth this season, but I still have a lot of work to do," Nash said. "I need to put in even more work in the offseason. I did not start in the spring, so I had to get used to playing quickly. I didn't play a lot being a backup last year, so it was a bit of a change at the start of the year. But I'm used to it now."
Benet, which won the Class 2A state title in 2019, scored off an assist from TJ McVey early in the match. It was his fourth goal of the season for Nash.
"We were pressing up high, me and TJ were chasing down every pass from them," Nash said of his goal. "TJ won one of the passes. I made a run for a through ball and he made a perfect pass through two defenders. I shot it, deflected off the keeper and followed through and scored."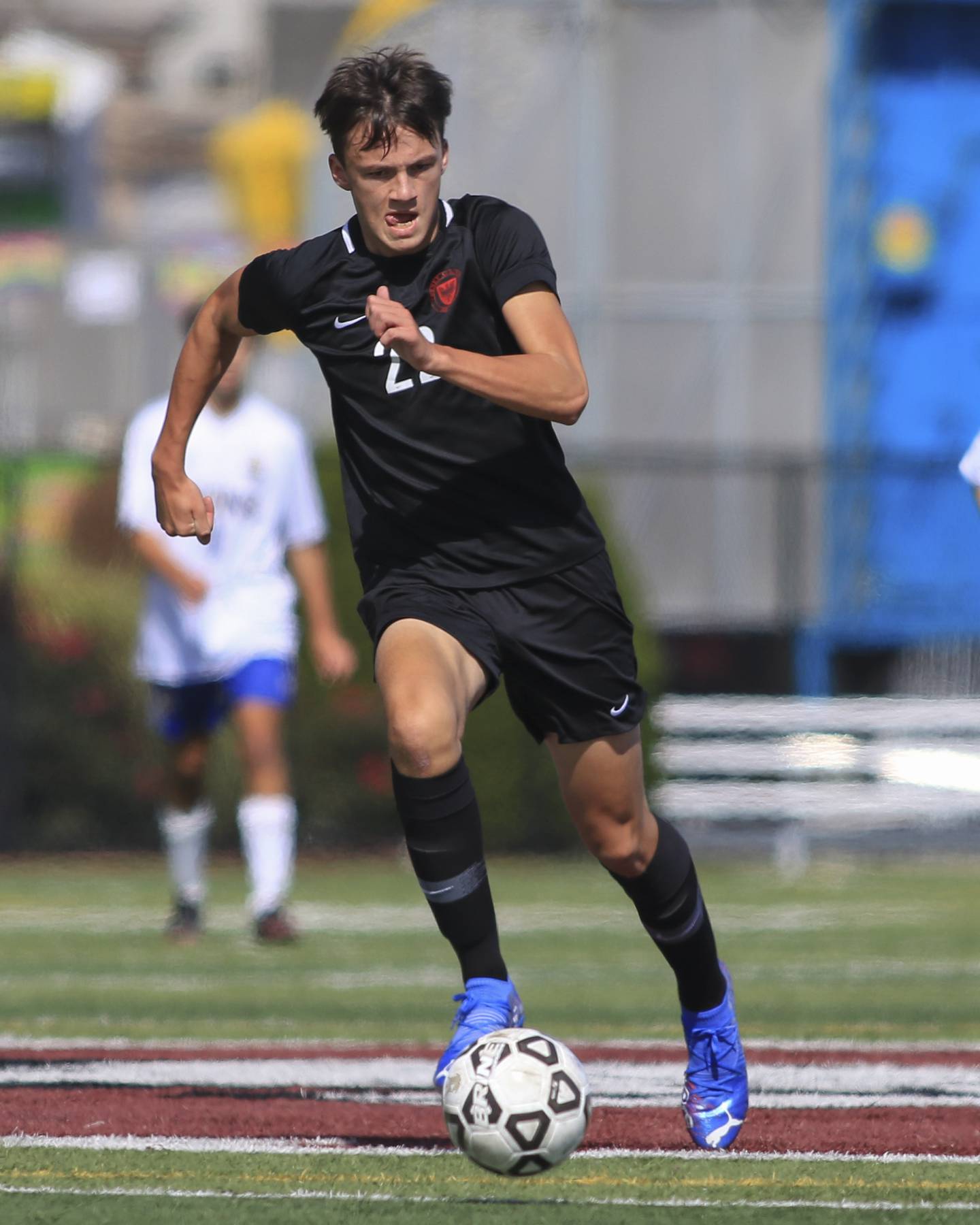 Benet coach John Wesley said Nash's consistent bodes well for his future — and the Redwings.
"Maturity and age, like every high school guy really has helped (Andy)," he said. "He was playing behind seniors as a sophomore and barely saw the field, but now he's one of the guys we're counting on. He's had a lot of growth."
Benet goalie Evan Lucas tallied four saves in 80 minutes for the shutout, including a save with 1:24 left in regulation. Lucas also had a key sliding save with 30 minutes remaining.
Nash said the Redwings (8-4) showed they belong among the elite in the state following strong showings against Morton and Lyons. The Mustangs, ranked No. 1 by Chicagoland Soccer, scored two goals in the second half to pull out a 2-1 win.
"As a team, we have a chance to go pretty far in the state tournament," he said. "We played well this weekend."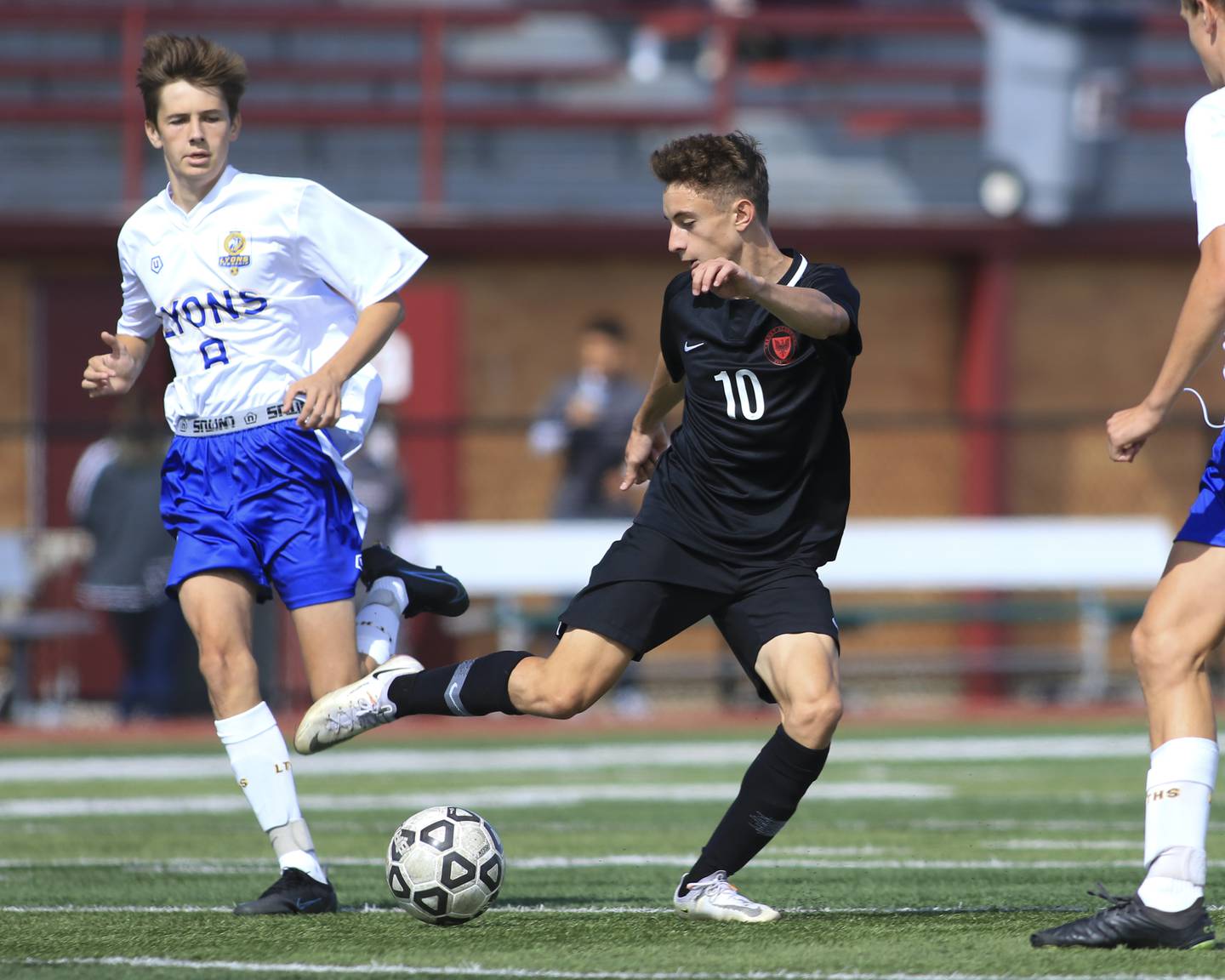 Welsey said his players handled a quick turnaround with poise and confidence, holding the Lions to only a few shots in the game.
"We're really proud of the kids," he said. "That's a really tough turnaround, coming off a loss to Morton and to play Lyons in the morning. It felt like a state final. The effort was really good, so I was proud of the kids. I thought it was a good team win. I thought it was sloppy. I thought we played pretty good Friday in a loss. That's kind of high school soccer. We were steady in the back."
Lyons coach Paul Labbato said the loss was another learning experience that will aid his players in the long run. The Lions (9-4-1) have played one of the toughest schedules in the state, thus helping them get ready for the state playoffs. The Lions defeated Libertyville 1-0 on Friday.
"We're trying to learn from wins, losses and ties," he said. "We were unlucky earlier in the week with a PK loss, then we got a win Friday and loss today. If we're not learning from these type of atmospheres or teams we're playing, then it's trouble on us. We build a schedule that has so many good teams one after another. It's just difficult. This sport isn't built to just win, win and win, especially when playing teams even with you or contenders for a state title like Benet, Libertyville and Morton. We all have goals of winning a state title. This is great for us to come out here for us to measure where we're at."