Lemont sophomore guard Nojus Indrusaitis can't explain his scoring surges.
On the court, Indrusaitis is a rapidly developing elite recruit capable of taking over a game with his scoring binges.
For example, his 25-point first-half explosion against Timothy Christian on Dec. 27. Or his 20-point effort in the first half against Eisenhower on Jan. 7. Those are just samples of Indrusaitis' scoring prowess.
But asking Indrusaitis to describe what he's feeling during those big games is a bit harder for him than putting the ball in the hoop.
"I don't know to explain it because everything happens so fast, but it's a good feeling," Indrusaitis said.
The 6-foot-4 Indrusaitis, who has an offer from Illinois, leads Lemont (12-4, 6-0) in several categories. He's averaging 21.5 points and 8 rebounds per game. Indrusaitis said he's been working on all facets of his game to help a young Lemont team win games.
"I feel like we're capable of everything because we have all the pieces, but we just have to place them all together," he said. "Yeah, we're still young, so we have a lot of things to work on. We're still learning every single game…I feel we can be good if we play to our capabilities."
Lemont coach Rick Runaas acknowledged he's becoming accustomed to watching Indrusaitis light up the scoreboard in a manner of minutes, though he's most pleased with his overall development.
"Nojus has the ability to score," Runaas said. "It's seemingly been four or five times he's had big scoring (binges). The Eisenhower game was another example of one of his scoring binges. He had a great night. The last three plays he made before coming out were all tremendous passes. He wasn't trying to build points. He was getting his teammates involved. He's always been a willing passer.
"It's good to see he continues with that attitude and maintaining the attitude about moving the ball. We expect so much out of him. He's been our leading rebounder. We challenge him to be a better rebounder and defender, just to see consistent development."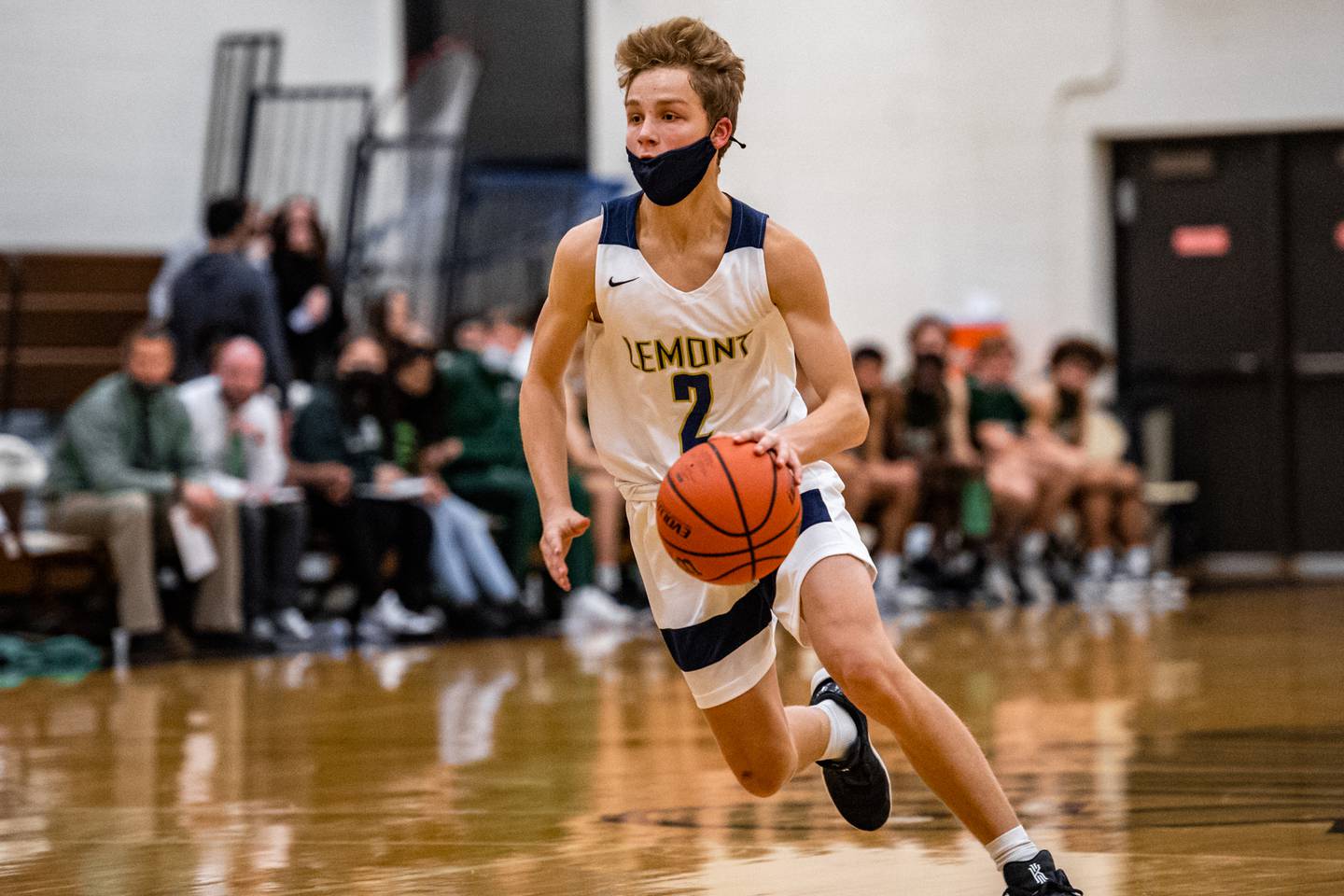 Runaas is quick to point out that Lemont's success is not driven solely by the high-scoring and do-it-all play of Indrusaitis.
Junior twins Matas and Rokas Castillo bring toughness, stability and chemistry to the team, with Matas averaging 11 points and 6 rebounds. Rokas Castillo is averaging 14 points. Junior forward Miles Beachum is contributing valuable minutes, Runaas said.
"Our twin guards, Matas and Rokas, have been the key to our improved play," Runaas said. "They've picked up their play and started to take more of a leadership role on the team. We're a very young team. They were little unsure at first because they weren't seniors. Miles is also coming on. He's one of our better rebounders and an anchor on defense.
"We're improving on ball movement and making quicker decisions and reads. I feel we're playing better than we were early in the season. We started picking it up around Christmas. We lost a couple of close games, but overall we're trending in the right direction."
Wheaton Academy looks ahead to challenging stretch
Wheaton Academy hits a difficult part of its schedule that could shape the team's season.
The Warriors (9-7, 2-2 Metro Suburban) host IC Catholic Prep (9-8) on Friday, play at Bishop McNamara (13-4) on Tuesday, travel to St. Francis (9-3) next Friday and take on Rolling Meadows (12-2) on Jan. 24.
Wheaton Academy coach Steve Thonn said the next few weeks should provide good insight on his team's chances in the playoffs.
"We've been a little up and down and played some good games against a tough schedule with bigger schools, from our own tournament and the East Aurora tournament," he said. "The competition was really good, but we've been little up and down. We're trying to get better against the better teams. We have a really tough stretch of games coming up.
"We have a lot of good shooters, so we're shooting the ball pretty well. We're about 40% on 3-pointers. What we need to work on is our defense and doing a better job of stopping teams. Our offense can't carry us every game."
Thonn said senior forward Cole Andrews, at 6-foot-3, is one of the consistent players for his program. Junior point guard Wade Davis and senior guard Sam Anderson form a solid backcourt and senior forward Josh Oswald is stepping up.
"Cole's not that big, but he's been consistent all year, averaging 12 or 13 points per game," he said. "He's a good three-pointer shooter. At the beginning of the year, he was shooting above 50%. He's also our inside guy. Wade has been really steady for us. He's doing a good job running the show. Sam Anderson and Josh Oswald both have been coming along really nice and playing well."
Extras
Batavia will be hosting the 28th Annual Jim & Sylvia Roberts Night of Hoops on Jan. 22. The four-game, one-day shootout features several local teams, including St. Charles East, Wheaton Warrenville South, Oswego East and Batavia….Two years ago, the When Sides Collide Shootout produced one of the best basketball nights of the season, with a standing room only crowd in attendance to watch the Fenwick-Rolling Meadows game. The shootout returns on Jan. 22 at Benet, and feature four games, including Young-Glenbard West and Benet-St. Ignatius.