Fenwick senior guard Bryce Hopkins secured his legacy before the start of the 2021 condensed season.
He managed to build his legacy every single season by doing one simple yet difficult thing in these ever-changing times – staying at the same school.
The Kentucky recruit never wavered from his commitment to the private Oak Park-based school. Even when teammates DJ Steward, Trey Pettigrew and Damari Nixon transferred, Hopkins stayed the course and kept adding to his legacy.
The 6-foot-7, 220-pound Hopkins capped an illustrious three-year varsity career by averaging 24.4 points, 12.5 rebounds, 2.9 assists, 1.8 steals and 1.5 blocks a game in the 15-game 2021 season.
Hopkins, the Suburban Life Boys Basketball Player of the Year, is among the all-time great players in Fenwick history, finishing second in scoring behind former Duke and NBA star Corey Maggette.
Hopkins, the Chicago Catholic League Player of the Year, said he cherished closing out his career wearing the Friars' uniform.
"The season was great, even though my teammates and I didn't know we were going to even have a season this year," Hopkins said. "When Trey left, I just knew that I would have to step up and take control of the leadership of our team when we were on the court."
Hopkins' road from seldom-used freshman to elite national player at Fenwick was tested numerous times in his career. He could have followed the path taken by Steward and Pettigrew after not playing on the varsity in his freshman year despite his high-profile status. He also committed to Louisville in his junior season before reopening his commitment. Hopkins also endured a coaching change when Rick Malnati stepped down after his freshman year.
Steward left Fenwick to attend Young before the start of his junior season, when Hopkins was set to be a sophomore. Pettigrew, a junior guard, announced last July his transfer to Hillcrest Prep in Gilbert, Arizona. At the time, Pettigrew was an emerging national prospect with offers from Illinois, Nebraska and Penn State.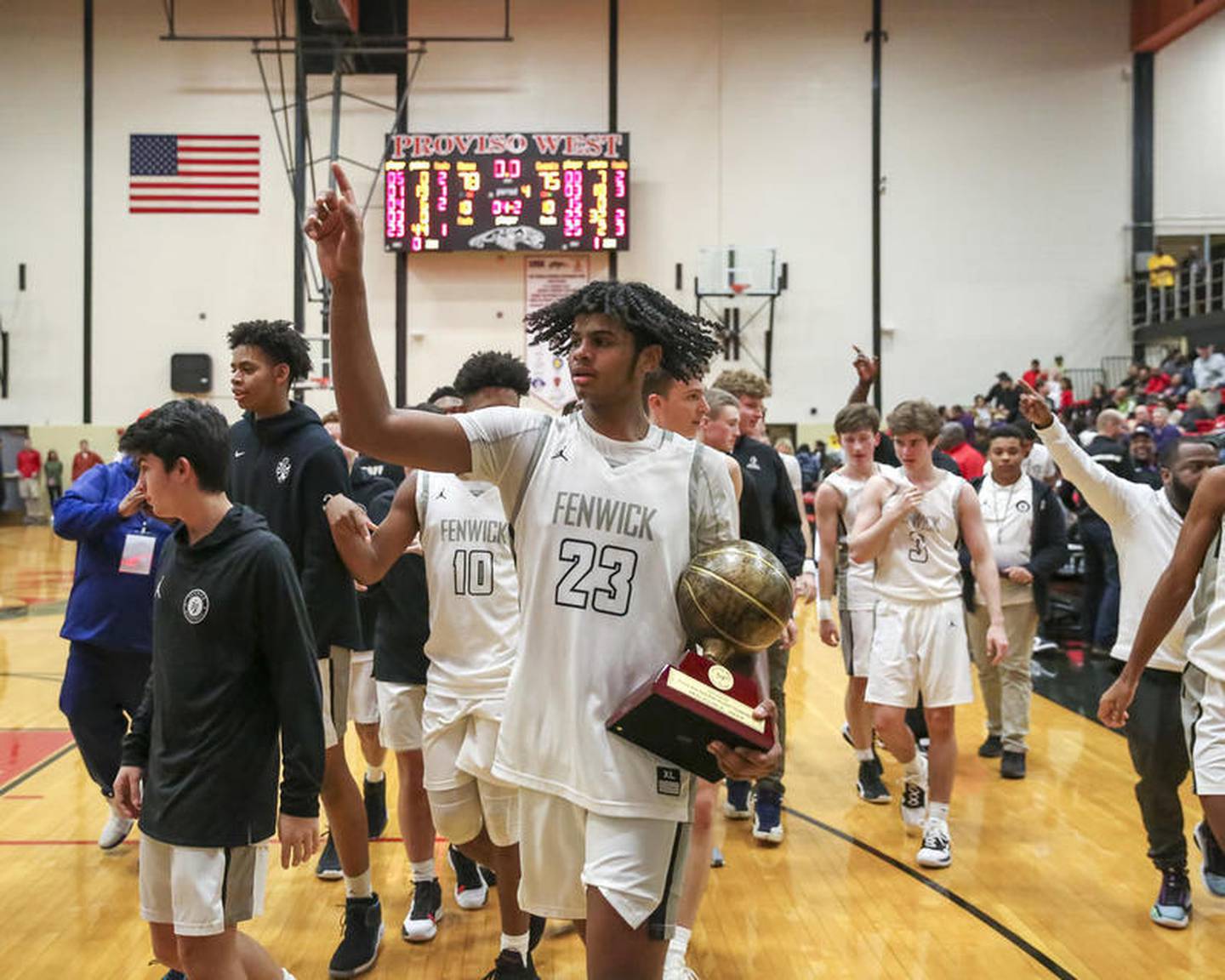 Hopkins said he never considered transferring, even after Illinois was one of the last states in the country to restart basketball during the COVID-19 pandemic.
Hopkins said he was motivated to create a lifetime legacy and follow in the footsteps of Maggette.
"Part of the reason I wanted to stay at Fenwick all four years was so that when basketball is all said and done, I can come back to Fenwick and feel like I have a home and somewhere where I know I left my mark," Hopkins said.
"My freshman year our team was pretty stacked with seniors and other guys that played the previous year to my incoming, so I was just up on the team getting the experience and soaking in all of the information they were giving me. When the seniors left, I came back for my sophomore year and felt very comfortable with the system."
Hopkins credited his parents for stressing the importance of working hard in all aspects of life, not just basketball. Success in the classroom, Hopkins said, is important to his family. That's also why he didn't leave Fenwick.
"I don't think leaving Fenwick was an option for Bryce," Fenwick coach Staunton Peck said. "He was committed to Fenwick no matter what. A lot of players his caliber would go to their parents after their freshman year and say it's not the right place. His parents told Bryce to work harder."
Hopkins, an inside-outside threat, said he's motivated by not making the McDonald's All-American team this year. A four-star recruit, Hopkins is ranked among the top 30 seniors in the country.
"I know the work that I put in and to not make it felt like a slap in my face," he said. "Nothing was ever given to me though. I've always worked for everything that I've received in my life, so I'm just going to stick to that and keep working. It's just more fuel to the fire."
Prep Hoops Illinois senior scouting director Scott Burgess said Hopkins' athleticism, strength and power make him a one-of-a-kind player.
"Bryce can play bully ball going through his man along with breaking them down off the bounce," Burgess said. "He has improved his range throughout his career as a shooter. He posts up weaker defenders and is a plus rebounder and shown growth as a passer when defenses collapse on him."
His legacy intact for decades at Fenwick, Hopkins is excited to chart a new course in Lexington and play for legendary coach John Calipari.
"I can't wait to get to Lexington," Hopkins said. "I've worked so hard for this opportunity but the work is just beginning when I get there. Coach Cal didn't promise me anything. He told me straight up that you will come here and fight for what you want. … The program speaks for itself and it's an honor to have the opportunity to put that jersey on."