DOWNERS GROVE – Visualization is a big part of Jennifer Buehler's game.
If the Downers Grove North junior can see herself accomplishing something, chances are she will.
That's exactly what happened Sept. 7. Buehler recorded the match-ending block that gave the visiting Trojans a 23-25, 25-18, 25-23 victory over crosstown rival Downers Grove South.
"I just felt at the end that I have to think that I'm going to do something so that I actually do it," Buehler said. "So before that play I'm like, 'I'm making a big block, I'm going to try to stuff her and make the ball go in and hit the floor.'
"That's what I did and I'm glad that I executed it. I have to think positively every single time."
That was tough for the Trojans (3-2) to do in the early going. They committed seven hitting errors and two service errors in the first 14 points of the first set as both teams fought off nerves.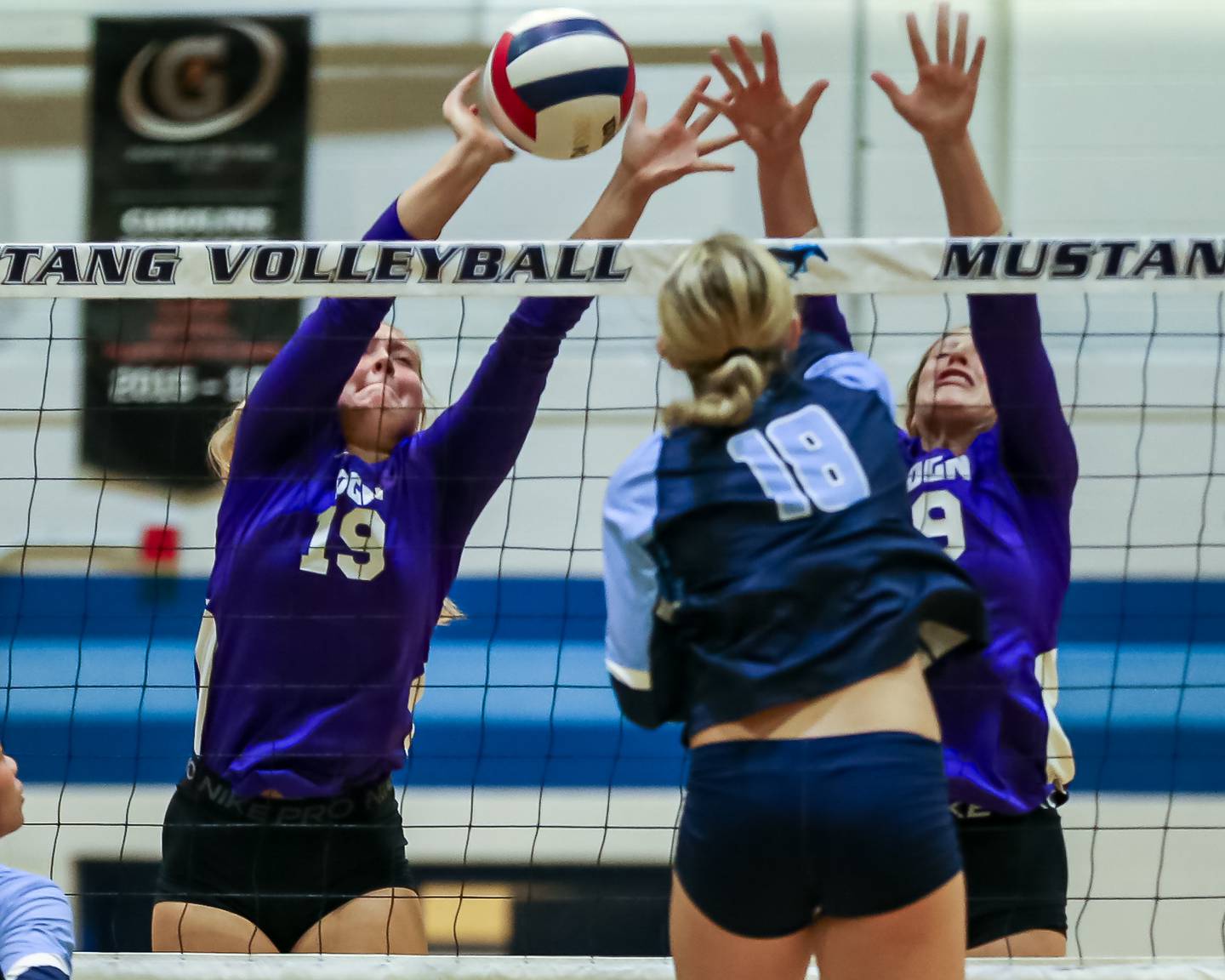 "It was a game of ups and downs," Downers North coach Mark Wasik said. "We let our mistakes bother us. Some of it is we have high expectations of our ability to perform and some of that stuff was way below expectations. Then it's easy to hang your head. But this is the fifth match of the season. I knew if we played loose a little bit more it would help us come out in the end."
That's what the Trojans did. They closed the second set on an 8-1 run during which sophomore Kelly Crowley had two of her seven kills. Buehler recorded two of her six kills and served the final two points to force a third set.
The decisive set was just as competitive as both teams raised their level of play. The Mustangs (4-6) led 8-7 after a block from senior Alexis Gagnier, only to see the Trojans respond with a 7-1 run.
Downers South retook the lead at 19-18, thanks to another block by Gagnier, who later landed a kill to give the Mustangs a 20-19 edge.
Junior Sarah Rutkowski responded in a big way for the Trojans. She tied the game with a kill, then put North ahead with a block and later had two of her team-high eight kills down the stretch. The biggest was a tip that gave the Trojans a 23-20 lead after which she turned, nodded her head and smiled at Wasik.
"We talked about that," Wasik said. "It's really fun when you give them feedback, they execute it and they're like, 'Wow, you were right, coach.' "
"The right back was super far back because I had just hit the corner," Rutkowski said. "[Wasik] was like, 'She's really far back. If you just tip on her on the line, it should be a free point.' And it was."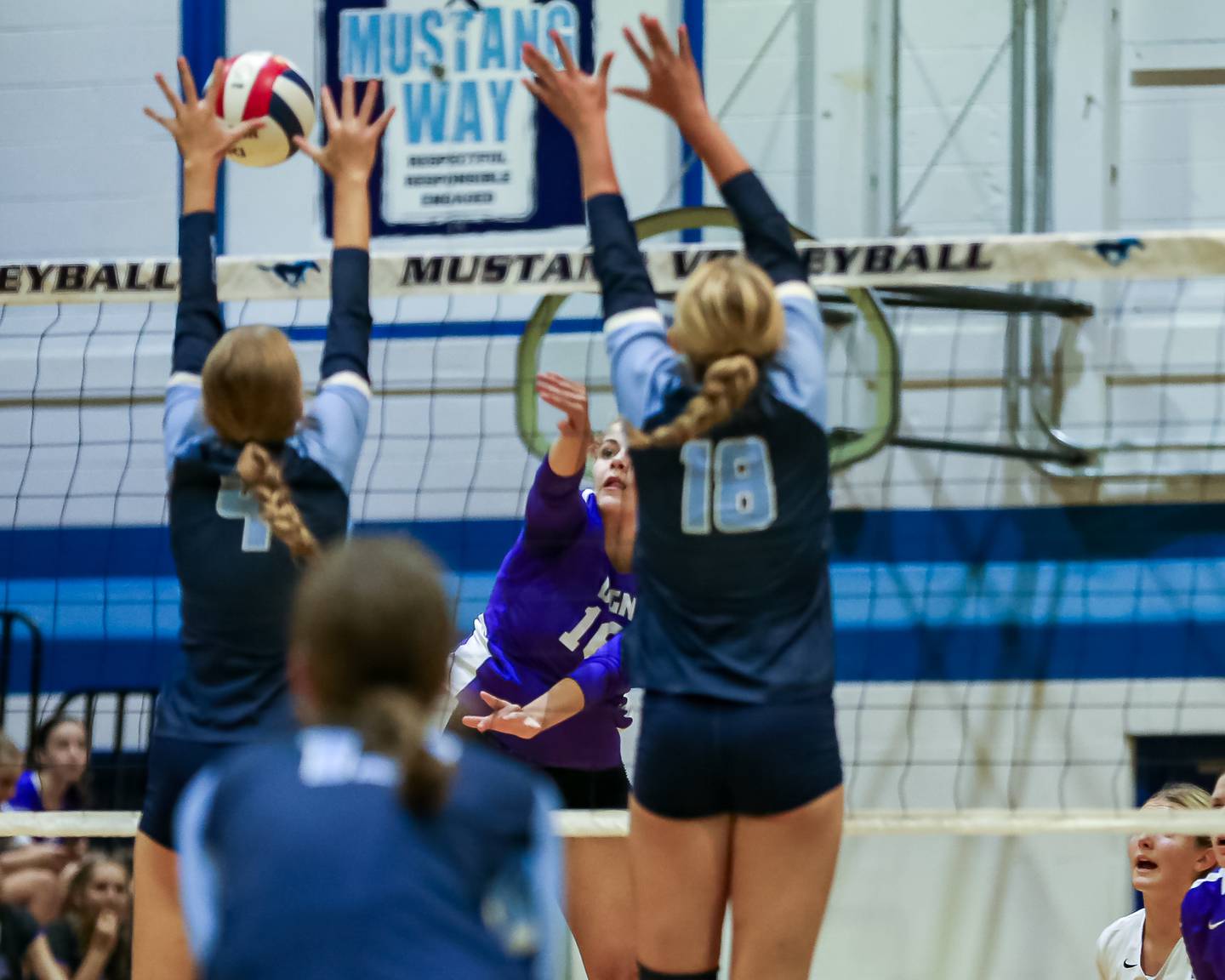 Rutkowski said playing more freely helped the Trojans pull out the big win.
"I think we were just super tense because it was our crosstown rivals, but we eventually loosened up," Rutkowski said. "I know for me, especially, I was not doing so well at the beginning, but I just brought it back and everyone's energy was up."
The Mustangs didn't go down without a fight. Junior Syliva Masiulionis spiked two kills and had a block to tie the game at 23. Rutkowski answered with a kill and Buehler followed with the clinching block.
"Oh, my god, it was awesome," Rutkowski said of Buehler's block. "It was so good. We needed that."
Masiulionis led all players with 12 kills for Downers South. Senior Alex Barcenas had 24 assists and seven service points and Jordan Moran added eight service points, three aces and three blocks.
"We are proud of them overall because every week we're truly getting better," Downers South coach Madisen Babich said. "We're seeing the progression that we need to see and it's not even a physical aspect of the game. It's all mental for us. My assistant and I are constantly feeding them that positive energy, but now they need to look to each other as teammates to be able to constantly get the job done. We have the right pieces."
But the Trojans have bragging rights.
"We beat South in football and other sports," Buehler said. "It's our big rivalry, so it's fun to beat them in volleyball as well."