CHICAGO – Kaitlyn Filkins clapped her hands once and waved her arms like an airplane as she ran into a pile of Lyons Township teammates waiting at home plate.
The Lions' sophomore hasn't yet figured out the meaning of her team's home run ritual. But Filkins apparently has Downers Grove North figured out.
For the second time this season, Filkins homered off the Trojans. Filkins' go-ahead homer leading off the bottom of the fifth, coupled with Lily Hanafin's clutch pitching, sent second-seeded Lyons past third-seeded Downers Grove North 4-3 in Wednesday's Class 4A Marist Sectional semifinal.
Lyons (21-3), in a sectional final for the first time since 2017, will take on top-seeded Marist on Friday.
"My first homer was very similar to this one, leading off, exactly like this one," Filkins said. "That totally did help me. I knew I had hit a home run off her once, and I knew I could do it again."
Filkins' two home runs off Downers Grove North are her only two of the season. The Lions' No. 9 hitter, though, has made an impact for a Lyons team with power up and down the lineup. Hanafin also homered Wednesday, her first of the year.
"Kaitlyn has been one of those hitters that kind of flies under the radar but always produces," Lyons coach Nicole Marinec said. "I feel really lucky. We have so much power, one through nine. Anyone can put one over the fence."
Filkins did on an 0-1 pitch to start the fifth, sending a high fly that kept going and carried over the left field fence for a 3-2 lead.
"I thought at first it was just going to be a pop up," Filkins said. "It just kept going."
The Lions tacked on an unearned run in the sixth on Makenna Kotor's RBI groundout – and needed it.
Maya Rodriguez and Ali Smetana singled to start the Downers Grove North seventh, and moved up to second and third on a pitch in dirt.
Hanafin didn't flinch. She struck out the next batter, got a grounder that scored a run and another grounder to first to end it with the tying run at third.
"I just focused on one pitch at a time," Hanafin said. "You can't worry about what's going around you. Whatever happened in the past, you have to let it go."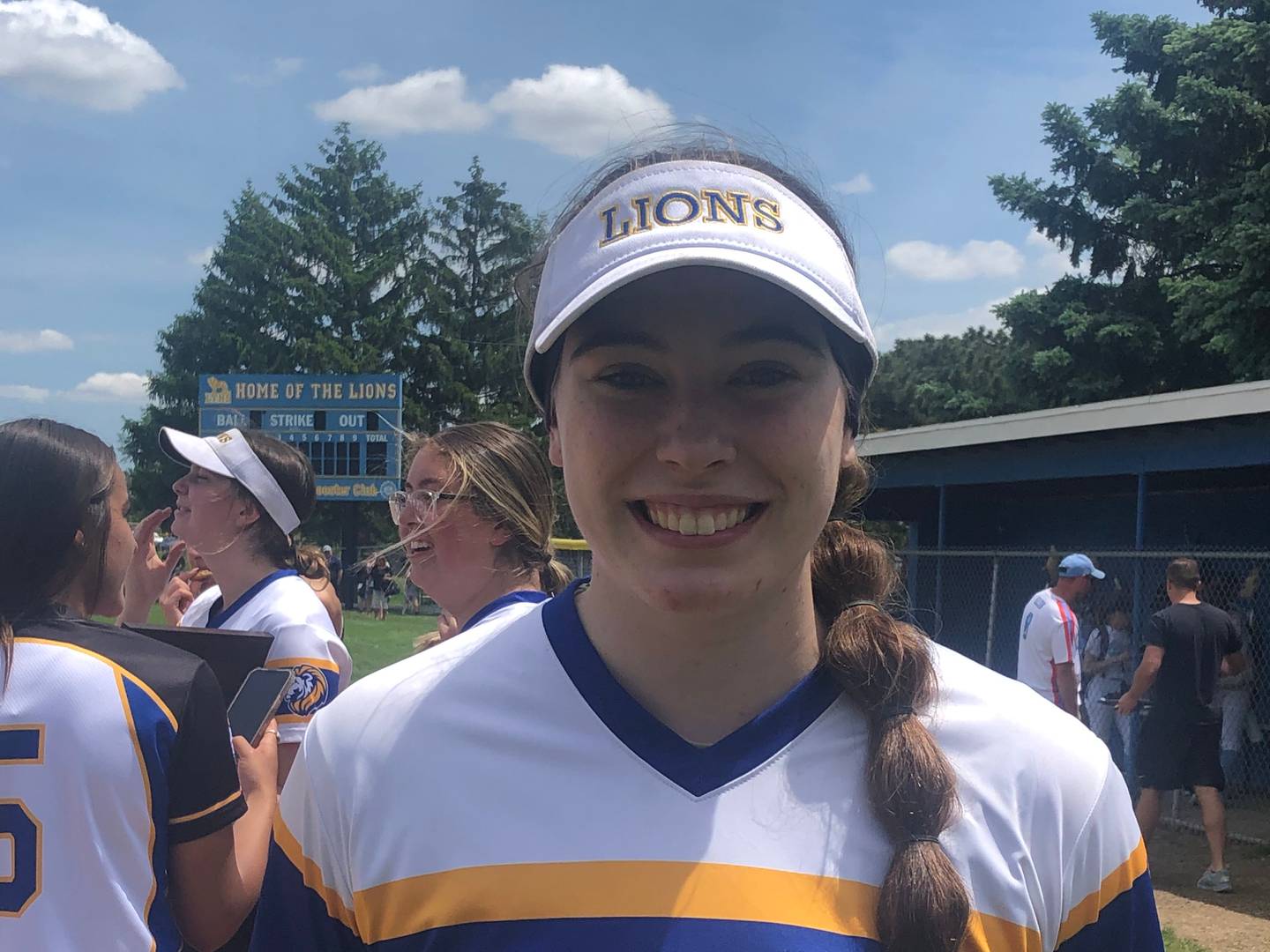 Hanafin struck out 14, a detail not lost on Downers Grove North coach Eric Landschoot.
"I give LT credit. Their pitcher was great," Landschoot said. "The two things that really burned us today were the strikeouts and then when we were able to get runners on base we couldn't lay a bunt down. That's something we've been stressing all year. We know we don't have the best offensive team. Small ball will make or break us."
Marinec wasn't surprised at the one-run outcome between West Suburban Silver co-champs that split two regular-season meetings.
"We knew it would come down to the wire," Marinec said. "Of course you don't anticipate the last out with a runner at third."
Hanafin, coming off a 17-strikeout gem against Willowbrook in a regional final, carried it right over into Wednesday.
She struck out the side in the first, and retired the first nine batters she faced – seven via the strikeout.
"I like using the drop curve. Threw a lot of screws today, too," said Hanafin, a George Washington recruit, who allowed five hits. "I felt in a pretty good rhythm. All my pitches were working."
Hanafin's two-run homer to center, with none out in the second, gave Lyons a 2-0 lead. Downers Grove North (18-7) matched it in the fourth.
Maggie Ward singled to lead off for the Trojans' first baserunner, was sacrificed to second and scored on a Payton Janicki single. After a runner reached on a dropped third strike, Rodriguez laced an opposite-field single to score Janicki with the tying run.
But Hanafin navigated out of further trouble with back-to-back strikeouts.
"She's just been fantastic," Marinec said.
Losing Downers Grove North pitcher Ava Gusel, who also allowed just five hits, has been pretty good, too. Like Rodriguez, who had two hits, she's a sophomore for a Trojans' team that will bring plenty of talent back next year.
"The future does look bright but they also cannot become complacent," Landschoot said. "They have to be the ones to put the work in."