The wrestling season is underway. Here are previews of teams from around the Suburban Life coverage area.
Downers Grove North
Coach: Dan McGrath
Top athletes: Ben Bielawski, jr., 182; Monty Burnap, sr., 170; Harrison Konder, so., 138; Jordan Lewis, sr., 285.
Outlook: The Trojans will seek to sidestep the significant minefields of the West Suburban Silver behind its triumvirate of ranked wrestlers – Bielawski, Konder and Lewis. Konder and Bielawski have been anointed as the fourth- and fifth-best wrestlers at their respective weight classes by the coaches' association (IWCOA).
Downers Grove South
Coach: Sean Lovelace
Top athletes: Donnie Fields, jr., 113; Jimmy Nugent, sr., 138; Noah Rapinchuk; Luke Swan, jr., 145.
Outlook: The Mustangs will once again seek to control the West Suburban Gold. "We should be pretty solid," said Lovelace, whose team was ranked just outside the top 20 in the coaches' first regular-season poll. "We really only lost two starters from last year's team." Fields and Nugent are both serious all-state contenders.
Glenbard East
Coach: Donald Pool
Top athletes: Diego Garcia, sr., 138; Andrew Gron, sr., 132; Nathan Kelley, sr., 285; Zach Poling, sr., 113.
Outlook: The Rams have championship aspirations in the Upstate Eight Conference this winter behind Garcia and Gron, both of whom are state ranked. The two seniors continue the Rams' recent history of top-notch athletes at the lower weights. The western suburbs are particularly noteworthy at heavyweight as Kelley will routinely see quality competition.
Glenbard South
Coach: Derrick Crenshaw
Top athletes: Trye Davis, sr., 120; Connor DelAlcazar, sr., 195; Gavin Krisik, sr., 220; Paul Orizba, sr.,152; Steve Orsolini, sr., 170.
Outlook: Above and beyond any regular-season considerations, the Raiders' veteran coach, Crenshaw, always has one paramount aim. "We are always trying to get two guys to the (Class 2A) state tournament," Crenshaw said. "We have never had three." Such a task is not out of the realm of possibility as Davis, Krisik and Orsolini are all highly regarded in the coaches' first-week rankings.
Glenbard West
Coach: Nick Posegay
Top athletes: Philip Dozier, sr., 195; Max Konopka, sr., 170; Isaiah Perez, sr., 126; Brennan Skoda, sr, 160.
Outlook: Dozier will seek to send Posegay into retirement with a season to remember. The senior holds the top spot in the coaches' rankings at 195. Dozier and his three fellow seniors constitute the core point-earners for the Hilltoppers at major competitions as Glenbard West is lurking just outside the top 25 in the coaches' poll after rolling to five consecutive dual-match wins to open the season.
Hinsdale Central
Coach: Jason Hayes
Top athletes: Cody Tavoso, jr., 132.
Outlook: With the IHSA not only moving the sport to the spring during the last school year but also suspending an official state series, Tavoso has the rare distinction of being a former all-state athlete from his freshman season. The junior, ranked No. 5 by the IWCOA, was sixth at 120 pounds as a freshman. The Red Devils' Whitlatch Invitational is annually one of the best get-togethers on the pre-holidays wrestling calendar.
Hinsdale South
Coach: Steve Matozzi
Top athletes: Griffin Carr, jr., 220; Oscar Choi, sr., 120; Manny Wallace, sr., 160.
Outlook: Much will be expected of Choi this winter as the senior is the face of the program as the top-ranked individual for the Hornets. Wallace has also cracked the coaches' rankings in his quest to join his classmate at the Class 2A state tournament in Champaign come February. Carr anchors' the Hornets' upper-weights.
IC Catholic Prep
Coach: Jason Renteria
Top athletes: Michael Calcagno, so., 160; Isaiah Gonzalez, jr., 285; Jadon Mims, sr., 220; Nick Renteria, sr., 126; Saul Trejo, jr., 120.
Outlook: IC Catholic Prep has a star-studded lineup with clear possibilities to contend for a Class 1A state trophy this season. Trejo, the 2020 106-pound state champion, and Gonzalez--at the other end of the spectrum as a heavyweight – are both top-ranked in the coaches' poll. Once the Knights' football players get acclimated to their winter surroundings, the team should be particularly dangerous as Mims is second-ranked and Renteria – also all-state pre-pandemic – are rated second and fourth, respectively.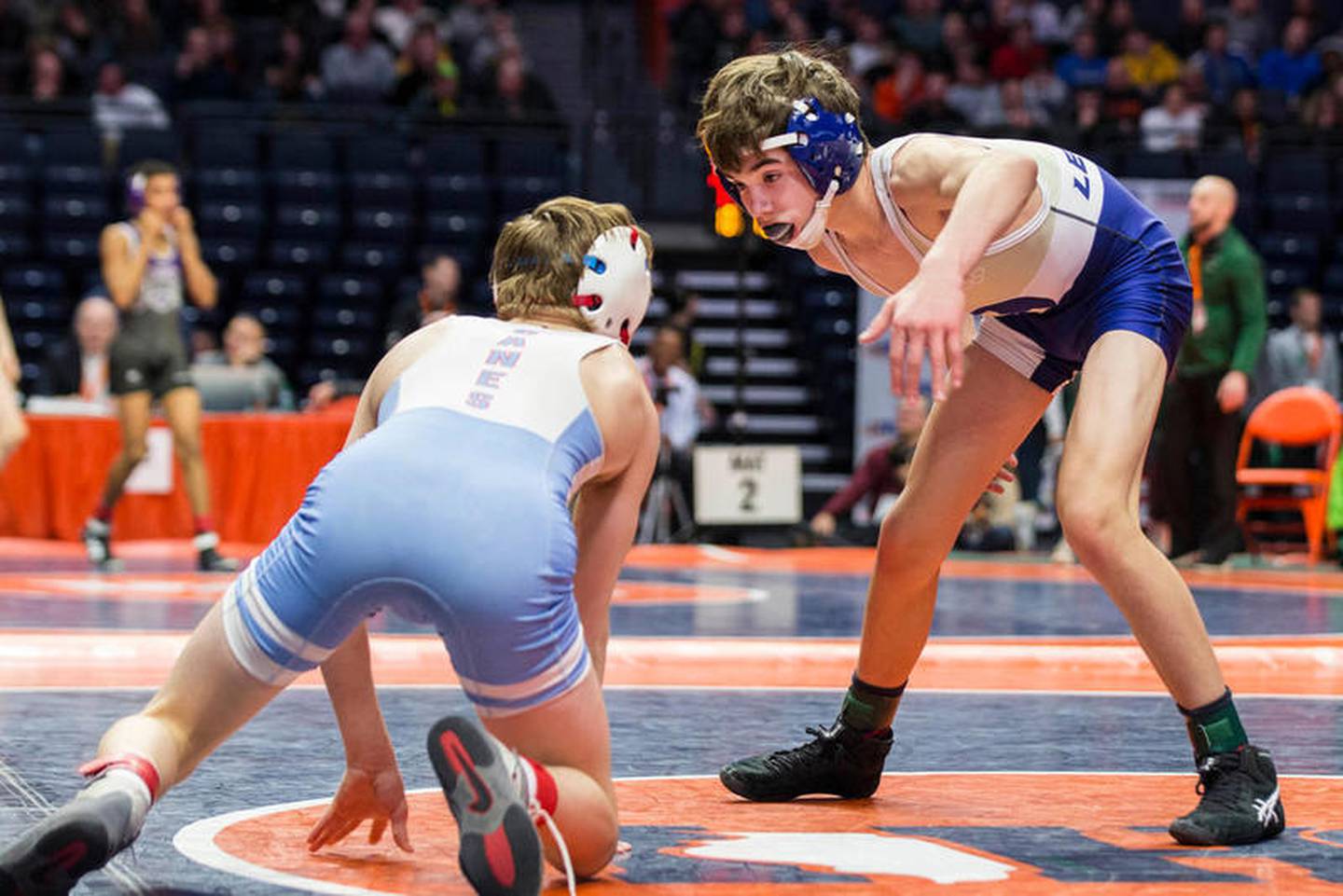 Lemont
Coach: Erik Murry
Top athletes: Devin Gonzalez, sr., 220; Mo Khalil, jr., 182; Johnny O'Connor, jr, 145; Evan Schiffman, jr., 138; Alex Tagler, sr., 170.
Outlook: Lemont enters this season with all the pieces in place.to make a run for state hardware. The Indians are ranked No. 4 in Class 2A in the coaches' poll as Murry has depth and talent in abundance with 13 returnees with significant varsity experience. Khalil, fourth at the IWCOA state meet, is ranked second at 182. Tagler, No. 9 in the coaches' eyes, returns to the sport after playing baseball last spring. Schuit is No. 5 at 132.
Lyons Township
Coach: Griff Powell
Top athletes: Gunner Garelli, so., 126; Jackson Garelli, jr., 120; Patruck Jesse, sr., 113; Cooper King, jr., 195; Cooper Schodorf, sr., 70.
Outlook: The Lions snared the final berth in the first-week top-25 IWCOA team poll for Class 3A programs. In addition, the five listed athletes for LT have all made the grade in the coaches' belief to at least being cited in the honorable-mention category. The Lions will look to discard a disappointing 12th-place showing at Barrington over the extended holiday weekend.
Montini
Coach: Pernevlon Sheppard
Top athletes: Jayden Colon, so., 145; Vince Irion, fr., 132; David Mayora, so., 152; Matt Mikolaczak, so., 285; Will Prater, jr., 170; Mick Ranquist, so., 195.
Outlook: The all-time record-holder for most team state championships has an entirely different look this winter. Sheppard, a former Glenbard West standout, is the third coach in as many seasons as all of the elite underclass wrestlers who helped the Broncos to the 2020 Class 3A state title have transferred. Bereft of seasoned athletes, Sheppard has anointed Colon, Mayora and Prater as the best bets to achieve their individual goals.
Morton
Coach: Joe Helton
Top athletes: Christian Acosta, 285; Oscar Bonilla, 220; Anthony Lopez, so., 113; Anthony Rivera, 152; Dyham Rogers, 170.
Outlook: Lopez is the most accomplished athlete in the program, in the minds of the IWCOA voters. The sophomore could theoretically move to 120 at some point this season but is currently in the honorable-mention portion of the 113-pound competitors. Bonilla, Rivera and Lopez all earned victories in the Mustangs' hard-fought season-opening quadrangular against West Suburban crossover host Glenbard West.
Nazareth
Coach: Dennis Laughlin
Top athletes: JaVaughn Jossell, sr., 120; Gabe Kaminski, fr., 285; Joe Urso, sr., 220.
Outlook: Jossell will make the transition to the 120-pound division this winter after qualifying for the IWCOA Class 1A state tournament last spring. Urso is another known commodity for the Roadrunners as a senior veteran. But Kaminski certainly qualifies as a potentially most unusual case. It is far from rare for a freshman to compete on varsity; yet such newcomers are invariably small in stature. How Kaminski develops as a freshman heavyweight against older opponents is nothing if not intriguing.
Riverside-Brookfield
Coach: Nicholas Curby
Top athletes: Mateo Costello, sr., 126; Liam Cote, sr., 182; Brock Hoyd, sr., 170; Daeshawn Jackson, sr., 285; Bill Martin, jr., 160; Quintavious Murrell, jr., 120; Michael Racanelli, sr., 138; Ethan Ranft, sr., 160.
Outlook: The Bulldogs enter the season with a No. 22 ranking from the coaches' association. In all likelihood, R-B may be the one school in the Metro Suburban Conference who can contend with a diverse IC Catholic Prep lineup. Cote, Hoyd and Martin all received acknowledgement from the IWCOA members to earn honorable-mention status in the first-week rankings.
St. Francis
Coach: none
Outlook: St. Francis athletic director Dan Hardwick released a statement announcing the temporary suspension of the program as a result of not being able to hire a new head coach. Hardwick indicated the school has every intention to resume wrestling next year.
Wheaton Academy
Coach: Justin Swider
Top athletes: Will Hupke, soph., 120; Peter Johanik, sr., 220; Tag Kazmierczak, jr., 126.
Outlook: What Wheaton Academy may lake for in bodies in the practice room, the Warriors have individual excellence to anchor its hopes this winter. Hupke, Johanik and Kazmierczak are all capable of advancing to the Class 1A individual state tournament in February.
Wheaton North
Coach: Kevin Formanski
Top athletes: Victor Castro, jr., 126; Sam Lemp, jr., 132; Devin Medina, jr., 160; Mikey Rosch, jr., 170.
Outlook: Formanski has a grand vision of the Falcons' Class 7A state-champion football team having a residual impact on the program this winter. "We have some (wrestlers who play football), but we need about 10 more," Formanski said. Castro and Medina are the most state-worthy names in the program, according to IWCOA members. Wheaton North has a intractable mission in the DuKane Conference with state powers such as Glenbard North and St. Charles East. "I think it is going to come down to us and Batavia for third and fourth," Formanski said.
Wheaton Warrenville South
Coach: Matt Janosek
Top athletes: Sedeeq AlOeadi, so., 160; Zean AlOeadi, jr., 152; Patrick Moore, sr. 145; Jimmy Tochimani, jr., 120.
Outlook: Janosek has also seen enough in the short history of the DuKane – an amalgamation of the DuPage Valley and Upstate Eight – to realize it is as rugged as any league in the western suburbs. "We're just trying to get better and hopefully close that gap (with the top programs)," Janosek said. Moore and the AlOeadi brothers are determined to solidify the Tigers' middle weight classes.
York
Coach: Nick Metcalf
Top athletes: Sean Berger, jr., 126; Jack Connell, sr., 145; Evan Grazzini, sr., 195; Zach Parisi, jr., 113; Sean Van Sleet, jr., 132.
Outlook: The Dukes will look to navigate the treacherous waters of the West Suburban Silver behind a dynamic junior class led by Berger. The 126-pounder, with Grazzani as the senior leader, hope to show the other York wrestlers the path to a successful season.