Senior Roy Llewellyn has several stories to share with Downers Grove North boys cross country teammates and alumni about his Class 3A state meet earlier this month.
Llewellyn's sixth-place finish, in a lifetime-best time of 14 minutes, 31.01 seconds for 3.0 miles, culminated his dedication to running and gratitude for those who helped him break 14:40 and earn his first top-25 all-state honors.
"I had those goals going in and was really amazed I did what I was able to do," Llewellyn said. "It really goes to show that our coaches really know what they're doing. It also goes along with my teammates and competitors. They're as much a part of bringing me along, whether they're guys I'm trying to catch, run with or hold off."
Llewellyn deserves his share of thanks. His leadership as the Trojans' No. 1 runner was integral in their third-place state finish, their first trophy since the 2017 3A state championship and sixth overall.
"Going into the season, I wasn't exactly sure that we were going to end up where we were. I would have been happy for a top-five finish, much less third," Llewellyn said. "All of the dudes on this team stepped up and the coaches gave us the ability to step up through our training and other things."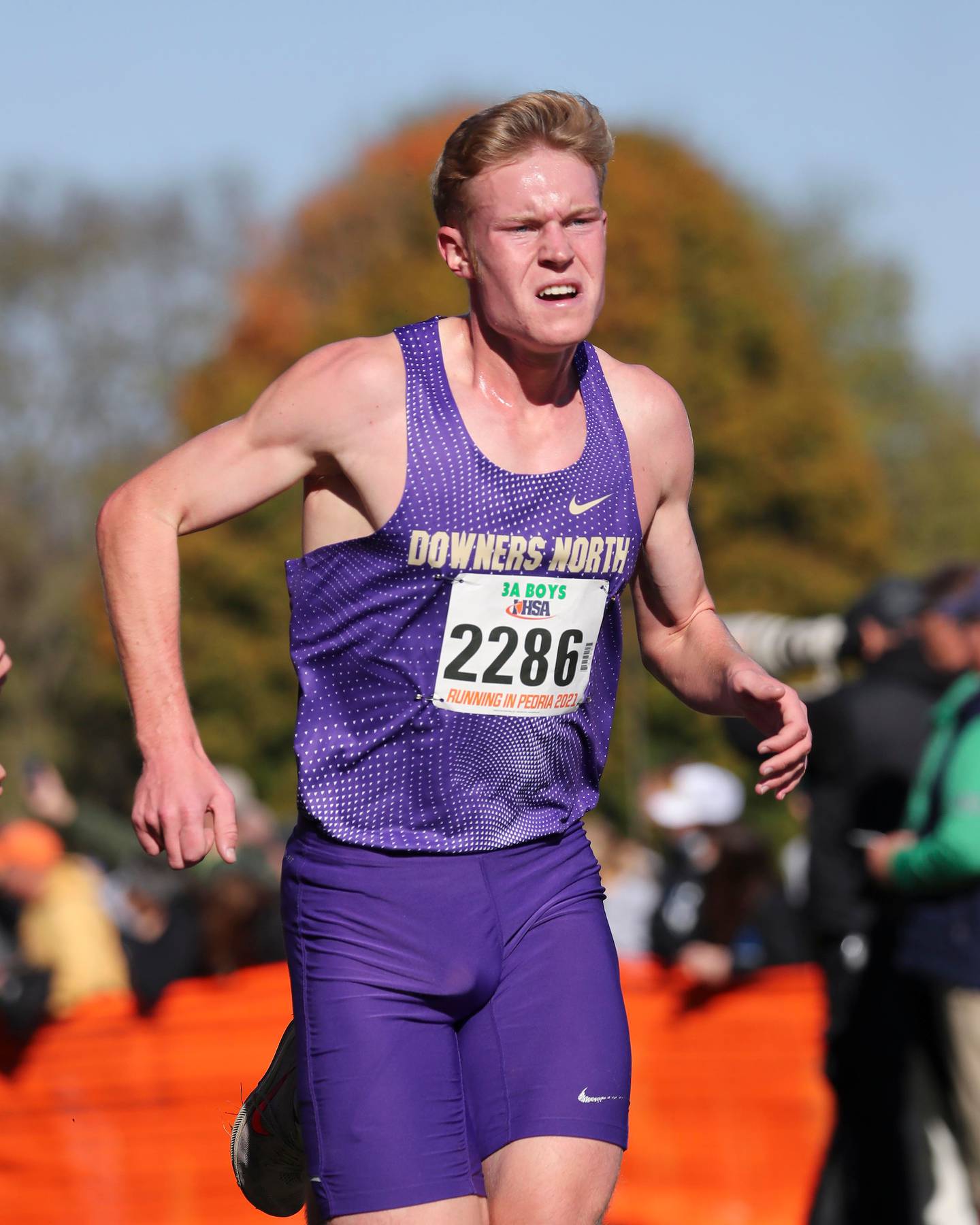 Llewellyn gave Downers North at least one all-stater in eight of the last nine state meets. Llewellyn was just as excited about fellow seniors Karan Shetty (40th) and Kyle McNally (42nd), who joined the postseason lineup after a season-long injury.
"Roy definitely takes more pride in his teammates' results than his own. While he has worked tirelessly, he understands that he is lifted to new levels by his teammates if he can help them achieve new heights," Downers North coach John Sipple said. "He does recognize the impact that older guys had on his development and that connection is what creates lasting culture and legacy."
When Llewellyn ran at state as sophomore, a then personal-best 15:18.56 for 75th, his important training partner became then-junior Evan Cummins (team-best 34th, 14:52.64). Because of COVID restrictions, there was no 2020 IHSA state meet.
After sweeping West Suburban Silver, regional and sectional titles, the Trojans wondered what could have been. With Cummins graduated and competing for Illinois, this season Llewellyn found inner drive to maintain intense training. He also was fueled out of respect for the entire Class of 2021.
"I still consider them some of my closest friends. Those guys absolutely deserved the chance (at state). That was definitely a motivating factor for us," Llewellyn said. "I would have never considered myself anywhere near a leadership figure. Just through circumstances I had that role almost put upon me. I also learned how to be disciplined in general."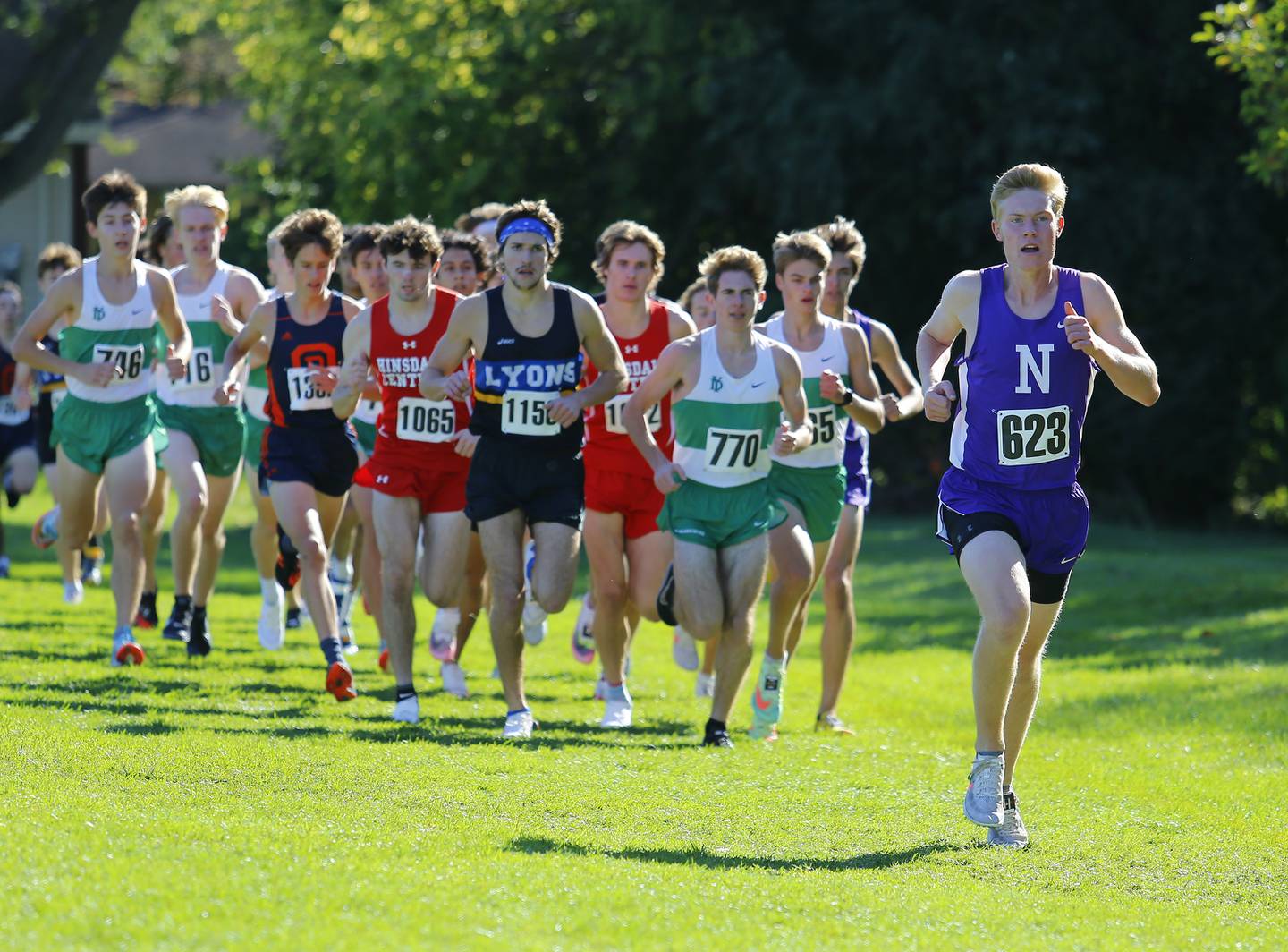 At state, Llewellyn was among the frontrunners with a 4:34.5 first mile. Llewellyn was seventh at two miles (9:31.7) and credits being pushed by Edwardsville senior Ryan Watts and Downers Grove South senior Tim Neumann, who finished eighth and 32nd. The finish was all Llewellyn, who still is finalizing his college running plans.
"I could see my time on the clock from about 200 meters out. Just the knowledge we had a bid to be top three, (I thought) I have a job to do for the team," Llewellyn said.
Sipple plans to include Class of 2021 members on the state trophy.
As the Trojans awaited the awards ceremony, among the first to congratulate them was Cummins.
"(Cummins said), 'Yeah, I wouldn't have missed it for the world,' " Llewellyn said. "I would have thought he would have enjoyed the success because I tell him many, many times he gets credit for it. He was my mentor."
Suburban Life All-Area boys cross country team
* -- 2020 All-Area selection as well
Topher Ferris, junior, Downers Grove North; Roy Llewellyn, senior, Downers Grove North;* Karan Shetty, senior, Downers Grove North; Caden Weber, sophomore, Downers Grove North; Tim Neumann, senior, Downers Grove South;* Nate McKillop, sophomore, Fenwick; Grayden Rill, junior, Fenwick; Aiden Bandukwala, sophomore, Hinsdale Central; Colby Revord, senior, Hinsdale Central; Dan Watcke, junior, Hinsdale Central;* Finn Gallagher, senior, Lyons Township; Charlie McLawhorn, senior, Lyons Township;* Daniel Chavez, senior, Morton; Cooper Marrs, sophomore, Riverside-Brookfield;* Paul Proteau, senior, Riverside-Brookfield;* Jeff Luka, senior, York; Garrett Schwan, senior, York; Ryan Schreiner, senior, Wheaton North;* Ryan Zydek, senior, Wheaton North; Michael Atkins, senior, Wheaton Warrenville South.*