Elyssa Abdullah always looked to her older sister, Isabella, as her primary athletic inspiration.
Elyssa was nine years old when Isabella was instrumental in leading the Benet girls golf team to its first Class AA state appearance in program history in 2016.
"I always wanted to outwork her – and beat her," Elyssa said. "That was my big motivation. The first time I beat her was about four years ago."
The elder Abdullah could not have felt too ashamed, however, as multiple girls throughout the state met the same fate this fall.
Elyssa Abdullah burst onto the Class 2A girls golf scene with a stunning debut, blistering Hickory Point Golf Course – the site of the state tournament – with a season-opening 6-under par 66.
Unlike her older sister, though, Elyssa elected to play for her local public school, Hinsdale Central.
The Red Devils, whom Abdullah would later spearhead to a fourth-place state finish, won the team title as well last August.
"It was just fascinating how well she was playing," said Neuqua Valley coach John Keller, who saw much of the performance first-hand as he followed his top player, Sarah Zheng. "(Abdullah) is one of those top-level prodigies coming into high school as a freshman."
Abdullah returned to the Forsyth layout last month, equaling her six birdies from her debut over two days in authoring a 36-hole total of 147, which was three over par.
Abdullah finished in a three-way tie with DuKane Conference senior stalwarts Reese Clark (Geneva) and Catie Nekola (St. Charles North) for fourth at the Class 2A state tournament.
For her efforts, which included a West Suburban Conference individual championship, Abdullah has been selected as the Suburban Life female golfer of the year.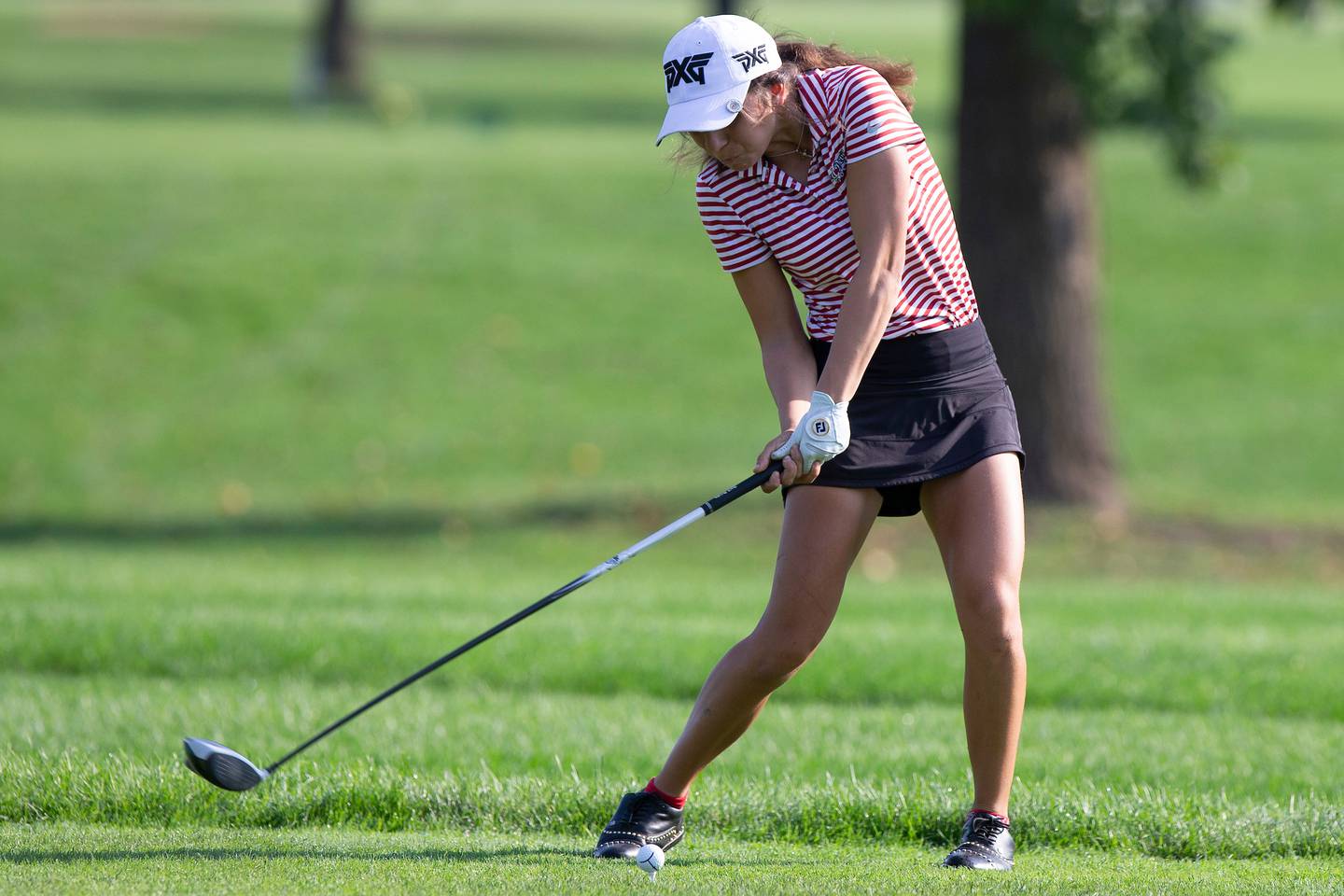 Isabella Abdullah was a teammate of Lauren Beaudreau, who memorably skipped her junior campaign to focus on a national schedule only to return and win the Class 2A individual state title three years ago.
The younger Abdullah faces a terribly similar dilemma.
"It is where you get the most college exposure," Abdullah said of competing at the national level.
But Abdullah is committed to the Devils' program.
"I would like to play all four year years," Abdullah said of her future plans. "My main goal is to win state. I am going to play national tournaments in the summer."
"She is incredibly talented and has the work ethic to go with it," Hinsdale Central coach Nick LaTorre said of his prized newcomer. "She is a tremendous ball-striker. Her consistency off the tee is phenomenal. She plays with great confidence and maturity for her age."
LaTorre has guided the program to two state championships since taking over the reins in 2013.
The Devils' future prospects are as bright as Abdullah is promising as Abdullah and the other top-three players in the program – sophomore Caroline Owens, junior Sarah Thornton and freshman Torah Bhatt – will all return next fall.
The Devils found out the hard way the evolution of the sport has had a profound impact at the state level.
Two decades ago, 699 translated into a third-place trophy at the girls state tournament.
But, last month, the Devils were 15 shots behind third-place Loyola with their collective 627.
"We were really disappointed,' Abdullah said of coming home empty handed. "It is a good eye-opener for what we need to work on for the next high school season."
It was once famously said the most important aspect of the game was the six inches between your ears.
Abdullah certainly advocates such a belief.
"I think the strongest part of my game is the mental game," Abdullah said "That sums up my whole tournament (philosophy)."
Suburban Life All-Area girls golf team
Elyssa Abdullah, Hinsdale Central, freshman; Jessica Cagney, Downers Grove North, senior; Bridget Craig, Wheaton North, sophomore; Dana Euske, Hinsdale South, senior; Emmy Hollarbush, St. Francis, sophomore; Caroline Owens, Hinsdale Central, sophomore; Emma Rattana, Willowbrook, senior; Audrey Stanton, Downers Grove North, senior; Sarah Thornton, Hinsdale Central, junior; Audrey Wake, Benet, freshman.