PEORIA – After the York girls cross country team won the non-IHSA ShaZam state championships in 2020, senior Katelyn Winton joined track and field in the spring after two varsity girls soccer seasons.
"Over the years I've just decided that I love running," Winton said. "I felt like track would help me with my speed and my finishes."
The Dukes couldn't have finished much faster Saturday.
York won the Class 3A state meet at Peoria's Detweiller Park with four first-time, top-25 all-staters -- sophomore Katherine Klimek (seventh, 16:51.17 for 3.0 miles), juniors Bria Bennis (19th, 17:04.11) and Brooke Berger (21st, 17:07.59) and Winton (23rd, 17:15.47). Sophomore Michaela Quinn was 27th (17:27.12).
"My last mile, my dad said, 'Katelyn, you're in 30th place,' so I really wanted to push myself to get all-state with them," Winton said. "All of us top seven are all so close, which makes it even more special."
Ranked No. 1 all season, York (62 points) won its first title since 2000 with the second-best 3A winning total since the three-class format began in 2007. Geneva won in 2008 with 51 points and four all-staters.
"The statement that we're practically the second greatest team in Illinois is a huge pill to swallow," Bennis said.
"Not only the win but just looking at how much time they dropped (six season-best times)," said York coach Lauren DeAngelis, a 1999 graduate and former runner. "(Winning state) was on the map but to stay healthy, to stay strong, to stay committed, it was a real team effort."
With the same top-five finishers, York won the invite-only ShaZam Championships created after the COVID-affected 2020 season had no IHSA state meet.
"Last year, people were always like it was the 'fake' state," Berger said. "We really wanted to prove it. Now we've actually won the state title – officially."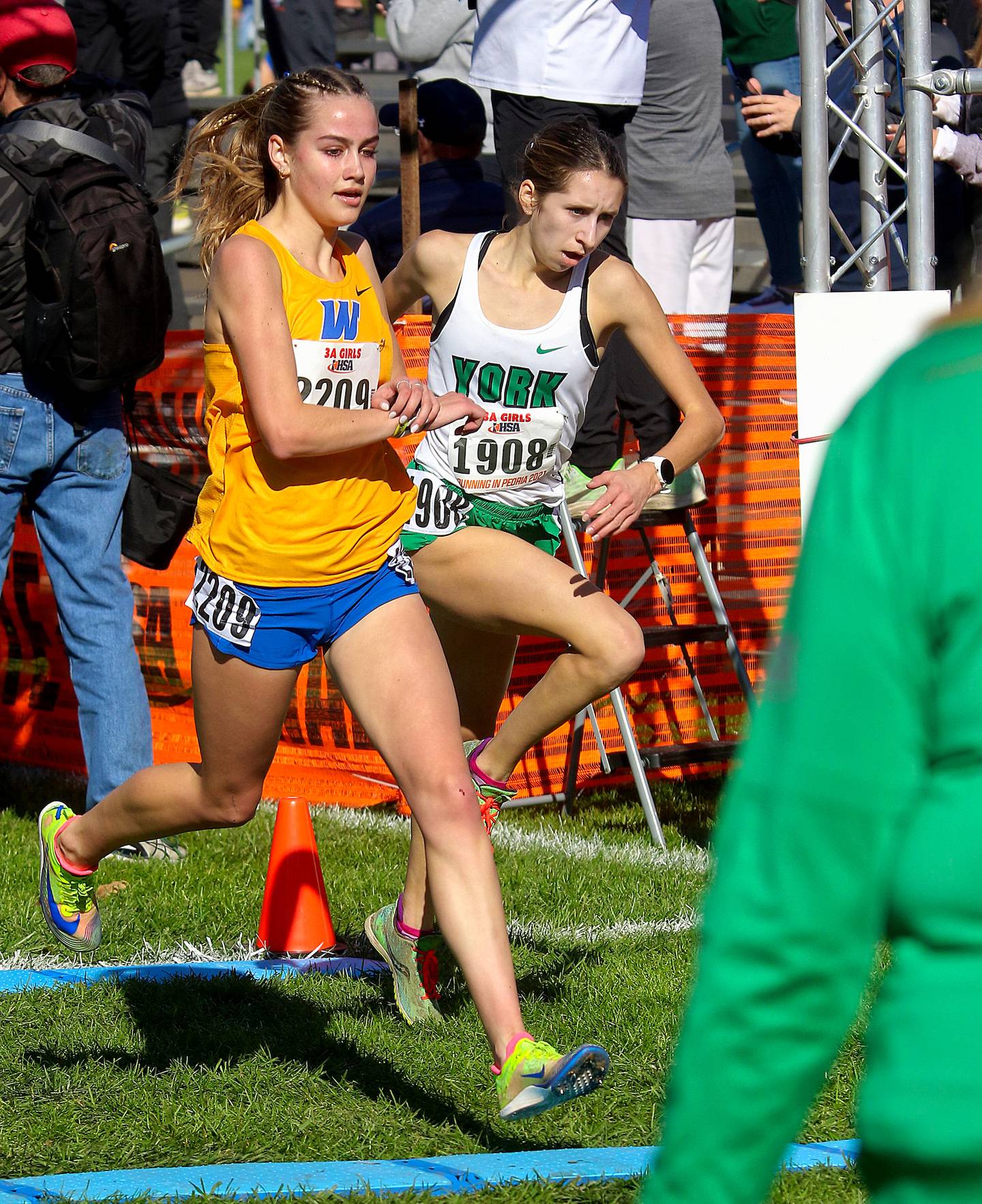 Hinsdale Central (197) was third for the second straight state meet with junior all-stater Catie McCabe 14th (16:58.43).
Glenbard West senior Audrey Allman (5th, 16:50.76) earned her second all-state honors. Allman collapsed inches from the finish but "ricocheted" herself across.
"By the 400 to go mark, I was like, 'Oh, I feel dizzy. I'm just going to go as fast as I can so I don't pass out,' " Allman said. "That's definitely going to be a fun video to watch later on."
Lyons Township junior all-stater Catherine Sommerfeld's strong finish contributed in being awarded 12th (16:58.37).
"I had some moments where I thought I was going to be falling back but at the end I saw that little group in front of me and I just decided to push the last couple of seconds," Sommerfeld said.
Downers Grove South had multiple all-staters with freshman Holly Johnson (13th, 16:58.38) and senior Sophia McNerney (16th, 17:02.55), who battled up front.
"I didn't want to look back on the race knowing I didn't do everything I could. "My coach believed in me and I think that's what helped me have the confidence (for all-state)," Johnson said.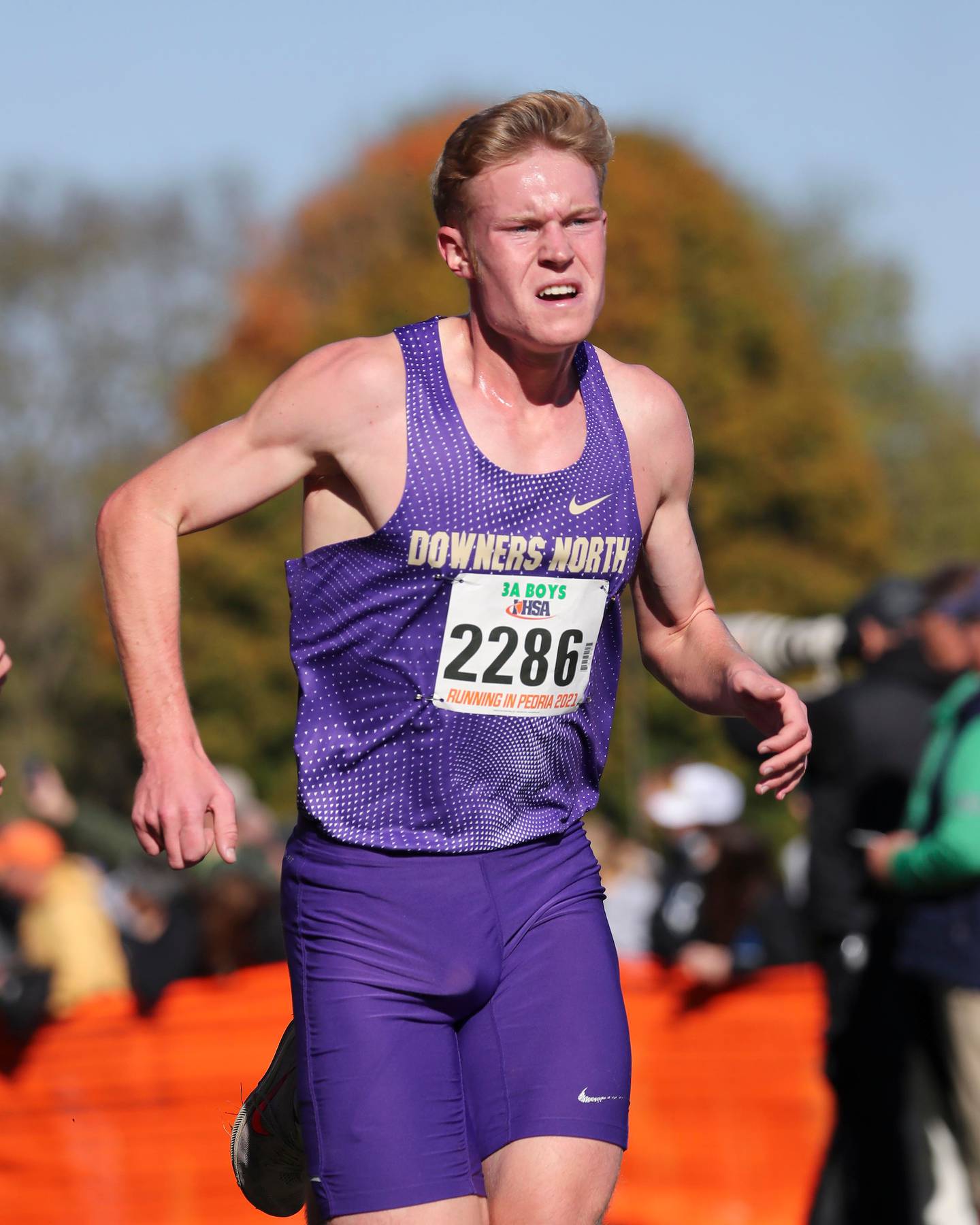 In 3A boys, Hinsdale Central (175) and Downers Grove North (179) were second and third to Sandburg (130). Downers North senior Roy Llewellyn (6th, 14:31.01) and Hinsdale Central junior Dan Watcke (14th, 14:46.16) were all-state.
"At the beginning of the season, I'm not going to lie, I didn't see us being here. We've progressed so much," Llewellyn said.
York senior Jeff Luka was all-state (16th, 14:46.92) after considering himself among the worst freshman runners.
"It's been a good senior year. I think it's my just reward for hard work and all of that," Luka said.
Wheaton Warrenville South senior Michael Atkins (25th, 14:55.16) got the last all-state spot by 1.51 seconds.
"As I was coming down the last 800, I was counting the places. I told myself no regrets," Atkins said. "I thought I finished 26th actually."
In 2A girls, Nazareth junior Colette Kinsella was 13th (17:44.77) and Fenwick junior Bella Daley 23rd (18:07.24). The only all-stater in Nazareth history, Kinsella ran a personal best and improved upon 14th in 2019.
"This season was kind of up and down so I'm glad to end with something good," Kinsella said.
In 2A boys, Fenwick won its first state title 120-141 over Deerfield with two all-staters -- junior Grayden Rill (7th, 15:06.34) and sophomore Nate McKillop (20th, 15:17.35). "I really don't know what to think yet, but it's settling in slowly," Rill said.
Riverside-Brookfield senior Paul Proteau (3rd, 14:44.54), achieved the second highest finish in program history with help from sophomore all-stater Cooper Marrs (21st, 15:18.01), who collapsed near the finish. "I couldn't have asked for a better way to close out my senior season," Proteau said.
In 1A girls, IC Catholic Prep senior Carly Manchester achieved her program-best third all-state honor (8th, 17:55.90). The Knights had multiple all-staters for the first time as freshman Grazie Narcisi was 15th (18:21.73).
"I like leading the team and knowing I can be the best but also a team player and show them what it means to work hard and earn all of your success," Manchester said.