NAPERVILLE – The annual Twilight Invitational more or less provided an appetizer for the upcoming West Suburban Silver meet in the boys division.
Dan Watcke and Colby Revord were runner-up and just outside the top 10, respectively, Wednesday night for Hinsdale Central at the prestigious regular-season cross country invite.
The Red Devils eased past conference rival Lyons Township 98-115 for their second major championship this fall.
Downers Grove North, another league rival in perhaps the strongest conference in the state, was third with 136 points.
Waubonsie Valley (146) edged DuPage Valley Conference foe Neuqua Valley (152) for fourth.
"LT is tough," Hinsdale Central coach Jim Westphal said. "They could flip the script next week (at the league finals). Don't forget what Downers North can do, and then there is always York."
"I was looking for a get-back-into-it race," said Watcke, who was preceded only by Herscher senior Drew Rogers with his second-place time of 14 minutes, 58.1 seconds. "I am more of a middle-distance guy. I was just sitting on the leaders to see what I could do."
"The thing about this team is we are deep," Revord, who finished No.11, said. "We have a front-runner (in Watcke). We have guys who are filling in the (Nos.) 4, 5 and 6 spots. You need that."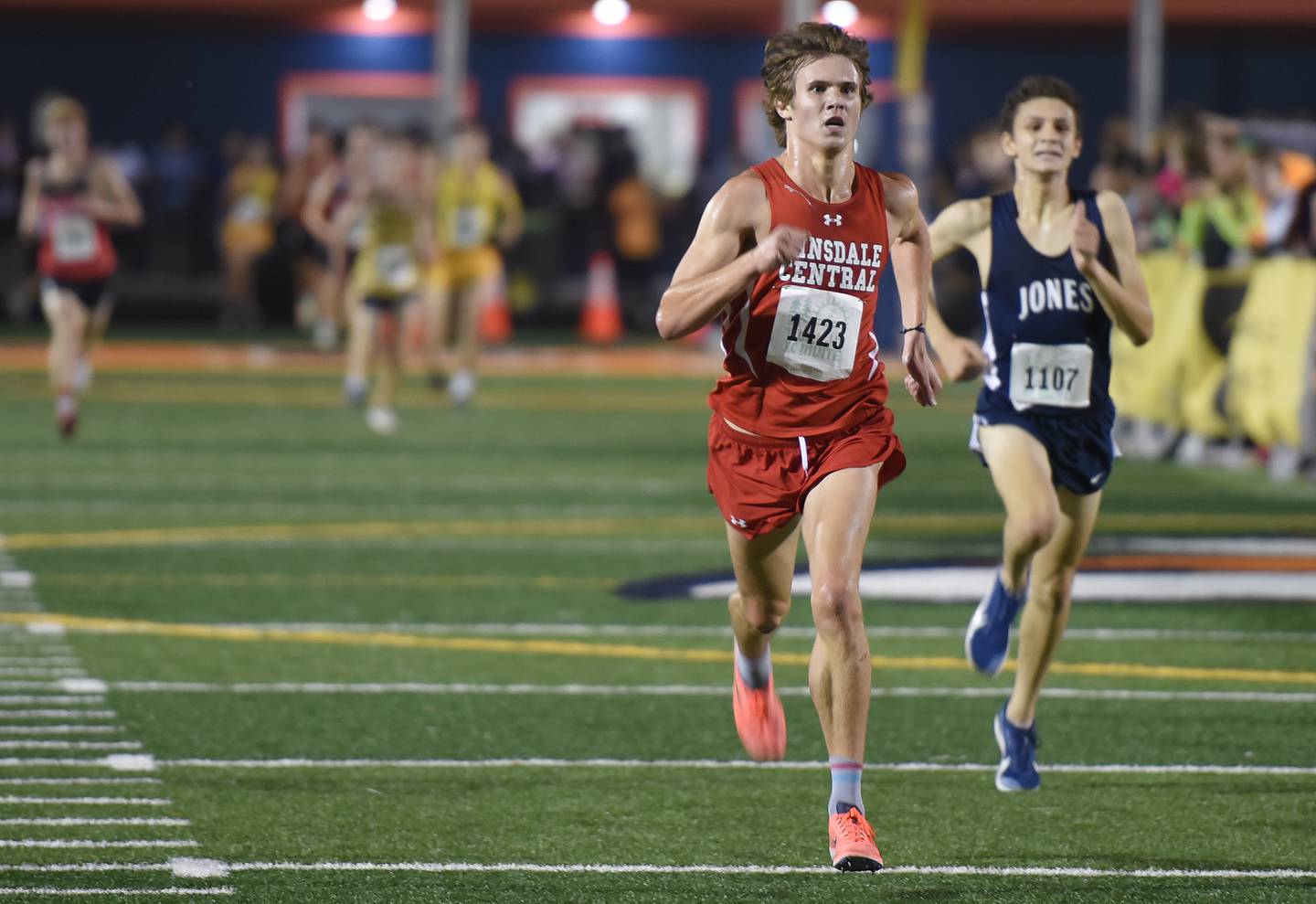 The Hinsdale Central stalwarts are continuing the running bloodlines in their families.
The boys have three combined older sisters who were track and field standouts at the state level in the Devils' girls program.
Jesse Gamboa (22), MIchael Skora (33) and Aden Bandukwala (40) rounded out the Red Devils' counting five athletes at the famed lighted course on the campus of Naperville North High School.
Lyons' Charlie McLawhorn was third overall in 14:59.8 for the Lions.
But the Lions were unable to match the Devils' balance and consistency as their No. 2 runner, Hayden Constas, checked in at No. 23.
Roy Llewellyn anchored the third-place Downers North finish with his 10th-place finish in 15:14.8.
"We haven't raced in a couple of weeks because our coach likes to get a big training block in," Llewellyn said. "Coming into this I had some big expectations as we had a couple of big workouts the last couple of days. Today was not my finest race. I got out way too slow. I tried to work my way up as best as I could. I know we can come back strong next week."
Topher Ferris' No. 24 finish was the Trojans' second-best placement.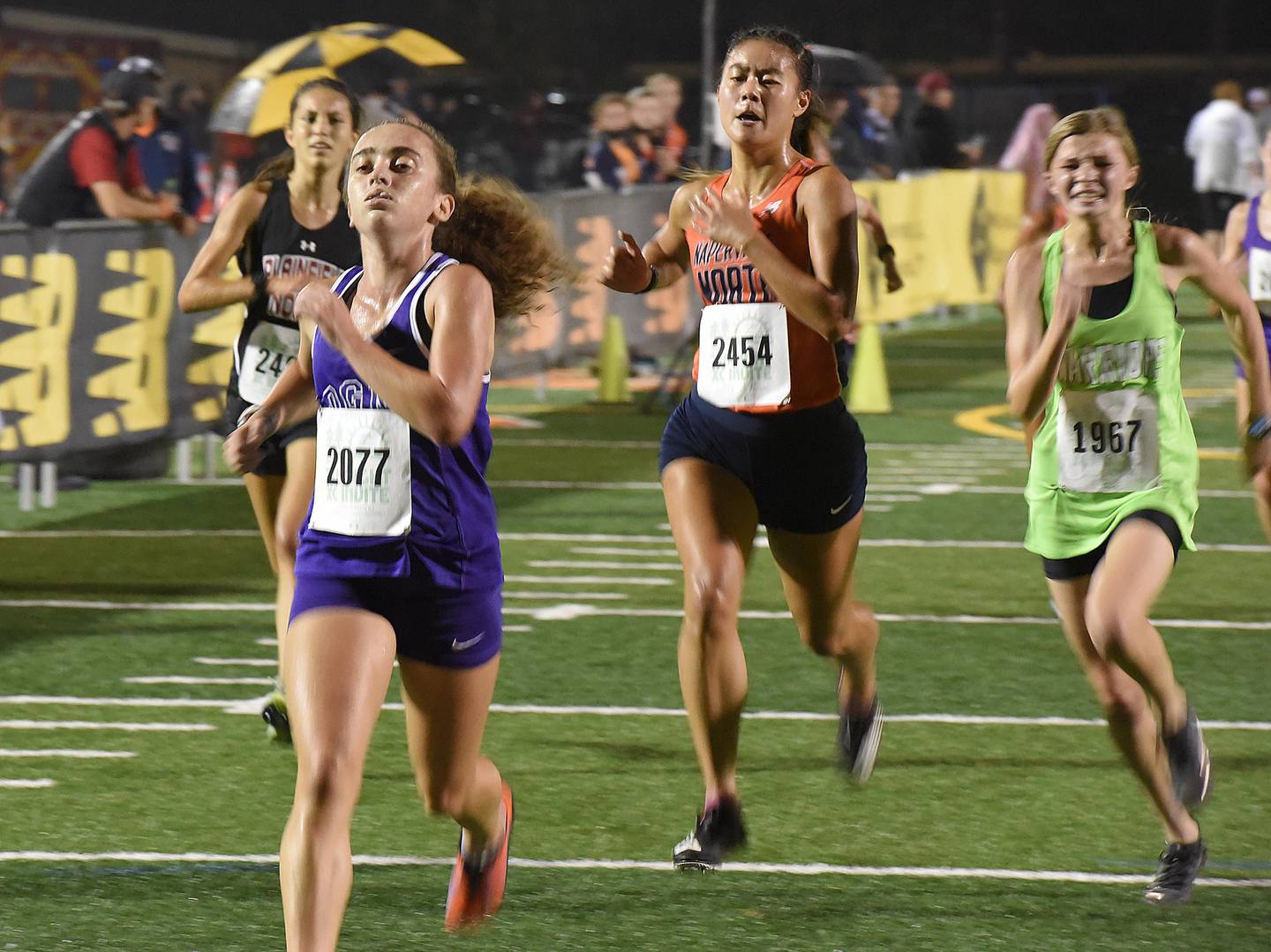 In the girls race, Naperville North, the Class 3A champion of the last four state-sanctioned state meets, turned back Minooka—the last team to defeat the Huskies in Peoria — 99-115.
Lucy Westlake and Sophie Golobitsh — both veterans of the Huskies' 2019 state team — led the way as the former snared the last top-ten berth.
Lyons Township (154) was fourth, turning back both Downers programs, North (159) and South (171) in the process.
Catherine Sommerfeld anchored the Lions' girls with her seventh-place clocking in 17:17.9.
But Downers South freshman Holly Johnson one-upped Sommerfeld with her sixth-place run on the three-mile layout.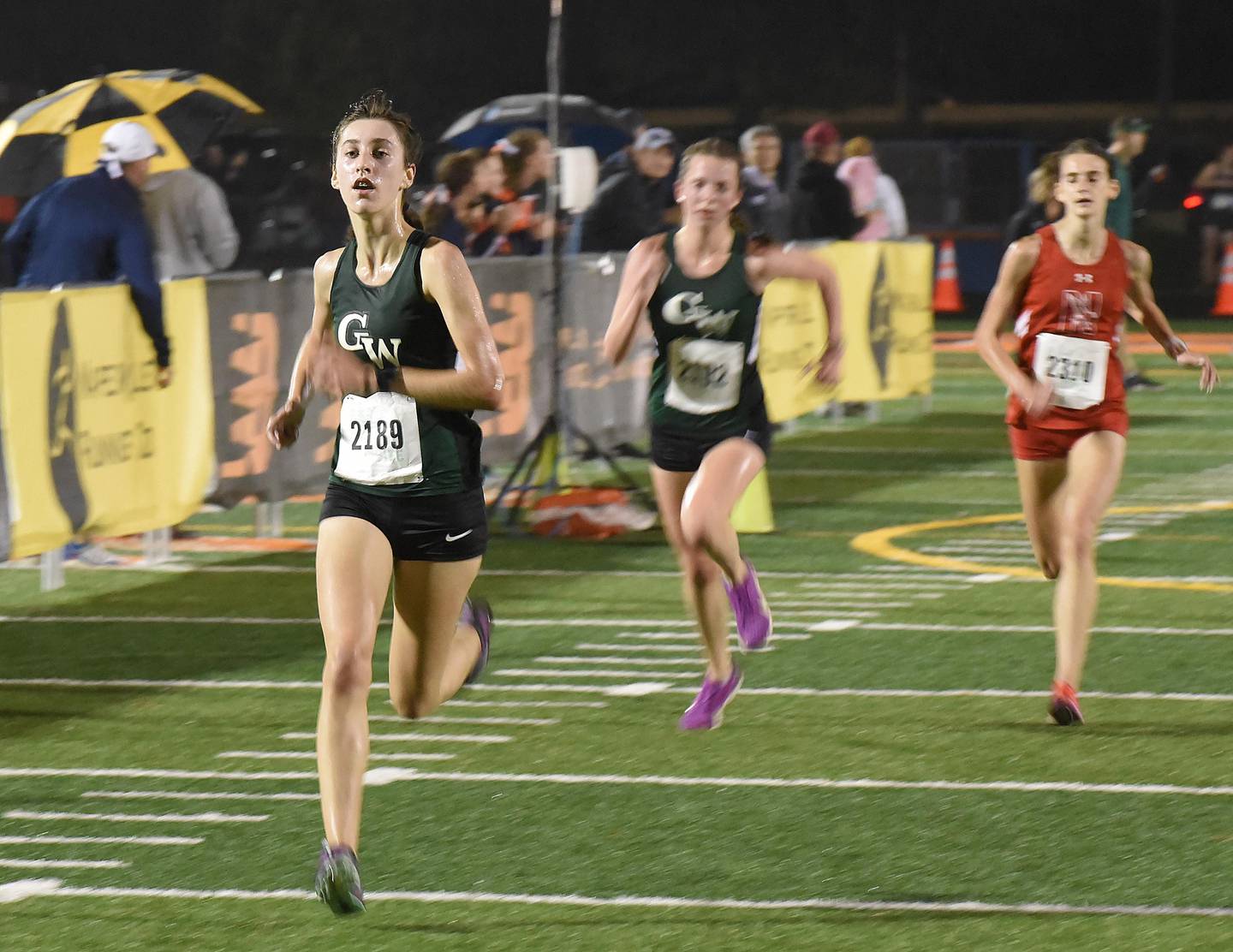 "I was hoping to beat the freshmen record at my high school," said Johnson, who accomplished her main goal with a time of 17:09. "My strategy was to run fast and run the race with confidence."
Batavia senior Katrina Schlenker, a state runner-up as a freshman, was fifth in 17:08.2.
"I wanted to break 17 minutes," the Liberty-bound Bulldogs star said. "It will be motivation to do it in the next race."
Like Schlenker, former Wheaton Warrenville South standout Sam Poglitsch was a state runner-up as the current Illinois freshman also fell victim to the four-year hold former Glenbard West immortal Katelynne Hart (Michigan) held on the fall running discipline.
Continuing the theme of younger siblings making a statement, Nikki Poglitsch was the bedrock of the Tigers' latest effort to reclaim their long-standing team-state aspirations.
The younger Poglitsch, a freshman, was 19th overall to fuel the eighth-place WW South performance.
"I just wanted to run my race," Poglitsch said. "It's different--in the dark. I've heard (the course) is a lot faster."
The Yorkville girls have unquestionably one of the most extraordinary streaks – regardless of sport or gender- – percolating in the annals of state history.
In the last decade-plus, never once have the Foxes finished worse than second in a state cross country meet.
Naperville North, the only program to best the Foxes since their elevation to Class 3A in 2017, was denied an opportunity to match the Foxes' state-record-tying (shared with Winnebago) distinction of five consecutive state titles with the elimination of the state finals last fall due to the pandemic.
Yorkville, which went toe-to-toe with the Huskies in the schools' trip to Minneapolis recently, finished seventh with 173 points.
Anna Hunter (10th, 17:34.2), Makenna Edwards (22, 18:14), Margaret Hunter (33), Katie Melzer (55) and Emma Jasutis (92) were the five counting runners for Yorkville.
"I am really happy with my season," Anna Hunter said. "Every race I keep progressing. My primary goal tonight was to PR – and I did that. I wanted to set the team off in a good place. We lost a lot of top talent but we have been working hard and training hard all season."
"So far this season, I was hoping for more," said Edwards, like Anna Hunter, a state starter from two years ago. "I feel like today starts me in the right direction for (the) postseason. I am looking forward to (the) postseason and seeing what I can do."
The Yorkville boys were No. 15 with 378 points.
Nathan Summers (No. 58), NIck Clever (67), Ben Whaley (77), Hayden Reyes (95) and Ryan Rotramel (98) were the scoring members for the Foxes.