RIVER FOREST – Nazareth had a simple motto for this season: Seal the deal.
After losing to Carmel in the Class 3A state championship last season, the Roadrunners decided to play and coach loose this season and not let any moment become too big as they tried to come back and win a state title.
The Roadrunners once again showed just how loose they are, taking down Fenwick 53-20 in the Class 3A Concordia University Supersectional to win their 28th straight game and advance to their fourth state finals in the last five seasons.
"This one is more exciting than it was last year because it's our comeback season," Nazareth junior Amalia Dray said. "We just want to give it all we got and seal the deal."
Fenwick threatened those hopes in the first half of the opening quarter. The Friars put out a compact zone, forcing Nazareth (33-1) to hit some shots. The two teams were tied 8-8 midway through the first quarter before the Roadrunners used their half-court defense to create turnovers and offense.
Nazareth went on a 18-1 run and stopped Fenwick from scoring a field goal for almost eight minutes before the Friars scored with 1:30 left in the second quarter. The Roadrunners led 28-14 at the half.
The Friars started the second half on a 4-0 run but Nazareth's length and half-court pressure forced Fenwick into eight turnovers in the third quarter.
"We couldn't get into the flow of our offense and turned the ball over," Fenwick coach Lenae Fergerson said. "That really killed us. That hurt us."
Dray led the Roadrunners with 21 points. Olivia Austin and Stella Sakalas each added eight.
Dray's performance showed just how versatile the Roadrunners can be. Opponents can't focus on one Roadrunner to take away because other players will step up.
"That's how we work and that comes from our chemistry," Dray said. "We thrive off each other."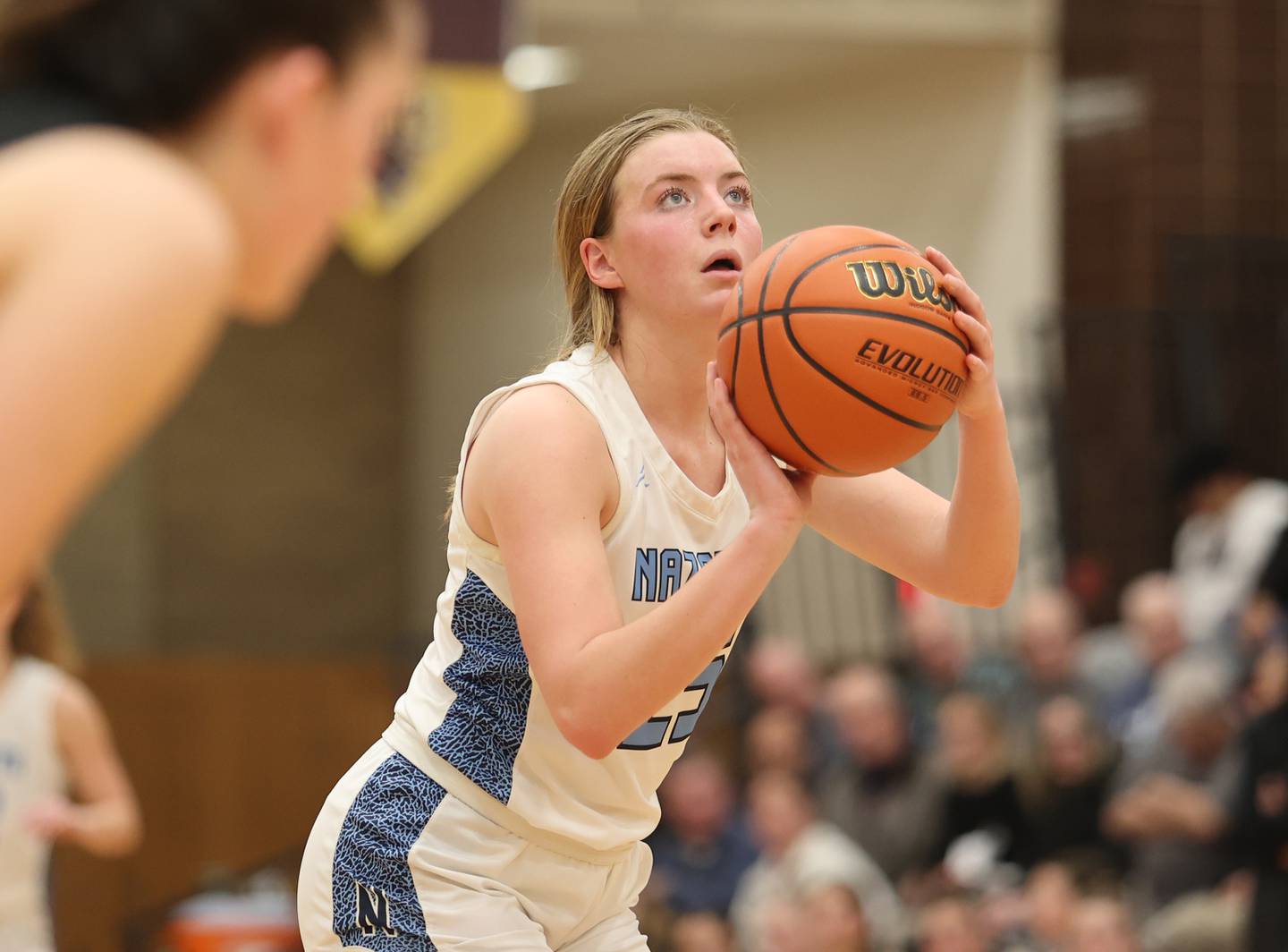 Grace Kapsch led Fenwick (19-17) with seven points.
Fergerson was proud of how hard the Friars worked to get back to the supersectional game after losing to Nazareth in it last season.
Fenwick will lose five seniors to graduation, but Fergerson is confident in the younger Friars.
"I'm very proud of this group," Fergerson said. "For a first-year head coach, you can't ask for a better group. To get to the same spot that we were last year and we graduated seven seniors, to get to the same point is a tribute to how these girls fought since last summer, bought into what we were doing, which was the total opposite of what they had in the past."
Nazareth will travel to Redbird Arena in Normal on Friday to take on Peoria (28-3) in the first Class 3A semifinal at 10 a.m.
The Roadrunners are feeling loose after winning their 28th straight game, remaining undefeated against teams from Illinois. They've kept that mentality all season in order to get back to the state finals. Now they need to win two more games to complete the comeback tour.
"This was our goal to get down to state," Dray said. "Now we just have to finish it."