DOWNERS GROVE – Downers Grove North's Bridget Callaghan picked a good time to break new ground this season.
The senior smacked her first home run of the season and pitched three scoreless innings of relief to spark the Trojans to a 9-6 win over Downers Grove South on May 12 at McCollum Park.
Billed as "Under the Lights," the crosstown showdown turned into a slugfest in front of an overflow crowd on a summerlike evening.
Callaghan was one of the stars of the night.
She hit a three-run home run to highlight an eight-run second inning. She struck out seven batters in the final three innings to end a possible comeback bid by the Mustangs.
"The home run felt really good," Callaghan said. "I turned on the first pitch, which was inside, and hit it dead center. It kind of got me going and got me fired up to pitch. The one home run so far is a little low for me. I hit a few more last year and hit a few in travel. But this was a good night to hit one."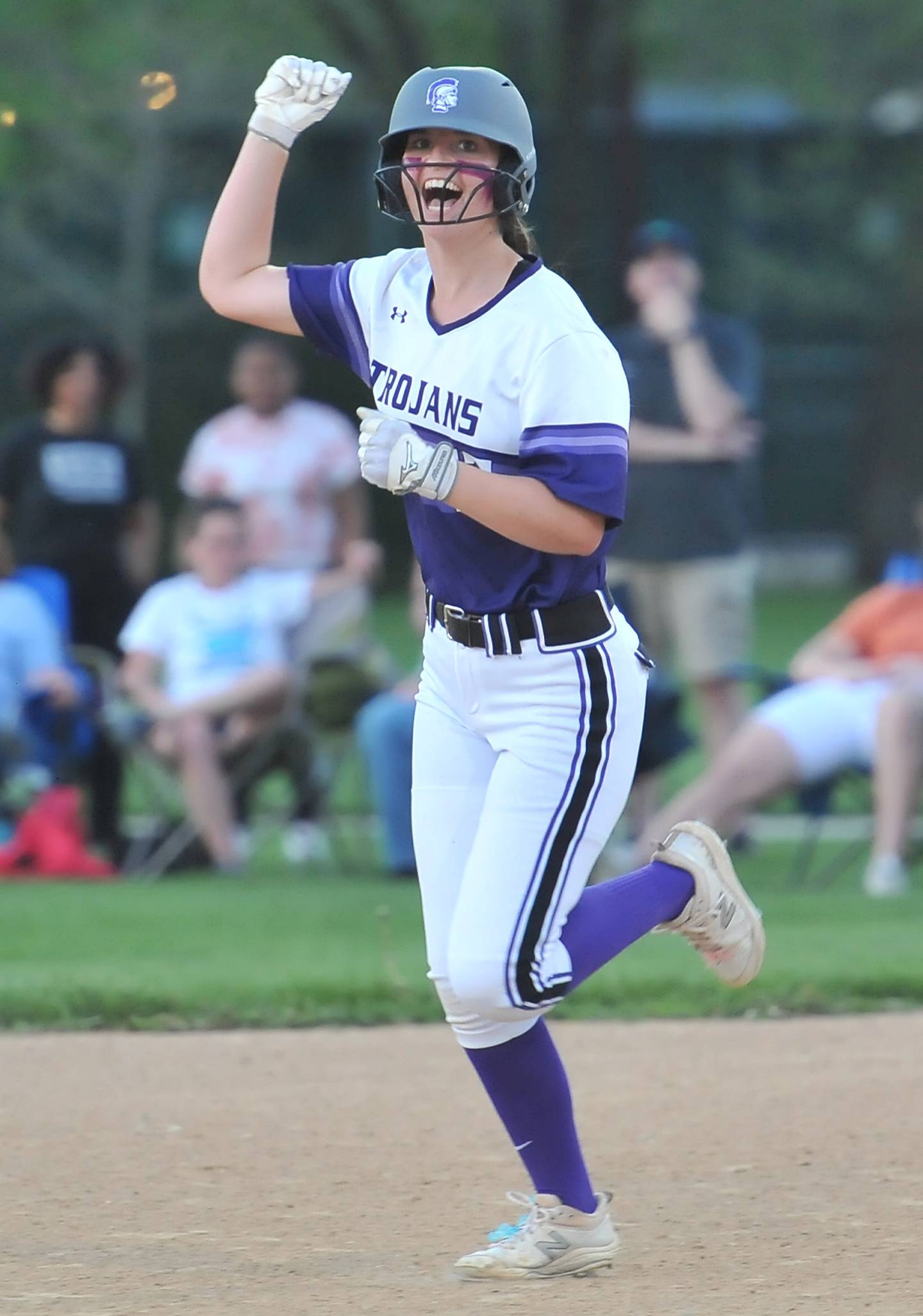 Callaghan, a right-hander, stopped the Mustangs (11-4) from building a comeback after they fell into an 8-0 hole. She struck out the side in the fifth, her first inning in relief.
Callaghan said she's comfortable mixing her roles as a starter and reliever.
She also said she was pumped to pitch against the rival Mustangs.
"There was a little pressure coming in relief and I was really fired up and felt good," Callaghan said. "My curveball was really spinning and I was getting them on my changeup and rise, moving up levels. It was a great game to play. With my travel team, I usually start, so there was little bit more pressure."
Maya Rodriguez had two hits to power the lineup for the Trojans (12-6). Payton Janicki hit a bloop RBI single to pad the lead to 9-2 in the third inning.
"This win means a lot to me," Rodriguez said. "It feels really good to win. I'm very happy. It was very exciting. It got close at the end, but Bridget came through in the end."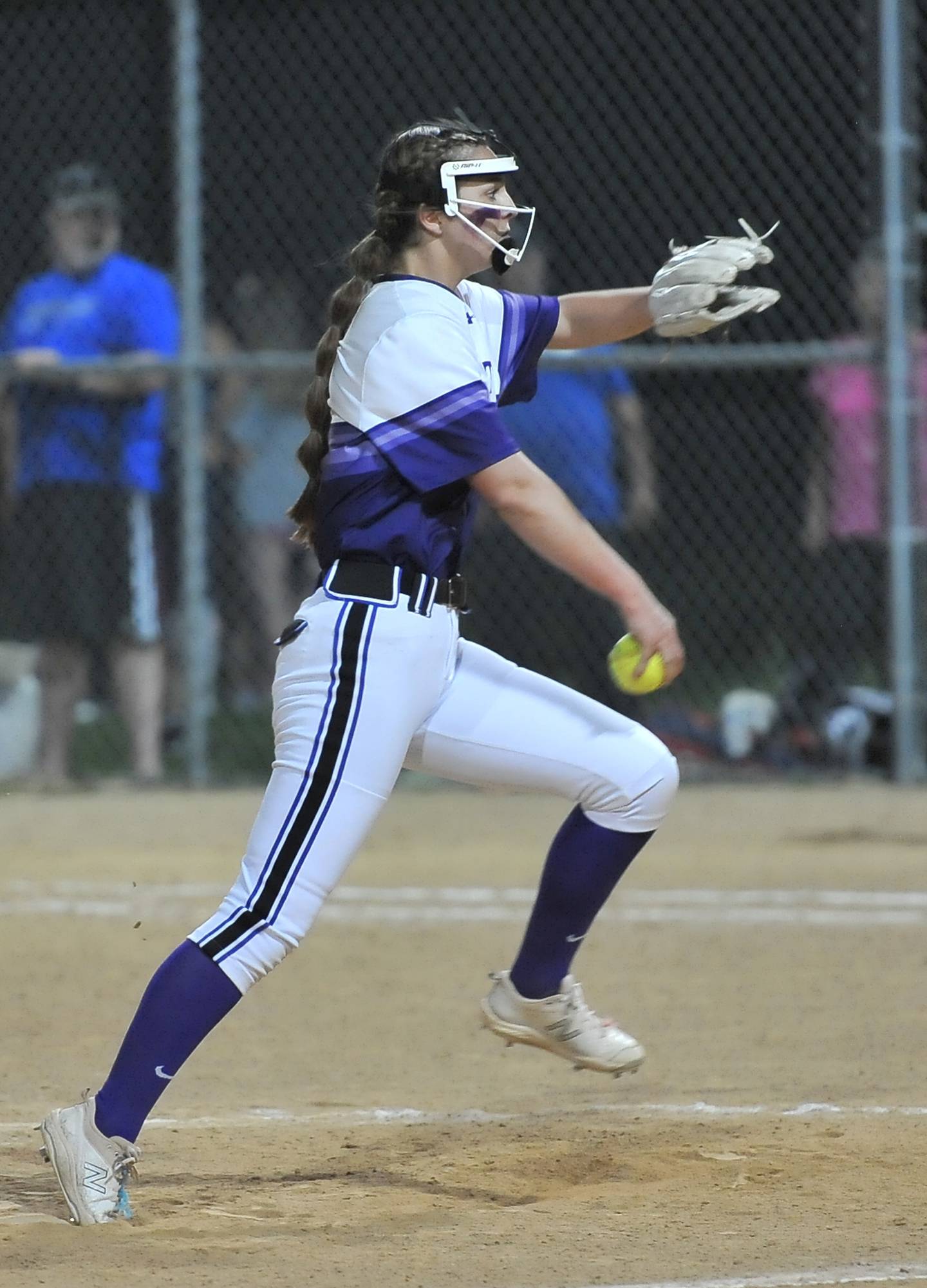 Downers Grove North coach Eric Landschoot said it was the ideal night to play the crosstown game, the first time under the lights since 2018, he said.
"It's been a while since we got to do this game," he said. "It was great, a lot of people out here, a good rivalry, a lot of students came out. It was a great atmosphere. This is what you look forward to. Both teams played hard and deserved a night like this. The combination of Jess and Bridget worked out well pitching-wise tonight. Bridget was climbing the ladder with her fastball and her changeup was working. It was great to see so many people out here."
Downers Grove South coach Jim Cushing said he was encouraged by his team's comeback, cutting the deficit to 9-6 after a three-run home run by sophomore Grace Taylor in the fourth inning. Taylor drilled a shot over the left-field fence.
"You have to give them credit because they came out and hit the ball and got us down big," he said. "But we came back. We just fell short. The second pitcher came in and had our number. We have to build off this comeback. We fought back and the kids were diving all over the field and playing their hearts out. Grace is really coming on, and she's going to be a good one. We did the best we could and we will build off it."