Constellation's 'Fishing for a Cure' Tournament raised $77,000 last Saturday, all of which is being donated to Megan's Mission Foundation.
This brings the tournament's 22-year fundraising total to $836,000.
Megan's Mission Foundation, named for Coal City's Megan Bugg who passed away last year from a rare form of pediatric cancer, raises money in support of researching different forms of childhood cancer. Megan was diagnosed with Stage 4 Alveolar Rhabdomyosarcoma at 13, and despite continuously undergoing aggressive chemotherapy treatment, she dedicated the last seven years of her life to raising money for pediatric cancer research.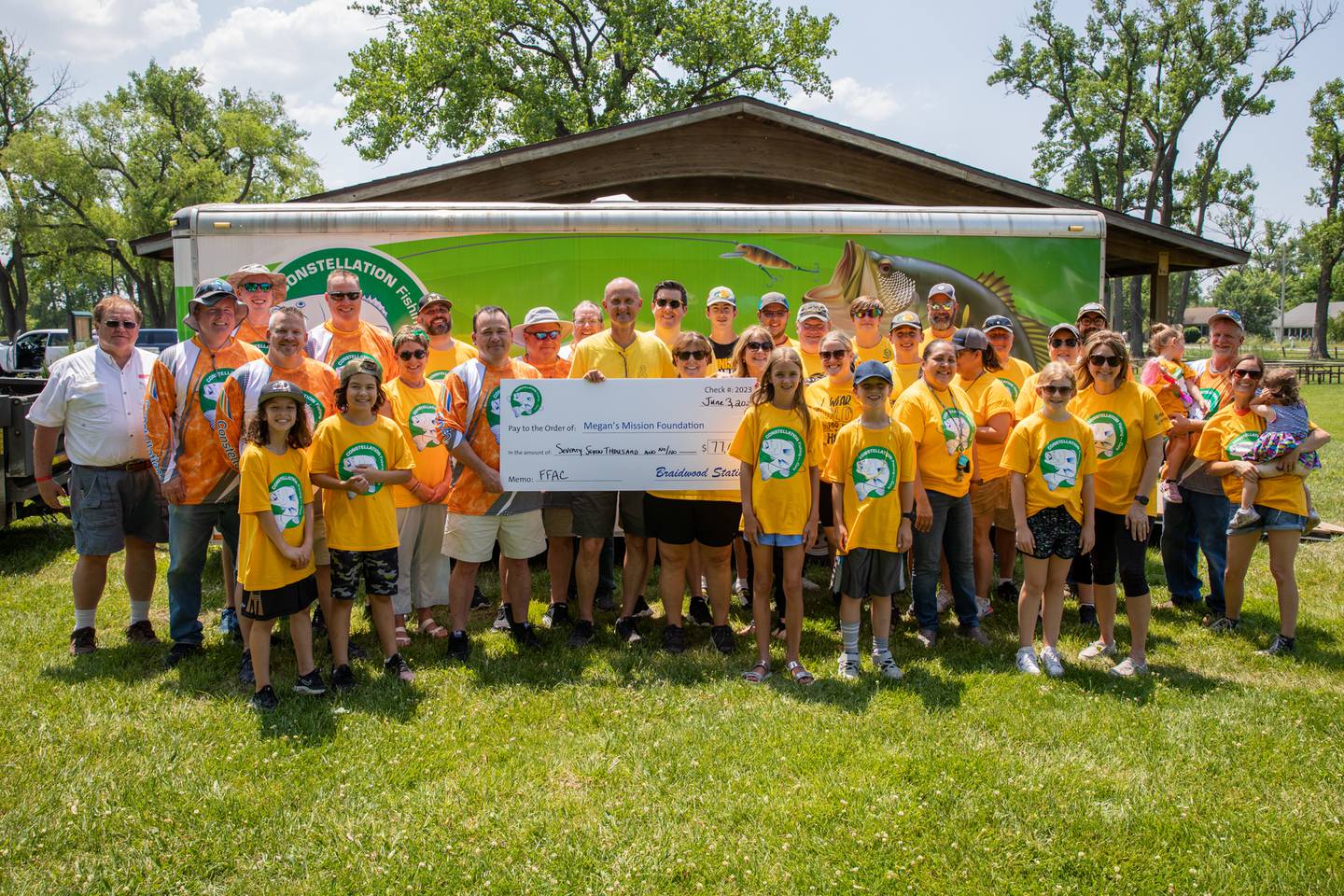 Inspired by Megan's determination to support cancer research, Braidwood Station employees selected Megan's Mission Foundation as the 2023 beneficiary for this year's 'Fishing for a Cure' event.
Megan's parents, Kent and Deborah Bugg, were on hand for Saturday's tournament and were overwhelmed when they learned that the tournament had resulted in $77,000 for Megan's Mission Foundation. The previous record total raised during the event was $67,000 in 2019.
"Our family is humbled and honored by the show of generosity from Constellation, the employees at Braidwood Station and the community," said Kent Bugg, Megan's father. "Megan was so passionate about finding cures for these rare forms of childhood cancer and I know she would be pleased to see the work she started being continued."
Megan Bugg raised nearly $1 million herself before she passed away a year ago. After Saturday's event, that amount is nearly $1.5 million, her family said.
"The employees at Braidwood Station and Constellation work incredibly hard organizing and running this tournament and raising money for the selected charity," said Braidwood Station Site Vice President Greg Gugle. "There was a lot of pride this year about setting a new record and showing our support for Megan Bugg."
A total of 59 two-person teams entered this year's 'Fishing for a Cure' tournament. Frank Monnet (Willowbrook, Ill.) and Michael Mucha (Bloomer, Wisc.) took home first place and the $4,000 top prize. Their three-fish total of 10.9 pounds was best in the tournament field.
Coming in second was Adam Marcolini (Broadview, Ill.) who caught 10.45 pounds for a second place finish and $2,500. Third place and $1,000 was snared by Kyle and Dany Danhausen (of Kankakee) with 10.19 pounds of bass. Seven other teams shared the remaining $2,500 in prize money.
ESPN's Chauncey Niziol broadcast live for his "Chauncey's Great Outdoor" radio show from Braidwood Lake and served as tournament host.
A kids fishing derby was held in the morning at Godley Pond.
Braidwood Station and several local sponsoring businesses and organizations made contributions to the event. All proceeds raised through tournament entry fees, employee fundraising initiatives and sponsorships go to the recipient charity, which is selected annually by station employees.
Organizations and businesses contributing included Allied Power, Berkot's, City of Braidwood, Electrical Builders, Inc., Eurest USA, NALCO, Northern Illinois Steel, Pullman, Reactor Services, Inc., SCI Corporation, Siemens Energy and Structural Technology.