MORRIS — After having several discussions about whether or not to change the school's nickname and mascot, the Morris Community High School District 101 board had a vote as an action item on the agenda for Monday night's meeting.
After hearing several members of the public - including longtime Morris athletic director and football coach Dan Darlington and former board member Bill Button, who were against the change, and longtime MCHS English teacher Judy Miller, who was for the change - the board voted 4-3 to table the vote until there is more discussion on how a change would come about. Board members Mike Wright, Suzy Brown, Todd Mettille and Matt Eber voted to table the vote, while Christopher Danek, Lynn Vermillion and Scott Hastings voted against tabling the vote.
Superintendent Dr. Craig Ortiz had outlined a plan with several details about how and when changes would take place, but some board members felt that more discussion about the plan was needed.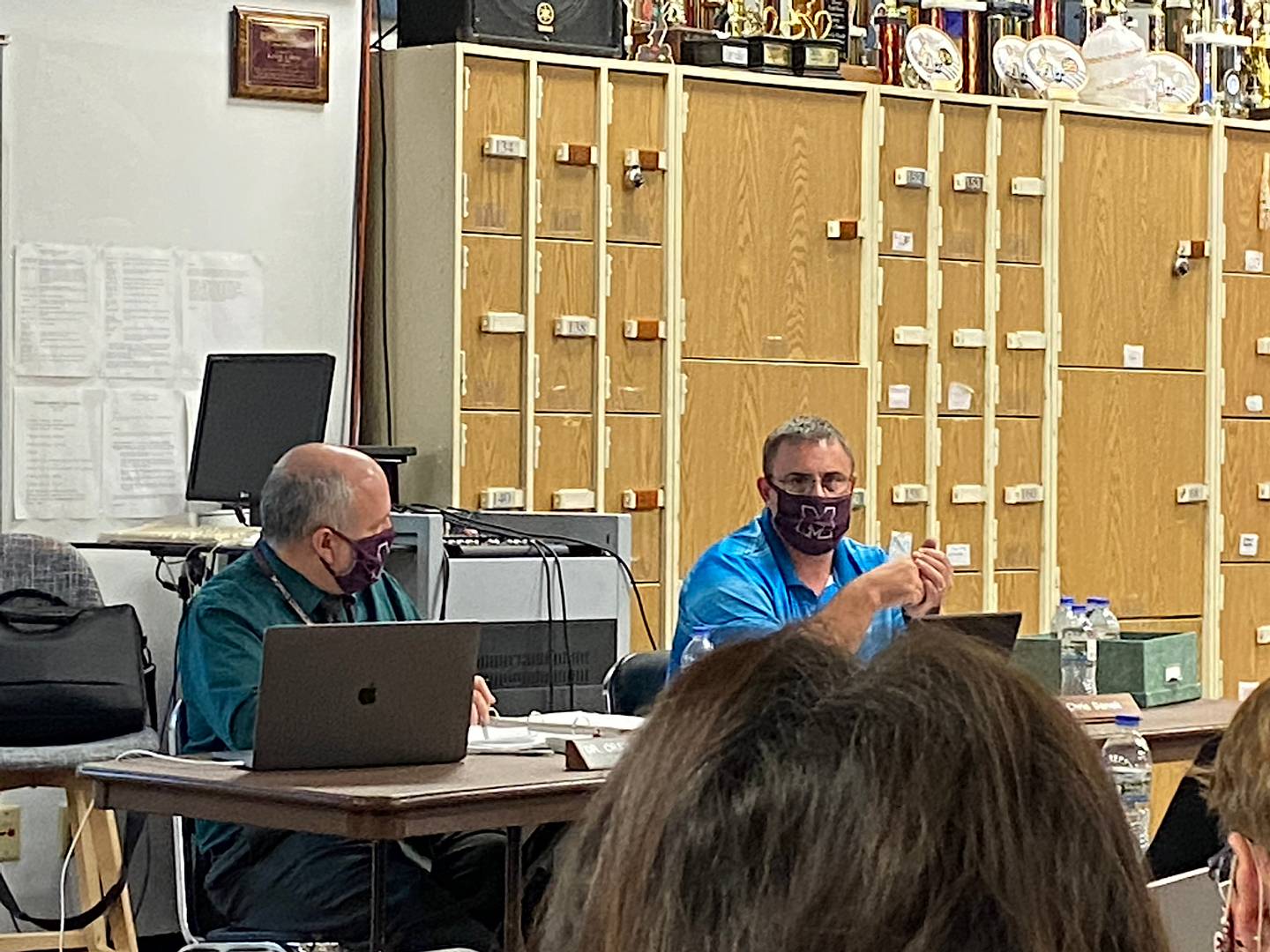 During a meeting in May in which the committee that was set up by the school board presented their findings, then-MCHS senior and student body president Alex Duffy pointed out that, in the school's student handbook, one of the examples of prohibited conduct is "name-calling, use of derogatory slurs, or wearing or possessing items depicting or implying hatred or prejudice of one of the characteristics stated above. If you are aware of a student(s) being bullied or harassed, please report it to the administration immediately." Duffy said it is hypocritical for the school to have the policy and to use a derogatory term as its mascot.
"There are kids in this town that have older siblings and closets full of items with our current nickname," Wright said. "What happens if we discontinue the mascot and someone wears one of those items to school? Do we send them home? If one student comes to school with a shirt with our nickname on it, and another comes to school with a shirt that has the 'N-word' on it, do we send one of them home and not the other? Our policy is to not tolerate racial slurs.
"I think we need to table the vote until we can come up with a plan that covers situations like this."
While arguing not to table the vote, Danek made an analogy.
"When I got on my knee and asked my wife to marry me, I didn't have all the details planned out," he said. "We didn't have a venue, we didn't have a date. She made the decision on the question I asked and then we figured out the plan after."
Many in the audience agreed with Danek.
"You need to make a decision," Darlington said to the board as a whole. "You don't need a committee. You were elected to the board. You were elected to make decisions. Whatever decision you make, people will have to live with."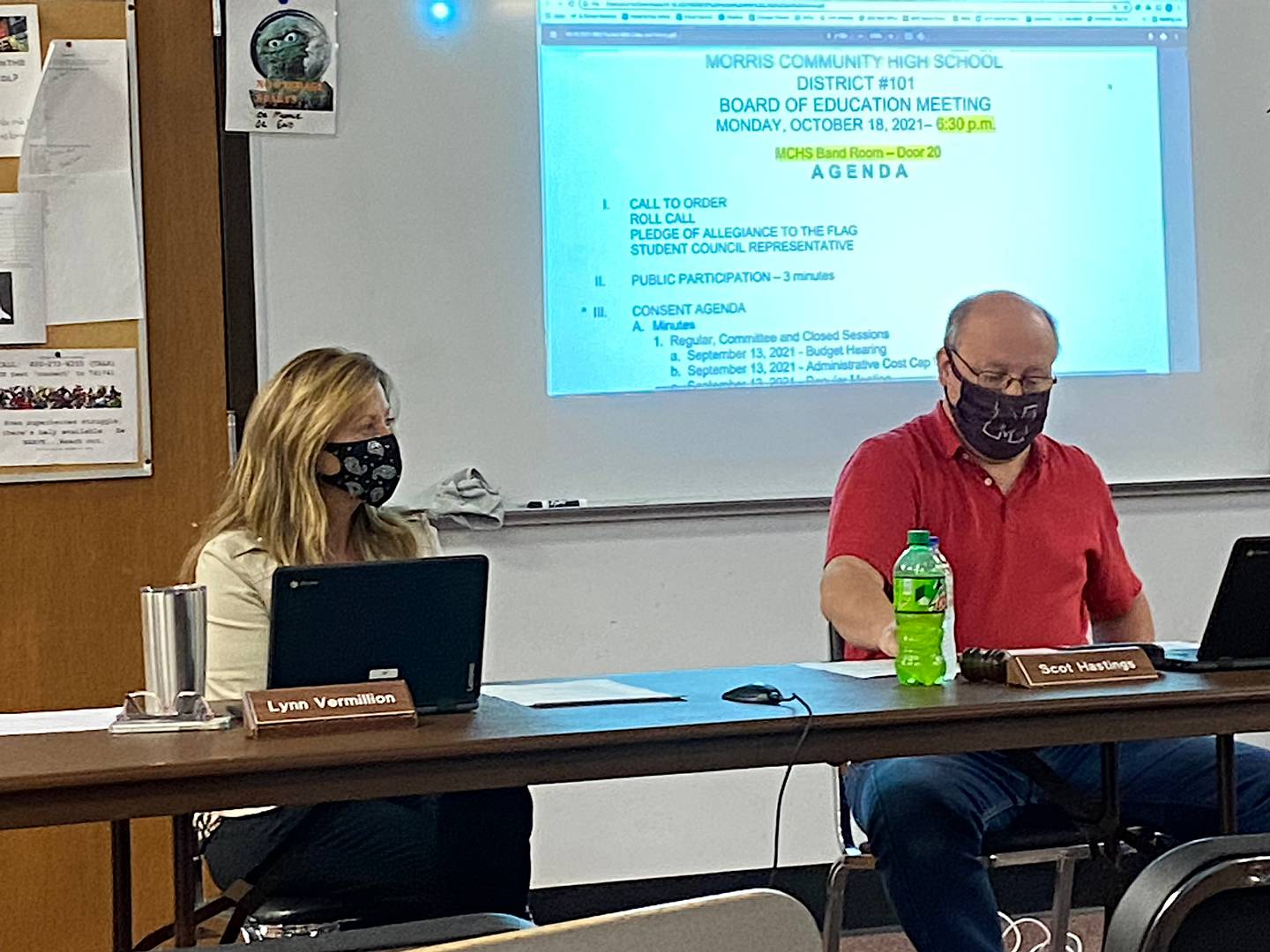 Brown pointed out that many decisions over the last few years have been made with the thought that the mascot and nickname will someday be discontinued.
"There are no nicknames on the new team uniforms," she said. "When the artificial turf football field was put in, we made the decision to put the block 'M' at midfield and not the Indian head logo. We just put 'Morris' in the end zone instead of the nickname. It would have been irresponsible of us to go ahead and include those things, only to have to change them in a few years."
It was also pointed out that Shaw Media has stated that it will not use the nickname in any of its publications, and that some other schools will not use the nickname when referring to Morris teams before or during an event. One Morris football player was recently denied a Chicago Bears Player of the Week award and a chance to be introduced at Soldier Field, in part because of the school's nickname.
It was unclear as to when the matter will be brought to a vote again, but Dr. Ortiz did not think it would be at the next meeting, as that is in just three weeks, on Nov. 9.