MORRIS – During last spring's shortened football season, the last time Morris came off the field was after a 20-19 loss to LaSalle-Peru in the game's final minute.
Friday night, Morris gets a chance to avenge that loss as they will take their unbeaten record (7-0 overall, 4-0 in the Kishwaukee River/Interstate Eight White) to Howard Fellowes Stadium and its new artificial turf surface. It is the first leg of the Morris Revenge Tour, as the two teams that beat them last year - L-P and Sycamore - are the final two teams on the regular-season schedule.
"They beat us last year," Morris coach Alan Thorson said. "That is 100 percent the motivation on our end. They beat us on our field last year, and we want to go beat them on their field this year.
"They are a good team. We are playing well right now, but this is a team that will show us much we have really improved."
The Cavaliers enter with a record of 5-2 overall, with the losses coming to Metamora (14-7 in Week 2) and Sycamore (23-0 in Week 5). They also have a forfeit win over Sandwich, so they have actually played just six games.
In those six games, though, the L-P wing-T offensive attack has posted some pretty good numbers, especially on the ground. Running back Matt Carrico leads the way with 609 yards on 109 carries and has run for five touchdowns. Quarterback Sean Whitfield also has 109 carries and he has gained 551 yards and scored nine TDs on the ground. Through the air, he has completed 12 of 39 passes for 321 yards and four touchdowns while being intercepted three times. His main target has been Ozzy Hernandez, who has seven receptions for 218 yards and two scores. Tre'von Hunter is a dual threat, carrying 22 times for 216 yards and two TDs and catching four passes for 76 yards and two scores.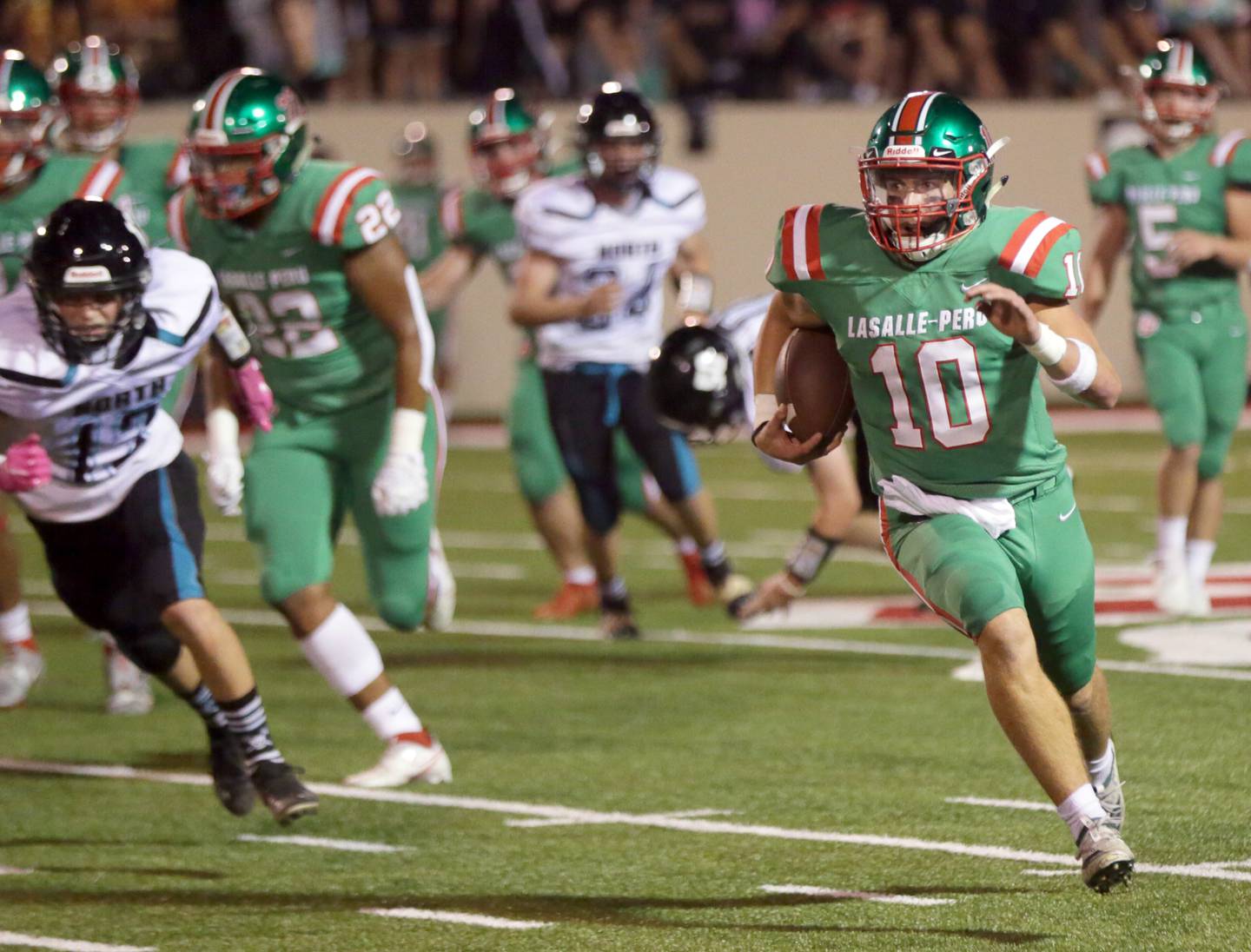 "They run a wing-T and the offense goes through the quarterback," Thorson said. "And, the quarterback is a very good athlete. He doesn't throw a lot, but he has four touchdown passes in the last two weeks.
"We are going to have to play disciplined defense. They will run fullback, fullback, then fake to the fullback and either the quarterback run it or pitch it to the outside guy. We have to make sure we have everything covered. They have good size up front, too, so this is going to be a test for us. It's a big game, not only because they beat us last year, but for conference standings and for playoff seeding. Our kids want to win the conference title, and whoever wins this game will have a much better shot at it."
Morris, meanwhile, has been riding the legs of Ashton Yard, who eclipsed the 1,000-yard mark for the year last week with his 10-carry, 178-yard, three-touchdown performance. For the year, Yard, a junior, has gained 1,018 yards on 108 carries and scored 11 touchdowns. Like L-P, Morris' quarterback, Zach Romak, is the next leading ground gainer. He has run for 617 yards and 10 touchdowns on 81 carries. Through the air, Romak has completed 57 of 83 for 890 yards and nine touchdowns while being picked off only once. The main target has been Myles Johnston, who has 18 catches for 311 yards and five touchdowns.
"I told the guys that every team we play from here on out will be a playoff team," Thorson said. "L-P has five wins already and they will be in the playoffs, and the same with Sycamore. I couldn't be happier to be 7-0 right now, but these next two games will really help us get prepared for the playoffs.
"We know that, with their style of offense, they are going to try and control the clock and not let us have the ball much. We are going to have to make every possession count, and we have been very good at that lately. It will definitely be a good game. We aren't overlooking L-P at all. We haven't forgotten that they beat us last year."