MORRIS – On the 20th anniversary of the terrorist attacks on the World Trade Center, Morris Cruise Night organizers and attendees on Saturday honored those who died Sept. 11, 2001.
To kick off Morris Cruise Night, there was a parade featuring veterans, first responders and a group of American Legion Riders and a performance of taps and "Amazing Grace" on bagpipes. The Rev. Steve Larson, pastor at First Baptist Church of Morris, and the Morris Police Department chaplain gave a few words, and Larson said a prayer. A flyover of jets completed the ceremony. The parade started on Illinois Avenue and went north on Liberty Street to Jefferson Street. At the start, it passed under a large American flag suspended by two cranes near the Grundy County Courthouse.
"That parade and ceremony was a big hit," Herb Wyeth of the Morris Cruise Night Committee said. "We were so glad to have the veterans and the fire department and the police department involved. I can't thank all of them enough for all the help they gave us."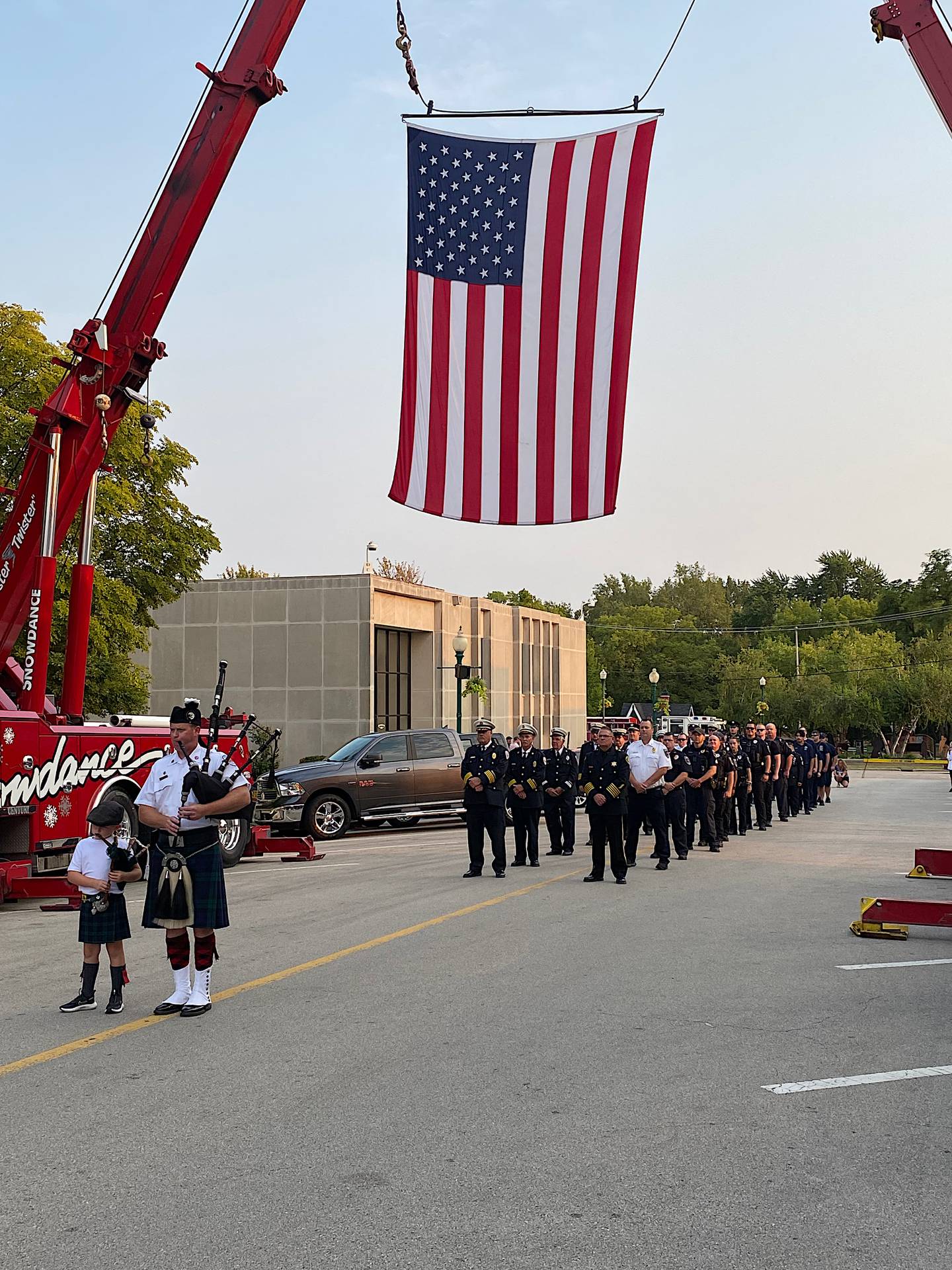 In all, 863 cars were registered for cruise night. The beneficiary of the night was Pink Heals Joliet Area Chapter. The beneficiary's choice for the best car was a 1948 Ford F-100 pickup owned by Scott Graupner of St. Charles, and the celebrity's choice was a 1957 Chevy dragster owned by Jeff and Dave Lumbert of Oswego. The 50/50 raffle brought in $8,687, which meant a prize of $4,343 went to Ollie Kirsch of Aurora.
Wyeth also said 136 cities were represented, including seven out-of-state vehicles.
"We keep getting close to our record [917 cars]," Wyeth said. "There were a few other things going on this weekend that might have kept some people away, but it was a very nice crowd once again, and the 9/11 ceremony made it a real special night."
The final Morris Cruise Night of the season will be Oct. 9.