MORRIS – At Monday's Morris City Council meeting, Mayor Chris Brown issued proclamations to the deputy chiefs of both the fire and police departments for their efforts during the industrial fire at 919 E. Benton St. that started June 29.
"We had a lot of action with the fire, and everybody put in a lot of time," Brown said. "We have talked about our chiefs a lot these last few weeks and all the time and dedication they gave. Sometimes, along the way, folks don't see along the way what goes on behind the scenes with the people beneath them. I know a lot of people, whether it be patrolmen or firemen, that put their lives on the line and have done a lot.
"I wanted to honor our four deputy chiefs in our city, the two deputy chiefs at the fire department (Robert 'Bob' Willis and Jeff Wilson) and the two deputy chiefs with the police (Chad Skelton and Paul Burke)."
Brown's proclamation cites Willis, Wilson, Skelton and Burke's "combined 120 years of experience as first responders in the city of Morris," their commitment to maintaining public safety, and their honor and integrity in carrying out their duties.
"Bob, Jeff, Chad and Paul responded heroically and selflessly to protect the citizens of Morris, Illinois, on the afternoon of June 29, 2021, and beyond during the catastrophic fire at the old Paper Mill property," Brown's proclamation states.
"I, Chris Brown, mayor of the city of Morris, do hereby and officially express my deepest gratitude to Deputy Chief Bob Wills, Deputy Chief Jeff Wilson, Deputy Chief Chad Skelton and Deputy Chief Paul Burke for the many years of public service, bravery and leadership they have committed to our community in the face of imminent danger," Brown's proclamation states. "They embody the true character of our community, and we are so blessed to have them in our time of need. Congratulations, everyone."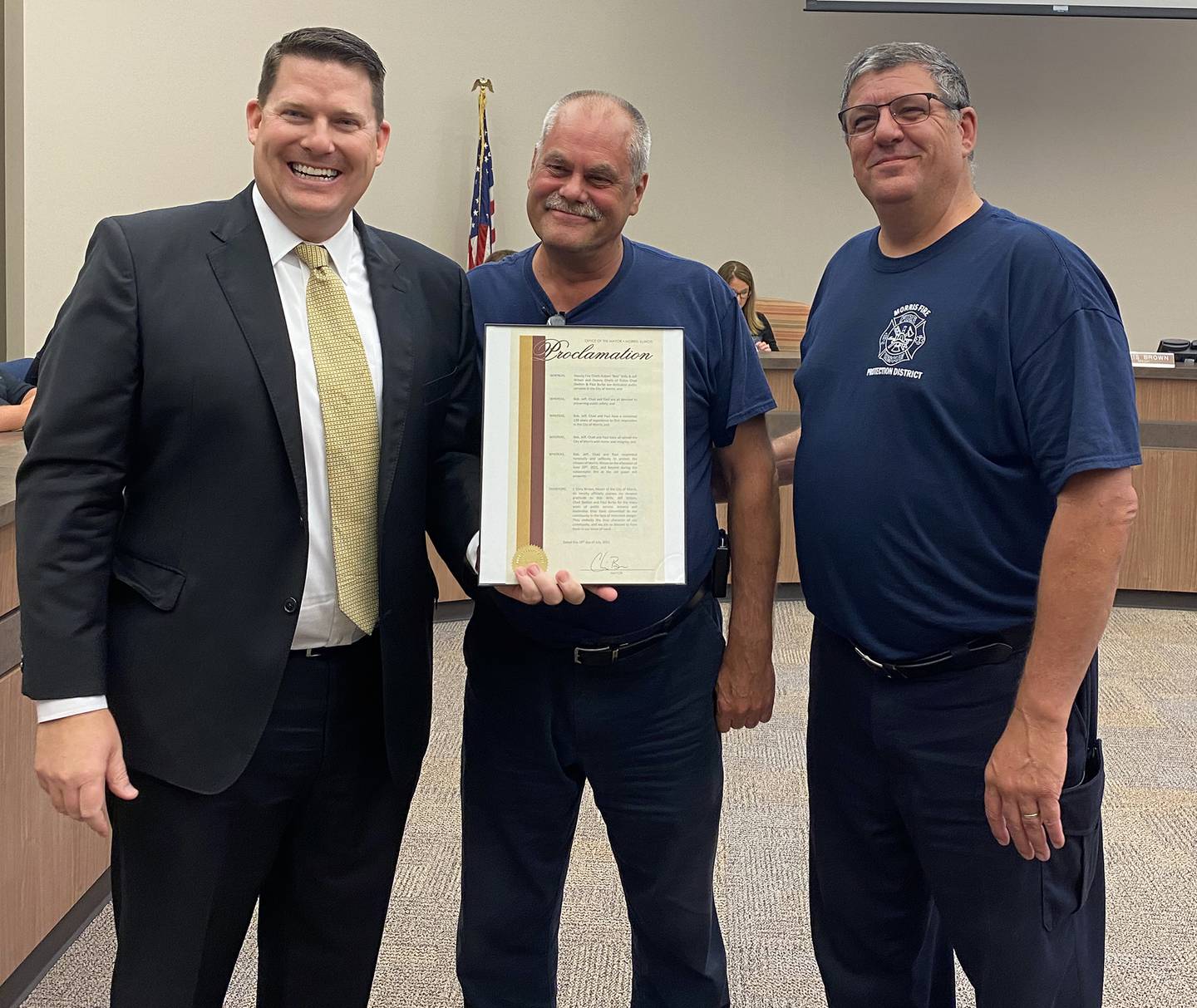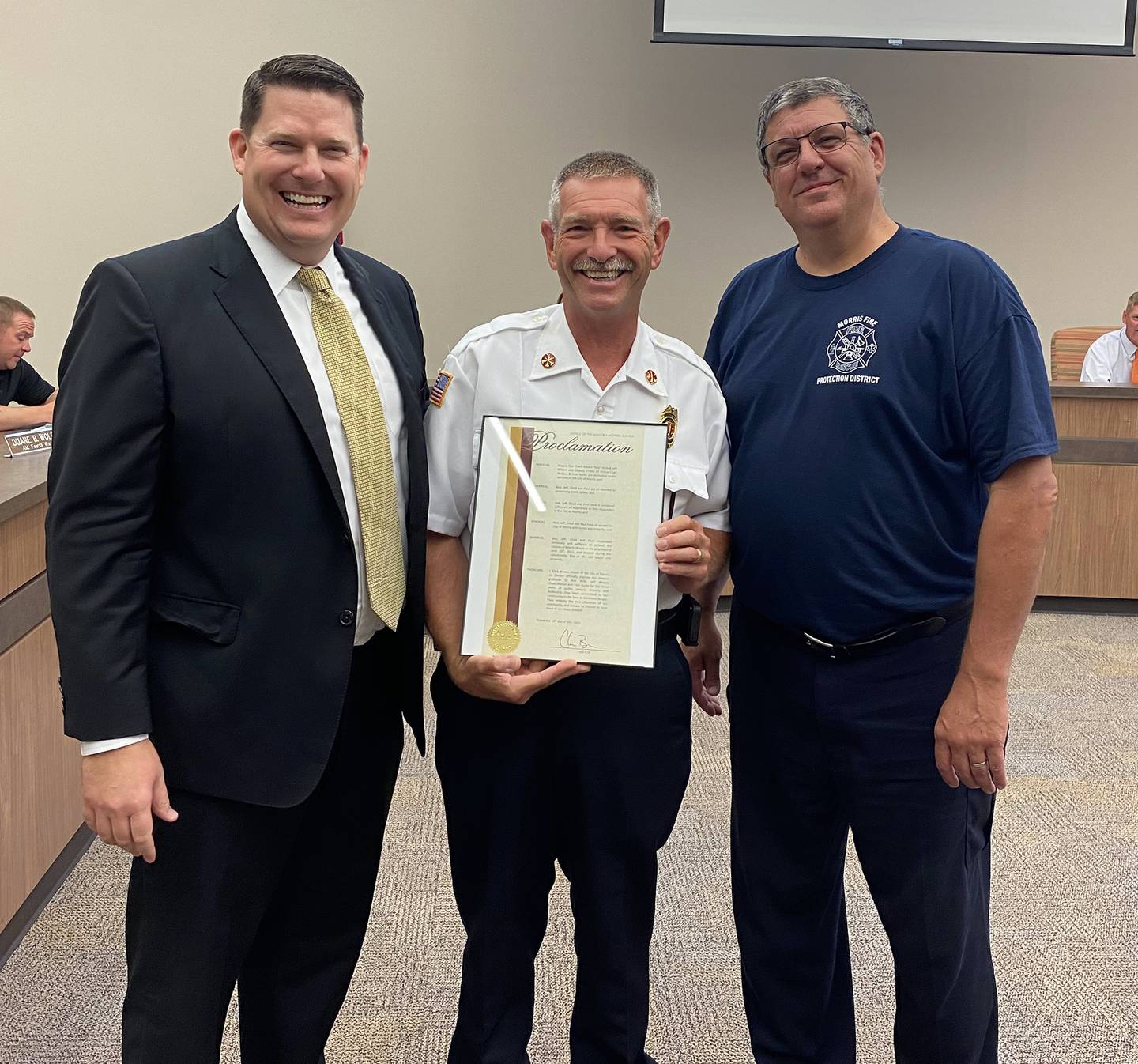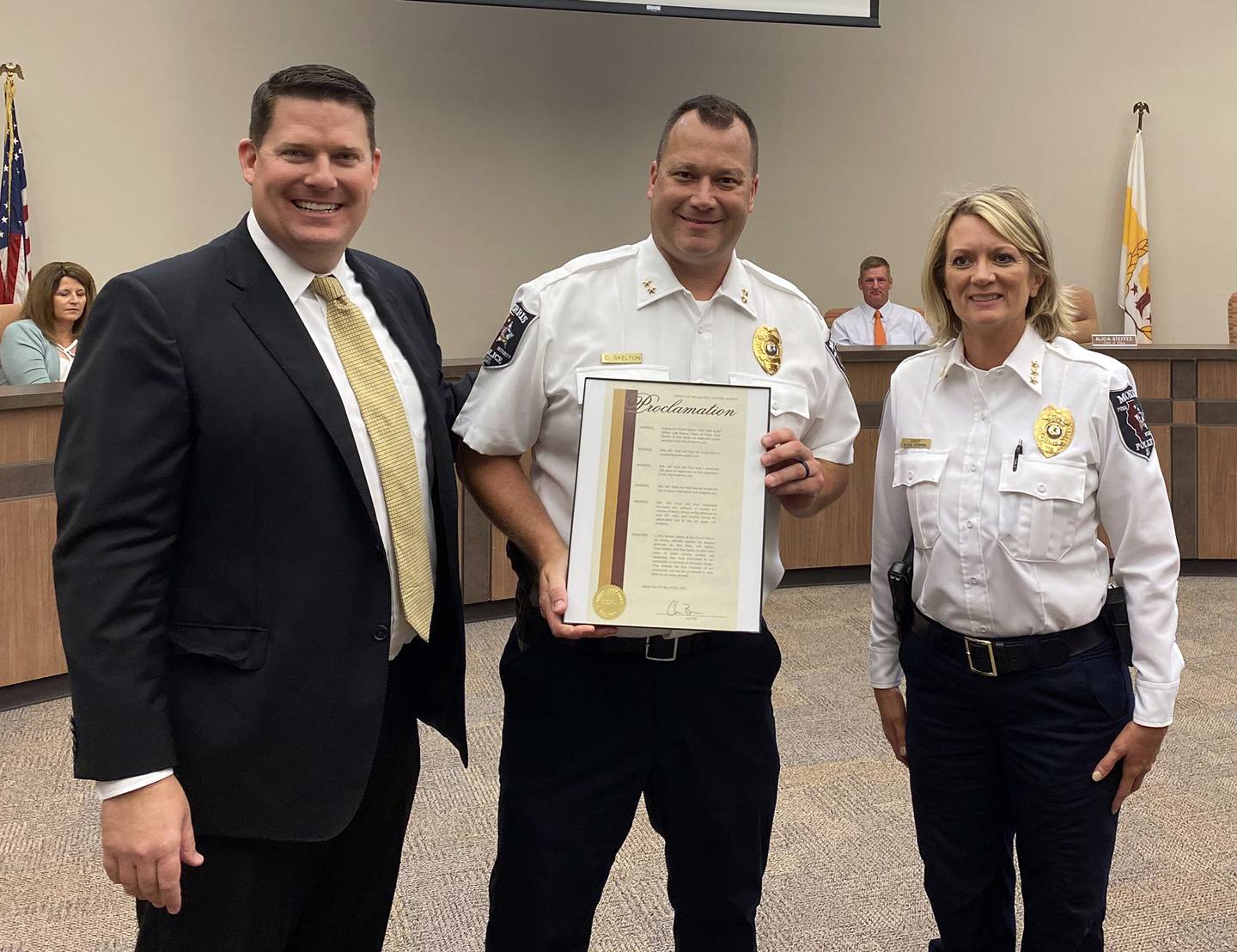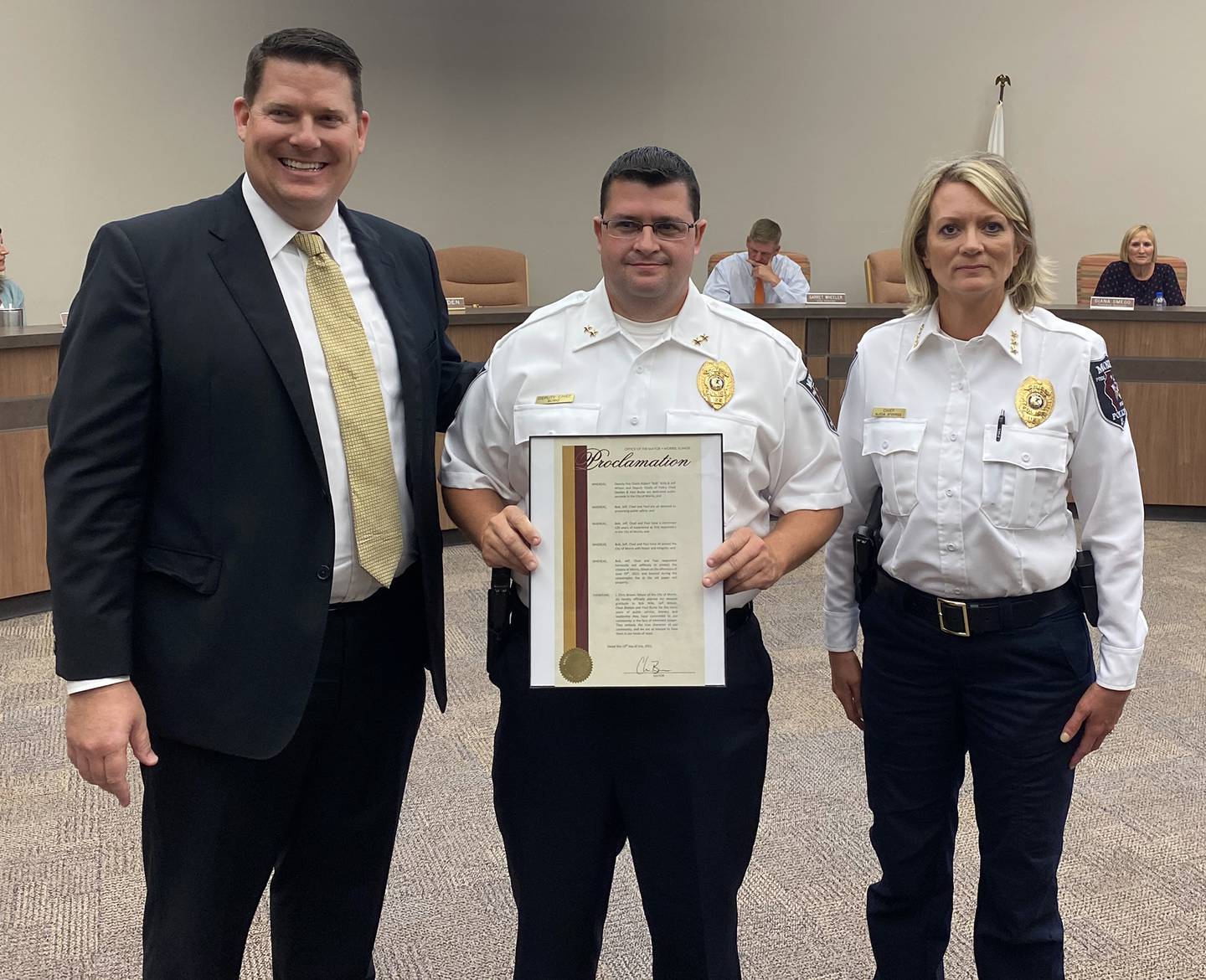 Other action
In other action at the meeting, Brown appointed Greg Redford to fill a vacancy on the Board of Police Commissioners. The appointment was approved by an 8-0 vote.
Brown also announced that the next Concert on the Courthouse Lawn will be from 6:30 to 8 p.m. July 29, featuring Ann Stewart and the Banjo Buddies Dixieland Band.
The council unanimously approved a pair of requests.
The first was by Morris Downtown Development Partnership Inc. to use various city streets for the rescheduled Liberty 5K Run/Walk on Nov. 6, with street closures beginning at 5:30 a.m. and with the closure of Jefferson Street between Liberty and Wauponsee streets beginning at 4 a.m.
The second request came from GFWC Illinois Morris Woman's Club to use various city streets from 7 a.m. to 11:30 a.m. April 23 for its 7th annual Superhero Run to raise money for Guardian Angels of Will & Grundy Counties to assist victims of domestic and sexual abuse. The Morris Woman's Club also asked to place the event banner at the corner of Benton and Division streets beginning March 26.
The Finance and Administration Committee recommended in the form of a motion that the council approve investor support to the Grundy Economic Development Council in the sum of $13,363. The motion passed with an 8-0 vote.
The Judiciary and License Committee approved business licenses for Panda Express Inc., 22 Green Acres Drive, to operate a fast food restaurant; Amy Zych, doing business as Not a Skinny Vegan LLC, 515 E. Jefferson St., to operate an online clothing business; Gary Rockis, doing business as Integrated Systems Technology Inc., 1802 N. Division St., Suite 213, to operate a book sales business; and Nicholas LaPuma, doing business as Nick Nack's Bait and Tackle, 1453 N. Division St., to operate an outdoor sporting goods business. Alderman Jake Duvick, chairman of the Judiciary and License Committee, said Panda Express is hoping for an Aug. 10 opening.
The Judiciary and License Committee also recommended that the council approve a Class H liquor license for the Grundy County Corn Festival, 909 Liberty St., to operate a beer tent Sept. 24 and 25 in the parking lot at the corner of Illinois Avenue and Wauponsee Street. The committee also recommended that the council approve a Class L liquor license for the Fraternal Order of Eagles for Sept. 26. The Class L license allows the business to begin serving alcohol one hour earlier than the city normally allows, meaning that the order can begin serving at 11 a.m. on that day only.