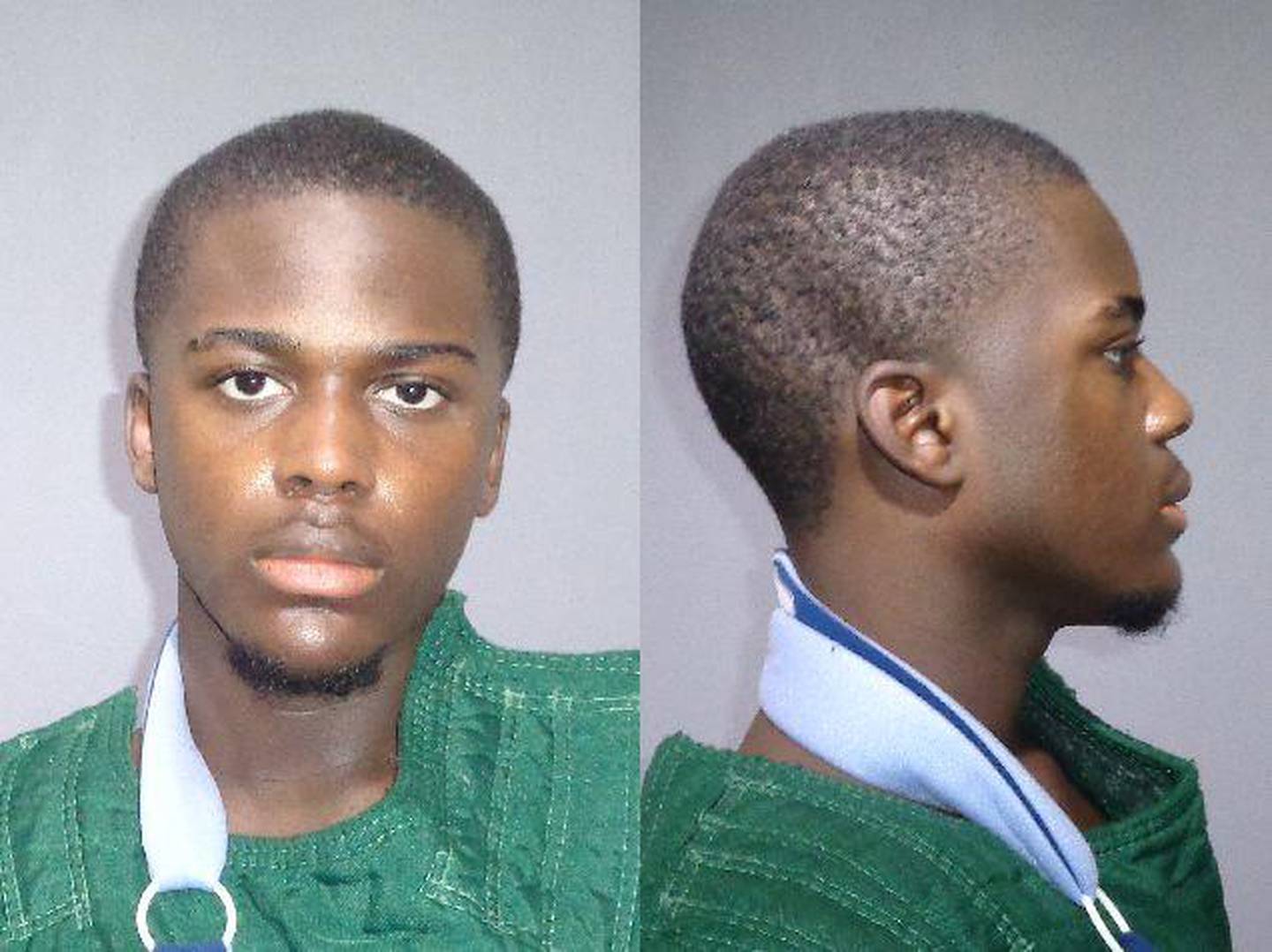 GRUNDY COUNTY – Prosecutors say they can prove Demarcus Denwiddie intended to kill Deputy Tyler Post on Thursday, Oct. 7, 2021, after he fired four rounds at Post while fleeing, based on cellphone footage, eyewitness testimony, and evidence recovered at the scene, including a "jammed" 9mm semi-automatic handgun that held 13 more rounds.
Denwiddie's jury trial began with opening statements Wednesday, read by State's Attorney Russell Baker and Grundy County Public Defender Michael Olewinski.
Baker said Denwiddie would have kept shooting, but the fifth bullet in the gun got jammed.
Denwiddie, 19, of Joliet has pleaded not guilty to three counts of attempted murder, aggravated discharge of a firearm, and three counts of aggravated battery.
In response to Baker's opening statement, Olewinski said Denwiddie was just 18 years old at the time of the incident and the defense was not arguing over the shooting or the chase taking place but intent.
Olewinski said Denwiddie fired the gun behind his back without even looking and didn't intend to shoot Deputy Post or even kill him.
Following opening statements, the jury had a brief recess before the prosecution called its first witness-Deputy Tyler Post.
Assistant State's Attorney Kyle Klukas questioned Post about the events of the day, starting with why he pulled Denwiddie over, to begin with.
Post said he tried to conduct a traffic stop on the red Kia, operated by Denwiddie in the area of Route 47 and DuPont Road around 5 p.m. on Oct. 7, 2021, after Denwiddie passed Post and numerous vehicles on Route 47 in an "unsafe and reckless manner."
Post said Denwiddie fled the scene after he initially pulled him over. He said he saw Denwiddie "watching him intently" as he exited his vehicle. As Post walked up to Denwiddie's vehicle he fled the scene and led Post on a pursuit that reached speeds up to 100 miles or more on several occasions for about 4 miles.
Post said the chase ended when it looked as if Denwiddie was attempting to complete a u-turn and Post struck Denwiddie's vehicle on Route 47, right after the railroad tracks.
During his testimony, Klukas established multiple times, that Post was in his full Grundy County Deputy Sheriff uniform and in a clearly marked Grundy County Sheriff's Department squad car during the pursuit.
Post testified that after the crash Denwiddie exited his vehicle and started running towards downtown Mazon. Post said he checked on his K-9, Rip, to ensure he was unharmed before following Denwiddie.
When asked why he didn't deploy the K-9, Post said he believed he was chasing a 16 or 17-year-old male and he didn't think it was a situation that warranted a dog chasing him.
Post said He tried to catch up to Denwiddie, who kept looking over his left shoulder during the pursuit. When he was about an arm's length away from the teenager, Denwiddie then took out a gun from his right hip area and pointed the gun under his left arm, and shot four times. Post was shot in the pectoral muscle area of the stomach, right shoulder blade, and in forearm where the bullet went through clean. Two of the bullets were stopped by Post's bulletproof vest.
In the process of firing the semi-automatic gun, Denwiddie also shot himself in the left arm.
Prosecutors showed camera footage from the incident and a cellphone video taken from a female across the streets, depicting some of the scene that day and the sound of four gunshots.
During cross-examination, Olewinski asked Post if the only reason he pulled over Denwiddie was because of speeding. Post replied with and driving recklessly.
Olewinski asked if Post had anything in his hand during the initial traffic stop.
Post testified that he usually works nights and out of habit he was carrying a black flashlight in his right hand.
Prosecutors also called Patrick Harms, of Fairbury, who was driving a red pickup truck in the area at the time. He testified he witnessed Denwiddie pull the gun from his right hip area and shot at Post from under his left arm.
Harms said he saw the incident from his vehicle and he followed Denwiddie after and told him to "turn himself in."
Prosecutors called their last witness of the day, Mazon Fire Chief Mark Brookman who responded to the scene of the crash.
Brookman said he witnessed Denwiddie shoot Post from his vehicle and watched as Post spun around and fell to the ground rapidly. He also said he did not witness Post pull out his weapon before Denwiddie shot him.
He testified that after the shooting he continues to follow Denwiddie because he thought Post did not survive the shooting. He returned to Post to render aid after he heard Post's call for help over the radio.
Denwiddie was apprehended at an apartment complex on Depot Street in Mazon a few hours after the shooting.
The trial reconvenes at 9:30 a.m. Thursday at the Grundy County Courthouse in Morris, with Grundy County Judge Sheldon Sobel overseeing the case.