MORRIS – Entering Thursday night's Interstate Eight Conference volleyball match, only one team had taken league leader Kaneland to three sets in a conference match.
Morris was able to make it twice that the Knights has gone to three sets, but was unable to hand Kaneland its first conference loss. The Knights (24-3, 12-0) rebounded from Morris winning the first set, 25-22, to rally and win the final two sets 25-15 and 25-17.
"We knew this would be a tough match," Kaneland coach Cyndi Violett said. "They didn't have all their players the first time we played them, and they had them tonight.
"Quite frankly, our serve receive was garbage in the first set, but we cleaned things up after that."
Seniors Maddie Buckley and Bella Rio were a potent 1-2 punch for Kaneland, as Buckley finished with 15 kills and Rio had 14. Libero Mackenzie Ewen spearheaded the defense for the Knights with 22 digs.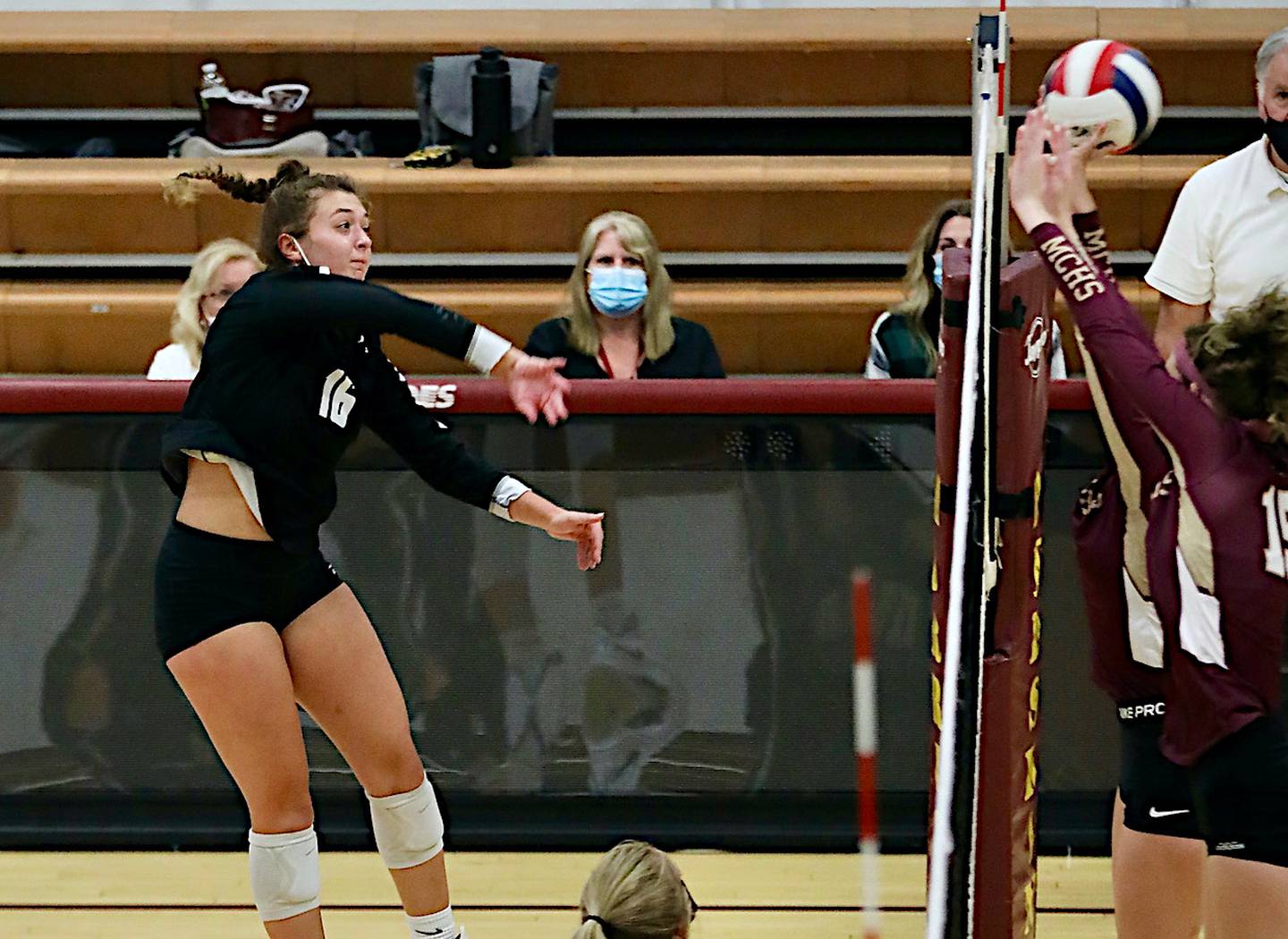 In the first set, it was Morris (17-10, 8-4) that took center stage. Trailing 8-6, Morris' Katherine Halcomb (8 kills) delivered back-to-back kills to tie the score, and a kill by Hanna Lauterbach gave Morris a 9-8 lead. The lead stretched to 12-9 before Kaneland tightened things up. The set was tied at 13, 14 and 15 before Morris got a kill by Natalie Lawton, an ace by Haylee Dunne and a kill by Ava Smith (18 digs, 7 kills) to move ahead 18-15. Smith then had back-to-back kills, one from the back row, to put Morris ahead 20-16. Morris got kills from Halcomb, Lauterbach and Smith down the stretch to come away with the win.
"Our offense was great at times, especially in the first set," Morris coach Scott Howell said. "We got a little out of sorts afterward, but overall, it was a great match. Kaneland is a very talented team and now there are only two teams to take them to three in a conference match, us and Sycamore.
"They are the top dog in the conference, but it's nice to know that our girls are ready to fight and they aren't afraid of whoever it might be on the other side of the net."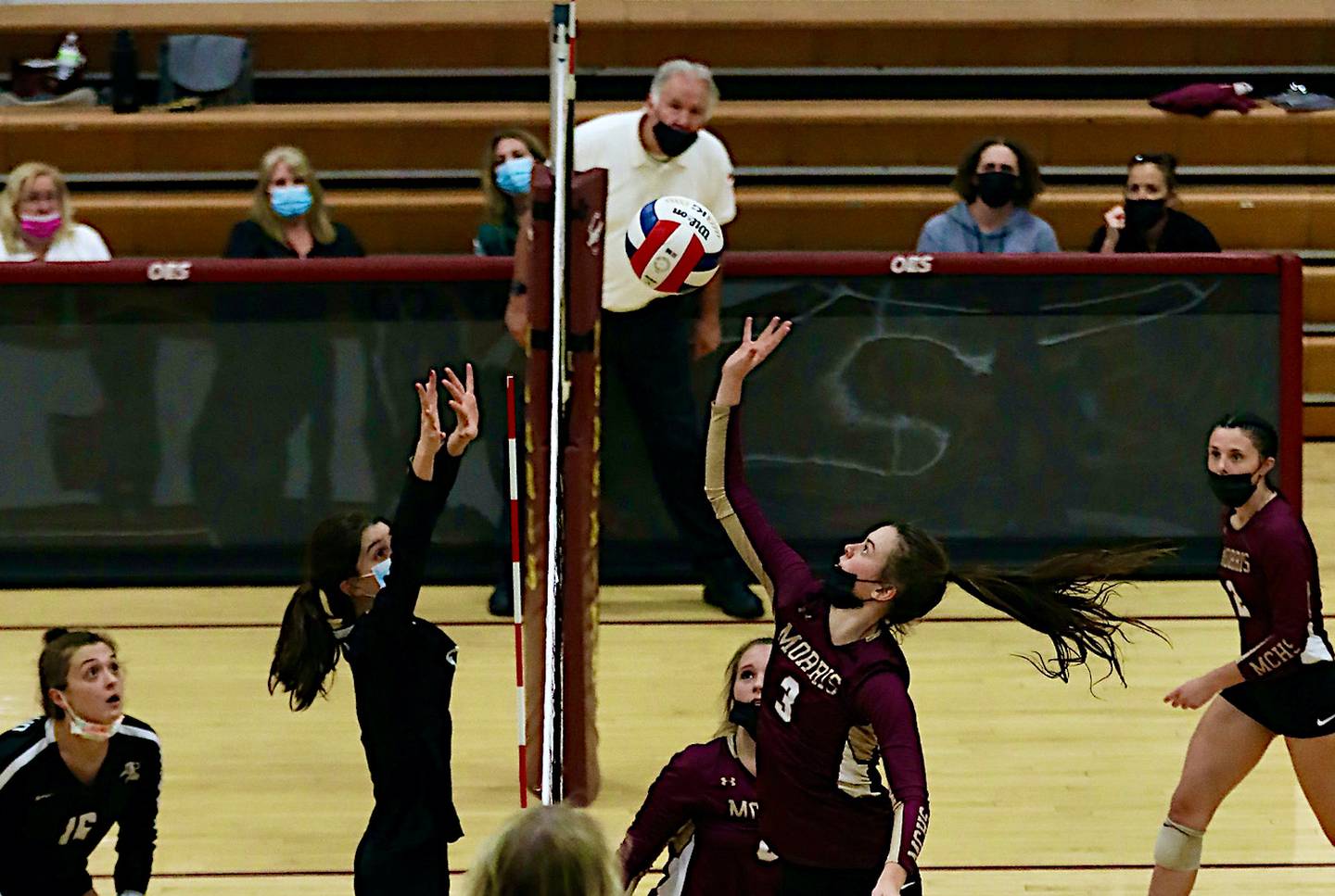 Kaneland took control early in the second set and didn't look back. Five different players - Rio, Mia Kane, Lyla Christakes, Meghan O'Sullivan, and Buckley - each had a kill as the Knights built an 8-3 lead. Kills from different players was a constant theme throughout the match.
"We have the luxury of depth," Violett said. "We actually have four hitters that can all attack well at any time. We were missing some of our blocks, and we worked hard on blocks at practice. But Bella Rio is a huge competitor and doesn't like to lose, and the same with Mackenzie Ewen.
"It was a struggle at times, but we were able to push through it."
Morris got as close as 11-8 in the second set, but got no closer and Kaneland cruised to the win and forced a third set.
Morris grabbed the early momentum in the third set, as Halcomb had two kills and combined with Lauterbach on a block to help her team to a 6-1 lead. Later, a kill by Lawton put Morris ahead, 10-4. Kaneland began to creep back and tied it at 13 before taking a 14-13 lead on a kill by Rio. Morris tied it on a kill by Halcomb, but Kaneland went on a 4-0 run, as Rio and Kane sandwiched kills around a pair of kills by Buckley, to move ahead, 18-14. Morris pulled to within 19-16, but Kane got a kill, then served back-to-back aces to give the Knights a 22-16 lead. Morris got a point on a serving error, but Kaneland scored the final three points of the match to claim the win.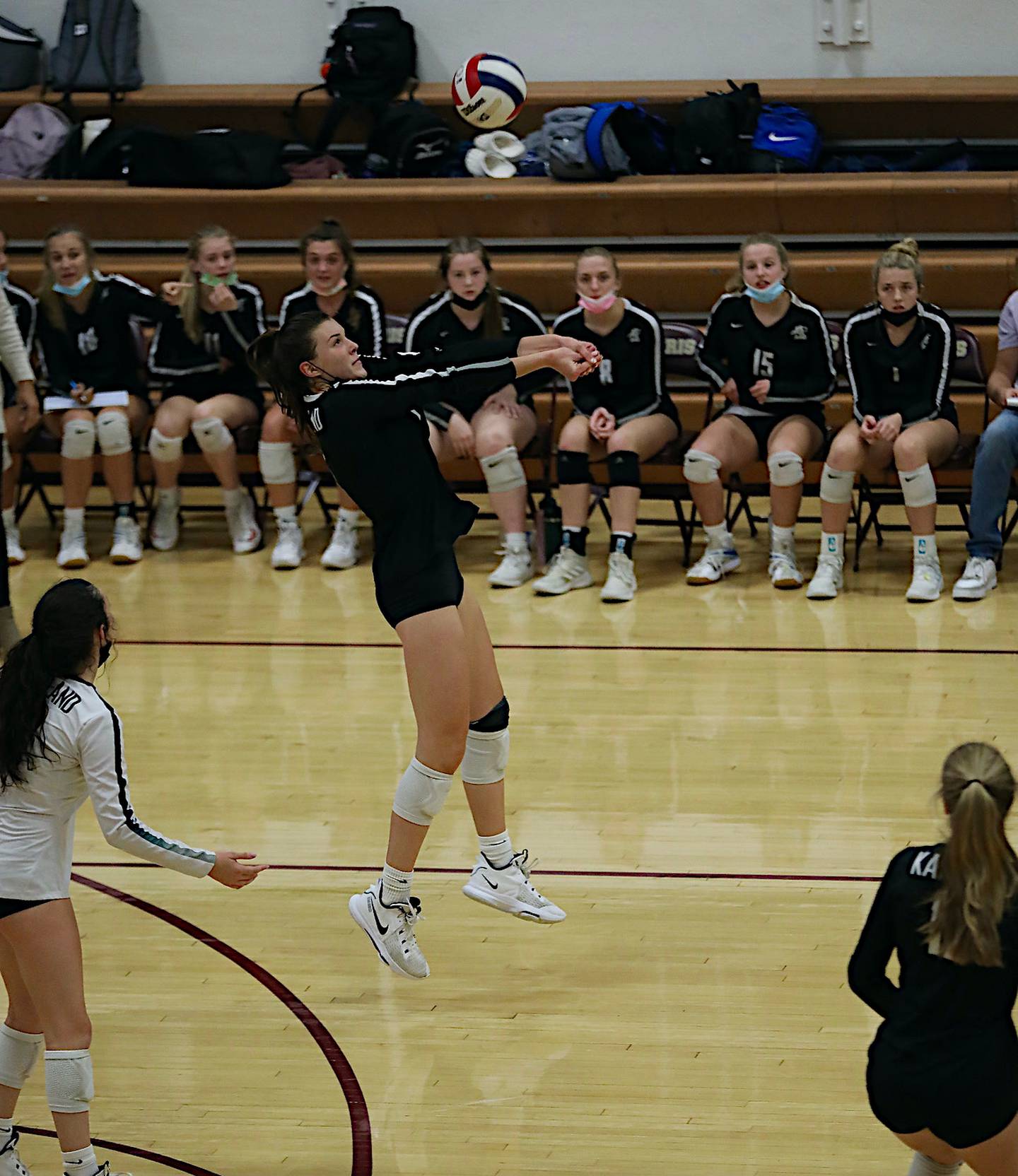 "I am not walking away upset from this match," Howell said. "We put up a great fight and we have come a long way from the beginning of the season until now. These girls know that they can hang in there with one of the best teams around. There's still some room for improvement, and we still have some things that we haven't shown yet."