MORRIS — It is said that one of the best attributes for an athlete is a short memory - the ability to forget about a bad performance and respond with a good one the next time out.
The Morris volleyball team exhibited a short memory Thursday night in a 25-19, 25-17 win over Interstate Eight Conference rival Rochelle. On Wednesday, Morris suffered a 25-9, 25-20 loss to conference leader Kaneland.
Morris (10-6, 4-2) and Rochelle were neck-and-neck throughout most of the first set, with ties at 1, 2, 4, 5, 6, 7, 8, 10, 11, and 13 before Morris began to pull away.
A kill by Ava Smith (8 kills, 11 digs) put Morris ahead for good at 14-13. Katherine Halcomb (7 kills, 4 digs) sandwiched a pair of kills around a block by teammate Hanna Lauterback to put Morris ahead, 19-15, and back-to-back aces by Maddie Noon (4 kills, 4 digs) put Morris ahead, 21-15. After Morris took a 22-15 lead on a Rochelle net violation, the Hubs closed the gap to 22-18 before a Lauterbach kill gave Morris a 23-18 lead. After a kill by Rochelle's Addie Friestad, Morris got the final two points of the set on a serving error and a Rochelle hitting error.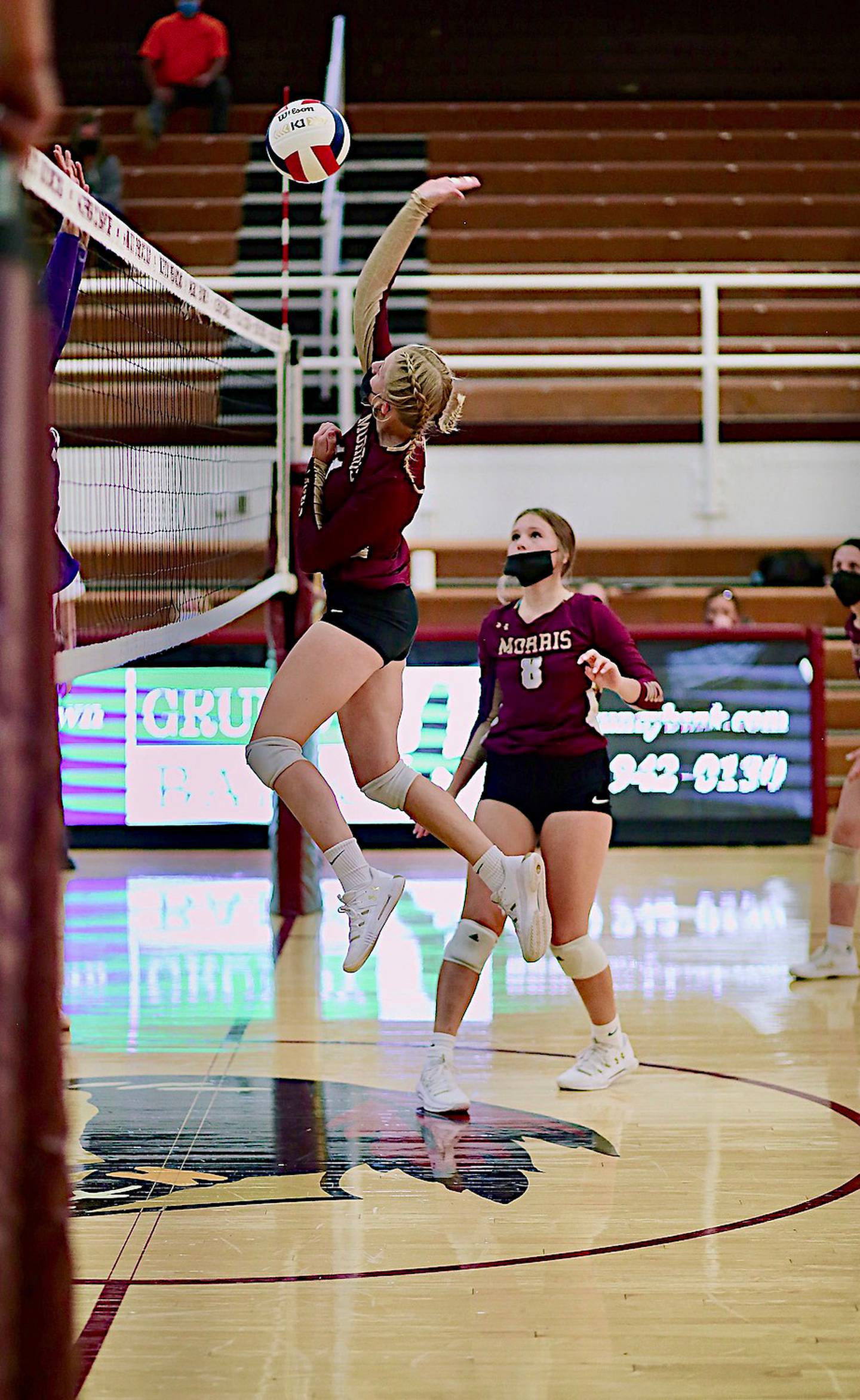 "We talked last night after the loss to Kaneland about having a short memory," Morris coach Scott Howell said. "We wanted to forget the bad from the first set in that match and carry over some of the good things we did in the second.
"It took us a little while to get into a rhythm, but once we got into it, we had a pretty good flow the rest of the night."
Morris continued its strong play early in the second set, racing out to an 11-3 lead after an ace by Noon, her third of the night. After Sylvia Hasz got a kill for Rochelle, a kill by Felicity Emmerich, then back-to-back aces by Haylee Dunne put Morris ahead 14-4. Rochelle rallied with four straight points, getting back-to-back kills by Friestad in the stretch, to pull to within 14-8. Kills by Madigan Doss and Halcomb put Morris ahead, 16-8, and Kayla Jepson, who finished with eight digs, served three straight points to put Morris ahead, 20-9.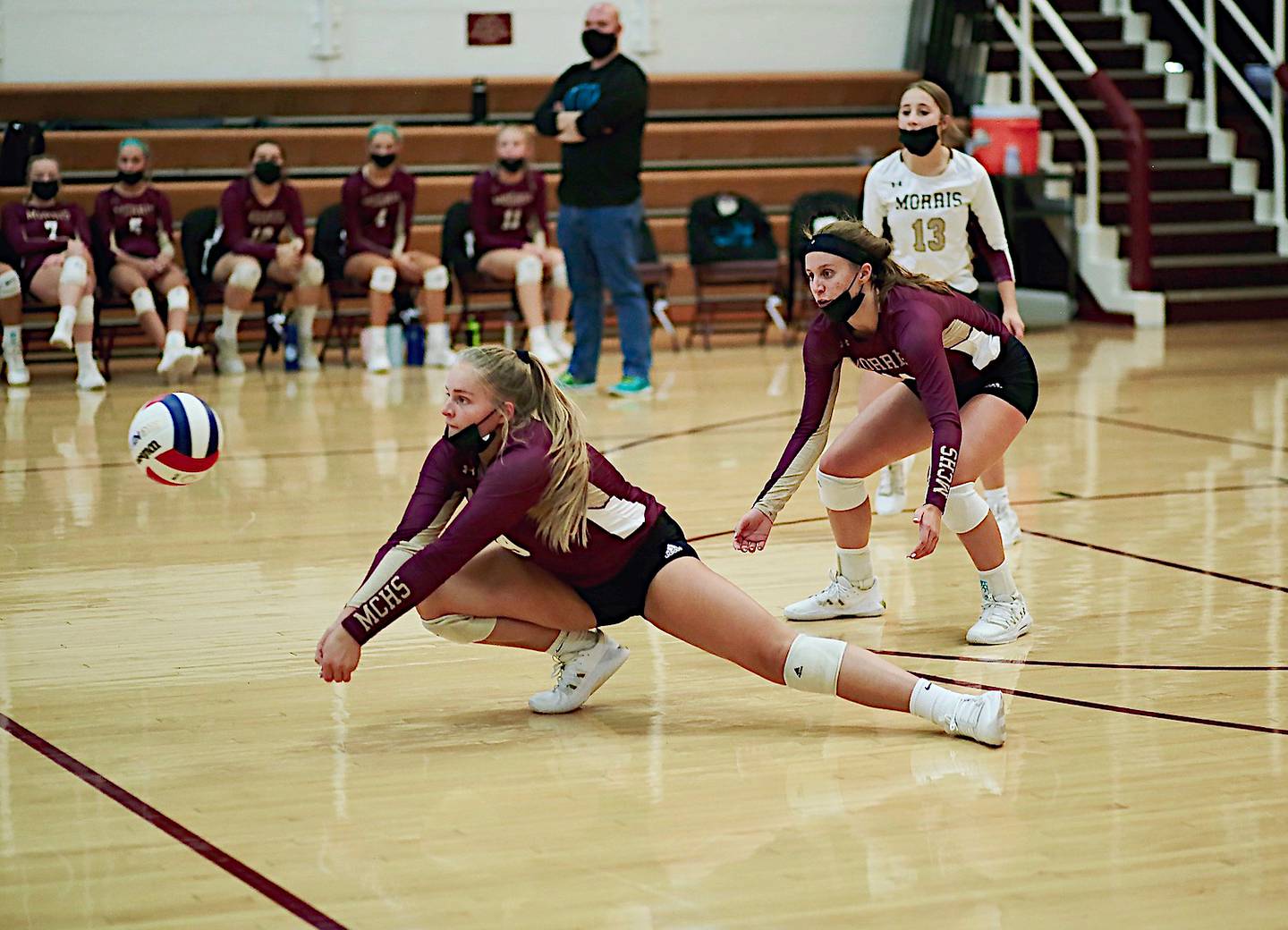 Rochelle countered with a five-point run, getting another kill by Hasz and a block by Payton Hale, before a Halcomb kill put Morris ahead 21-14. Rochelle pulled to within 21-16, but Morris got a kill by Smith, an ace by Halcomb and a kill by Noon to take a 24-16 lead. A hitting error pulled Rochelle to within 24-17, but Smith ended it with a kill.
"It was a weird vibe tonight," Howell said. "But, our defense played well We moved and got in front of the ball better than we did last night. We are dealing with a couple of injuries, and everyone stepped in and contributed. Maddie Noon had a real nice match.
"At times like this, when we are dealing with a few things, it's nice to be able to go a little further on the bench than we usually do and not have any dropoff.
"This was a nice bounce-back win for us. Now, we have a tournament in Reed-Custer on Saturday, so we hope we can carry this over."
"
"