MORRIS — During last wrestling season, Morris' Julian Gonzalez suffered a shoulder injury and was not able to compete in the state tournament.
Gonzalez, wrestling in the 160-pound match, got himself, and his team, off to a good start Tuesday night when he scored Morris' first win of the season on the mat with a pin against Princeton's Carson Etheridge in 4:40, spurring the team on to a 41-36 win in the season opener. The match was originally scheduled to be a double-dual with Princeton and Reed-Custer, but Reed-Custer could not compete.
The match started at 145, and Princeton's Augie Christenson won an 8-2 decision over Tyler Semlar. Morris' Levi Wilson won by forfeit at 152 before Gonzalez and Etheridge squared off.
Gonzalez's match was tied at 2 after two periods, and Gonzalez started the third in the down position. He quickly escaped and got a takedown before holding Etheridge down for the pin in 4:40.
"It felt good to get that first win," Gonzalez said. "I was a little nervous. I had surgery on a torn labrum that I got last year that ended my season. I have been pushing myself to make up for that and I am glad to be able to get that first match behind me and get a win."
Morris got a forfeit win from A.J. Frenetti at 170 before another pin for Morris came in the 182-pound match, when Josh Loza took down Anthony Vujanov in 1:50. Jorge Loza then won by forfeit at 195, giving Morris a 30-3 lead. Princeton's Jesse Wright followed by pinning Daniel Riley in 2:25 in the 220-pound bout to pull the score to 30-9.
Morris' Justin Hemmersbach, an all-conference football player who was wrestling in his first-ever match, pinned J.J. Wicaryus in 2:35 to put Morris ahead, 25-9. Unfortunately, Hemmersbach's celebration after his win cost his team a point and made the score 35-9.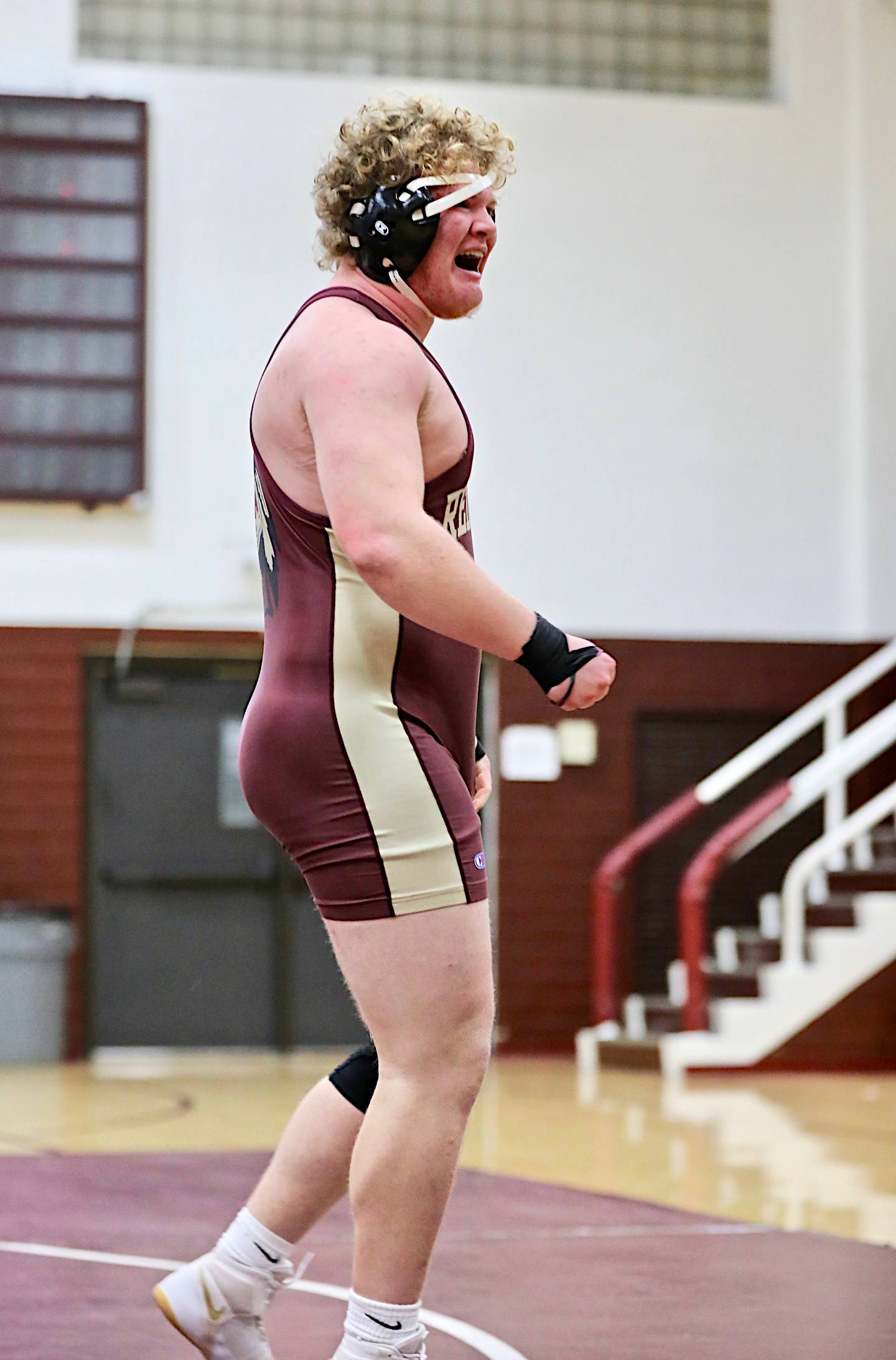 "It was my first wrestling match," Hemmersbach said. "I acted like it was football and celebrated after making a big play. I guess you can't do that in wrestling.
"Wrestling is pretty similar to football. You have a battle against a guy right across from you. I just hope to get better as the season goes on and improve my balance and flexibility for football, too."
After Morris' Brayden Anderson won by forfeit at 106, the most exciting match of the night took place at 113. Morris' Ella McDonnell took on Kayden Gibson, and she took the match to overtime before losing a 9-7 decision.
"Ella did a good job," Morris coach Lenny Tryner said. "She isn't going to be able to overpower the guys she wrestles, but I am excited to see her in the girls state series."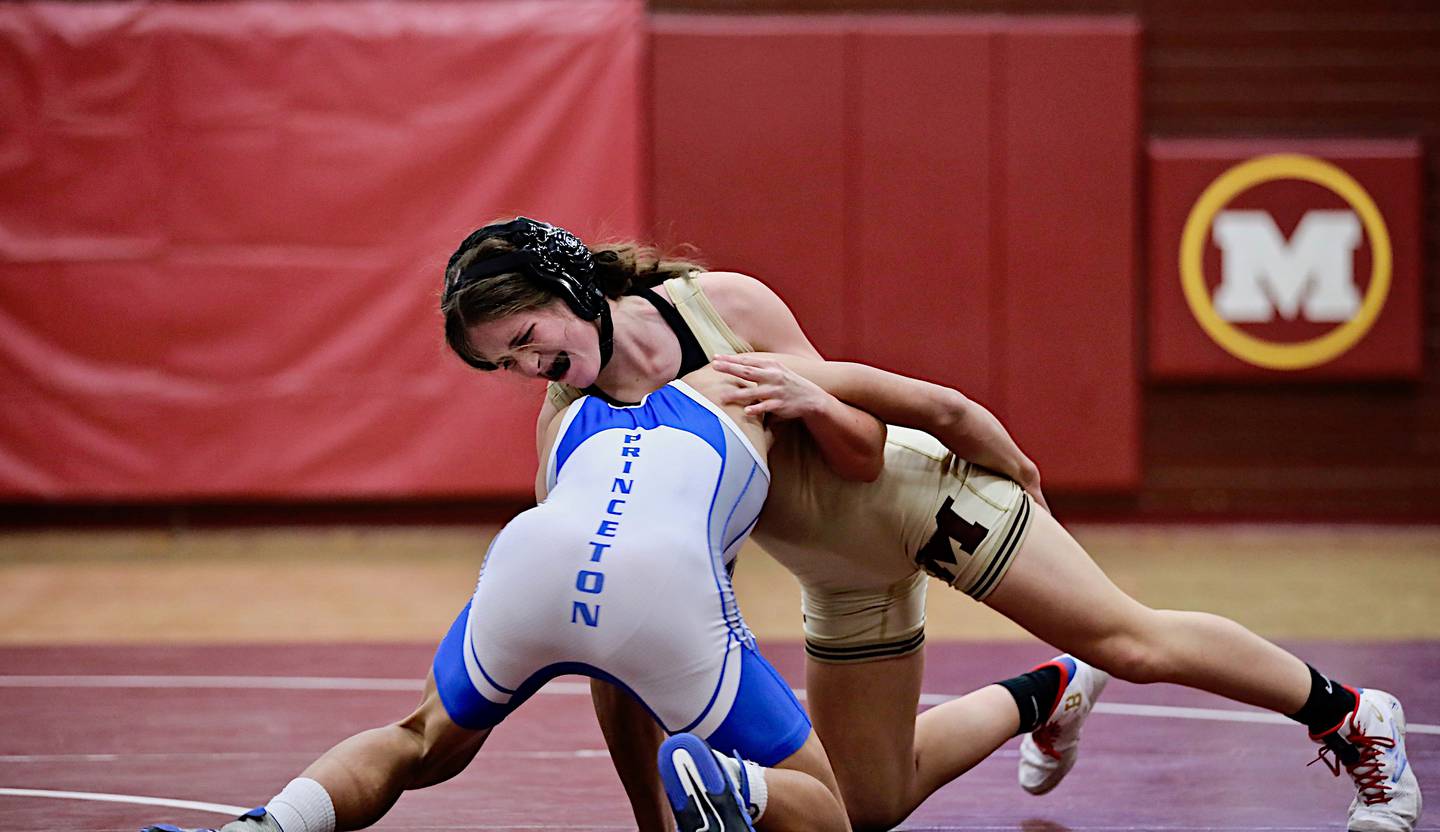 At 120, Princeton's Ace Christenson won by forfeit before teammate Matthew Harris pinned Ian Wills in 2:22 to make the score 41-24. Princeton's Carlos Benavidez (132) and Preston Arkels (138) each won by forfeit to provide the final score.
"I thought we wrestled pretty well," Tryner said. "Princeton is a good team. They had to forfeit a few, but so did we. The wrestlers they did have on the mat were quality wrestlers and our guys did a good job tonight.
"We are looking pretty strong at the higher weights, and we have some young guys coming in that will help us at the lower weights. I like Justin's enthusiasm and wanting to celebrate. He has a lot of talent. It was good to see Julian come out and get a win after the way his season ended last year, too."