MORRIS – After 92 games over two days, the 35th Morris Boys Basketball Shootout crowned DeKalb champion Thursday as it defeated Dundee-Crown, 53-42, in the title game.
Lockport won the consolation championship in the gold bracket, which included the Nos. 1 and 2 seeds from Wednesday's pool play, beating Plainfield North, 50-35. In the maroon bracket, which saw the Nos. 3 and 4 seeds from pool play, Minooka won the championship with a 54-42 win over Kankakee, and Plainfield Central won the consolation title via a 77-51 win over Streator.
The two-day event, which was canceled last year because of COVID-19 restrictions, went off about as smoothly as Morris coach and tournament director Joe Blumberg could have hoped, given the difficulties in scheduling.
"We had to plan the event not knowing what the state was going to do," Blumberg said. "We had a plan if the state didn't open up for conference, region and 30-mile-radius schools. Once the state opened up, we were able to get some other schools in. Some of the schools we had invited, the administrations didn't want their teams traveling that far or staying overnight, so the field was a little different looking than it has been. Still, there were some very talented teams and individuals that were able to come and compete.
"That seemed to be the most important thing to everyone. Just getting on the floor and competing. It was good to see the players able to compete and have a somewhat normal experience."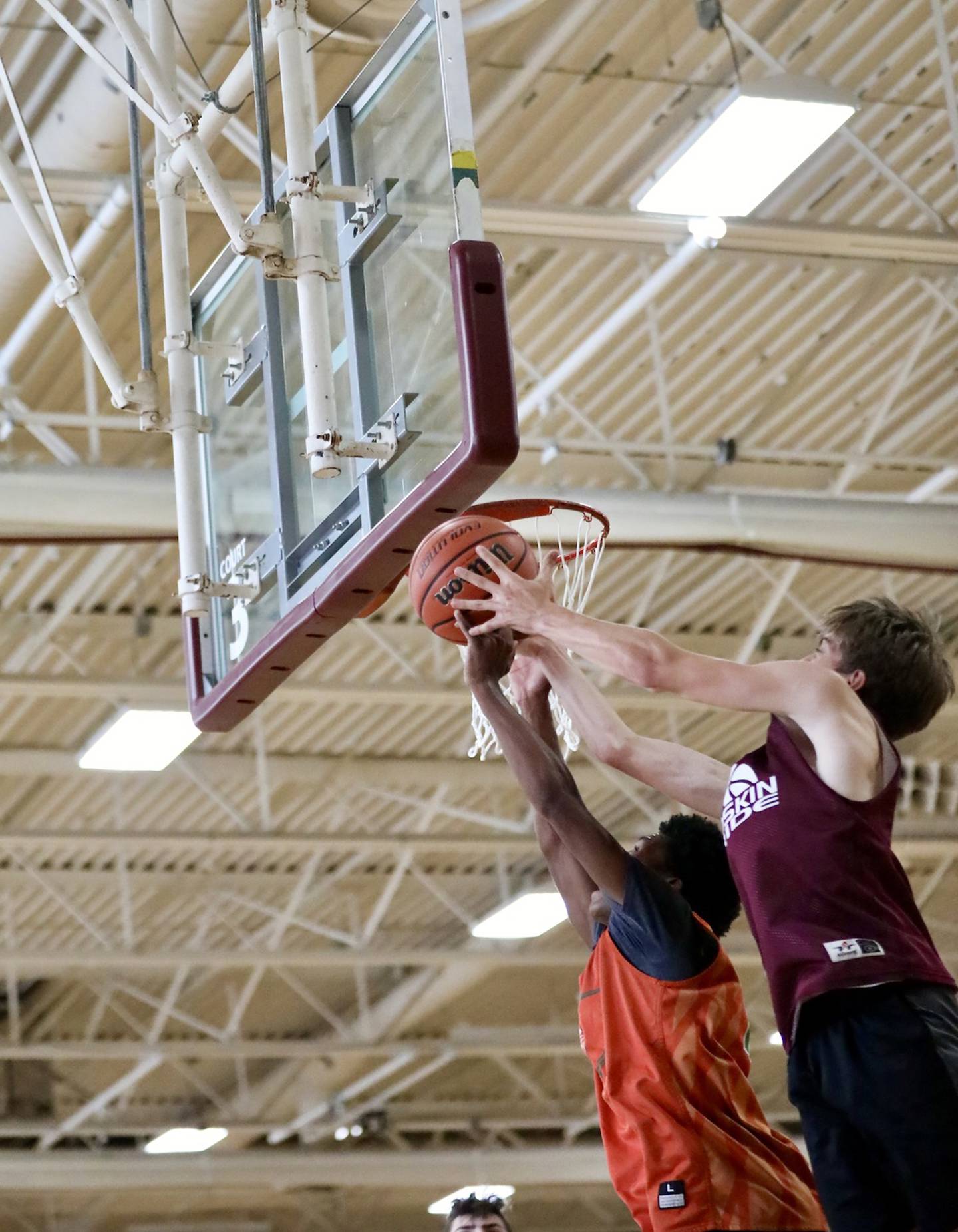 After Wednesday's pool play, Danville decided not to return for the second day. Blumberg asked Seneca coach Russ Witte if his team would be interested in coming Thursday to take Danville's place, and Witte agreed.
"I got a text from Joe on Wednesday night asking if we would want to come and play," Witte said. "I asked our kids if they would rather have practice or play some games, and they all wanted to play."
Seneca went 1-1 on Thursday, defeating Pontiac, 48-43, and losing to Morton, 66-48.
"I am thankful to Seneca and coach Witte," Blumberg said. "They really helped us out, and they got to play two games for free against competition they wouldn't normally face."
The tournament stayed on schedule over the two days, Blumberg said, thanks to the help of many people.
"Bob Horvath did a great job of getting the officials organized," he said. "And the kids in our program did a great job of running the scoreboards and clocks. It's a long two days for them, having to play and do the other stuff we need them to do."
Morris went 0-5 in the tournament but was competitive in most of their games. In Wednesday's pool play, they lost 41-36 to Bloomington Central Catholic, 66-62 to Normal West and 57-50 to Bolingbrook. In maroon bracket play, the Redskins fell 45-44 to Plainfield East and 44-37 to Streator.
"Our record doesn't show it, but we were competitive in our games," Blumberg said. "We had 11-12 guys that got good minutes against quality competition."
Overall, Blumberg was pleased with how the tournament ran over the two days.
"For such short notice, everything went pretty well," he said. "We didn't have a concession stand, but the local food truck BBQ & Baker was here, and I think they did pretty good.
"I also want to thank the city of Morris for their support. They are our biggest sponsor and we couldn't do this without them. Also, the local businesses Corleone's, Turtle's, Maria's and Buffalo Wild Wings provided food in the hospitality room for the coaches and officials."
Day 1 scores
9 a.m. – Bolingbrook 68, Normal West 55; Bloomington Central Catholic 41, Morris 36; East Aurora 54, Minooka 41; Normal Community 66, Streator 48
10 a.m. – Galesburg 68, Oak Forest 42; Pontiac 52, Oswego 40; Ottawa 53, Plainfield Central 44; Washington 46, Providence Catholic 36
11 a.m. – Minooka 56, Streator 48; Bolingbrook 65, Bloomington Central Catholic 38; Normal West 66, Morris 62; Normal Community 40, East Aurora 33
Noon – Washington 53, Plainfield Central 49; Galesburg 67; Oswego 44; Oak Forest 52, Pontiac 50; Ottawa 46, Providence Catholic 45
1 p.m. – East Aurora 71, Streator 39; Normal Community 52, Minooka 41; Bolingbrook 57, Morris 50; Normal West 56, Bloomington Central Catholic 45
2 p.m. – Washington 68, Ottawa 49; Plainfield Central 64, Providence Catholic 52; Galesburg 74, Pontiac 60; Oak Forest 53, Oswego 51
3 p.m. – DeKalb 57, Kankakee 51; Morton 42, Plainfield North 26; Dundee-Crown 51, Danville 43; Normal U-High 72, Plano 43
4 p.m. – Collinsville 44, Neuqua Valley 37; South Elgin 76, Prairie Central 45; Lockport 59, Kaneland 31; Waubonsie Valley 42, Plainfield East 34
5 p.m. – Normal U-High 50, Dundee-Crown 47; DeKalb 72, Morton 54; Planifield North 52, Kankakee 48; Danville 61, Plano 50
6 p.m. – Lockport 54, Waubonsie Valley 41; Collinsville 66, Prairie Central 49; Neuqua Valley 72, South Elgin 50; Plainfield East 45, Kaneland 20
7 p.m. – Normal U-High 42, Danville 40; Dundee-Crown 60, Plano 52; DeKalb 53, Plainfield North 45; Kankakee 61, Morton 44
8 p.m. – Waubonsie Valley 56, Kaneland 42; Lockport 46, Plainfield East 39; Collinsville 69, South Elgin 53; Neuqua Valley 77, Prairie Central 52
Day 2 scores
Gold Tournament (Nos. 1 and 2 seeds from Day 1′s pool play)
First Round: Bolingbrook 56, Waubonsie Valley 53; Normal Community 54, Neuqua Valley 49; Dundee-Crown 65, Galesburg 49; Washington 47, Plainfield North 45; DeKalb 68, Ottawa 41; Normal U-High 63, Oak Forest 41; Collinsville 47, East Aurora 38; Normal West 55, Lockport 36
Championship quarterfinals: Bolingbrook 45, Normal Community 32; Dundee-Crown 50, Washington 46; DeKalb 55, Normal U-High 48; Collinsville 72, Normal West 66
Championship semifinals: Dundee-Crown 58, Bolingbrook 56; DeKalb 58, Collinsville 56
Championship title game: DeKalb 53, Dundee-Crown 42
Consolation quarterfinals: Neuqua Valley 57, Waubonsie Valley 44; Plainfield North 50, Galesburg 49; Ottawa 71, Oak Forest 48; Lockport 51, East Aurora 40
Consolation semifinals: Plainfield North 42, Neuqua Valley 39; Lockport 53, Ottawa 42
Consolation title game: Lockport 50, Plainfield North 45
Maroon Tournament (Nos. 3 and 4 seeds from Day 1′s pool play)
First Round: Bloomington Central Catholic 57, Kaneland 34; Minooka 49, Prairie Central 48; Seneca 48, Pontiac 43; Morton 72, Plainfield Central 67; Kankakee 43, Provience Catholic 24; Oswego 49, Plano 44; South Elgin 66, Streator 63 (OT); Plainfield East 45, Morris 44
Championship quarterfinals: Minooka 63, Bloomington Central Catholic 49; Morton 66, Seneca 48; Kankakee 39, Oswego 28; Plainfield East 43, South Elgin 29
Championship semifinals: Minooka 47, Morton 46; Kankakee 52, Plainfield East 43
Championship title game: Minooka 54, Kankakee 42
Consolation quarterfinals: Kaneland 49, Prairie Central 44; Plainfield Central 65, Pontiac 43; Providence Catholic 48, Plano 31; Streator 44, Morris 37
Consolation semifinals: Plainfield Central 57, Kaneland 22; Streator 48, Providence Catholic 44
Consolation title game: Plainfield Central 77, Streator 51