MORRIS – The last time the Morris football team played LaSalle-Peru on its home field, LaSalle-Peru walked away with a 20-19 win in the final minute.
That is something Morris, which is unbeaten this season at 9-0, hasn't forgotten.
Even though Morris beat the Cavaliers 31-7 just two weeks ago, that game was at LaSalle-Peru. Morris wants to take care of business Friday night when the two teams kick off at 7 p.m. in the first round of the IHSA Class 5A playoffs.
"This is a big game for everybody," Morris coach Alan Thorson said. "We have to forget about two weeks ago. We can't come in overconfident because I guarantee they will come in with a big chip on their shoulder and want to prove something to us. Of course, we still feel like we have something to prove to them because the last time they played here, they beat us."
Thorson doesn't expect the Cavaliers (5-4) to deviate much from their philosophy of running the ball and playing strong defense.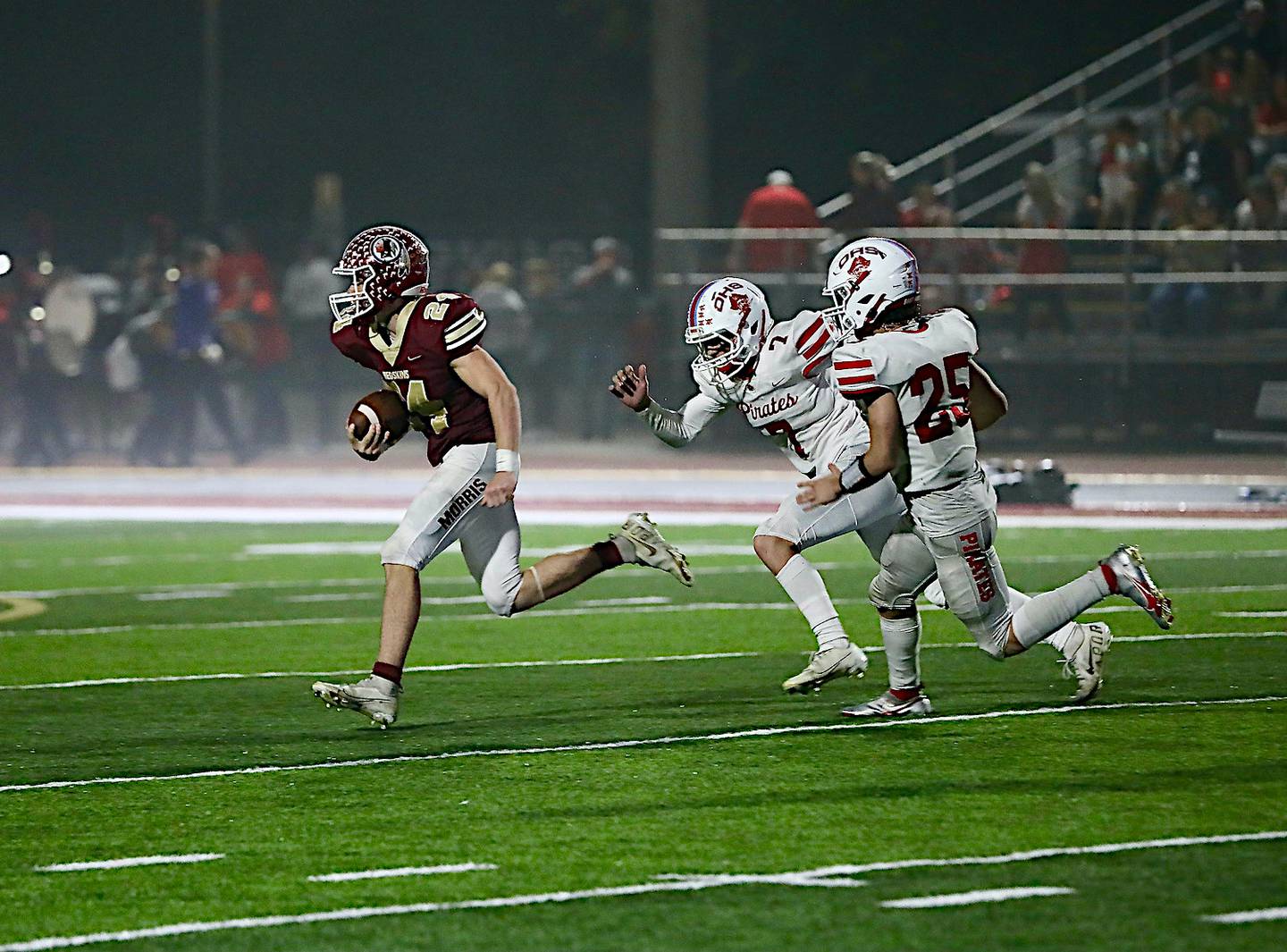 "They do have a good defense," Thorson said. "And we know they will try to run similar things they have been running all year. But we also know we have to be ready for anything. This is win or go home time. There's no reason to leave anything in the playbook.
"We know they aren't going to come over here and just lay down. They are going to give us everything they've got."
In the game two weeks ago, LaSalle-Peru became the only team this season to hold a lead on Morris after the Cavaliers scooped up a fumble and returned it 98 yards for a touchdown. Morris bounced back and scored the next 31 points.
Last week, Morris held off a furious Sycamore comeback in the fourth quarter and held on to beat the Spartans 28-21 to clinch the Kishwaukee River/Interstate 8 White title. LaSalle-Peru suffered a 55-13 defeat at the hands of Kaneland.
While the playoff matchup is against a conference opponent, Thorson doesn't think his team will have any problems with motivation.
"I know it's hard to sell being the underdog in Morris," Thorson said. "But these kids feel like they have been disrespected so far this year. And that's fine. It fires the kids up.
"I put up on the board in the locker room the same things I have put up every week. Two words. Focus. Effort. The kids have lived on that all year. We have to focus on this week and this week alone. We aren't overlooking anybody and we haven't all year. And no one is going to outwork us, whether it's in practice or in a game. That's what has gotten us to this point and that's what we expect to do this week."