MORRIS – The Morris football team continued its unbeaten start to the season last week with a 49-35 win over Kishwaukee River/Interstate 8 White rival Kaneland. Ottawa will visit Morris on Friday night, hoping to knock Morris out of the unbeaten ranks. The Pirates enter the game with a 2-4 record after dropping a 24-20 decision to Woodstock last week.
Morris has been impressive on both sides of the ball, outscoring its opponents 245-84 in its six games. Ottawa has been outscored 157-127 in its six games.
Morris coach Alan Thorson knows the Pirates will not be a pushover and will be playing with the added incentive of needing to win their final three games in order to advance to the playoffs.
Morris already has clinched a playoff berth with six wins.
"We're at our six wins, and that's great, but our kids have really embraced getting better each week," Thorson said. "They haven't been reading their press clippings and being satisfied. They want to get better. And we have improved a huge amount from Week 1 until now."
The main threat for Ottawa when it has the ball is running back Javarius Whitfield, who has 804 yards on 126 carries and 10 touchdowns.
Ottawa is not just a one-man show. Quarterback Braden Miller has completed 72-of-127 passes for 910 yards and six touchdowns. His main receiver is Levi Sheehan, who has 29 catches for 493 yards and all six scores. Sheehan also is the team's second-leading rusher, carrying 17 times for 106 yards and a touchdown.
"Their running back is very good," Thorson said of Whitfield. "Our priority has to be to stop the run. But they like to spread the ball around in the passing game, too. We know we aren't coming off our best defensive game, giving up 320 passing yards and 35 points to Kaneland.
"That's a point of pride for our defense. They aren't happy about their performance last week and they want to improve this week."
Ottawa will have its hands full with Morris' running game, which picked up 556 yards - including 352 from Ashton Yard - in last week's victory. For the season, Yard has rushed for 838 yards and eight touchdowns on 98 carries. Quarterback Zach Romak has 549 yards and nine touchdowns on 77 carries.
Through the air, Romak is 53 of 77 for 779 yards and seven touchdowns. He has been intercepted only once.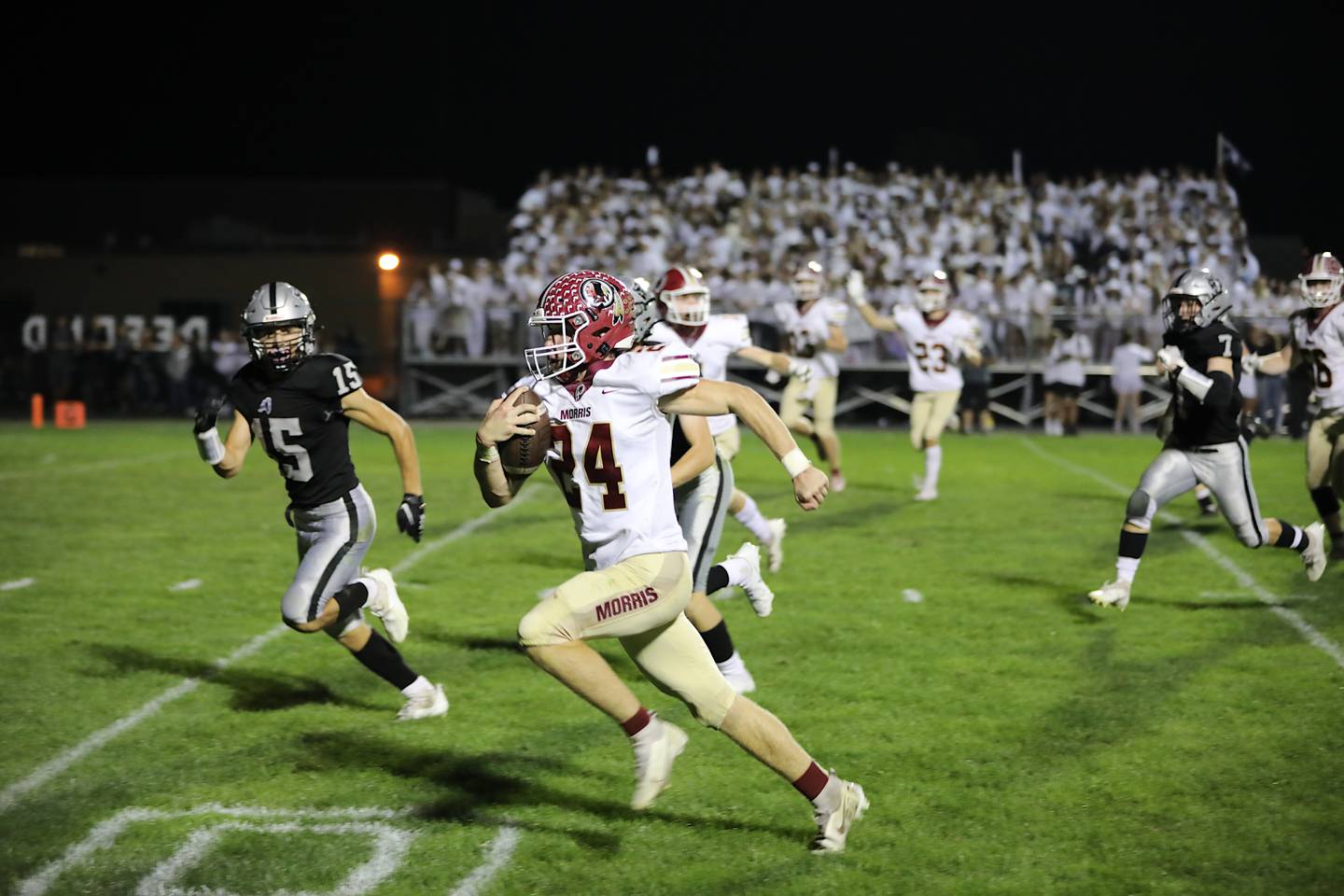 "There's a lot of season left and we aren't overlooking anybody," Thorson said. "We know Ottawa can move the ball and we gave up some yards last week, so we have to be ready to go Friday.
"These kids are getting more confident each week. They aren't cocky, but they are confident that they can get the job done."