BLOOMINGTON – You must be ready for when your time comes.
Oswego East right-handed pitcher Bode Bregar certainly was during Monday evening's Class 4A Illinois Wesleyan Supersectional in Bloomington.
The junior provided admirable relief work after being called into duty with just one out in the second inning, but the Wolves saw their unprecedented season come to an end after a 5-2 loss to defending state champion Edwardsville.
"I need to be ready at all times and I warmed up the last couple of games in case they needed me," Bregar said. "Our pitching has done so well that I haven't needed to come in. I had to warm up quick there, but it was all right."
Oswego East (24-12) nearly was able to avoid allowing an error, a hit batter and a double steal to put the team in an early hole with a trip to state on the line – but Edwardsville's Lucas Huebner delivered a punishing two-run, two-out single.
The Tigers pounced on another error to open the top of the second. Riley Iffrig and Caeleb Copeland later delivered run-scoring hits in the frame to make it 4-0.
"They're a great team and you have to tip your cap," Wolves coach Brian Schaeffer said. "They're going to take advantage of opportunities that you give and that's what they did. But we were able to settle in and once you settle in you can start playing the way you can play and bounce back."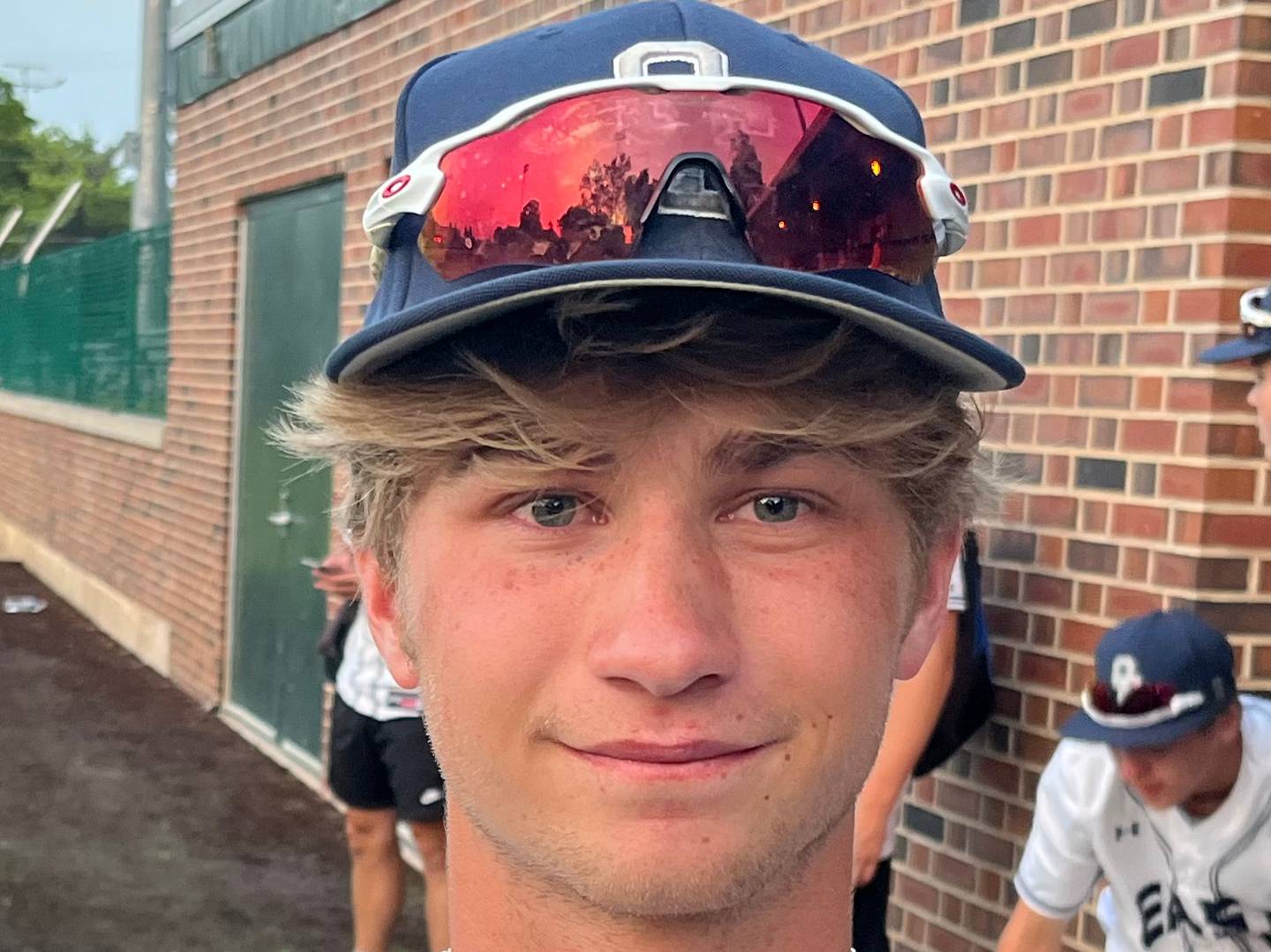 Some of that bounce came in a blast off the bat of senior Eric Lewis in the top of the fifth. After Zach Polubinski reached on an error and Mason Blanco walked, Lewis scorched a blast deep to left field for a two-run double to make it 5-2.
"It feels great to do it on a stage like this," Lewis said. "I saw they were attacking me with a lot of fastballs early in the count so I said, 'I'm going to see a fastball and I'm going to hit it hard.' And it felt great. I didn't feel it come off the bat."
It also felt like it could just be beginning of a big rally, but it proved to be all the Wolves could muster against lefty Logan Geggus before Andrew Hendrickson closed things in the seventh.
"It was especially (good) for a senior (Lewis) who has put in so much time," Schaeffer said. "For a senior to come up like that, we thought we were in a perfect situation with who we had coming up in the lineup but we weren't able to jump on that and add on and they were able to shut us down."
Bregar's ability to shut down the Tigers gave the Wolves a chance. He walked off the field four times after leaving Tigers on all three bases as Edwardsville stranded 14.
"He's a guy who hasn't had an opportunity to throw in a couple weeks and came in and used his opportunity and excelled," Schaeffer said. "And he's one of those high-energy kids and is always kind of nervous. He was able to take control of that and throw strikes when he needed to."
The Wolves would only manage one other hit after the double from Lewis, a hard knock up the middle from Jackson Petsche in the sixth.
They appeared to have another to open the top of the seventh as Liam Mitchell sent a ball to deep center field, but Edwardsville's speedy sophomore center fielder Joe Chiarodo was able to run it down.
A couple outs later and the greatest season in Oswego East history was suddenly over.
"It's kind of surreal," Lewis said. "We're the first ever to do it. We were making history as far as we kept going so it was cool to be here and compete and try to win a ballgame here."
They won a lot of them this spring.
"We've got a great group of guys who work well together and play well together," Lewis said. "We had the capability to do this so getting here was just going our thing and winning ballgames and having fun doing it."